Democracy prevails in the great FMR Kernza bake-off!
The votes are in! Joining us as a guest judge and baker extraordinaire is Minneapolis chef Beth Dooley, winner of a James Beard Award and longtime friend of the Mississippi River. Together, we are thrilled to announce the winner of the great FMR Kernza bake-off...
First place: Sophie's Kernza Cinnamon Rolls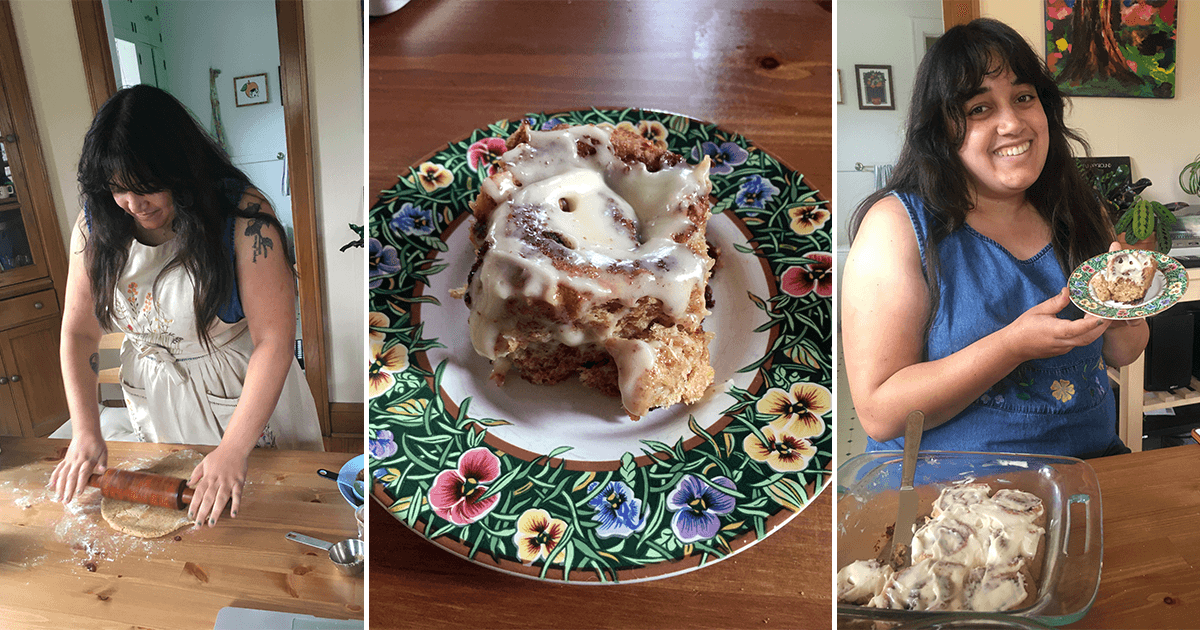 Sophie blew away our voters and carried the day in a veritable landslide of gooey, flavorful esteem. Beth, what's your take on these scrumptious treats?
Chef Beth Dooley: "Here's a surefire way to get those sleepyheads out of bed. Fill the kitchen with the warm scent of cinnamon-sweetness. Graced with a finger-licking glaze, these are just the thing for those lazy holiday mornings of endless coffee and conversation."
Want to make the winning cinnamon rolls?
Notes from our star baker, Sophie: "I adapted this recipe from Molly Wizenberg at Bon Appetit. I used half Kernza flour and half unbleached all-purpose flour.
"I chose this recipe on a whim, as I had been wanting to make cinnamon rolls for a while! But I didn't anticipate how well the Kernza flavor would complement the cinnamon and brown sugar filling. The nutty taste of the flour worked so well with the cinnamon, giving the rolls more dimension and richness than ordinary cinnamon rolls, in my opinion.
"When I make this recipe again, I would experiment with adding more spices to create different flavor combinations. I can imagine cardamom, nutmeg or ginger working well. These cinnamon rolls were even able to convince a friend of mine, who was skeptical after reading the description of Kernza flour's taste. She thought the rolls were great and took some home!"
Second and third place: Sara's Kernza garden focaccia + Ellie's apple-cinnamon Kernza muffins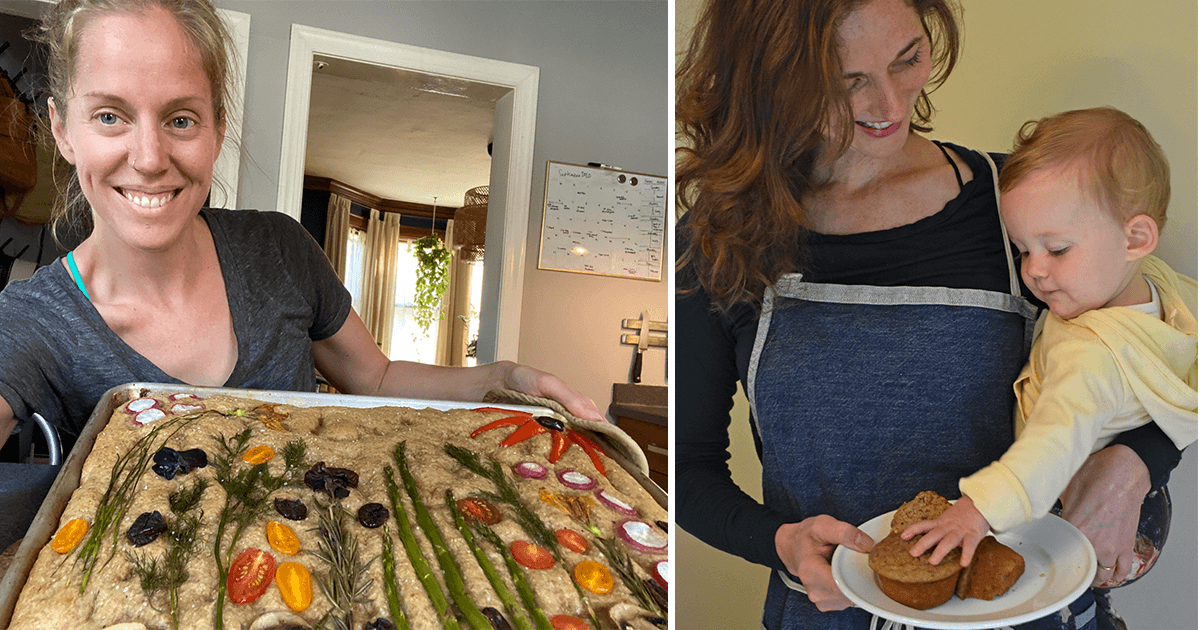 Sara's entry, an artistic triumph to rival any pre-Raphaelite, placed a strong second.
Chef Beth Dooley: "This beautiful bread makes great use of garden vegetables, be they summer's asparagus and tomatoes or the roasted root veggies of winter. The recipe for one basic bread offers endless variations."
And rounding out the podium, barely edging Dhaivyd's vegan fudge Kernza brownies, are Ellie's seasonal muffins. Our voters clearly have a sweet tooth!
Chef Beth Dooley: "Dense and moist with plenty of apples and fragrant cinnamon, these are healthy enough for a nutritious breakfast and just sweet enough for an afternoon treat."
Tips on working with Kernza from chef Beth Dooley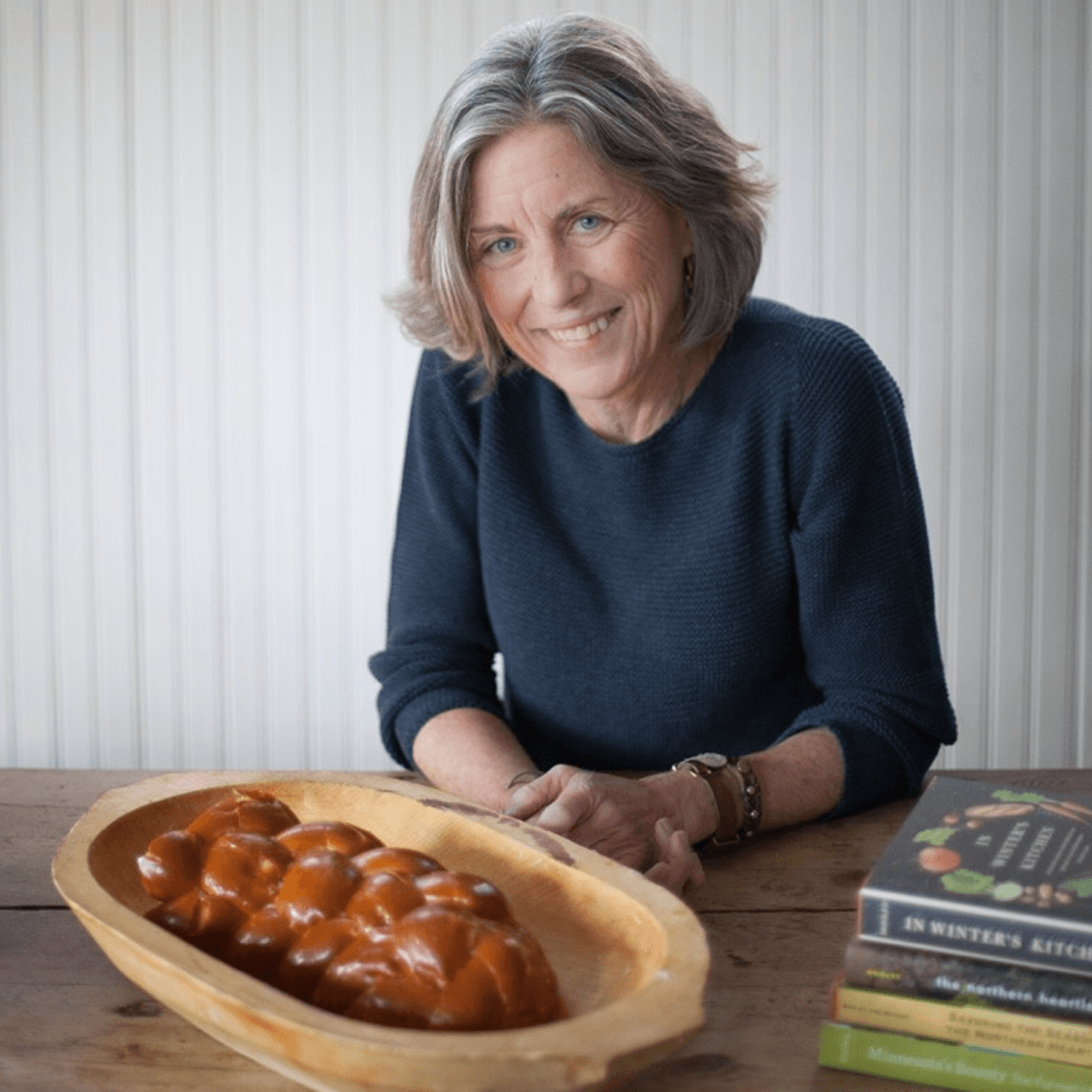 Curious to try baking with Kernza? Here are some of Beth's tips.
"When it comes to working with Kernza, think flavor! It's not a term we most often associate with flour, but it's a great reason to choose to work with this new food that not only tastes great but provides tremendous ecological services that benefit us all. Open the bag and take a sniff, you'll realize notes of toasted nuts, raisins, and an edge of grassiness, nuanced, like rye.
"Because it's a whole-grain flour, it retains its bran, berm and endosperm and is very nutritious. It also has a different gluten content than wheat flours and so does not perform on a one-to-one ratio when using it in familiar recipes. It's best to begin working Kernza into familiar recipes by substituting 1/4 of the amount of Kernza for whole-wheat flour.
"You can increase that ratio to suit your tastes. Also note that it's a 'thirsty' flour, so expect to increase the amount of water accordingly."
For more terrific Chef Beth ideas, watch the local tastemaker whipping up Kernza pancakes on PBS NewsHour and try her recipe.
The river wins
Winners of the great FMR Kernza bake-off will receive fabulous prizes courtesy of Perennial Pantry, also known as the folks who milled and distributed your Kernza grain.
Perennial Pantry's Brian Hedberg speaks for all of us when he says, "We've been blown away by the enthusiasm and creativity of the Kernza community! It was a delight to read the baker profiles and see people engaging with our product. Our mission is to bring revolutionary crops like Kernza into home kitchens, so it's invigorating to see it play out in real life."
While the three winners of the bake-off all happened to be FMR staff (no foul play, we swear!), we're grateful to everyone who voted, baked, brewed, and most importantly, contributed to the promising future of this clean-water grain.
Too late for the bake-off, but not too late for citizen science
If you're interested in learning more about cooking or baking with Kernza, our partners at The Land Institute invite you to submit recipes, photos, and insights in an ongoing citizen science project. Your baking experience can help us understand why and how people use Kernza flour — and the delicious results that are possible! Learn more on the Kernza website and fill out the Cooking with Kernza Survey. Please send questions or comments to skelly@landinstitute.org.
Another opportunity is the Cooking with Kernza® Facebook page: a space for a network of citizen scientists to swap recipes, trade tips, and provide feedback on their experiences with Kernza® perennial grain. You can even test recipes with a partner, a project that will culminate with the creation of a community e-cookbook.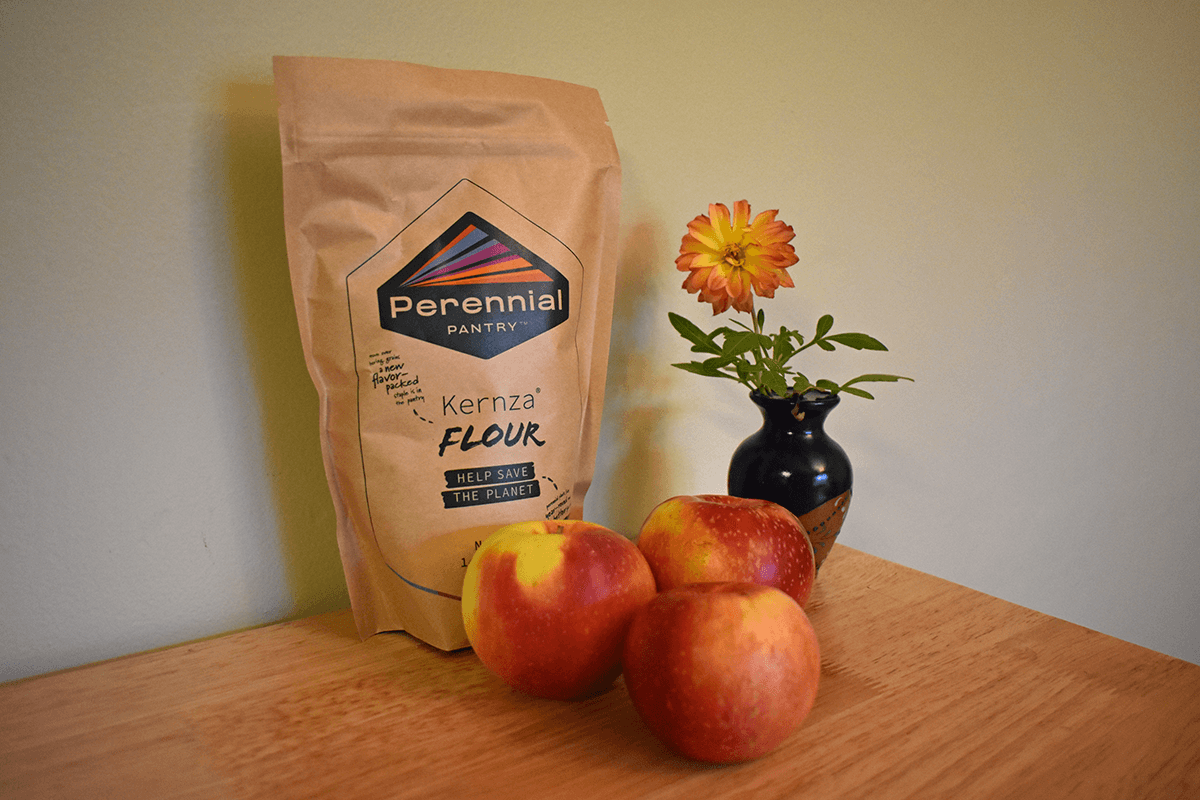 Watch our water blog for more on Kernza in the months to come.