A seagull made of plastic: The threat of plastics in our waters
This is a guest blog post from Audrey, a Youth Empowerment Program (now the Environmental Stewardship Institute) participant this summer. Audrey wanted to make the threat of microplastics in freshwater visible through art. She crafted her seagull sculpture using plastic she found at a Lake Superior beach.
* * * * *
Not too long ago, while visiting Como Zoo, I was able to view the Washed Ashore project. Huge aquatic animals composed of plastic from the ocean were set up to send a message to viewers: plastic doesn't go away, and it's harming the ocean. For my project, I wanted to do something similar, but instead focus on the Great Lakes.
A seagull made of plastic
Lake Superior is very important to my family, so I traveled to Duluth and did a small beach cleanup to gather plastic. Along the way I also found a pile of stiff wire, which I used to make the base of my sculpture. I then covered the wire with newspaper to make the form and finally topped it with the plastic I had gathered.
The sculpture I chose to create was simple and small; a gull with a fish in its mouth. I wanted to make it clear that plastic waste can be dangerous to all forms of life and can travel through the food chain. If a fish has consumed plastic, then any creature that eats it now has that plastic inside them.
The Great Lakes are filled with microplastics, which infiltrate the surrounding habitats and get into our drinking water. When plastic is thrown into the water, it always comes back, sometimes more harmful than before.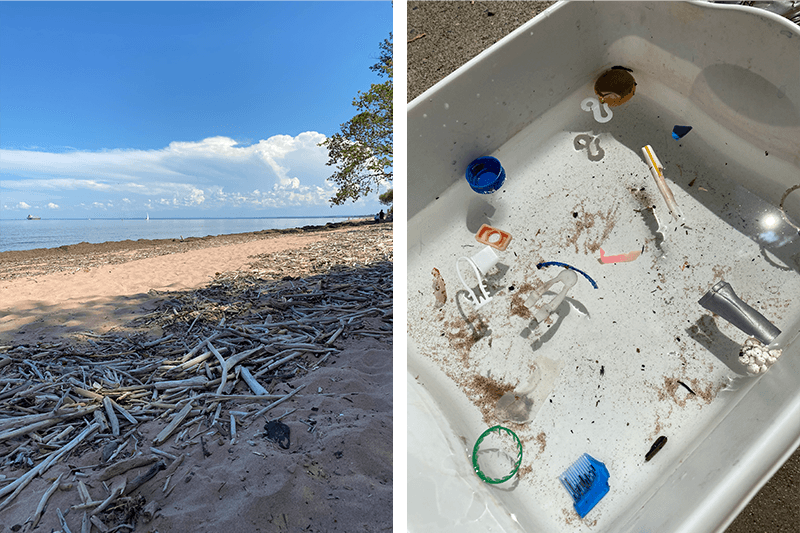 At the beach, I found bags, caps, cups, straws and plenty of other unidentifiable bits of plastic. It only took me half an hour to collect enough plastic to make the seagull sculpture.
The threat of microplastics to freshwater
It's no secret that the oceans of the world are filling up with plastic at a rapid and terrifying rate. However, the same problem is occurring in freshwater, especially in the Great Lakes, with little research or media coverage. 
Plastic pollution in the Great Lakes breaks down over from corrosive waves and exposure to sunlight, creating microplastics. Microplastics are tiny bits of plastic, from the size of a pencil eraser to the size of just three strands of hair. They're formed from larger pieces of plastic that have broken down or loose fibers from clothing, nets and fishing lines.
They are hard to filter and have been found in fish, as well as in drinking water from the lakes, which every year gain 22 million pounds of plastic. Forty million people rely on this drinking water, which may be tainted by microplastics. Attracting PCBs (chemicals related to electrical equipment), and expelling other chemicals, such as flame retardants, microplastics could prove dangerous.
Made from materials such as polyethylene and Styrofoam, microplastics are being observed at higher rates near the Apostle Islands. At beaches along Lake Superior, no matter the population size or proximity to an urban area, they are found among the sand. Likewise, microplastic pollution is common in the Mississippi River. It's a problem that everyone contributes to. 
How to stop the spread of microplastics
Prevention is the key to stopping the spread of microplastics in our lakes, rivers and oceans.
Beach cleanups can prevent large plastics from entering the water and eroding down to microplastics. Plastic found in beaches on the Great Lakes tends to be new, as most plastic washes into the lakes instead of out onto beaches. This plastic then travels and often ends up back into the oceans, adding to the problem there.
Currently, several studies are underway to try to learn more about the dangers of microplastics, but there is still much unknown. Research into plastic in the Great Lakes is still new and deserves more attention and action.
Installing microplastic filters in washing machines is a great way to start, as is beach cleanup, and donating to research funds.
Learn more
These are the sources I used to learn about the threat of microplastics:
* * * * *
What's the Youth Empowerment Program?
FMR created the Youth Empowerment Program (now the Environmental Stewardship Institute) to address the gap between environmental education and a career path in the environmental field.
While many high schools offer green teams or eco clubs, young people often don't have many chances to explore what a real career in the environmental field would look like. As an environmental organization, we wanted to use our resources to help address that gap, in turn growing a stronger, more equitable movement.
We provide paid job experience and foundational learning to a group of students curious about environmental career paths. Our hope is that, by completing the program, participants are more prepared for continued schooling in environmental subjects and have real work experience to lean on for future job opportunities in the field.