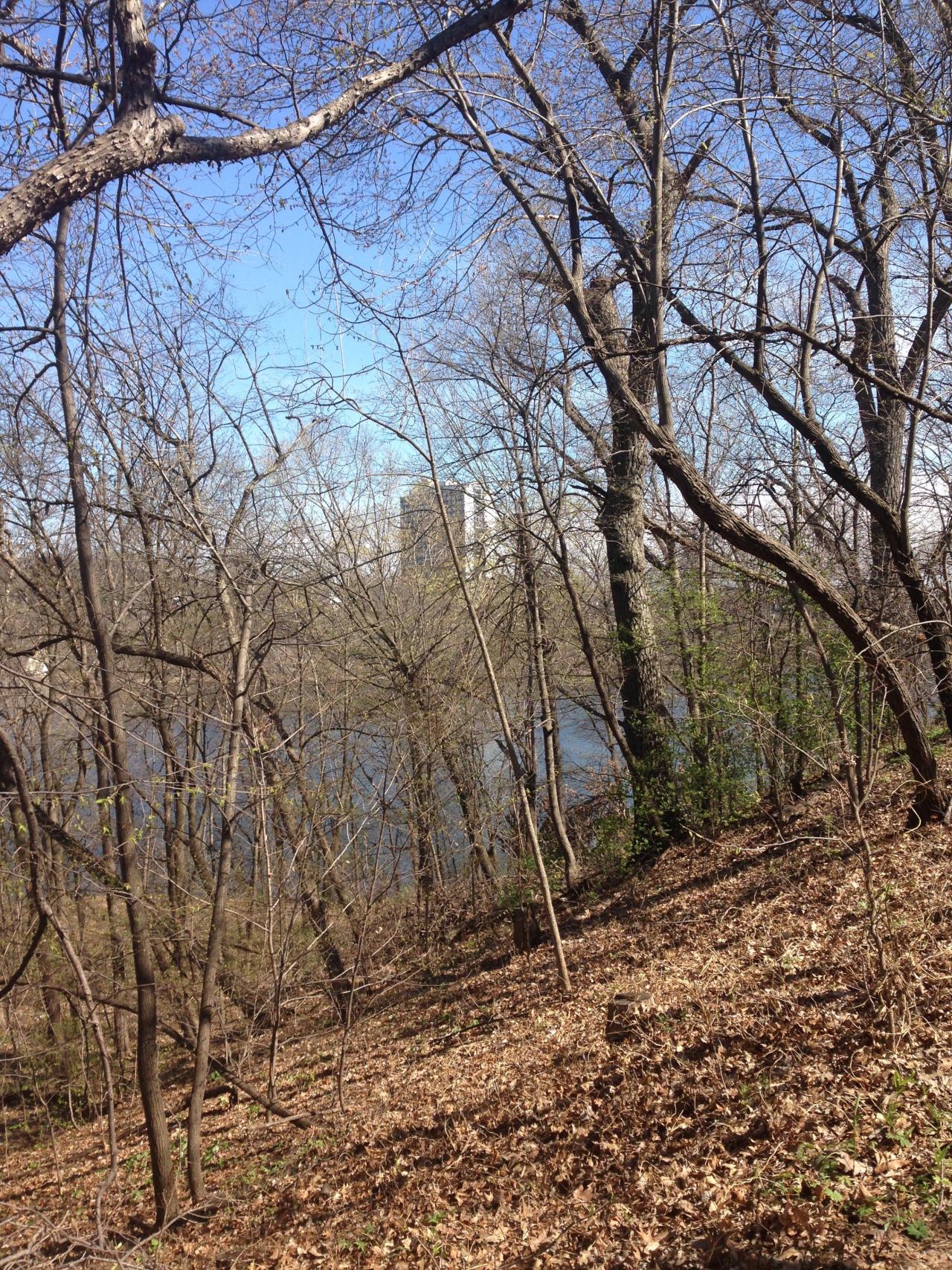 This month's photo was taken from the walking trail along West River Parkway in Minneapolis at approximately East 44th Street, looking southeast towards St. Paul's Highland Park neighborhood.  In spite of drawing more than 2.6 million visitors annually, the Mississippi River Gorge Regional Park offers some of the quietest and wildest natural areas in the Twin Cities to enjoy the river.  Formed by the only waterfall on the Mississippi, the only true gorge on the entire length of the Mighty Miss is the seven mile stretch from downtown Minneapolis to Fort Snelling.
Jonathan Riehle correctly identified the time of year the photo was taken, as well as the location.  "I think the September newsletter photo for 'Whose View?  From Where?' was taken from/near the Winchell Trail on the west bank of the Mississippi in Minneapolis. It is likely from along the stretch from Dowling School to Minnehaha Academy's south campus, or a little south of the Academy.  The view is to the southeast, across the river, with the high rise apartment building in Highland Village in the background.  It looks like it was a spring photo, judging from the touch of green on some of the small trees in the foreground."
Brian Nerbonne's response included a recommendation to check out the Winchell Trail. "The September photo is taken from the Winchell Trail, a beautiful footpath that parallels the Mississippi River in Minneapolis between roughly the Franklin and Ford Parkway bridges. The path is somewhat disjointed due to erosion that has made certain stretches impassable, and the surface varies from wide and paved to a narrow dirt path. If you are on foot it is a wonderful alternative to the more heavily traveled bike/walking path that parallels East River Parkway."
About "Whose view? From where?"
Each month in this section, we feature a photo somewhere along the river corridor in the Twin Cities that is in some way significant or important or just plain scenic. Individuals may then email us and identify the view and explain why they believe it is significant to the community or important to them personally. We'll publish some of your responses in the next issue of Mississippi Messages, where we will also reveal the correct answer.
Photographer:
Irene Jones