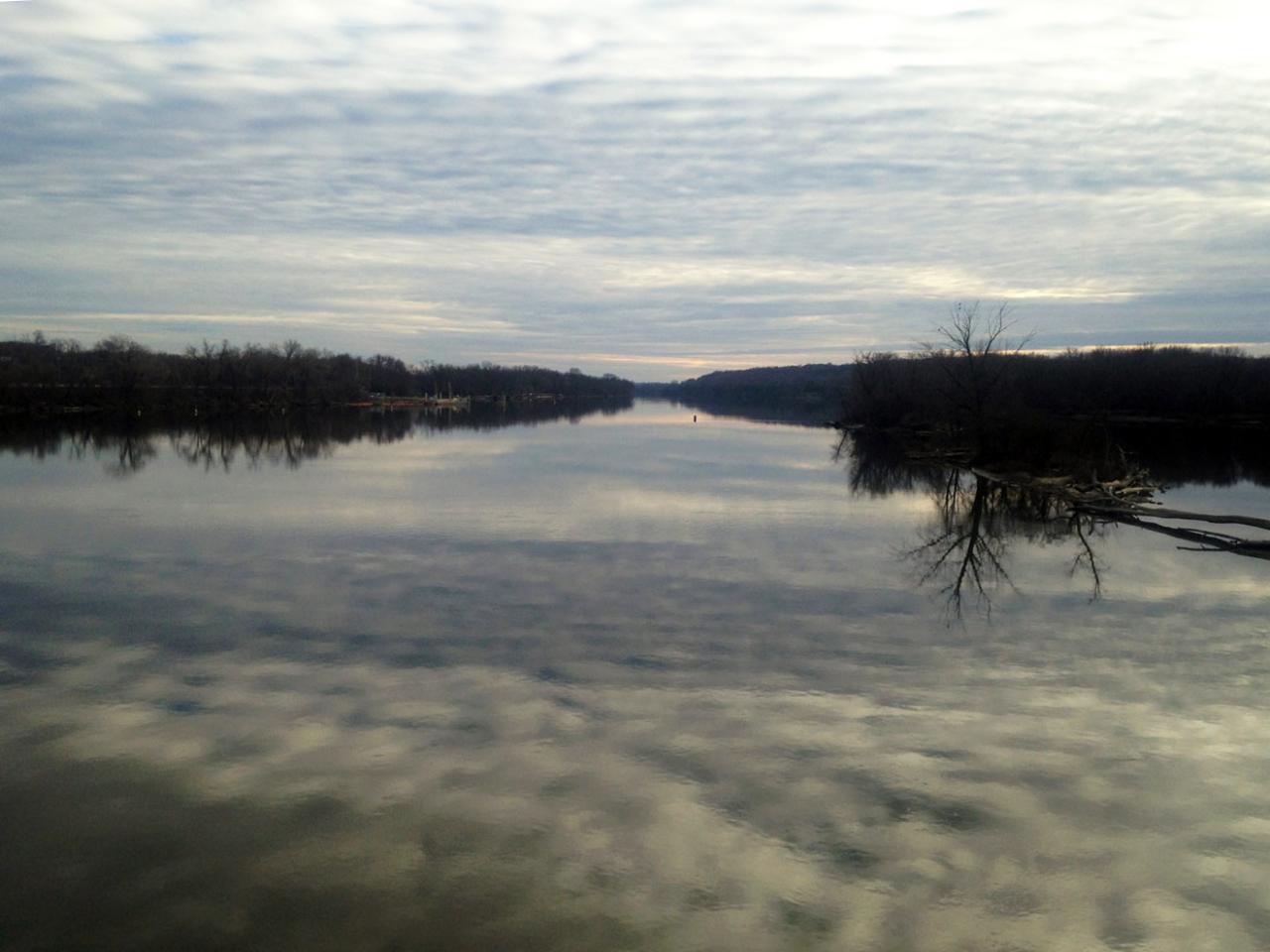 Cold and cloudy twilight river reflections. Photo by Bill Lindeke.
This season's prompt
Winter brings many things: fresh snow on a ski trail, the scent of soup simmering on the stovetop, ice sparkling from a pine branch, a cold engine that won't start, a brisk river running through leafless trees. The cold and cloudy twilight in this photo by urban geographer Bill Lindeke provides an opportunity to reflect on endings and beginnings. How does the winter river inspire you? We'd like to know.
The project
Write to the River is a creative writing project to inspire artistic engagement with our river environment. We invite you to share an original poem or short prose response to seasonal images along the Upper Mississippi River. 
No previous creative writing experience is necessary and all ages and styles are welcome — short prose works, free verse, formal verse, your own verse!
All submissions will be published in our next online edition. We may also showcase some submissions in future issues of Mississippi Messages, our biweekly e-newsletter. Sign up to get each season's prompt and news of edition releases.
Need a few ideas or prompts to get started?
List the first words that come to mind.  
What story is being told? What is the subject?
What feelings are evoked? Does it remind you of a past experience?
Imagine being here — what sounds, smells and tastes might you experience?
How to submit
Submit your piece via our submission form by March 1, 2020. Please include your name and address (or at least your city and ZIP).
If you're under 18 years old, please include your age and a contact number where we can reach a guardian or parent in case we're able to publish your work.
If you are a student or a teacher and are submitting prose and poetry as part of a class project, please do NOT use the form. Instead please contact Write to the River Coordinator Leslie Thomas at writetotherive@fmr.org.
Remember, this is a friendly call for submissions. There is no grading, only appreciation.
If you have any questions or comments, please contact Write to the River Coordinator Leslie Thomas at writetotheriver@fmr.org. Happy writing to the river! We look forward to hearing from you.
Photographer:
Bill Lindeke