Write to the River — Fall 2019 Special World Rivers Edition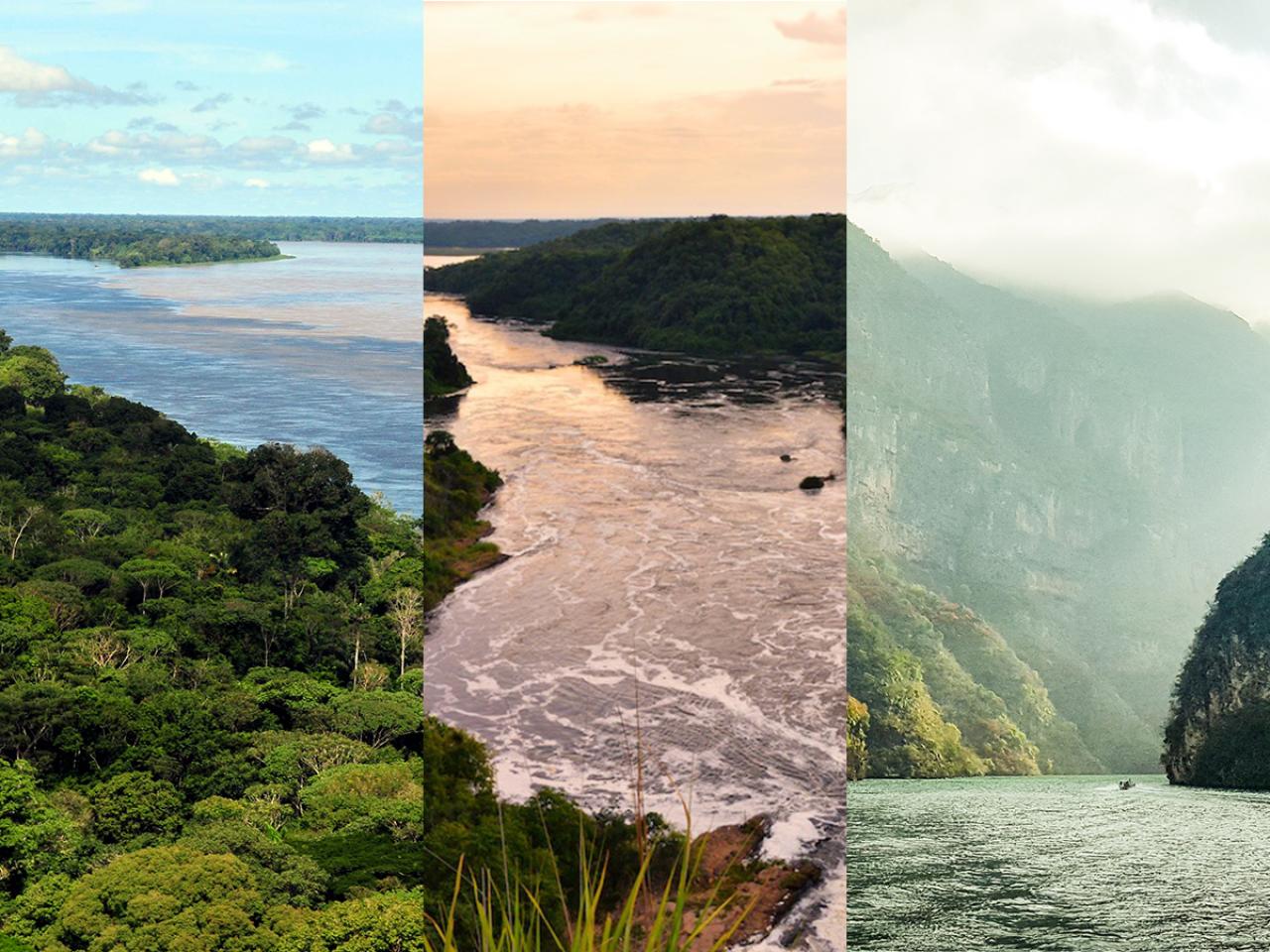 Our World Rivers Day writing prompt featured the 
Amazon
 in Brasil (Neil Palmer CIAT, CC BY-SA 2.0), the 
Nile
 in Uganda (Rod Waddington, CC BY-SA 2.0), and the 
Yangtze
 in China (Boris Kasimov, CC BY 2.0).

For this special edition of Write to the River, we invited you to write to any river in honor of World Rivers Day, celebrated every fall by millions of river enthusiasts and advocates around the globe.
Whether inspired by the Mississippi, the St. Croix or Ganga, the writing speaks to our shared river experiences and the ways water connects us all.
We are deeply grateful to our many talented contributors — from longtime FMR supporters to poets across the globe. And we hope you enjoy this river writing journey!
—
Photo by Peter Moore
When the Time Comes
For Lisa C. Taylor
What of the mountain ablaze beyond our window?
Gorse, burning up the dark, so loud
we fear its crackle, hear its heat.
It spits out seeds that defy flame,
smuts of furze get washed into the stream's source
that tumbles down, picking up along the way:
whirligigs, caddis fly larvae, turf scent,
the luteus light of lesser celandine,
foxglove – that does the heart good just to look at.
It foams by the boundary of our land, so small,
yet there is nothing to stop it from thinking big –
from becoming ocean when the time comes.
Rushing under the bridge to a neighbour's field,
down through bog tannin, it carries into the lake
before it takes itself into the Corrib river that flows
around the oarsmen, past the teahouse at Menlo
under the Salmon Weir bridge,
by the cathedral that still reels in the faithful.
It catches sight of the sea, boats by the Spanish Arch,
lets go of its name, heads out into the Atlantic, reaches
your coast with the memory of mountain, gorse, fire.
By Geraldine Mills
Taken from The Other Side of Longing (Arlen House 2011) A poetry collaboration with Connecticut poet Lisa C. Taylor where they explored themes of culture, landscape and folklore with the Atlantic Ocean as the central metaphor. This poem celebrates that connection where stream becomes river, then enters the ocean and some infinitesimal part of the west coast of Ireland reaches the coast of the USA through the Corrib River that flows through Galway.

—
 
Photo by Nora Pettinger
Noatak River
We disappeared into the Alaska Wilderness for 11 days. We flew from Fairbanks to Bettles and then by bush plane through snow-covered mountain passes to land on a pingo lake. We then hauled a ton of gear to the Noatak and then began our trip through Gates of the Arctic and Kobuk National Parks. The salmon were running and grizzly bears were feeding in the river and close to our campsites. Dall sheep, in one remarkable afternoon, covered a mountainside. On one cliff, rocks and pebbles were popping out of the thawing permafrost and creating a musical like sound. Muskoxen came out of the brush to drink at the water's edge. The few Native villages depend on the river for transportation, food and a fuel source as logs float down to the tundra area. Every night it got to freezing but we never felt cold, as it is so dry. The feeling of how small you are in the face of such a giant ecosystem was remarkable. It was the best experience ever on a remarkable river.
By Mary Hilfiker

—
Photo by Suzanne Swanson
We declare, plural
Think of eighth grade and the globe and
Miss Wakefield and all the names
you mouthed to memory: Tigris, Euphrates,
Upper Nile, Lower, Dnieper, Don, Yangtze,
Amazon, Danube, Ganges, Congo, Mekong,
Mississippi, Missouri, Yukon, Indus,
Colorado. Then the boats and barges, the bathing,
the scrubbing of bedding, of sari and huipil
and cheongsam. Salmon. Sturgeon. Crocodiles.
Catfish. Carp. Beaver. Hippos. Herons.
Sandpipers. Osprey. Blue flag and lotus
and cattails. So much we do not
know, and now the not-knowing swells. Now
surges: heat, drought, flooding, the gouging
out of new channels, algae blooms, dead
zones, cyanide, a squeeze of oxygen that cannot
help but kill these fish, these. And still
we yearn to believe that rivers never
end, tributaries to oceans that welcome
fresh water. We long for rushing, for the current
as emblem of a life that cannot be
grasped. We declare you person, Klamath,
Whanganui, Rio Atrato, our turn to serve,
grant the rivers we claim to love the right
to flow free from our heavy hand, the right to flourish.
By Suzanne Swanson

—
Migrations: Trempeleau Wildlife Refuge, Wisconsin
Another world
below the blue October sky
belongs to herons, rails, terns, pelicans, and egrets.
In front of the blue hills across the Mississippi
and in the reflected hills in the wide blue river,
another world above the thousand
Mallards, Blue-winged Teal, and Wood Ducks
feeding in the blue shallows,
a world of mud flats
of cattails, burreed, sedges, bulrush, arrowhead, and phragmites,
a world of bottom land
silver maple, river birch, swamp white oak,
cottonwood, willow, and ash.
Over the algae on the waters
and in the after-rain,
where prairie meets river bottom,
a line of pelicans turned south, calling to each other.
Their broad wings lifted in the blue, far and near.
White feathers rimmed with feathers black as night.
Currents above, around, and beyond
moonlight looking after moonlight.
All hollow bones.
All words departed. Every heartbeat taken wing.
By Sheila Packa

—
Catching Stars: Storm on the Nile
Luxor, Egypt, November 2002
'There's a warm wind blowing the stars around.' England Dan and John Ford Coley 1976
Mountains long bleached to a pale gold haze, appeared to fade further as the fertile green border blurred into the water: the south wind prevailed. We were told it would carry a storm from the desert, dust first, rain later, insha'allah.
The timeless feluccas switched stately pavane to slip-stream sashay. They raced to find shelter alongside the dock, where the white-sailed gaff-riggers and baksheesh seekers vied with each other for lucrative business.
From our safely moored viewpoint we watched the deluge develop. Rain rattled on rooftops like shutters pulled down over jewellers' shop windows well-lit from behind to give glimpses of pearls and diamond flashed droplets.
There were rainbow-oiled puddles in streets without drains, filled in a flash, the gutters were running with children in ecstasy, uncoiling like springs released in frenzy: no rain had fallen for more than five years.
Also resting on board, the distinguished old soldier with his smartly dressed lady stayed cosily closeted in a position of prominence. With newspapers poised in post-prandial stupor, their faces were like parchment, dried in the wind.
He muttered awake for the expected report: 'There was a storm, did you know, while you were asleep?' 'I knew that there would be.' The old warrior smiled. His words knew their places: his eyes closed again.
Onward to evening, when the rains had passed by us, we boarded the bus to the Temple of Luxor. A Son et Lumiere there was not to be missed. We paused between columns, once seamlessly linked, their colours, their grandeur made wan by the years.
The overture was awesome: the performance began. Unseen, unbidden, from beyond the dark river, from the Valley of The Kings breaking silence of stone, nature's percussion accompanied the concert.
Thunder rolled its dramatic encores. Eerie sheet lightning flashed flickering emerald, a natural backdrop to time-honoured tales. It seemed that the Kings re-asserted immortality: the way their part most perfectly fitted was a potent performance, an unpackaged privilege.
Speechless, we returned to our water-borne comfort. The Nile slapped gently in the calm after storm. Treacle-dark night was shattered by moonlight, as it was for the ancients, the stars move ever on.
By Julie Anne Gilligan
This poem was first published as 'A Rare Storm' in an earlier form in First Class: Orchid Station: The Early Works of the Nearly Famous Talboys G K (Ed) (2007) Monkey Business, an anthology of writing by fifteen students of the 2006 first presentation of A215 Creative Writing, The Open University.

—
Glamour
I had learnt to choose
Evenings to shine in:
Seek velvet darkness to showcase
A fiery, sparkling stone, and watch
It make the night its own.
But today I saw the glamour
Of a river as it shone in gentle waves:
Adding ripples to the light,
Carrying a clear brightness,
Giving the morning a glow.
By Deepa Mardolkar

—
Photo by Good Free Photos 
Elk Lake (Lake Itasca)
Before you were born, there was the sacred Om and the Pool of Siloam, after a bite from the apple you threw what was left in the Gihon River and watched the current carry it first gently and swirling toward the Gulf of Oman and the Arabian Sea a feast for fishes in the Mississippi River at Trempealeau, Wisconsin, where summers were spent barefoot and sunburnt, running a net through shallow inlets, catching minnows and softshell turtles, pulling up clams, clumps of star grass dreaming of the Mississippi's headwaters at Elk Lake (Lake Itasca), of finding the secret spring in Nathalie Babbitt's "Tuck Everlasting," and of going home. "You cannot step into the same river twice," Heraclitus said as you left the Midwest following the Seine from Notre-Dame to the Eiffel Tower wondered what secrets the river held (Joan of Arc's ashes, Isadora Duncan's tears near the bridge in Levallers-Perret, a shrine to Princess Diana at the Pont de l'Alma), said a prayer for us all on the Pont Louis-Philippe as you dropped a Miraculous Medal bought at a Catholic bookstore in Saint Paul (Minnesota) into the water, imagined growing wings and flying to Source-Seine near Dijon and tracking back along the river to the English Channel at Le Havre, back across the Atlantic Ocean to the Gulf of Mexico, soaring above the Mississippi River past Trempealeau, Wisconsin, past Saint Paul, Minnesota, finally returning to Elk Lake (Lake Itasca) and the sacred Om before the dream of the apple, the Gihon River, and the Pool of Siloam.
By Jody Kennedy

—
 
Photo by Bernadette Gallagher
Ganga to La Croix
I
We talk of the river as if we know her
but we only know her
like we know a sister, brother, spouse 
at a certain time and place. 
In Varanasi, city of the living 
where many want to die 
we sit and look at her 
from sunrise to sunset 
wash our clothes, ourselves 
take a boat to the other side 
take our leave. 

II
 
We talk of the river as if we know her 
but we only know her at certain points 
at Afton, where a turtle looks for food 
before sunrise a boat floats in the fog 
men stand with fishing rods held taut. 
This river that meanders into the Mississippi 
carried south where we meet again
at New Orleans.
Like family she gets into our blood 
and we carry her home. 
By Bernadette Gallagher

—
Strange Beasts: Boulder Lake
I launched a kayak above the dam
in high water on shore
over clumps of old seaweed and a boulder.
Water baptized me without words.
A lone eagle circled high over Lady Island, hunting.
The dam had joined Little Boulder and Boulder
and Otter Lake into a reservoir.
The sun warmed my back even as the wind tore
through aspens and scattered yellow
leaves on the water.
The wind raised conflicting territories of waves
along the shoreline of Moose Island.
The massive boulders were alive,
topped with moss and fine blades of grass
that rippled in the wind like fur.
Cauldrons of gray stumps were made
from old growth pines. Their roots
were drowned and their trunks gone but
their round basins swallowed water and spat it out.
As I paddled for Wolf Bay
the elephant stone seemed to draw me in.
Small islands and large stones seemed to glide
closer to shore, but it was I who drifted,
I who was the most temporary, like fog
between air and water.
In a sea of grass, I could see
driftwood like beasts that had gone extinct
in midstride and petrified into gray stone.
I was over and beneath the world--
unaware of what lurked or what direction
flowed the currents that carried me.
Some think this power can be leashed, that their errands
could run without going awry.
Some think they would never drown.
The crowns of aspens
began to tremble long before the wind reached down.
A family of four otters rose up like water spouts.
They stared with black eyes before fluid dives
into the deep. Here for a moment, then gone.
By Sheila Packa

—
Flow
High summer in Banagher, Charlotte Bronté's
wedding season. Along the Shannon's bustling banks
tall grasses sway, alive with nesting birds; Plover,
Lapwing, Pine Marten. Corncrakes, out of sight
yet, at night, rhythmic as a bullfrog's
breathing, Crex Crex bloats humid air.
By day the young bride walks quiet streets
wearing the brightness of trousseau taffeta.
What thoughts rustle? Thornfield perhaps?
Traced in the Napoleonic Tower
like a Kingfisher's lightning flashed in Callow Wetlands.
Evening. The lamps lit, fireflies swarm mullioned windows.
She inhales the scent of river as it meanders towards Killaloe
a word she surely tastes for its lullaby. Such music is worth the testing.
She surely knows Banagher's other name, The Ford of the Rocks,
that Shannon River, fat with trout, bream, home for otters,
peregrines and kites; starts out as a small, shallow stream
named for the Goddess Sionna.
Charlotte's journeys too often begin as a single truth
broadening its girth,  finding its own city,
merging with universal depths. So too the River Shannon
weaves its flow to Atlantic waters.
More than a century has passed. Those bridal days are gone.
The corncrake is no longer plentiful, yet the Shannon,
like all great works, does not forget its source,
the map of its beginning and its end, each tributary
a chapter of churning time that carries its story onwards.
By Eileen Casey 
First published in a River Shannon Protection Alliance publication 'Anthology for a River' by Danu Press.

—
Carried Along
It is those times when the breeze
eases around from behind.
The paddle is at rest
and the water barely whispers to the hull.
Late afternoon stripes of sunlight
play a game with shoreline shadows,
forms flicker, merge, dissipate
and magic resumes its old grudge with reality.
In this stillness my mind accepts
the invitation to imagine others
who have been carried along
on a current such as this.
Just off my stern quarter
I sense the presence of a fellow traveler.
There is only a brief impression
but the fantasy is stunning.  
It is the royal funeral barge
of a king from 3,000 years ago,
still just at the beginning
of his voyage of a million years.
Our hulls glide closer together
as silently as the Milky Way.
I want to ask him many, many things
about the realm he is leaving behind.
When did he first know he was a god?
Was he a god of benevolence or vengeance?
Did he ever grow weary of being worshipped?
But, his attention is fixed far beyond.
Just as his bow is about to cross my stern
we round a bend and the breeze
slaps my hull awake.  The sunlight brightens
and my favorite river vanishes in the glare.
By Jim Larson

—
Natal Dispersal
I am the Grillagh – a swell
of stained water, born in the mud
near Carntogher. I course to Tirnony,
bypassing dolmens and glebeland
to where poachers gather.
By blackthorn and culverts,
they gaff upstream swimmers.
Roe, still hanging on silver, shimmers.
Children steal spawn from squelch and reeds
and trespass in dinghys under the bridge,
lighting Bensons in dens of Benweed.
I contort between Gorse and Bladderwort, fall
into the Bann, find maelstrom ahead
where I diffuse. In Atlantic flow,
I skip guttural stones over
tight undertow
and effuse into folds
of shores where smoke wafts
over Rathlin to Bowmore to steal
places in drams.
My banks diverge
to hold and gather names.
They could be bottled, labelled
as my million parts, but like salmon,
I've swum far, from smolt to here
so I lay for each place a smooth stone
in gravel. I know I'll dig them up
later and end my journey
back at the heart.
By Jo Burns 
First published online on the Strokestown Poetry Festival Website

—
 
Photo by Frances Browner at 
Banagher, Co. Offaly
. (The Betty-O is owned by Michael Ryan.)
Sionna's River
Flows two hundred
     and twenty-four miles
           the longest in the British Isles
                      from Cavan's cross-county
                              mountain cap,
                                it weaves its way
                                  into Limerick's lap.
                           Draining a fifth
                       of this fair nation
             dividing West from
          East and South
        before tipping it into
     the Atlantic Ocean
Coursing eleven counties on its route
Offaly, birthplace of my mother, Sal
           Her father and grandfather, lock keepers
                   where river meets the Grand Canal.
                           Mid-point Banagher, Trollope was postmaster
                                 Charlotte Bronte honeymooned here
                                    Picnicked on the water where all owned a boat
                           She wrote, or hired or borrowed.
                     Ma met Da at Shannonbridge carnival
              Within a year, wedding bells followed
At its mouth, Dad had learnt to swim
                       His brother, Mike, caught slippery eels
                      Their Grandfather founded a Boat Club, captained
                                 the first Shannon rugby team.
                                 This River is the seat of my ancestral hearth
                           Forefathers ran regattas
               on its Curragower foam
                       Called after Sionna,
                                    Celtic Goddess of myth   
                                                         where ashes will scatter when
                                                                                        they all row home.
By Frances Browner

—
Lagan Lifescape
The River Lagan,
a welcome presence in my lifescape,
for a blow-in from a land suffused with drought.
More than twenty years of living in Lisburn, Northern Ireland, learning many lessons about shifting countries as an adult, the challenge of belonging. From the River Lagan, learning of transitions, moving on.
I have come to know this:
if you are in the company of a river,
you are never alone.
Our first encounter with the Lagan was in the winter, our three small children slipping and slithering on the path behind the lower entrance of Lady Dixon Park.  To our left, a frosted church, a field drizzled with snow, muffled traffic passing by.  On the other side, a river swelling, oozing against the bank, sliding under the bridge on the rebound. Draggling branches lingering over the water as it slow-swirled in on itself, like a bird-circle at evening.
This river,
embedded in the townlands,
pulsing through the countryside for twenty-seven miles.
So many moments of wonder, walking the towpath, learning landmarks on the journey into Belfast, watching the water crumpling and uncrumpling over weirs, the specific stillness of a heron, sculpted in the reeds. The bronze patina of the rushing river, unleashing poems and images, making sense of life here.
Sunset on the windows of the Barbour Threads factory, enlivening the past. And one day at the Island Centre, the surprise of a seal, manifesting one gleaming body part at a time.  And then away again, into its secret selkie world.
The Lagan, alongside on my inner/outer journeys.
This river, connecting past and present,
a living exhibition,
peopling stories, storying lives.
By Shelley Tracey
First published in Where my River Flows, 2018, Lagan Navigation Trust, Lisburn, Northern Ireland. Note: 'blow in' is a term used to apply to anyone not born in Northern Ireland and therefore always regarded as a new arrival.  

—
Night Swim, Loch Tay.
I inch into ink,
feel the loch's fist
clench my chest.
I do not resist
but submerge
to the cool tomb
of smothered sound,
expunge day from lungs.
Spill-of-milk moon
billows on my swell,
fills my mouth
with twilight.
I palm a shoal of stars,
arc through dark matter
and snowmelt.
The coldest are never blue.
By Morag Anderson

—
A Visit to the Old Neighborhoud
From your window, old friend,
through the trees,
I can see the tin gray roof
of my former home.
This place, guarded by scented gums
dropping kindling
for my father to light the Autumn fire.
On one stiff knee he'd blow
to conjure crackling flame.
The blackest night's rain would echo there,
wild clattering
swept up from the Waikato below.
Skinny boy safe,
we would listen to the swell and rush
of the towering trees
like the crash of midnight surf.
You and I would follow our secret paths
to the somber treachery of the river.
Rusted and broken fences
climbed and cut upon.
Legs grazed and bleeding,
soothed in the moss green water,
jungle safe in yellow flowered gorse.
At the river's edge we would test the current,
skim stones,
watch the dredging barges drift by.
From your window
those black limbed trees
still mourn their companions.
Underneath their trunks,
slipping through the undergrowth,
half familiar shapes
form and fade.
My friend,
I am trying to square a loss
that refuses to be bound,
a world always incomplete.
I turn, some solace in your embrace,
and you walk me to your door.
By Geoff Callard

—
The Salmon of Knowledge
Once upon a time
On the banks of the River Boyne
There lived in a little hut
A poet called Finnegas.
Every day he went fishing for food
Which put him in a very good mood
If only he could catch the special salmon
Then, he'd really be jammin'.
After a while, a young boy called Finn
Came to live in the hut with him
To learn folktales, songs and rhyme
The secrets of the stars that shine.
One day, they were fishing on the river
When their fishing rod started to quiver
Out leapt a salmon, what a surprise!
It was the salmon to make them wise.
"Set up a fire and a spit," exclaimed the Druid
"I will go and get more wood.
Whatever you do, don't touch the food
This fish dish better be really good!"
Next thing, a fly landed on the fish
Finn flicked it away with a swish
Burnt his thumb, stuck it in his mouth
As Finnegas began to shout:
"Oh no! Oh no! This cannot be
You will be the wisest one, not me
The wisest in the whole country
Eat the whole salmon and leave me be."
Finn became a famous warrior for Ireland
Finnegas stayed near the river in Meath
One fought the bravest battles galore
The other told stories that live for evermore
By Mae Browner
Age 9

—
River Poem
Called to the water's edge,
Rough turbulence shall flow.
Viewing the mighty powerhouse,
Wherever the water may go.
The Mississippi River,
Like many of its kind,
Is a long thin body of water,
Bigger than smaller rivers combined.
Now this beautiful river,
Holds many secrets too,
From hidden caves to shiny rocks,
Oh, there is so much to view!
Ah, that good ol' river!
Is the best that we can get,
Hearing the sounds of the rapids,
Better than an audio cassette.
The river is very spiritual,
Is peaceful and quite tranquil.
You can hear the voice of God above,
Oh the river is quite a thrill!
As the sun sets on the river,
Light glistens over the surface.
Reflecting the light across the sky,
Fulfilling its greatest purpose.
By Andrew J Zellger

—
not river
but   this is not river
this morning   this is not river
all this mudflat and estuary
all this tributary and sky
with its ancient light
gathered by the gradient of years
all the way to here   
and   
if the sun rises
then the ragged squadron of gulls
balanced at their sleep
will lift haphazard
throwing long their shadows
across the sheen of this
looking glass mud   
still   
this is not river
this is salt land
it is heron holm and swan roost
it is a cup of time   collected
it is the spill
of night never quite leaving
it is day unleavened   
later   
a lone owl weaves
soft death across the loom
of these flats
black taloned thread
after black taloned thread
until twilight is tapestried
with silent hunting   
still   
it is not river
this gloaming is not river
but the outpushing of used up land
onto mudflat and estuary
a leaching of light from day
the flushing of hill and of bay
it is rain gathering to start again  
and   
if there is a noise
it is only the wind
walking home for the night
By Nick Allen
This poem is part of a poetry and art project based on the River Humber in the UK called "between two rivers".

—
When you ask to meet me
When you ask to meet me down at the river,
you echo a question asked way back.
Today I agree.
Man and woman full of the moon,
we lean on the trunk that had fallen in winter.
You break a twig off the alder, its orange ooze
making a tiny stain on your shirt,
and put it in your mouth like a rose
to playfully woo the girl I once was.
Ancients believe that the alder bleeds, I say.
But you have no concept of pain ingrained in every joy.
You laugh, and offer your full mouth.
I have no concept of avoiding pain in times of want.
So I take it.
By Karin Molde

—
Photo submitted by Rosie Barrett
Official: Area of Outstanding Natural Beauty
(The Avon Valley, South Devon. UK)
Another stolen day in my eyrie with its view
of the valley
  with its river,
           its inlets,
     its little creeks.
Naturally silting up with sand and dieseled mud.
   Barely floating logs drift up
                    and down on the flow,
           on the ebb.
Ravens roll rooks in the high narrow blue above larches while
below
creeps the moor-water through willows,
         rushes,
                 thrift and
                             sedge out to sea.
By Rosie Barrett

—
Trickle.
Trickle: the current will tempt
you and your worries; little ripples.
Let me stem the gush of you; little
ripples. Here, the swell, bob, drown:
body boats. I love you, I said. Little
ripples. Trickle, trickle, trickle.
By Maeve McKenna

—
 
Photo by Louise Viera
River Poem
     Threads
Parallel to the path
Where they cut a swath
Below the power lines,
My river slinks over stones.
To endangered wetlands
 under a bridge, twisted with rickets,
It does not end, this
 tame and raveled thread.
The minutae  of my slim voyage,
Among the huge and historic,
the haunted Mississippi, the lythe Danube,
the Colorado, these ones
that carry tales to finality.
When I die,
Take my cool ashes, let them spin
And settle near where my tread imprints,
among ripples and threads,
the vast and infinite made intimate with the water's notes
the cacophony of all rivers
The encore of water that rises,
The audience to their feet, applauding.
By Louise Viera

—
Photo submitted by Glenda Powell
Earthly Utopia
Imagine a dream, and in it the earth stands still,
For time is of no importance in this place.
Focus only on the rolling hills, the lush Emerald trees,
The scuffle of an otter in its search for food,
The brilliant blue of a damselfly as it rests on a rush.
The sunlight revealing the mating dance of the Mayfly,
A glimpse of silver, and a splash as a salmon makes her way up river to spawn.
Sheer beauty as a wide river meanders to the sea.
This place is not in heaven, but is here in Ireland.
The majestic Munster Blackwater…………….
Oft' referred to as 'the Irish Rhine' for sheer beauty and size.
As Shakespeare once wrote:
'May all your dreams become reality'………
You can witness this dream too!
By Glenda Powell

—
Mississippi Dreaming
The water swirls around my legs, cool and refreshing, and I wonder about the life it will lead. How far will it travel? Will some of those droplets make it all the way to the Gulf of Mexico after moving through the great plains and the deep southern states? Will they evaporate, condense again, and fall to form other rivers or lakes? I wonder about what lies ahead of them.
In my mind's eye I view their possible paths, rushing here, swirling there, sparkling on the surface and running deep across the bottom. They tumble and roll, perhaps passing through the gills of a mighty sturgeon or a tiny perch. They're joined by waters from a dozen other rivers, all of them with their own stories. I see those waters travel under the shade of ancient trees that overhang the banks they've stood by since the First Peoples ruled the land. They caress rocks deposited by glaciers three thousand generations ago, then slam into dams created to try to control the wild waters. Still, onward the water that flows over my feet at this moment, will go.
Perhaps it lies languid on a rock for a while, caught there while traveling through an area that's seen too little rain lately and where the river runs low. Maybe it splashes against the side of a boat, one filled with lazy dreamers on a Sunday afternoon, or one containing hard working folk making a living, working hard for their families. What are their stories? Who tells them? The water doesn't know. It's only there for a moment then moves on, its path seeming to be free, yet just as preordained as ours is.
The water continues to flow past and around me. More water, more stories. The longer I stand there, the more I'm a participant in it all. Will there be someone down in Mississippi three months from now watching the water roll by, warm and clouded with silt, chemical runoff, and the traces of a million encounters who will think about its birth? Will they wonder about the person who might have stood in its midst as it began its long journey? I'm wondering about them now, and I'm thinking about the water that connects us all.
The water swirls around my legs, cool and refreshing. I should continue across to where the rest of my family are waiting, but maybe I'll stay here just a moment longer. It feels good to be part of the river's story.
By Daniel Hansen

—
 
A Thimbleful of Blood       
Every day at five-fifteen I drink a pint of tea, one hundred and seventy degrees,
        Snow Dragon, the subtlest scent, the tea's character so close to water,
the barest tip of a leaf announcing the end of the beast's hibernation.
        More than a pint is greed. Less is a lack of passion. With each sip,
a little fire on the tongue, the dragon comes to life. And when he
        lifts his head from under his wing, when the opening of his eyes
awakens everything in the valley, and the rivers swell and swiften,
        and two children, playing games, try to push each other in,
watch out. And when we, in our creaturely cohabitation, make a game
        of out-maneuvering one another, when we eye the mouth of extinction
as it closes in on us, and elbow our way into the flock, kicking our kin
        that they might slow down, thinking him and not me, watch out.
By Ricky Ray

—
 
Fleeting
Fall is fleeting
The rain is beating
Against my window pane
Wind rushes through the trees
Bending the branches
Stripping the leaves
Yellow, green, brown
Straight River flowing down
The squirrels run and scurry about
Burying the treasure
They carry in their mouth
Dog running and
Chasing the ball
Loving life in the fall
Yellow, green, brown
Straight River flowing down
Clouds dark and gray
Promising winter
Under their sway
Old man riding a mower
Wishing that time
Would move a little slower
Down the river I go
Headed for the
Gulf of Mexico
Down the river I go
Headed for the
Gulf of Mexico
By Jeff Crump

—
Photo submitted by Monica Nigon
River Story
The Arkansas River contains up to Class V whitewater, but when it begins high in the Colorado Rockies, it is a mere trickle. The water meanders through lush valleys as a shallow bog, toothy 14,000-foot peaks dominating the horizon in all directions. On its journey south, the stream picks up snowmelt running down the east side of the Continental Divide, invites more tributaries to accompany it. Soon, seemingly before the Arkansas is ready, the riverbed narrows, becomes a steep, rocky gorge with loose scree and pinyon pines clinging to its banks. The size of the gorge can't take the amount of water the river offers, so she undergoes a mood change. What was moments ago a wide, docile creek is now a surging, swirling, powerful beast that, in the springtime, will rip cottonwood trees three-feet in diameter from their roots to be carried downstream.
This is where you'll find enthusiasts kayaking and rafting their way through raging whitewater. You might hear their whoops of joy, their laughs, their conversations as they stand on shore, arms crossed, and discuss the best way to navigate the rapids. The river is bustling with activity here.  A multitude of colorful rafts pass by each minute carrying neoprene-clad paddlers with bright helmets. This is where you'll find me almost everyday, either guiding tourists down the rapids or paddling with my friends.
A bit further south, the sounds of shouting raft guides and laughing paddlers fade. The river widens, and she becomes mild again. The Arkansas takes a left and begins heading toward its final destination: the thick, soupy Mississippi River. Here she will meet the waters of the modest Zumbro River of southeastern Minnesota.
The Zumbro consists of three forks: the South, Middle, and North. Through a span of about 60 miles, the three branches gather into one. The mood of the river is forever the same, the Mississippi in miniature. Its banks are muddy, held together only by the thick roots of oak and maple trees. Mud and sand bars protrude lazily, and one is likely to sink up to their ankles if they brave walking on them. You'd find secretive muskrats and devious raccoons camping on its banks. If you're lucky, you might see a fox, a mink, a beaver.
The Zumbro passes one small Minnesota farming town after another, often jumping its banks in the spring and in heavy summer thunderstorms to leave soft, silty obstructions on the highway. The banks become steeper as it winds through rocky bluffs, limestone cliffs stacked like pancakes on each side. At last, it slurps reluctantly into the Mississippi River, creating the nebulous border between Minnesota and Wisconsin. There, it leaves its provincial roots and encounters 1500-ton barges; swirling, murky backwaters leading to dead ends; locals in shiny, expensive fishing boats, chasing the elusive walleye; waterskiers and houseboats and cities.
A couple decades ago, on the North Fork of the Zumbro River, a dark-haired brother and sister would splash about on its slippery banks, fishing for catfish with clear line on a stick. It's where the brother allowed the sister to tag along while he checked his traps in the early morning, breaking through sharp ice and hoping for a prized mink. It's where the two children would bring their small black dog, throwing sticks for her to fetch and shrieking with laughter when the dog splashed them with tepid, muddy water.
The ghosts of the dark-haired siblings still laugh and shove and shout in those waters, even though they are both grown and gone. When they left, their father packed up the small blue house they called their home, leaving only the building and dusty memories behind.
I, the dark-haired sister, can't go back to my home on the Zumbro anymore, so I hope the Arkansas can tell those waters hello from me. I hope she waves at the ghosts of the joyful siblings, and the young sister will wave at the shimmering apparition of her 27-year-old self. This woman is laughing and sunburnt, surrounded by the mountains that give her peace, yet always, always, missing the humid, rolling hills and sleepy water of her childhood.
When I'm on the river, I am nowhere and everywhere at once, transcending time and place. The cold, frothing waters where I recreate now will soon be the same as all of the water in the world, mixing and swirling through swamps and lakes and oceans. Thus, it doesn't matter where I work or sleep or live.
I am home.
By Monica Nigon

—
The River
From the land of cold, I grow to be bold From the land of many lakes, I've rolled through quakes I pass many streams and creeks alike, The banks and cliffs I always strike I never quit, I never tire I can move myself and make a mire I've carried death, I've created life, I've been gentle, but also made strife I'm clear, I'm muddy and full of silt, I can push hard enough to make willows tilt To the south I gently roll Yet on the way I make atolls To many others I meet and greet Only to grow larger and swell at your feet I grow the willows from my fertile sands As I take and make you new lands There are many mysteries of my past As I keep moving, I will always last Many see me as the mighty father Others go by but never bother A am the beauty and the beast Not only moving south but west to east I see the Delta as I pass the bluff The Southern winds do make me rough To the South I roll and roll I hear the Blues and feel the soul I see the land where towns used to be Those no longer there because of me I pass more bluffs where soldiers died Their families left behind, who always cried The battles fought over the slave Freedom is what they only crave Into the lowlands I slowly flow I see more lights of a city's glow I hear the music, mostly jazz I see them dance their razzmatazz Further to the south I slowly go I began to feel the ebb and flow My waters are changing from clear to brine I start to realize it's almost time With the last big push of my southern flow I thank the Lord, and know it's time to go For thousands of miles I have traveled My twist and turns have now been unraveled
By Ronnie Miller

—
Write to the River
Write to the River is a creative writing project to inspire artistic engagement with our river environment. We invite you to share an original poem or short prose response to seasonal images along the Upper Mississippi River. Our next seasonal photo prompt and call for creative writing submissions will be in an upcoming issue of our e-newsletter "Mississippi Messages."