Wakáŋ Tipi / Bruce Vento Nature Sanctuary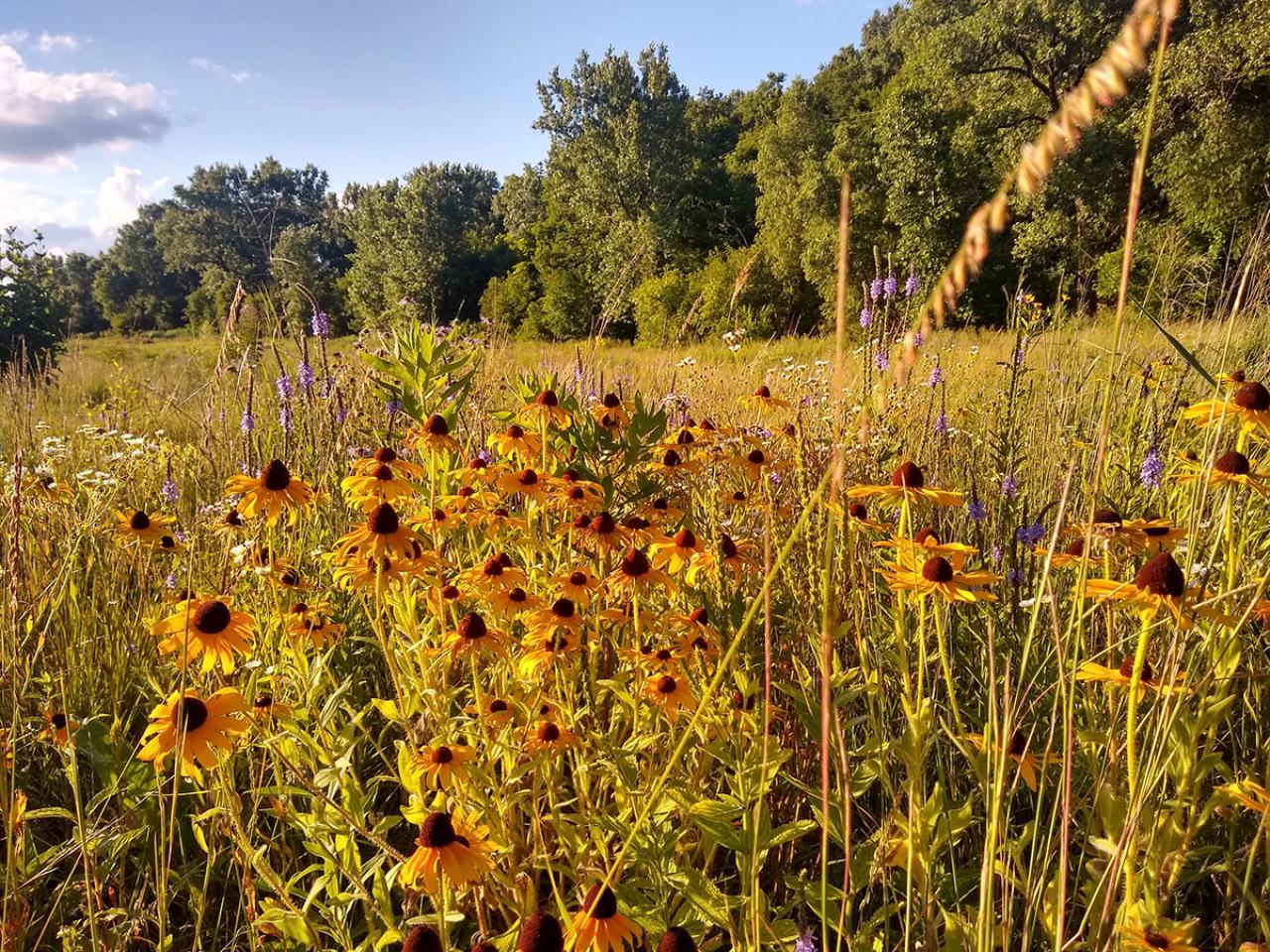 Where is Wakáŋ Tipi (Bruce Vento Nature Sanctuary)?
Just east of downtown St. Paul, 27-acre Bruce Vento Nature Sanctuary flanks the east side of the rivers and lies below the bluffs at Indian Mounds Regional Park.
The public is welcome to visit Bruce Vento Nature Sanctuary's walking trails. (See the City of Saint Paul's website for more info.)
Our work here takes place on Dakota homelands, and this park is a sacred site; if you visit, come with respect. Learn more.
What's special about Wakáŋ Tipi (Bruce Vento Nature Sanctuary)?
Once a verdant grassland and marsh where Phalen Creek and Trout Brook met and joined the Mississippi River, the sanctuary has been a sacred place for Dakota people for thousands of years. It's home to Wakáŋ Tipi cave, or Dwelling Place of the Sacred, and lies just below Dakota burial mounds on the bluffs of Indian Mounds Regional Park. Watch this video from Wakáŋ Tipi Awaŋyaŋkapi to learn more:
During European colonization, Minnesota's early rail and brewing operations defaced and damaged the site. The industrial era brought major pollution. Thanks to years of effort by community members and a host of partners led by Wakáŋ Tipi Awaŋyaŋkapi, the sanctuary became a city park in 2005. Its restored prairie, oak savanna and woodland once again became habitat for pollinators, migrating birds and more.
The city named the park for the late Bruce Vento, a longtime U.S. representative from Minnesota's 4th congressional district and a passionate environmental advocate who played a key role in the designation of the metro Mississippi as a national park.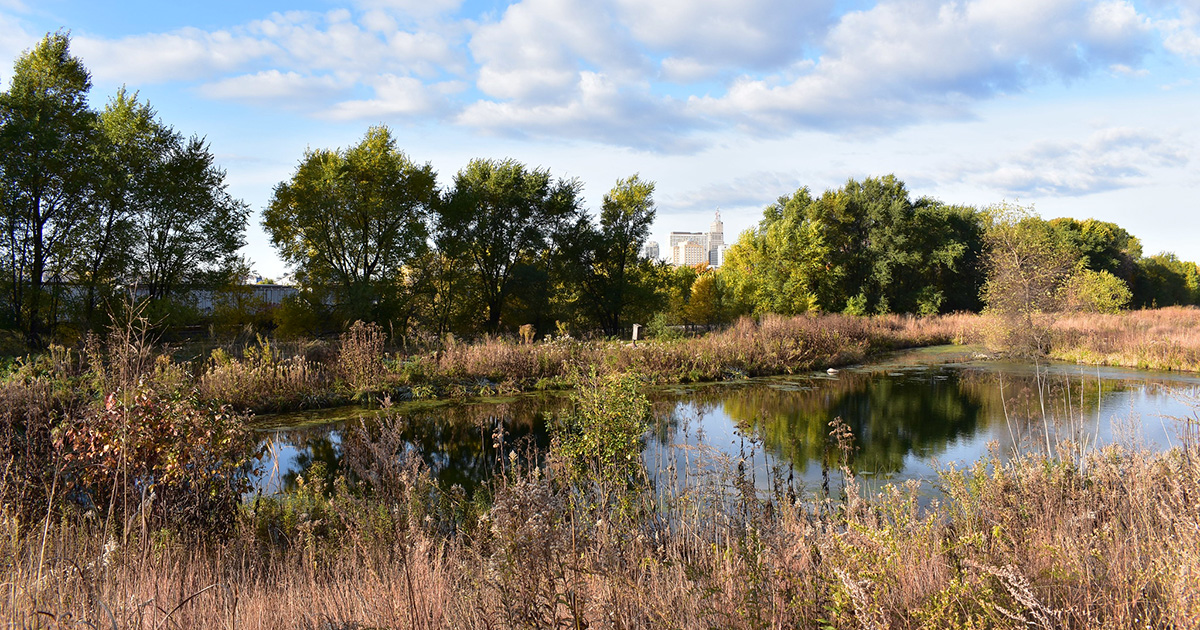 Visitors can see the St. Paul skyline from the park.
The park will also soon be home to the Wakáŋ Tipi Center, honoring the site's cultural significance and focusing on the narratives of Dakota people in the region. To learn more about and support Wakáŋ Tipi Awaŋyaŋkapi progress on the Wakáŋ Tipi Center, visit their updates page.
Our work at Wakáŋ Tipi (Bruce Vento Nature Sanctuary)
FMR is proud to join the long list of partners in the restoration of this unique site. Saint Paul Parks and Recreation has worked for years with Wakáŋ Tipi Awaŋyaŋkapi (formerly Lower Phalen Creek Project), Urban Roots and Mississippi Park Connection to improve habitat.
The site's original natural resource management plan, written in 2001 by Emmons and Olivier Resources, Inc., focused on cleaning up or remediating pollution from the site's long industrial history. That plan also guided the much-needed return to native plant communities from the weedy plant species that had taken over the site since it was essentially abandoned in the 1970s.
We updated the natural resource management plan for the site in 2020 with finer-scale steps needed to ensure healthy prairie and forest habitat. Importantly, we created the plan in partnership with Native-led Wakáŋ Tipi Awaŋyaŋkapi. The new plan focuses on culturally important plant species and restoration techniques that better represent and honor the site's history and ongoing importance to Dakota people.
FMR ecologists typically select plants for a restoration that offer the greatest habitat benefit to pollinators, birds and other wildlife, improve both soil and water quality, and are representative of what was part of the site's historical plant community. This time the conversation included Wakáŋ Tipi Awaŋyaŋkapi, who asked local Native community members what culturally significant plants they would like to see emphasized at the site. Watch a video about the plants we chose together.
Often, plants that are significant to Indigenous communities are the same native plant species that make quality habitat. Here are just a few of the culturally and ecologically important plants we've planted:
Arrowhead — a wetland species used for its edible roots and medicinal properties whose tubers also benefit ducks, muskrats and turtles
Prairie sage — a dry prairie species important for ceremonial purposes and as a tea for stomach issues that also provides nesting materials for native bees
Purple coneflower (or narrow-leaved purple coneflower) — a prairie species used as an antiseptic to treat bites and sores and to stimulate the immune system; it also benefits butterflies, especially skippers
Prairie rose — a wildflower used for teas and other herbal medicines that also attracts bumblebees
Swamp and showy milkweed — wildflowers whose roots can treat asthma, rheumatism and other ailments and whose flowers provide great late-season pollen sources for bees. Milkweed is also a host plant for monarch butterflies.
We're also prioritizing culturally important restoration practices such as prescribed burns. And because cottonwood is a culturally sacred species, we're planting a new cottonwood tree into the forested area for any removed from a restored prairie area.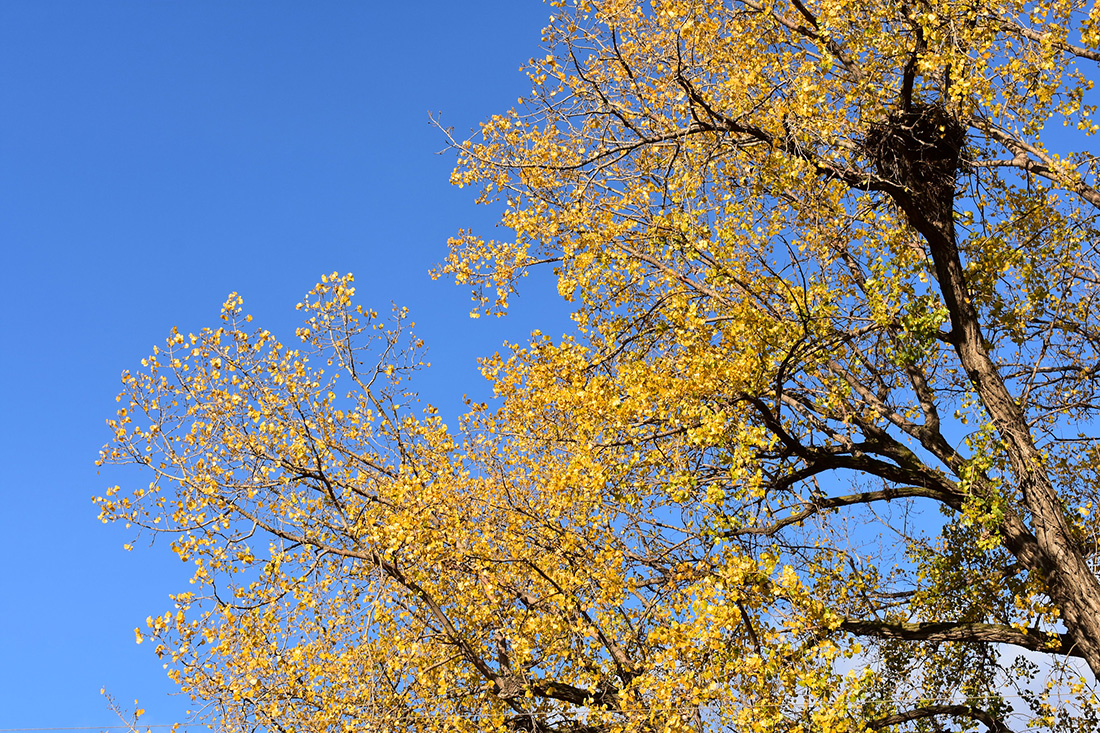 An eagle's nest in the giant cottonwoods near the entrance of the park.
We're conducting ecological monitoring at the site to assess the effects of our restoration on insect and mammal populations. For example, with help from University of Minnesota mammologists, FMR interns organize and lead annual small mammal surveys and also help coordinate pollinator monitoring at the site.
Wakáŋ Tipi Awaŋyaŋkapi invites participants from primarily Native organizations to work on the restoration itself, while FMR provides tools, supplies and ecological oversight. Saint Paul Parks and Recreation also hosts Restore! events at the site, which are open to the public.
Find out more and get involved
Partners and funders for our work at Wakáŋ Tipi (Bruce Vento Nature Sanctuary)
This work is made possible by Wakáŋ Tipi Awaŋyaŋkapi, Saint Paul Parks and Recreation and Urban Roots, with funding from the 3M Foundation, the Environment and Natural Resource Trust Fund, Xcel Energy and our generous donors like you!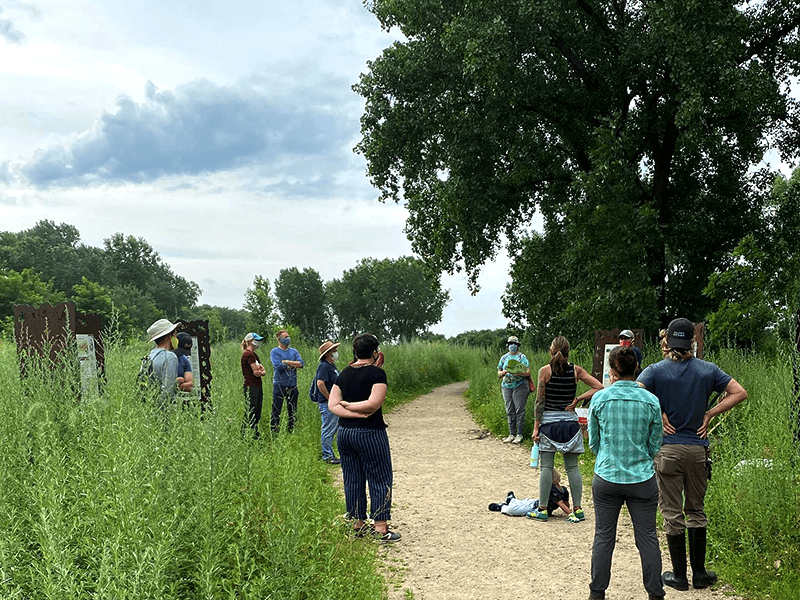 At our partnership's first stewardship event, held in 2020, volunteers removed hundreds of burdock plants from the woodland edges at the site, preventing their seed from spreading and making way for the emergence of native woodland plant species. (Photo by Wakáŋ Tipi Awaŋyaŋkapi)