Prairie box and woodland tending at Nicollet Island
Tuesday, June 7, 2022 -

6:00pm

to

8:00pm
Nicollet Island, Minneapolis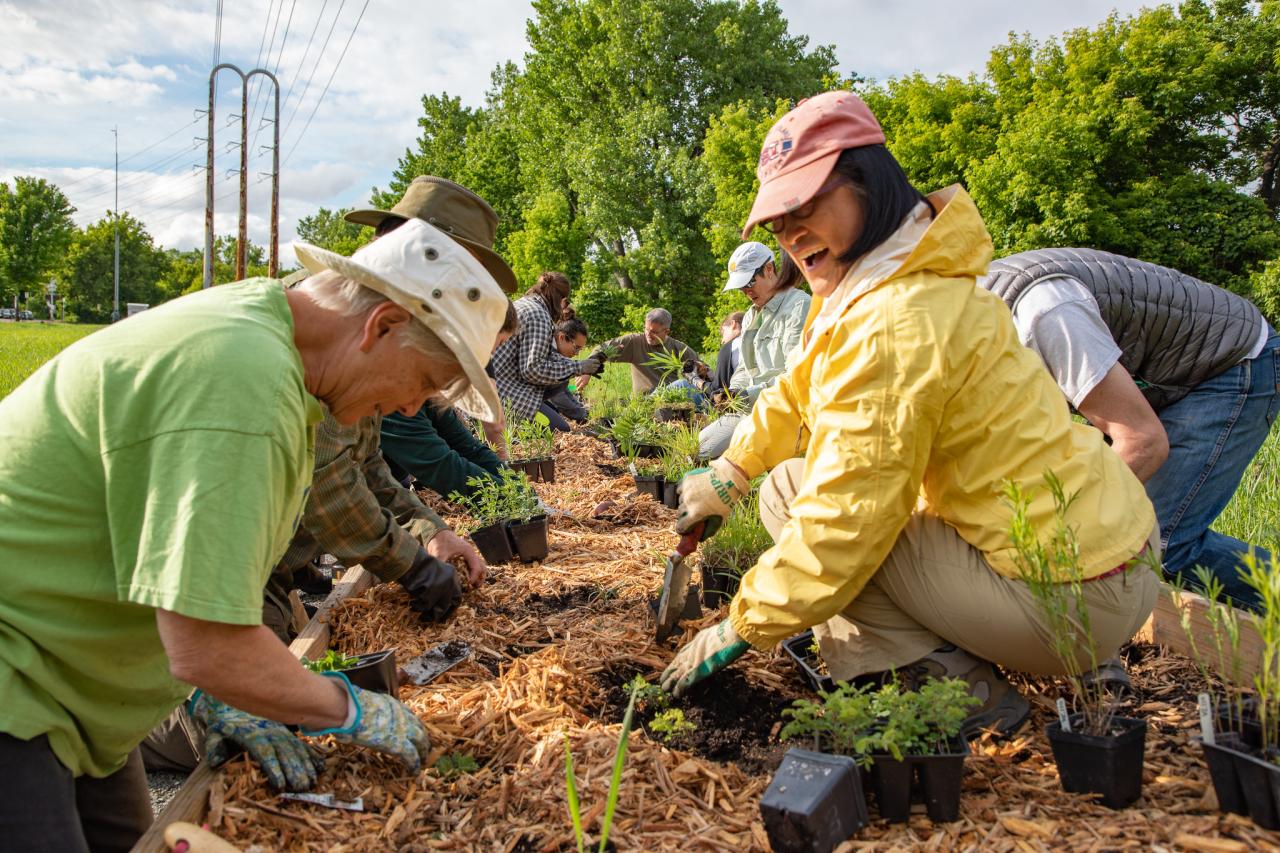 Our work takes place on Dakota homelands. Learn more.
--
In 2019, FMR volunteers planted over 600 native prairie plants in the demonstration prairie boxes on Nicollet Island. Along with adding pollinator habitat and beauty to the island, these boxes are educational. Identification plaques give park visitors the chance to learn more about the stunning array of species coming up throughout the restored prairies on the island.
However, the boxes need upkeep and tending! Join us this June to work in the demonstration prairie to ensure that this resource provides everything it can for the human and wildlife communities on Nicollet Island. Volunteers will also help pull garlic mustard and other invasive plants from forested areas where buckthorn was recently removed.
All are welcome. No experience is needed; however, registration is required and capacity is limited. All tools, gloves and training will be provided. This event is part of our Above the Falls Stewards program, engaging North and Northeast Minneapolis residents to protect and restore their riverfront parks.
River Days of Action
This event is part of the Mississippi River Network's second annual River Days of Action, occurring June 7-12th, 2022. Join in as Network member organizations (including FMR) and community partners host online and in-person events along our mighty river.
All events are united by the 'River Days' 2022 theme and universal actions. The theme is: The Mississippi River is healthy. The Mississippi River is for all. The Mississippi River has a voice. The universal actions include calling on Congress to establish a federal restoration program for the Mississippi. Learn more and take action here.
Accessibility
The areas where we will be working on the island are mostly directly off paved sidewalks or walking trails. Volunteers will be working on mostly level terrain. The volunteer tasks at this event will largely not be very strenuous, mostly hand-pulling weeds.
Ready to register?
To sign up and receive directions to the meeting spot, contact FMR Volunteer & Outreach Coordinator Sophie Downey at sdowney@fmr.org, 651-222-2193 x27. Please include the name of the event, your name, address, phone number and the number in your party. We ask that you limit groups to 4 or fewer.
You will receive a confirmation email from sdowney@fmr.org within two business days. (If you don't, please check your Spam or Promotions folder.) 
If you're under 18 and interested in volunteering without the company of your parent or guardian, please take a moment and have them fill out this brief minor permission form.
Can't make it?
To receive notices of future volunteer events, contact FMR Volunteer & Outreach Coordinator Sophie Downey at sdowney@fmr.org. Or, visit our Events Calendar for our most up-to-date listing of upcoming events. To receive a twice-a-month e-newsletter including all FMR activities and news, sign up for Mississippi Messages.
What about COVID-19?
We're watching the CDC and Minnesota Department of Health guidelines closely. If plans change based on their recommendations, FMR Volunteer & Outreach Coordinator Sophie Downey will email registrants with event updates. (Be sure to add sdowney@fmr.org to your contacts so updates don't land in spam.) And we'll update this page if anything changes. (You can read more about our policies here.)
We will offer gloves and hand sanitizer at the event. Volunteers are encouraged to bring their own masks and wear them when in close proximity to others.
Thank you to our partners and funders:
Thank you to our partners and funders: 3M Foundation, BNSF Foundation, the Environment and Natural Resources Trust Fund, Fair State Brewing, Friends of the Riverfront, Hennepin County, Minneapolis Park and Recreation Board, Mississippi Watershed Management Organization, RBC Wealth Management and Xcel Energy.