Seeds for stewardship: Volunteers collect native prairie seed at Heritage Park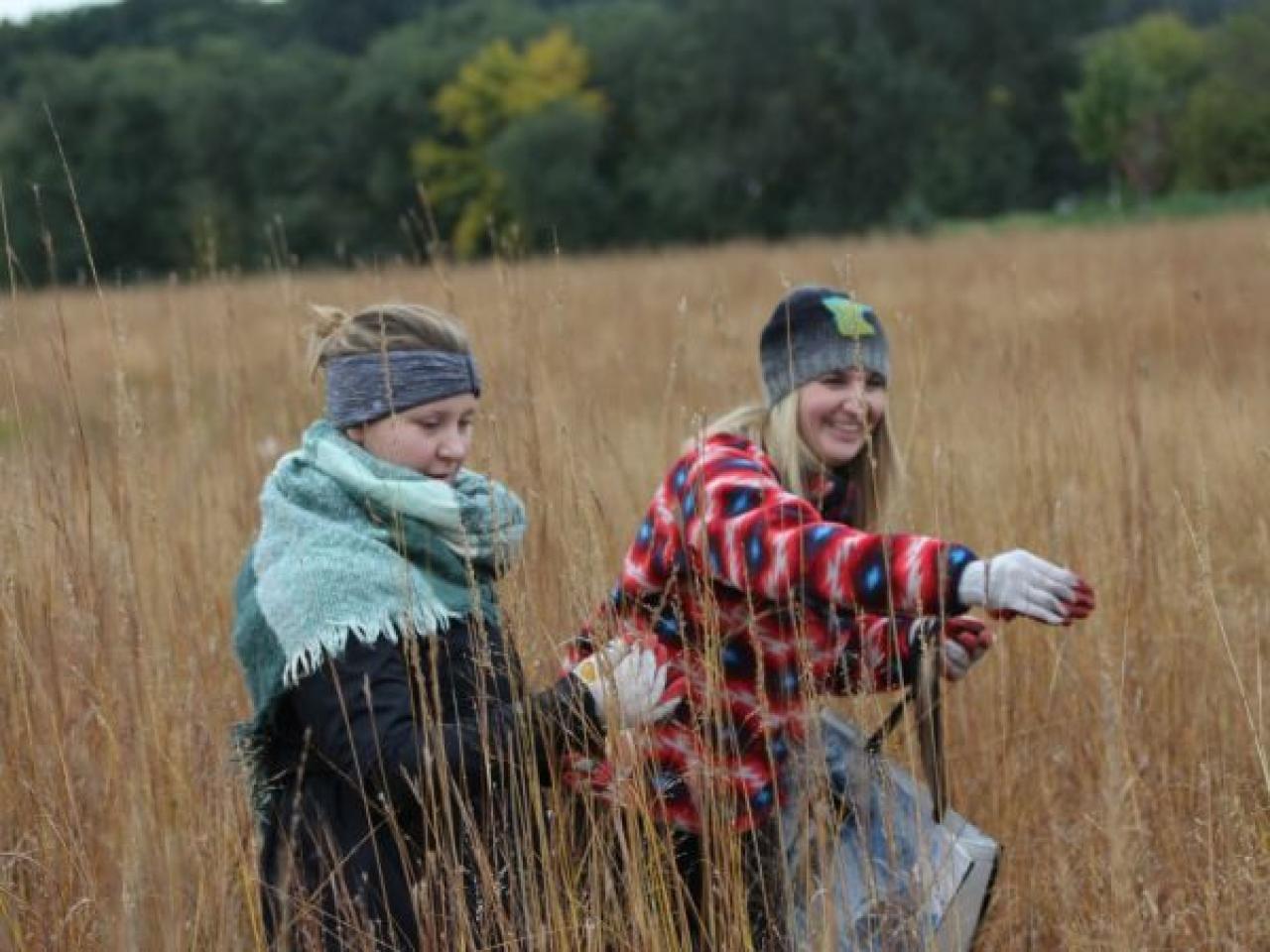 Some 47 volunteers braved the near-freezing chill October 8 to help Friends of the Mississippi River gather much-needed native plant seed at a local restored prairie.
Tucked amongst industrial and residential properties along and near the riverfront, the naturalized area is part of Heritage Village Park, which is also home to a section of the Metro Big River Trail. FMR first wrote a natural resource management plan for the park in 2005. Using the plan, the city embarked upon the restoration of the roughly 50-acre site, including converting old fields and railyards to native prairie. The now flourishing prairie boasts pockets of wildflowers surrounded by a sea of native grass species.
The native plants provide much-needed habitat and sustenance for the millions of birds who migrate through our local stretch of the Mississippi River Flyway annually, not to mention resident populations.
Supported by the city and Inver Grove Heights Parks and Recreation, FMR recently began recruiting and engaging community members to tend the prairie as well as the Rock Island Swing Bridge Park a few blocks south.
Stewarship Coordinator Adam Flett was delighted at the turnout. Volunteers collected over 50 bags of seed, focusing mainly on native grass species like big bluestem, switchgrass, and indiangrass. This seed will be used both at Heritage Village Park and at Rock Island Swing Bridge Park, where FMR is overseeing savanna and forest restoration. The enormous amount of seed collected means that FMR will not have to purchase supplemental seed for these sites, allowing those resources to go toward other restoration tasks. This would not have been possible without such a large group of enthusiastic volunteers!
Community volunteers are the cornerstone of FMR's habitat restoration efforts. Currently, just over two dozen Inver Grove Heights residents volunteer with FMR. If you'd like to be receive notices of future volunteer events at this site, let us know! Contact Stewardship Coordinator Adam Flett at aflett@fmr.org.
Hover over the image and click the arrow on the right to enjoy the slideshow!
Additional event photos by Rich Wahls are available on our flickr page.