Special Places: Staff favorites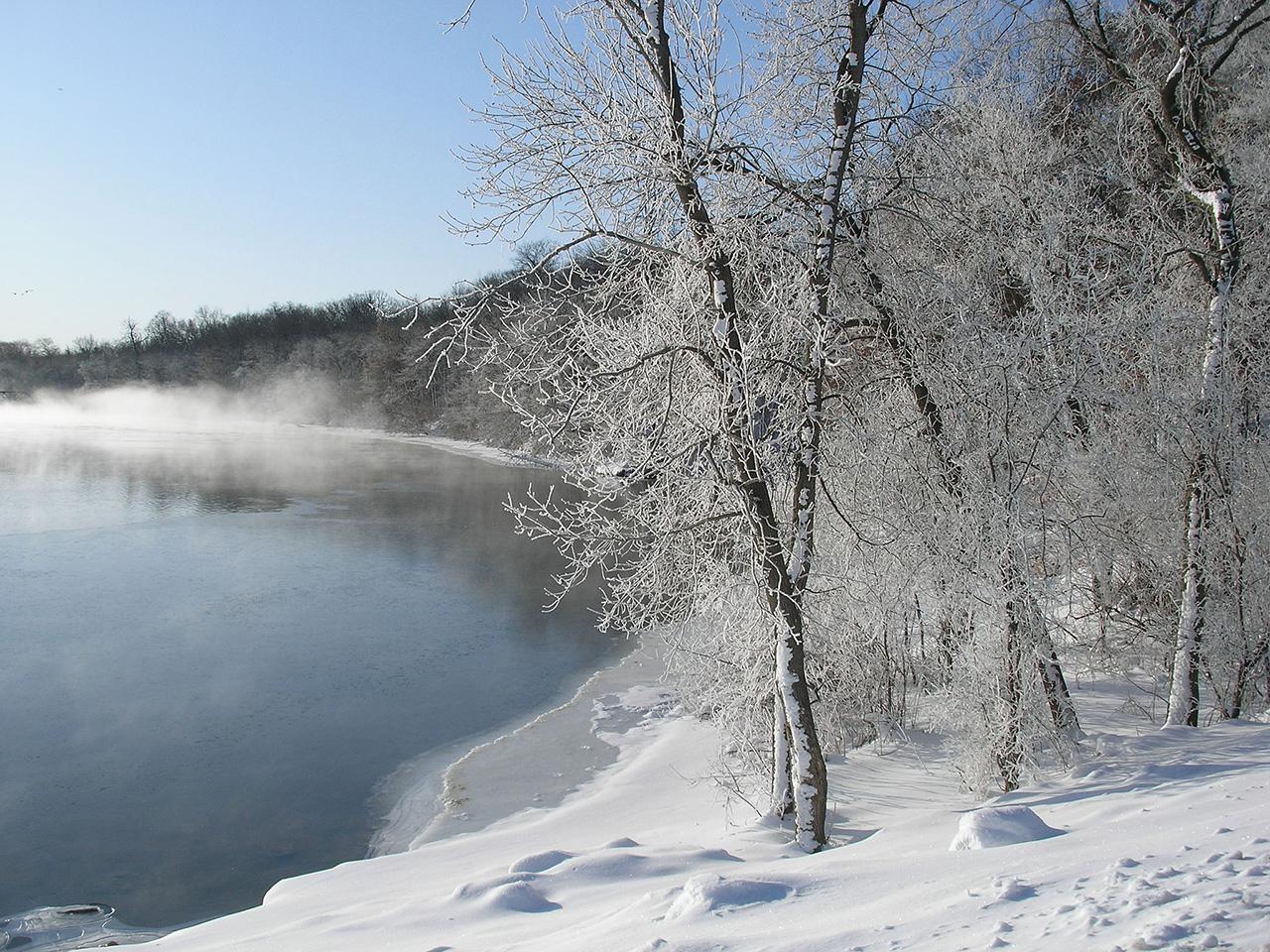 For our 25th anniversary this year, we set out to map 25 special places along the Mississippi. Our monthly articles have featured all kinds of stunning views, restoration sites, waterfalls, blooming prairies and more.
In our enthusiasm to share the spots we know and love, we've featured 35 (not 25) special places. And, as our executive director Whitney Clark says, "There are so many more!"
Though we could list special places for years, we'll close this series by profiling a few of our staff's personal connections to the river — places we visit daily or places made significant by memory and experience.
We know you could add many more to our list. Each riverfront mile, every bend and every bluff, is feature-worthy. We hope you'll enjoy our picks.
Raynette Prince, Administrative Assistant: Grey Cloud Island near Cottage Grove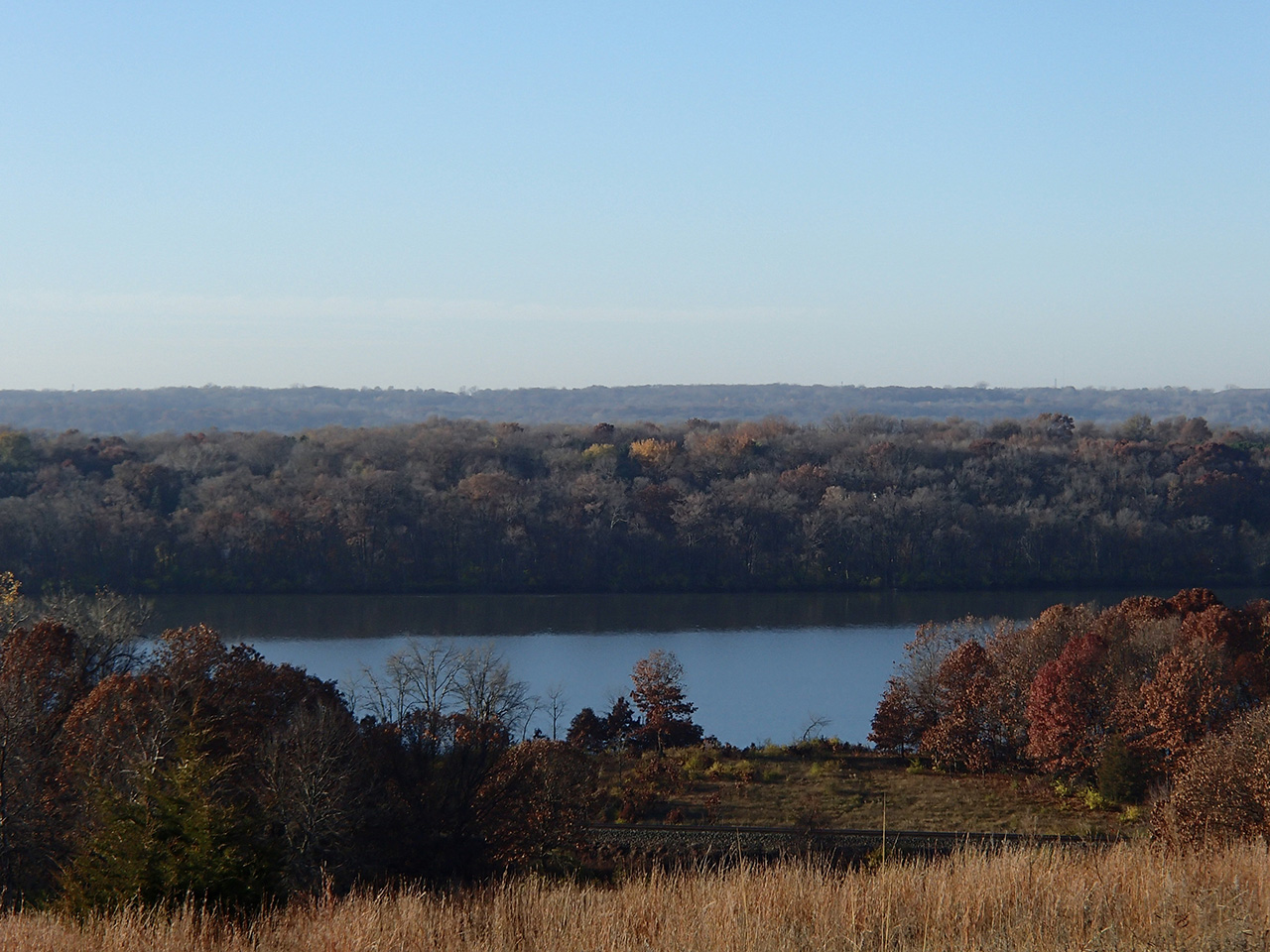 "My stepfather used to take us out on his fishing boat all the time near Grey Cloud Island when I was younger. I never cast a line myself but I did clean the fish.
"I'll never forget watching one genius angler who made his own fishing device. Using a Coca-Cola can, a rock and fishing line, he would catch so many fish. Every week, my stepfather used to wave to him and then say to us, 'Look at that, here we are using fishing poles and getting nothing!'
"My stepfather passed away in 2004, but as my children grew up, I also took them out to Grey Cloud on the weekends."
View a beautiful photo essay of Grey Cloud Island by photographer Tom Bell.
Whitney Clark, Executive Director: Crystal Cove also known as Hidden Cove, St. Paul Park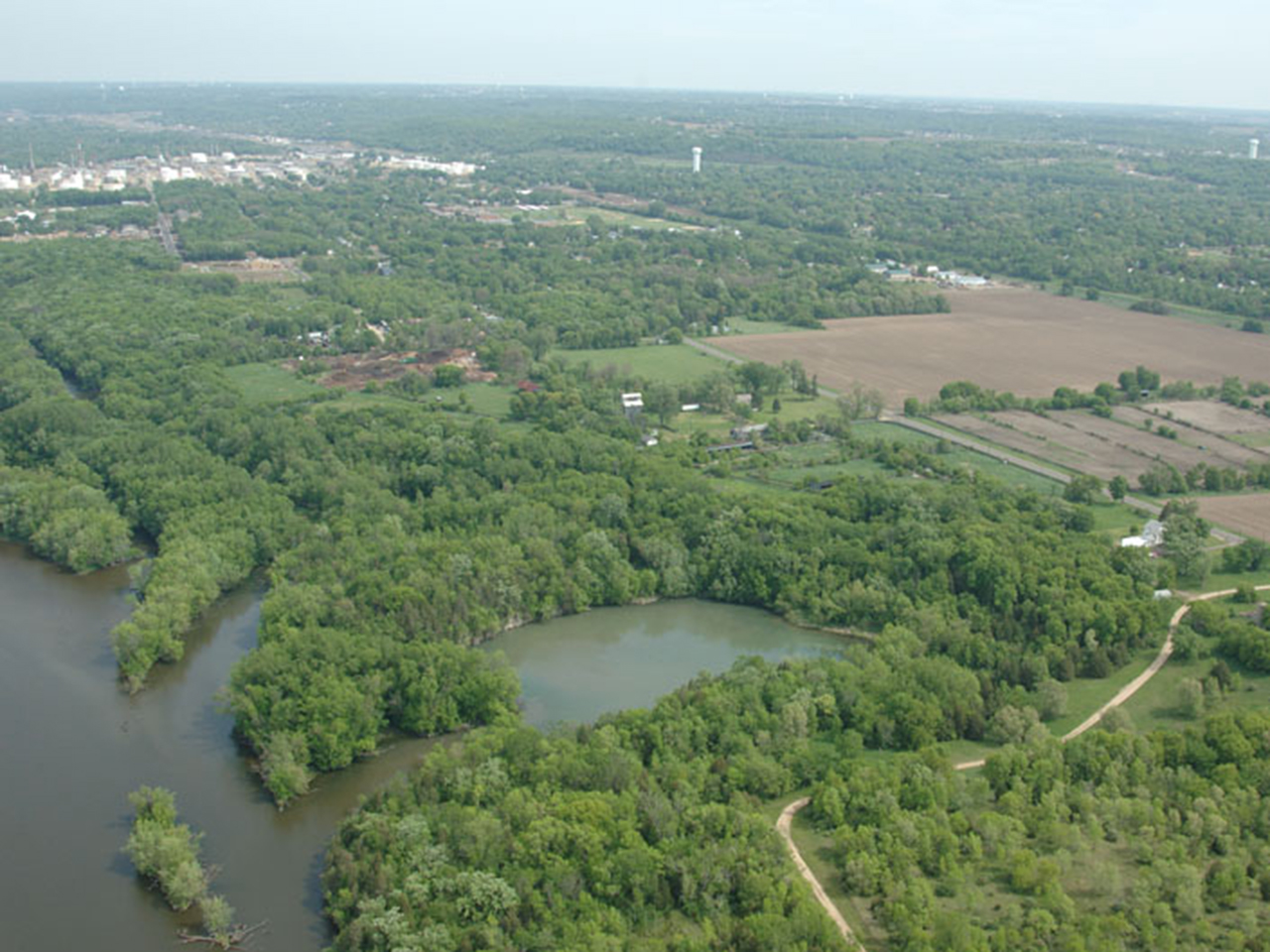 Crystal Cove from above. (Image from the Metropolitan Design Center Image Bank. © Regents of the University of Minnesota. All rights reserved. Used with permission.)
"One of my favorite spots in the National Park is this hidden gem tucked away in a backwater near St. Paul Park. It's a gorgeous and serene place surrounded by natural land, a place I like to bring new staff as part of their orientation.
"On one edge of the bay a jagged and sheer cliff, 20 or more feet high rises directly from the water. Near the back of the cove a natural spring seeps from the base of the bank. On a warm summer day visitors will be surprised and refreshed by the temperature gradient near where the 40-degree groundwater joins the river.
"No buildings or human structures are visible from the cove. Even many local river rats don't know this place because it's tucked away in a back channel and the mouth of the cove is obscured by a small floodplain island. Because the depth of the cove is only 12-18 inches it is only accessible by canoe or kayak.
"There are few places left within the metro area where visitors can find true solitude and respite from the urban din. Crystal Cove is one of them."
Learn more from the National Park Service about how to paddle the metro Mississippi.
Alex Roth, Ecologist: Back channel of Nicollet Island, Minneapolis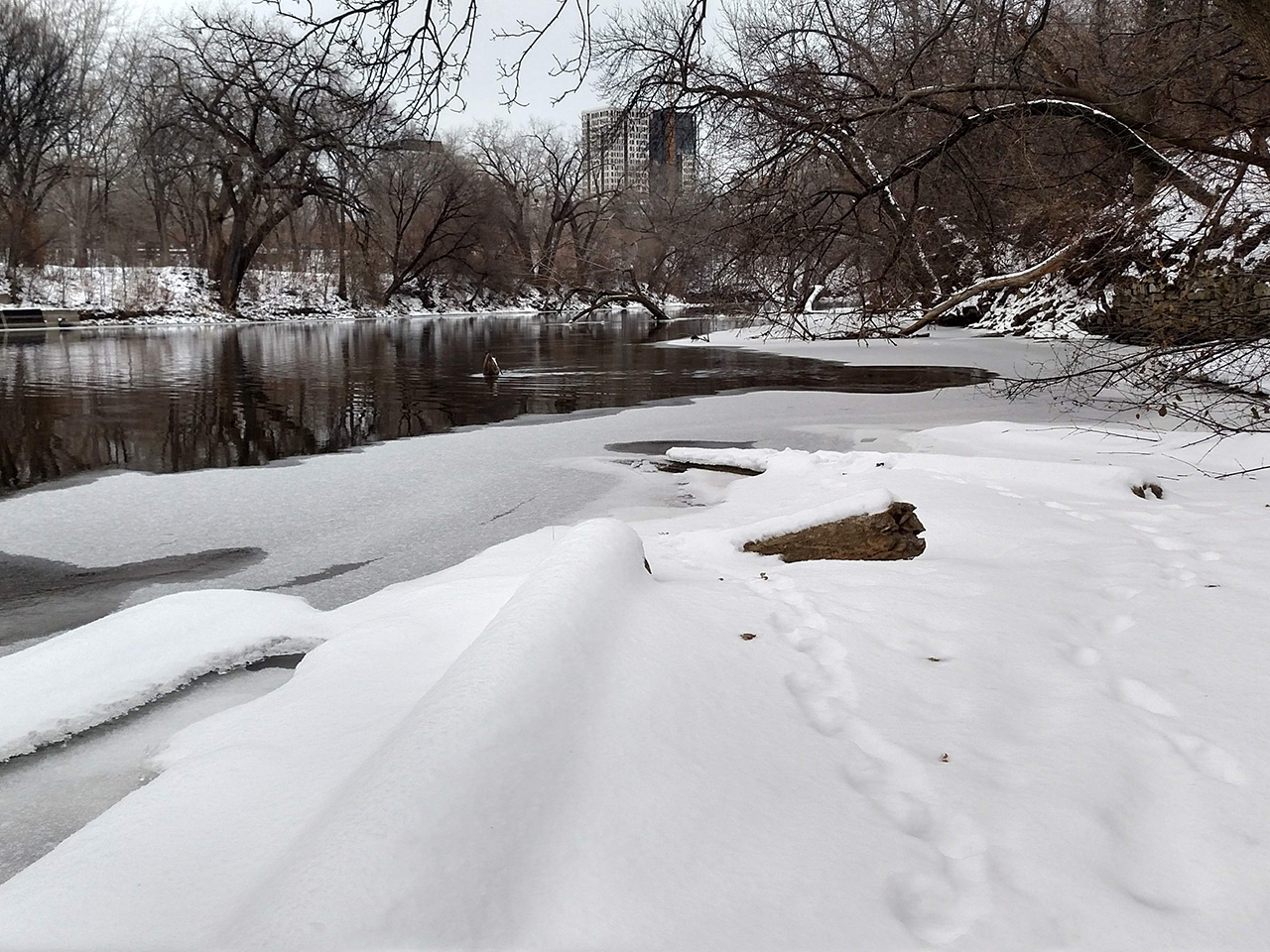 "Nicollet Island seems like an odd spot for a special places feature, but it's the perfect place to blend significant cultural history with modern natural beauty.
"In particular, the east channel that runs between the island and B.F. Nelson Park is this amazing little oasis. All at once you can be steps from downtown and the bustle of St. Anthony Main while simultaneously watching herons wading in the shallows, turtles basking on logs, and beavers busily adding sticks to their lodge.
"There's a small sandy beach on the east side of the island; I stop here often on my normal running route. Everything quiets down a bit alongside the river and you forget you're smack dab in the urban core.
"I like to catch my breath here and imagine what the spot was like at the turn of the twentieth century — with industry lining both sides of the channel, trains chugging along, and huge pine logs being diverted into the channel for milling. I have to say I like its current natural state a bit more."
Learn more about our restoration work at Nicollet Island.
Sophie Downey, Outreach Assistant: Sand Flats, Minneapolis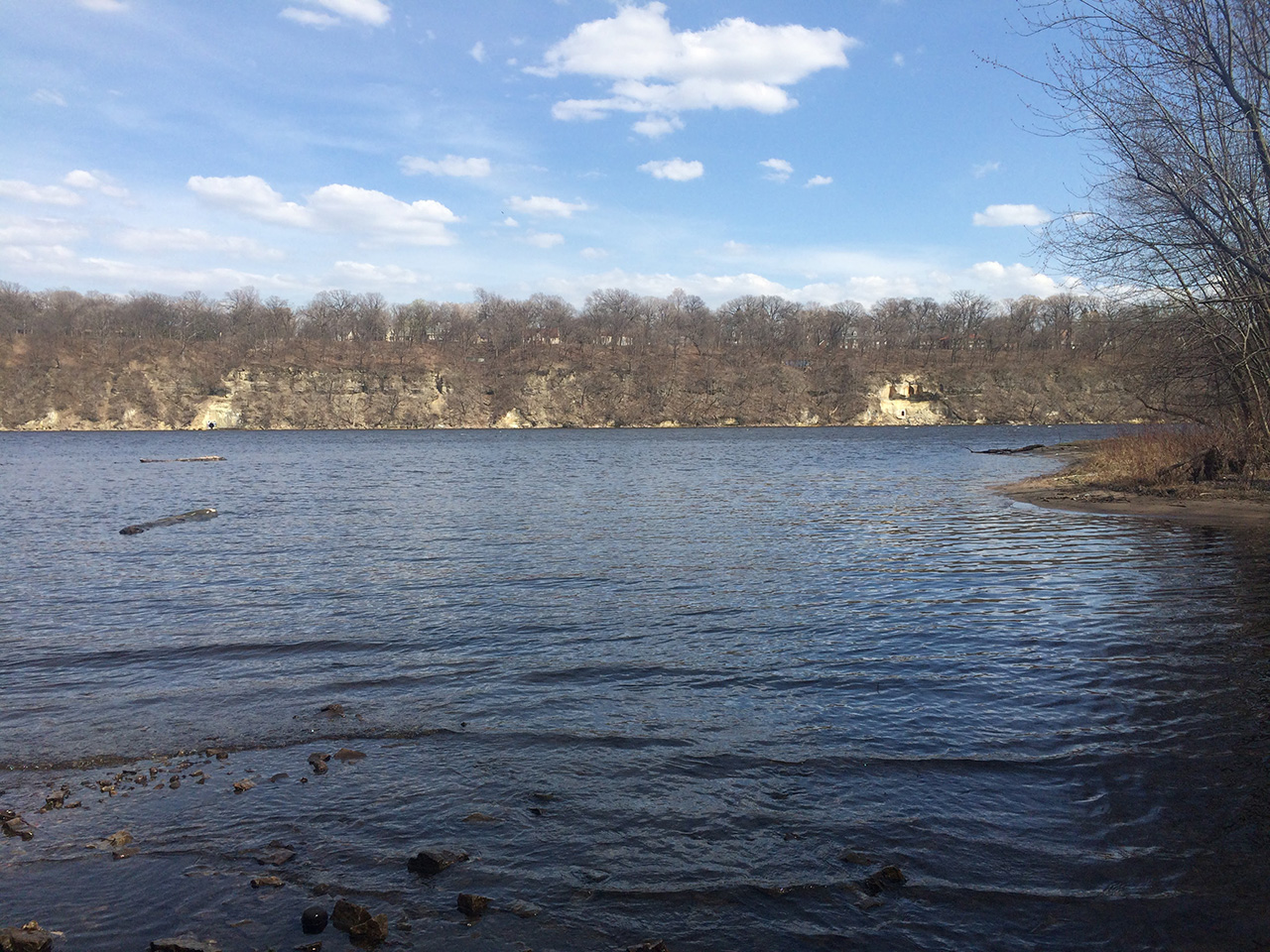 "My favorite place on the river is the trail along the sand flats in Minneapolis. You get beautiful, up-close views of the river there. And there's always the chance that you might see some interesting wildlife. Easy access from West River Parkway is also a plus."
Learn more about stewardship of the Mississippi River Gorge.
All 25+ Special Places
Zoom in to explore our interactive Special Places Map. Click on the black stars to learn more about a few of our favorite spots profiled in this article. To view the map full-screen, click the square icon in the top right corner.
This profile of staff favorite places is part of FMR's 25 Special Places project, which we undertook to celebrate our silver anniversary year and the metro Mississippi River in 2018. We've compiled all these places into our Explore the River page, an interactive Google map and set of guides to help you get to know the river that shapes our metro area.
To honor all of these special places and to join us in our work to protect, enhance and restore them, become a member today.