Restoring habitat on an urban island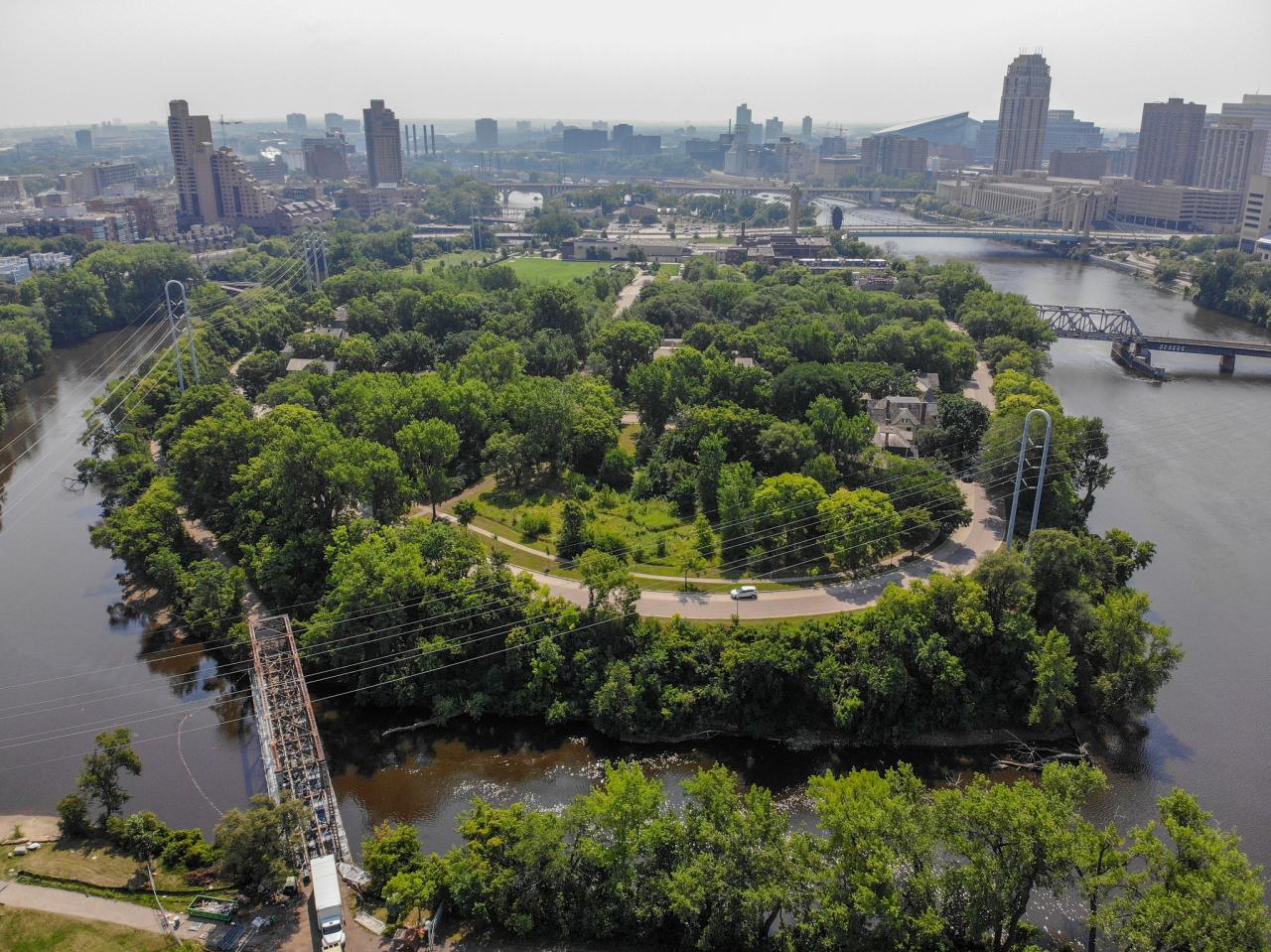 Once home to mills and a door factory, Nicollet Island in downtown Minneapolis has undergone major changes in recent decades. Since designated as a park in the late 1970s, Nicollet Island Park has become a favorite place for residents to stroll, picnic or catch a show.
Soon it will be an even better place for visitors — for people and wildlife alike — as FMR begins to restore habitat on the island this fall.
Years in the works ... and to come
Though our physical work on the island began this September, we've been preparing and planning this project for two years. Grant applications, partner meetings, natural resource management planning and public input were just some of the many steps in the lead-up to the restoration of natural areas on Nicollet Island.
What began as a planning grant application to the Mississippi Watershed Management Organization (MWMO) in 2016 finally resulted in Native Resource Preservation, the local ecological restoration firm we're overseeing for this project, taking the first steps to restore habitat earlier this month.
In partnership with the watershed organization and the Minneapolis Parks and Recreation Board, FMR will lead a multi-year restoration of the natural areas on the north half of the island. Roughly 5.8 acres of land on the northeast side and an additional band of 1.3 acres on the west side is slated for restoration.
Over the years, we'll remove invasive species, enhance degraded forest areas, and create new, diverse habitat, including 2 acres of native prairie and the re-creation of a pocket of maple forest historically present on the island.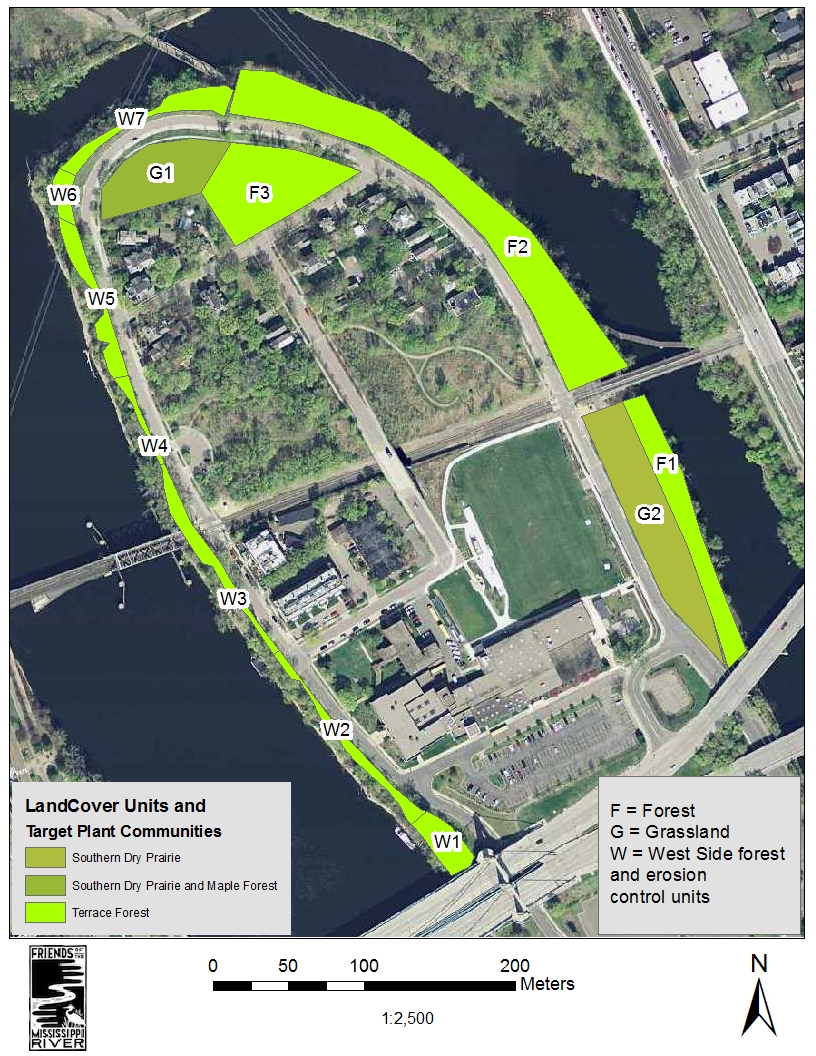 This map shows our restoration areas, as well as the ecological communities we're working toward.  
Why Nicollet Island needs restoration
It's no wonder restoration sometimes requires a few years of planning. On a site like Nicollet Island, we're working with land that has over a century of industrial history.
We'll be working on areas owned by the Minneapolis Park and Recreation Board that have undergone major changes both during and after the 48-acre island served as a hub of industry for the city in the late 1800s and early 1900s.
Once a mix of hardwood forests and more open prairie and grasslands, the island was fully developed in the late 1800s when factories, sawmills, icehouses and other industry flooded the island.

Nicollet Island in 1901. 
As industry faded, vegetation returned to the island, but the disturbed and degraded nature of the island — and continually changing land uses over the next century — resulted in high densities of invasive and weedy plant species, as well as erosion and other ecological issues.
Our restoration strategy
To begin to repair the island's disturbed areas, we'll replace invasive shrubs and plants with diverse and deep-rooted native grasses, wildflowers, shrubs and trees.
A portion of the restoration will focus on the addition of climate-adapted tree species, replacing declining species like ash with species common to southern Minnesota and neighboring states — species that experts predict to do well in the face of climate change and future pests.
One focus of the project is the restoration of diverse prairie habitat to a currently degraded grassland and an abandoned gravel and turfgrass area. The creation of two prairie nodes, each an acre in size, will drastically improve the available habitat for pollinators, birds and other island wildlife. The deep roots of native prairie species will also help to retain and filter water from roads and neighboring development before it enters the Mississippi River.
In one of the small prairies, we're building a pedestrian trail to help connect the current trail from Boom Island down toward the Merriam Street Bridge. The trail will improve the recreational use of the island, allow users to better interact with the prairie and afford multiple views of the east channel of the river.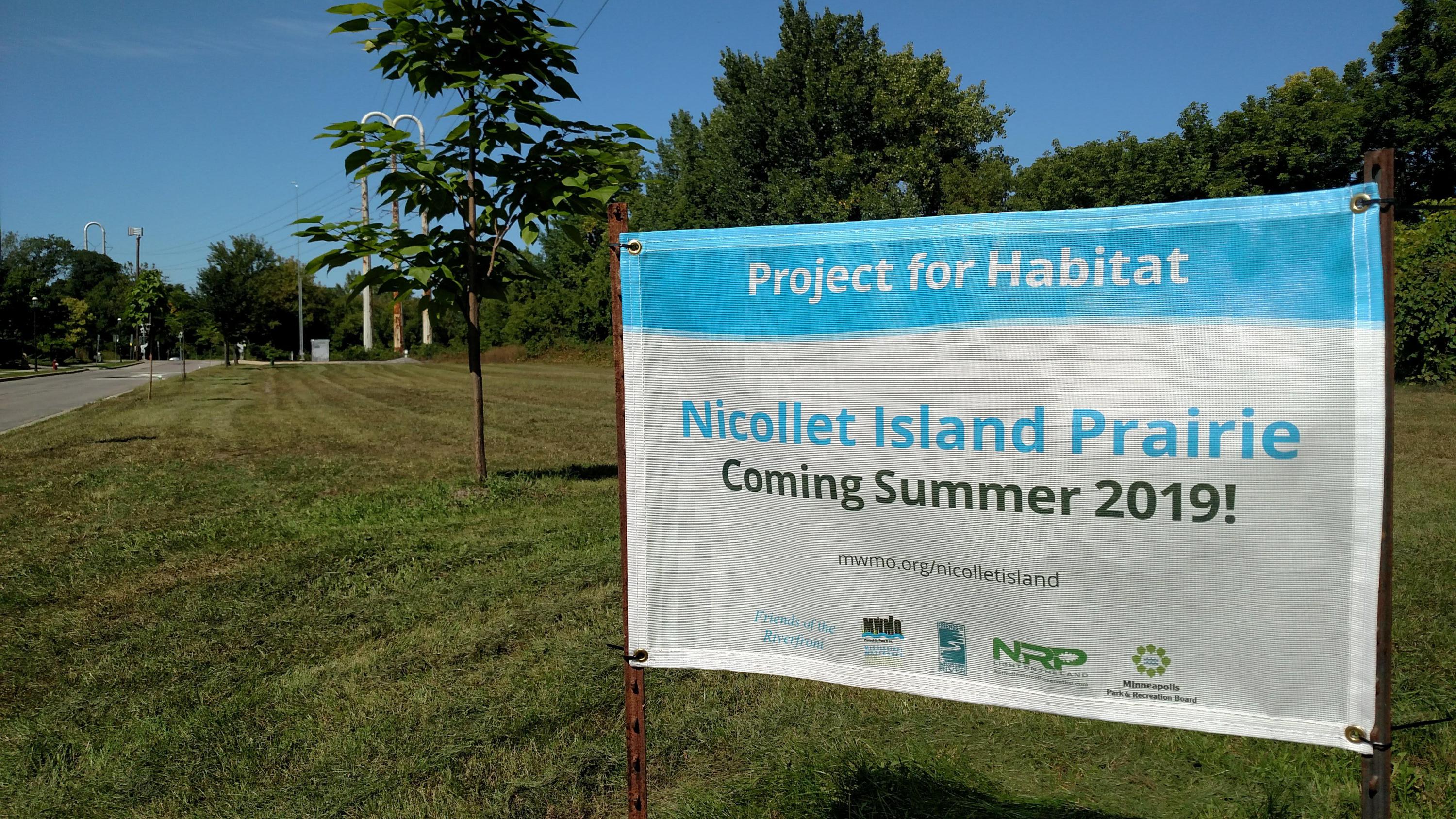 This sign along East Island Avenue touts the coming prairie. Prep work on this and other restoration units has already begun. 
Join us!
The first two years of restoration will be funded by the National Fish and Wildlife Foundation and an action grant from the Mississippi Watershed Management Organization. In addition to the management organization or watershed district, partners for the project include the Minneapolis park board, Friends of the Riverfront and the Nicollet Island-East Bank Neighborhood Association.
To learn more, visit FMR's Nicollet Island project page and read more about our partnership on MWMO's project page.
If you'd like to get involved, FMR will host a public planting event Saturday, October 13, 9-11 a.m. Check out FMR's events calendar for links to this and other upcoming events or email FMR Volunteer Coordinator Amy Kilgore, akilgore@fmr.org, to find out about opportunities near you.