A new plan to guide our work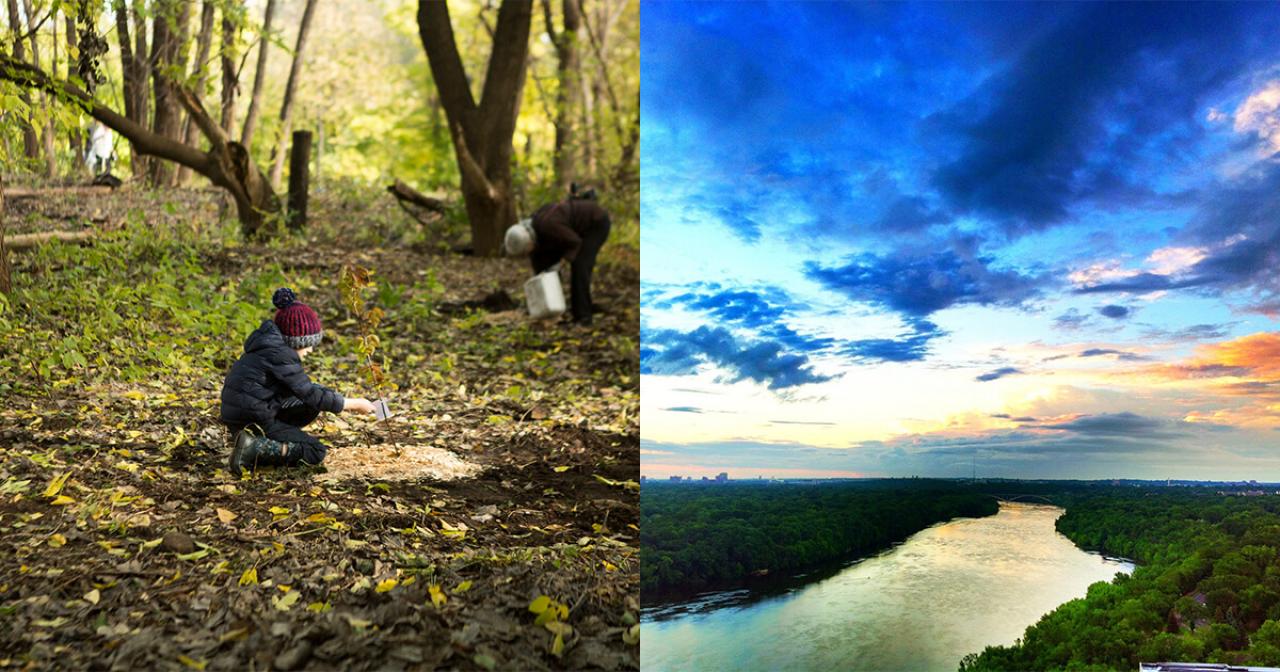 A young volunteer helps plant climate-resilient trees in our stunning metro river corridor. (Photos [left to right] by Will Stock and Jim Hudak)
June 24, 2020
Like Greek philosopher Heraclitus said, you cannot step into the same river twice. Indeed, the river and our communities are ever-changing, necessitating the continual evolution of Friends of the Mississippi River. 
To ensure we remain responsive and innovative in our work, FMR recently completed a new strategic plan that defines our direction and priorities for the coming years. 
Our mission and vision remain the same guiding stars that they've always been. And our four primary programs — which organize around the pillars of people, place, land and water — continue to be the most effective structure for wholistic impact. But there are several areas where our work is evolving significantly to respond to new opportunities, challenges and a changing world.
What's new in our strategic plan
Diversity, equity and inclusion: FMR recognizes that environmental problems disproportionately burden communities of color, Indigenous people and low-income communities. Consistent with our internal work on diversity, equity and inclusion principles, the plan:
Recognizes and respects the diversity of the cities, neighborhoods and communities throughout the river corridor and strives to work in ways responsive to that diversity;
Strives for equity in designing and implementing programs, plans and practices in order to provide what different communities need to gain access to and enjoyment of the river and its amenities;
Seeks to be broadly inclusive in all aspects of its work, reflecting the accumulated wisdom and experience of different communities interested in and affected by river-related decisions.
Climate change: Because we recognize climate change poses a critical threat to the health of the Mississippi River and the communities through which it flows, this plan contains a significantly greater emphasis on addressing climate impacts across our programs.
Agriculture: This plan reflects a continuing evolution of our work to address the impacts of agriculture on the health of the Mississippi River. The predominant emphasis of our Water Program is a new multi-sector partnership to transition toward broad, market-driven adoption of continuous living cover cropping systems. 
Broad collaboration for river health: We're in the initial phases of a new collaborative effort to develop a federal environmental funding initiative for coordinated clean-water efforts across the 10 mainstem Mississippi River states.
Youth: Today's young people are the future stewards and advocates of the river. Our updated plan includes a significant expansion of our aspirations in youth empowerment programming and the development of functional pathways into environmental professions for young people, particularly youth of color.
Guidance through a changing world
We completed the majority of the plan's development prior to the recognition of the COVID-19 pandemic. The virus's impact can neither be overestimated nor fully assessed at this point. We will rely on our plan's goals for guidance but plan to revisit our strategies and priorities as more clarity emerges.
As always, we're interested in the ideas and input of our community of river lovers. If you have thoughts to share about our strategic direction, we welcome you to be in touch with Sara DeKok, Associate Director, at sdekok@fmr.org.