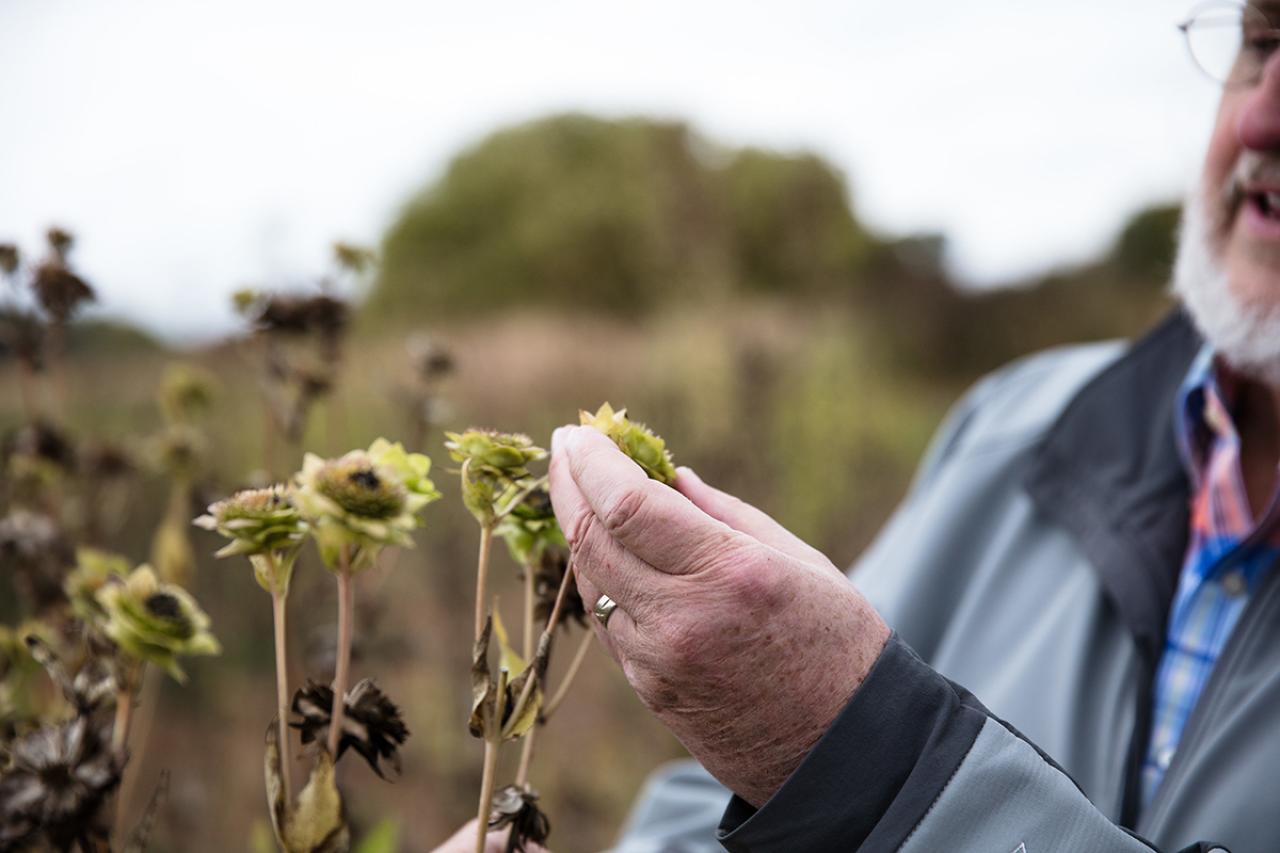 We're working with partners to ensure that clean-water crops — perennial crops that hold the land in place, reducing runoff of river pollutants like nitrates and phosphorous — can offer a viable alternative to traditional agriculture for Minnesota farmers. Without a shift in agricultural practices, our state won't be able to meet our clean water goals. (Photo by the Walton Family Foundation used with permission)
Currently, many Minnesota farm fields lie bare and brown for much of the year, leading to erosion and runoff of soil (sediment) and fertilizers. This is a leading source of pollution to our metro Mississippi as well as the Dead Zone downstream.
Buffers help, as do conservation set-asides, but we can't truly protect our river or our drinking water without more plants and roots in our fields, year-round. To restore the river's water quality and aquatic life, we need more living green cover on our agricultural landscape. 
It's time to transition
Much like the challenge of making wind and solar profitable in their early days, Minnesota's challenge is to make "next-generation" or "clean-water crops" (such as Kernza, which is related to wheat) profitable to grow. More specifically, we need to make it profitable for farmers who currently focus on corn and soybeans to work in more cover and perennial crops.
Cover crops and deeper-rooted perennial crops have an important role to play in reducing erosion and pollutants like nitrates and phosphorous: They hold soil in place and also act like a sponge, preventing fertilizer from contaminating local aquifers or wells, ditches, streams, and, eventually, the Mississippi River.
A win-win scenario for all Minnesotans
Many of the same crops that can help preserve our drinking water, lakes and rivers would also benefit our rural economies. Jobs would be created through milling and processing these crops. And there is strength in diversifying our agricultural production. Plus, they benefit soil health and wildlife.
The 2020 session and beyond
So just as we supported wind, solar and other renewables, it's time for Minnesota to nurture "clean-water crops" and their fledgling markets to be more profitable at scale. 
Towards this end, two of FMR's main priorities continue to be the Working Lands program and the Forever Green initiative. 
Working Lands aims to use the power of markets to establish new cropping systems that restore our waters while maintaining overall farm profitability. FMR and our allies first established the Working Lands program concept in 2015 and have been building upon it since.
The University of Minnesota Forever Green initiative is a development program essential to the success of the Working Lands approach. Through it, Minnesota can accelerate our development of economically viable winter annual and perennial crop options for farmers that reduce runoff pollution and habitat loss.
We are working with partners from across the state to build a network to support key projects, build political momentum, and ultimately realize our vision of achieving continuous living cover on Minnesota's agricultural landscape. This network will launch in early 2020, so stay tuned for more news on this important development.
Become a River Guardian
Sign up to become a River Guardian and we'll let you know when important river issues arise. We make it quick and easy to contact decision makers and make your voice heard. River Guardians are also invited to special events, including happy hours, to learn more about important legislative and metro river corridor issues.
Read our Legislative Updates blog
We write regular updates about key environment and water quality issues on our Legislative Updates page. Check back for news, follow us on social media (Facebook and Twitter), and sign up for our twice-monthly e-newsletter, Mississippi Messages.
Update Type: