Tributes to Walter Mondale and Deb Swackhamer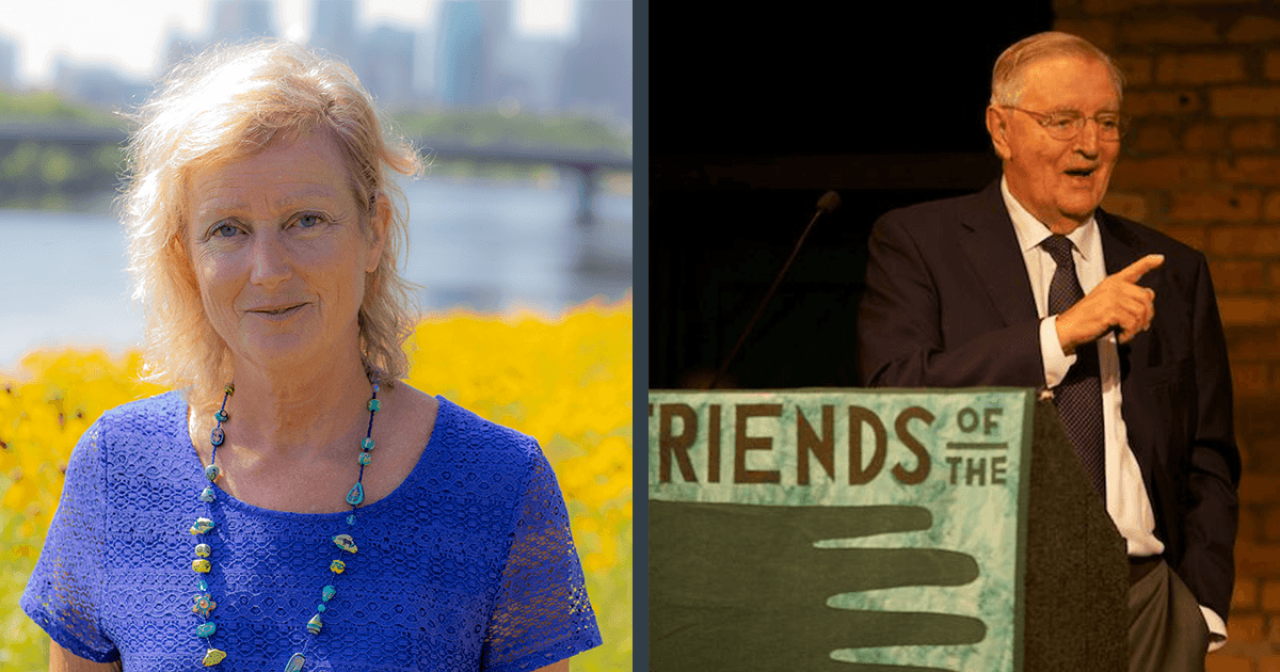 Last week we lost two great champions for the protection of the environment, for rivers, lakes and public health. In my career, I've had the opportunity to work with a number of prominent politicians, scientists and advocates. Walter Mondale and Deb Swackhamer were two of the finest I've known.
Walter Mondale
Walter Mondale passed away on April 19, 2021. As I read the articles in the news and the tributes on social media, I was reminded of the scope of his influence and impact here in the U.S. and abroad. As a senator from Minnesota and, of course, Vice President of the United States, Mr. Mondale spent decades shaping history on the world stage.
But I also reflected on the humble and gracious man I was so privileged to get to know and work with to protect the Mississippi River.  
"Fritz," as he was known to friends and colleagues, was a tireless champion for the environment. He was an original co-sponsor, with Gaylord Nelson, of the Wild and Scenic Rivers Act, which protected 230 miles of the St. Croix and Namekagon Rivers as well as more than 12,000 miles of rivers and streams across the United States. He was a leading advocate of legislation establishing Voyageur's National Park and the Minnesota Valley National Wildlife Refuge.
In his memoir, Mondale recalled that "environmental issues would take a special place in my public career. ... There was something almost spiritual about working on legislation where water and wilderness were at stake. It became one of the issues where I was willing to risk public opposition of the sort that could end a career."
Over the years, I had the honor of working with Mr. Mondale on several occasions. When I asked him if he would write a commentary article for the Star Tribune on the importance of adopting new state rules for protecting the Mississippi River Corridor Critical Area, he immediately agreed. When I asked him if we could interview him for our film "Rebirth," he invited us into his home and was generous with his time. Mr. Mondale attended and spoke at several FMR events and even agreed to be the special guest for a progressive dinner to raise funds for the organization.
Actually, he never turned down a request to help FMR or the great river.
But what I admired most about Mr. Mondale was his grace and humility. For a man of such accomplishment, he was completely unpretentious. He was confident in his values but respectful of those who differed in good faith. He was self-deprecating and funny. He knew that he possessed fame and stature, but rather than using it for his own enrichment, Mr. Mondale generously offered himself in service of the values he believed in, the rivers he loved, and the world he believed was possible.
Deb Swackhamer
Dr. Deborah Swackhamer died on Earth Day this year after a 13-month battle with cancer. She was a Professor Emerita of Science, Technology and Environmental Policy at the Humphrey School of Public Affairs and Professor of Environmental Health Sciences in the School of Public Health at the University of Minnesota. She also formerly served as the co-director of the U of M's Water Resources Center.
Dr. Swackhamer was an internationally recognized scholar in environmental toxicology and chemistry. She served for many years (four as chair) of the Science Advisory Board of the U.S. Environmental Protection Agency (EPA). She was also a member of the Science Advisory Board of the International Joint Commission of the U.S. and Canada.
In 2017 Deb made national news when the chief of staff of President Trump's EPA asked her to change the testimony she was preparing to deliver before congress. She refused and was subsequently dismissed as chair of the Advisory Board.
In 2011 Deb led the effort to develop the Minnesota Water Sustainability Framework that outlined the state of science on critical water issues in Minnesota and offered detailed recommendations for policymakers to move the state toward healthy waters and watersheds.  
I first met Deb in the mid-1990s when she was studying the potential impacts of endocrine-disrupting chemicals in wastewater effluent on the biology of fish in the Mississippi River.
We collaborated many times over the years. Most recently, in 2016 and 2017, we worked together to organize a series of dialogues between environmental scientists, agronomists, agribusiness leaders and water policy advocates to make recommendations to Governor Dayton on strategies to reduce agricultural pollution of Minnesota waters.
The resulting Moving the Needle report helped solidify FMR's current policy emphasis on diversifying Minnesota's cropping systems through the development of promising new crops that deliver significant environmental benefits while improving farm profitability.
In recent years Deb served on FMR's Council of Advisors and was always accessible and generous with her time, advice, connections and wisdom. One of the things that I loved best about Deb was that she made the people around her better. Her brilliance and her charm always made me feel that I had to bring my A-game. Her loss will be deeply felt by a large community of scientists, advocates and friends.