Thanks, Yengsoua!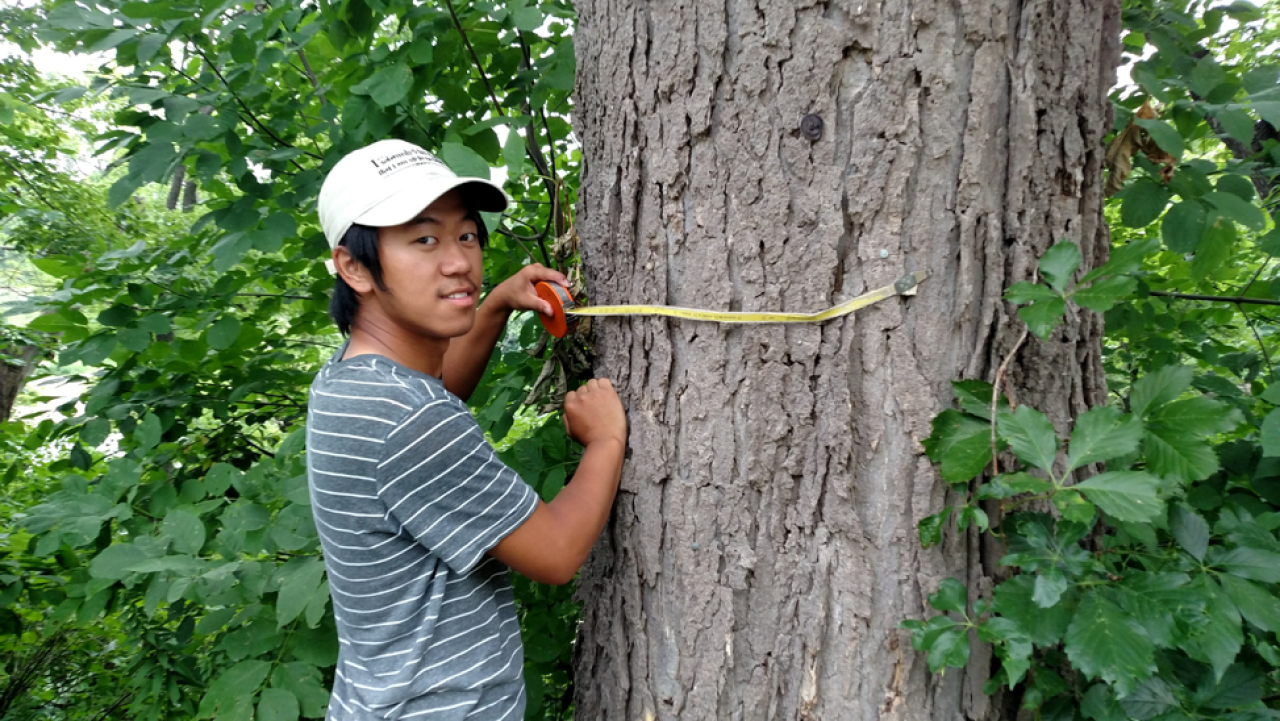 Yengsoua Lee, an MWMO Green Team alumni intern, helps survey trees on Nicollet Island as part of his time with FMR.
August 7, 2017
Marking storm drains with youth groups, measuring trees, removing invasive species — it was all in a week's work for Yengsoua Lee. 
This July, FMR was lucky to work with Yengsoua for a week through an internship partnership with the Mississippi Watershed Management Organization and Minneapolis Park and Recreation Board. 
Yengsoua spent most of his FMR time in the field. He assisted with two storm drain stenciling events in St. Paul, a clean-up in north Minneapolis and ecological field work including removing invasive species at Ole Olson Park in north Minneapolis, surveying trees at Nicollet Island, and evaluating contractor work at Camel's Hump Park in Cottage Grove.
"My favorite activity was helping Alex do tree surveys and measuring tree diameters," said Yengsoua. "It was great to be outdoors but also to learn about the landscape of Nicollet Island. I learned how to identify some trees such as American elm, Siberian elm, hackberry, oaks, and basswood."
While FMR staff are grateful for his enthusiasm and hard work, Yengsoua, in turn, appreciated the opportunity to get a real-world glimpse into a variety of positions in the environmental field. "FMR played a major role in shaping my potential future career path because it helped me identify the things I don't and do like," he said. "Also, I got good experience with what a nonprofit organization does and I get to compare that to other organizations." 
Teaming up 
 
FMR has a long history of partnering with the Minneapolis park board and the Mississippi Watershed Management Organization (MWMO). In addition to working to restore parts of the riverfront together, especially through the Above the Falls and River Gorge Stewards volunteer, education and restoration programs, we've been lucky to work with the Mississippi River Green Team, a summer employment program developed by the park board. 
Each summer, the Green Team employs a crew of high school students from North and Northeast Minneapolis to work on a variety of environmental projects. Previously, FMR worked with the team to remove invasive species from a demonstration garden at Riverside Park in Minneapolis. 
This year, the MWMO established a special paid, full-time summer internship program for Green Team alumni seeking more experience in the environmental field. Yengsoua, who served on the Green Team from 2013 to 2015 and is currently a sophomore studying environmental science at Mankato State, was awarded the internship. 
The internship is made up of one- to two-week stints at a number of Twin Cities environmental organizations. By the time Yengsoua started with FMR in mid-July, he had already worked with the Minneapolis park board, the MWMO, and the city of Fridley — serving one to two weeks at each. 
We're grateful for Yengsoua's week with us and look forward to staying in touch as his career develops! And after such a great experience all around, we look forward to hosting more Green Team alumni interns in the years to come.