Special Places: Hear the roar! Spring waterfalls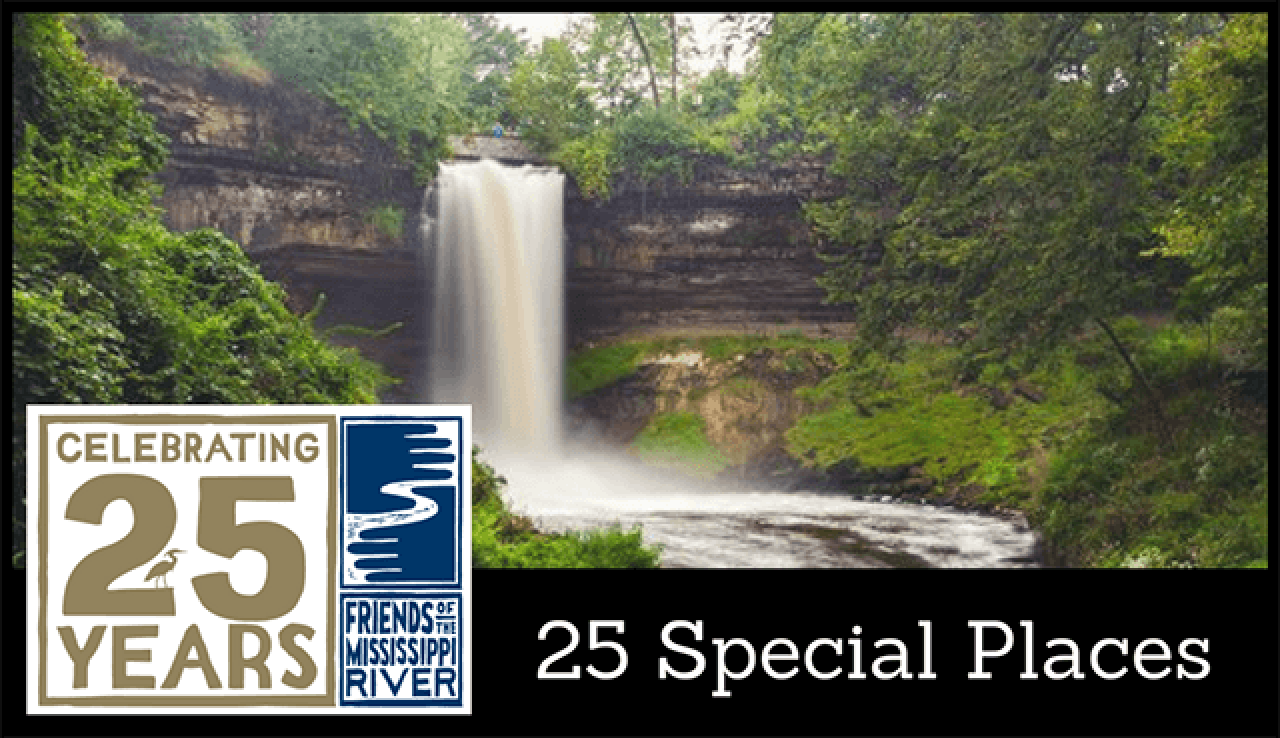 To celebrate our 25th year, each month in 2018 FMR staff will profile places along the metro Mississippi River that are near and dear to us, places that connect to FMR but that we also enjoy in our own downtime. By the end of our silver year, we'll have built a map of 25 special river places for you and yours to learn about, visit and enjoy.
Snow melts and cold spring waters trickle down our yards, driveways, and gutters, ultimately swiftening our creeks, swelling our rivers and making our waterfalls roar.
This month in our silver anniversary special places project, we suggest visits to two waterfalls — one famous, one not so much, but neither to be missed during spring peak.
Famous Minnehaha
From oral and written tales to 29,000 youtube videos and counting, Minnehaha Falls has long featured prominently in the local imagination and captured the hearts of tourists.
Over 850,000 people visit the falls annually. Luckily, they've been preserved as the natural wonder that they are, rather than being significantly modified to maximize its tourist potential.
Trails are ample and paved (although the stairs are often cordoned off for safety, due to ice), and in warmer temperatures, the nearby Sea Salt Eatery (open for the season April 12) is open as part of the park's pavilion.
Selfie enthusiasts, however, may be heartbroken to hear that the Minneapolis park board decided against constructing a photograph stand expressly for the purpose of taking photos with the famous falls in the 1890s, allowing the paths and the falls waterway to maintain their natural shape.
For a decade or so late 1800s, early 1900s, the park around the falls was home to pony rides and a zoo. But parks director Theodore Wirth gave away the captive animals — including an alligator in a pool and bears in a pit — when he came on in 1906, insistent that the falls could attract attention on their own.
Today, the Minnehaha Creek Watershed District helps to protect the falls. In 2011, the district restored the falls' eroding banks and reinforced the original limestone infrastructure. Protecting its habitat and waters are a bit more complicated, of course, requiring extensive programs and partnerships (including with FMR) throughout the district's 178-square-mile watershed.
MCWD is also a great source for potential paddlers of Minnehaha Creek, the Mississippi tributary leading up to the falls.
A hidden gem
If you've driven through Hastings on Highway 61, you've driven past Vermillion Falls. Didn't notice? Don't feel bad. These falls are tough to spot, but worth checking out.
The highway passes over the river that feeds the falls, the Vermillion, which drops a modest but respectable 35 feet at the beginning of Vermillion Falls Park just east of the road.
On one side of the falls stands a large brick building, a former mill. The other is full of paved (and often wet) trails that wind their way down to excellent views of the fall, more biking and pedestrian trails in the lush forest, and Old Mill Ruins.
While you're here, look for pollinator plantings near the Old Mill Park entrance that FMR Vermillion Stewards volunteers helped install. And, if you have the time, check out the 10-mile scenic circuit trail, connecting to the nearby Mississippi River.
If you'd rather get into the water, the stretch of the Vermillion between the falls and the mill ruins is known for whitewater rafting and kayaking.
Learn more about "playboating" at this hidden gem, plus nearby birding and fishing spots, from the Hastings Star Gazette. Reviews and tips are also available from TripAdvisor.
Before you go
Please shop local and stick to trails — it's all too easy to accidentally damage trail-side vegetation and cause erosion in muddy spring.

Click the stars for more information on each of our special places. The falls' are purple.
This profile is part of FMR's 25 Special Places project, which we undertook to celebrate our silver anniversary year and the metro Mississippi River in 2018. We've compiled all these places into our Explore the River page, an interactive Google map and set of guides to help you get to know the river that shapes our metro area.