Old Mill Park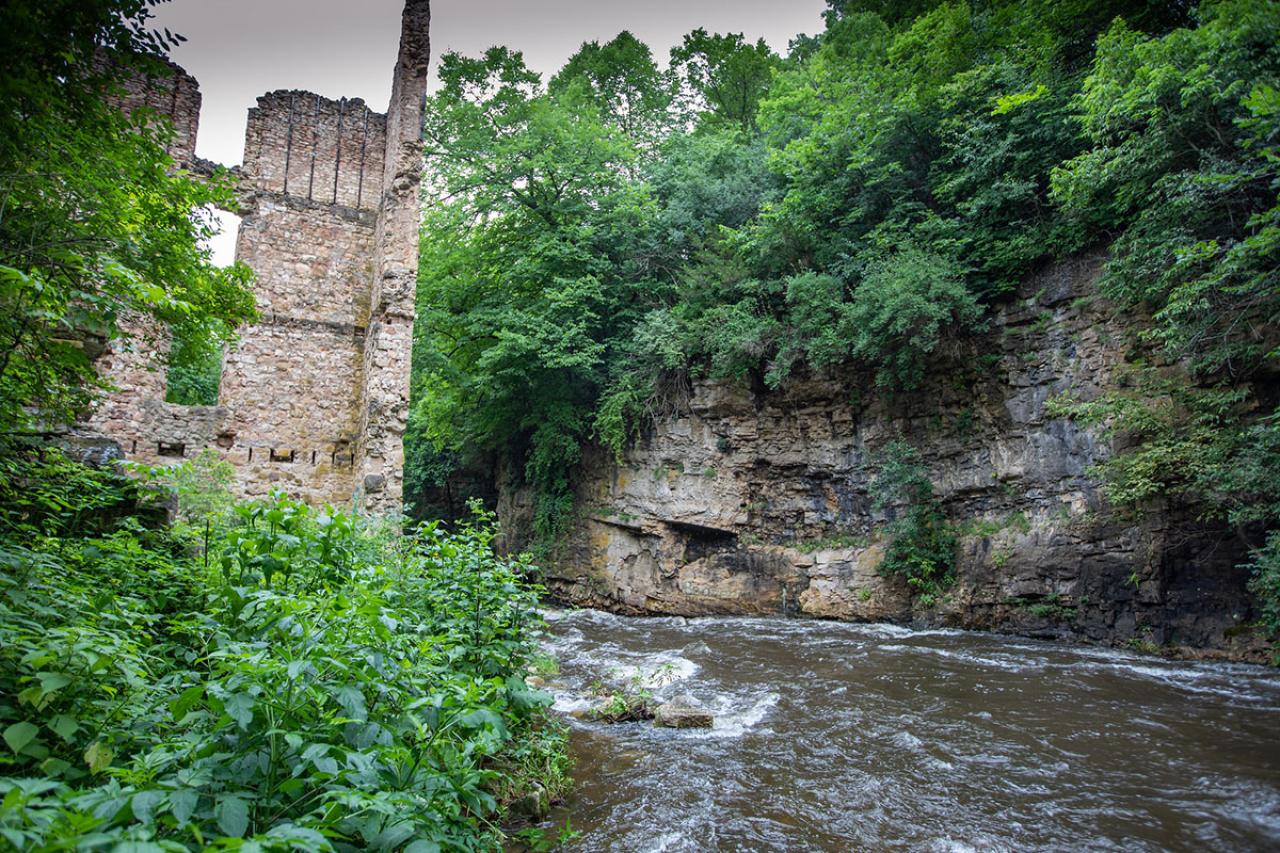 Where is Old Mill Park?
Old Mill Park is a 10-acre city-owned park in Hastings. In a string of connected greenspaces along the Vermillion River in the city, Old Mill Park is just downstream of FMR restoration sites at Vermillion Falls Park and Vermillion River Linear Park. Downstream from Old Mill, you'll find Hastings Scientific and Natural Area and Gores Pool Wildlife Management Area, where the Vermillion River reaches the Mississippi. The park is also just a few miles southwest of the Mississippi River's confluence with the St. Croix River.
The public is welcome to visit Old Mill Park and its nearby trail system, a 10-mile scenic circuit trail connecting to the nearby Mississippi River. (See the City of Hastings' website for more info.)
Our work here takes place on Dakota homelands. Learn more.
What's special about Old Mill Park?
This popular city park is dominated by oak savanna, one of the most imperiled plant communities in the state. Oak savanna is characterized by scattered bur oak trees that grow far enough apart that prairie grasses and wildflowers can grow beneath. Oak savannas tend to grow on rolling landscapes, appealing places for homes and farmland; the majority of this habitat in Minnesota has been converted, with mostly small, scattered fragments left.
The park also has oak woodland along the edges and a small prairie garden at the entrance. The park was named for Minnesota's first mill, located on the banks of the Vermillion River just below the falls. Following a trail along steep, rugged bluffs, visitors can glimpse the official historic site — what's left of Ramsey Mill, which was deeded to the city in 1925 by King Midas Flour Company.
The river itself is an important Mississippi River tributary. It's the only trophy brown trout stream in a metro area in the United States, thanks in small part to work by FMR's Vermillion Stewards. (Though you won't find brown trout at this park, as they prefer cooler upstream waters.)
Intrepid whitewater kayakers paddle the stretch of the Vermillion River between the falls and the mill ruins, surrounded by limestone walls that formed when glacial runoff cut through the rock.
The park was designated high biodiversity by the Minnesota Department of Natural Resources. We've found unique plants here, including kittentails (Besseya bullii), a state-threatened oak savanna species.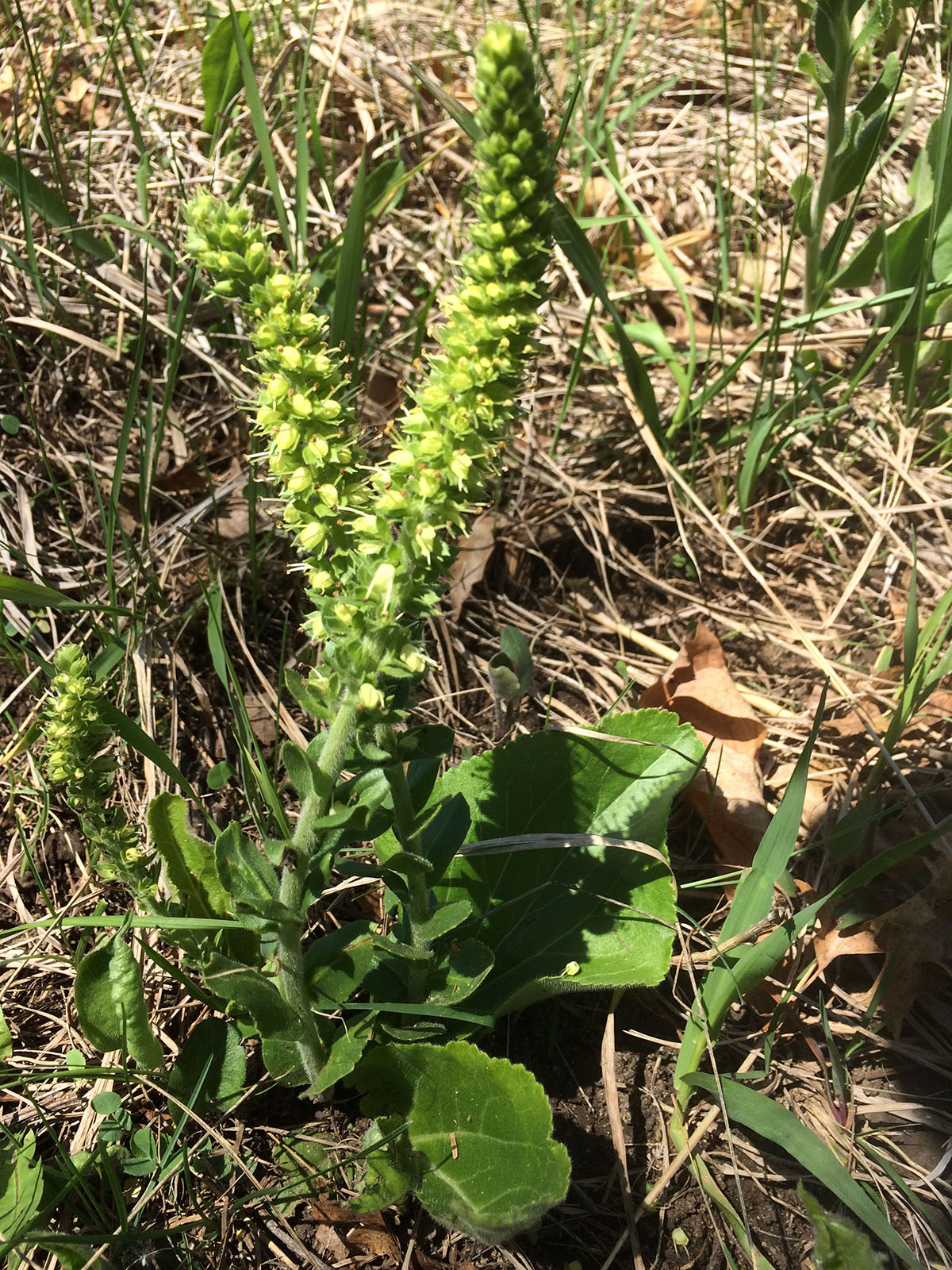 Kittentail at Old Mill Park (Photo credit: Karen Schik for FMR)
We've also spotted the endangered rusty patched bumblebee in the entry prairie garden. Here's a video of Minnesota's state bee visiting Old Mill Park in 2021, exactly seven years after volunteers and Hastings High School students first planted this prairie.
Our work at Old Mill Park
We developed a natural resource management plan for Old Mill Park in 2012 and have since worked to restore the oak savanna community by removing buckthorn and other small trees to open up the canopy, by restoring a cycle of fire, and by seeding native grasses and forbs (flowering plants). Our goals were to restore and expand the oak savanna remnant, improve the oak woodland structure, create pollinator habitat, and prevent erosion while preserving visitor access. This work was completed in partnership with the City of Hastings and with primary funding from the Environment and Natural Resource Trust Fund.
In the fall of 2014, Hastings High School students and FMR ecologists planted a small prairie at the entrance of Old Mill Park, with the help of Bailey Nursery, who grew the plants for us from seed the students had collected at a nearby native prairie. The prairie garden provides much-needed bee, butterfly and bird habitat, which was clearly demonstrated in 2021 when we found the federally endangered rusty patched bumblebee there (see video above). The garden also doubles as a park amenity, serving as a beautiful welcome and a demonstration for visitors of how they might create a prairie garden in their own yards.
Protecting and managing these areas not only enables wildlife to flourish, but also helps to ensure cleaner water in this Mississippi River tributary and provides a place of wonderment for people to enjoy.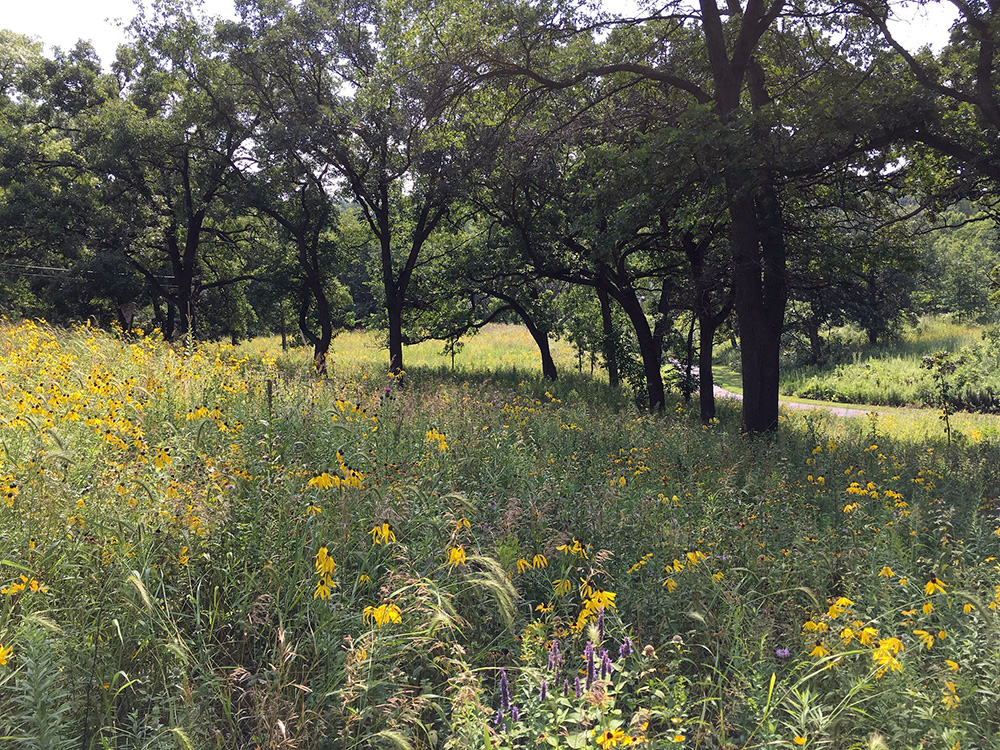 Oak savanna at Old Mill Park (Photo credit: Karen Schik for FMR)
Find out more and get involved
Partners and funders for our work at Old Mill Park
This work is made possible by the Environment and Natural Resource Trust Fund, the Conservation Partners Legacy Fund (of the Outdoor Heritage Fund), the City of Hastings, the Tecla Karpen fund, United Way of Hastings, Vermillion River Watershed Joint Powers Organization, and our generous donors like you!