Education intern creates curriculum connecting people and place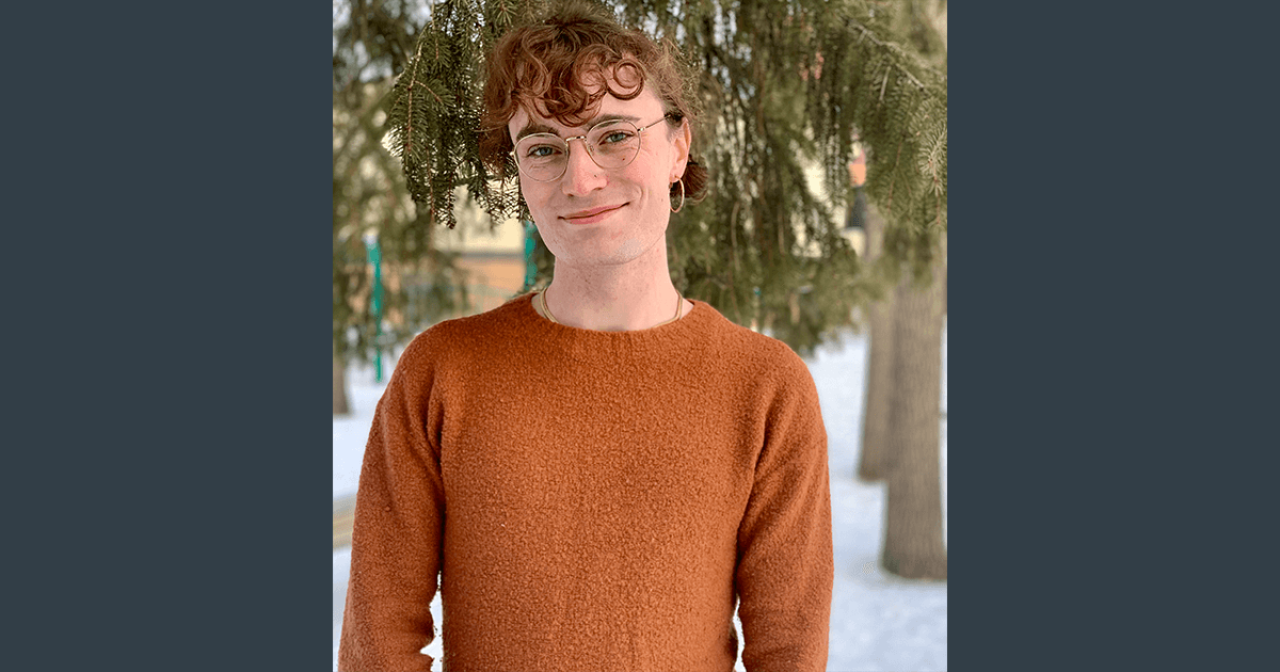 January 8, 2021
Elia Engberg, in their senior year of Environmental & Educational Studies at Macalester College in St. Paul, spent eight weeks as FMR's stewardship and education intern this fall, working collaboratively with Laura Mann Hill and Ashley O'Neill Prado on curriculum development.
We asked Elia to share a bit about themself and their internship experience.
Tell us a little about your background and how you got interested in environmental education.
I grew up around Salem, Oregon, which is close to the Cascade mountain range. I had a childhood full of being outside and going bike riding, hiking at state parks in the mountains. I spent a lot of time gardening with my grandmother and doing things locally with her. This was formative for me in terms of developing a stewardship ethic and passion for conservation and caring about the environment.
That intimate interaction with nature allowed me to interact on a personal level. It helped me see that you don't have to go to a national park to find nature, but that it can be anywhere around us, anywhere where living things interact and we can have a close connection with them. That's something I've carried with me and influenced what I wanted to study in college and what led me to an education internship with FMR. I am passionate about helping young people explore their surroundings in a way meaningful to them and discover for themselves curiosities and passions by interacting with the world and one another.
What project did you work on with FMR this fall?
I worked on a curriculum project exploring environment, equity and place to help augment our existing curriculum offered to youth. It's focused on facilitating reflections and dialogue about place and our relationship with nature.
We  thought about our current lessons, like 'Wade into Wetlands',  'Ecosystems Invaded!', 'Erosion: Sculpting the Landscape' and 'Our Waters',  along with stewardship activities, in the context of understanding and respecting the many different ways people have cultural and ancestral knowledge about our environment.
We started building a lesson plan that included acknowledging land and the Dakota people who were living here before us and continue to reside here and are caretakers of this land. Then we engaged students in discussions and activities to help us think about our personal connections to place and how it impacts our stewardship work.
What were you hoping to learn from your internship?
I wanted to learn how to show up in professional spaces with the passions and interests I have and implement the skill set that I bring, to create something that is not only beneficial to the organization but also personally meaningful to me.
The orientation towards the internship really stems from the fact that it was short and pretty intensive. I made good connections within the environmental education field. As I move into a future career in this kind of work, it's great to see what's already being done in organizations like FMR and what they are moving towards.
Although it was a short internship, how do you think it might shape your career path? 
Despite being at FMR in an online space during the pandemic, I got insight on the multifaceted work FMR does and how education intersects with all parts of the organization and engages people in advocacy work for the river. I was also able to make organizational connections with people like Alex Roth, an ecologist at FMR, and work closely with the stewardship and education program staff, which provided a new professional perspective for me.
It gave me more experience in building real lesson plans. The work that I've done in the past was pre-worked out, and I was just there to present or mediate how lessons go. I've never really experienced the full process of the planning, research and then teaching. I really appreciated that. It made it so much more meaningful to me to see the work I have been laboring over in a real classroom! 
What was your most memorable part of the internship? 
The Bdote tour I took, a Dakota-led tour along Ȟaȟáwakpa (the Mississippi River) [an event hosted by Water Bar and Healing Place that some FMR staff attended], was the most memorable thing for me in terms of understanding the connections and relationships that already exist here and have existed here for such a long time. Environmental education and environmentalism cannot do this work properly without paying tribute to and honoring and uplifting those relationships and resources that already exist. 
What would be your vision for future work, to build on this project?
When we piloted the lesson, we got really constructive feedback. It helped me see how curriculum can develop relationships between educators, FMR and the students. In the future it would be great to see it as an entry point for students to get more involved in the organization and develop personal commitments to the environment. Looking at our identity, cultural backgrounds and histories of the places we come from is part of environmentalism we can expand. I look forward to seeing the curriculum grow and seeing the way we think about land and water as stewards with FMR become even more meaningful.
Thank you, Elia!
We're grateful for all your help this fall. You did an incredible job and provided us with curriculum resources we will continue to develop and build through community partnerships. We wish you all the very best as you pursue your career, and we hope we'll see you back at FMR events!