While many articles (and even a movie) look back at the life of Twin Cities Ford Assembly Plant, not many focus on Area C. In fact, most stories about the Ford plant don't even mention it. So we've put together a basic timeline about this floodplain dumpsite to lend some historical context.  >>
January 28
Area C is Ford Motor Company's unpermitted floodplain dumpsite. Join us February 20 to learn more about this large riverfront site's past, present and future. >>
January 9
Thursday, February 20, 2020 join FMR at the Minnesota Pollution Control Agency-hosted community meeting about Ford Area C, the hazardous waste dumpsite on the riverfront just north of Hidden Falls Park in St. Paul. >>
Location
Gloria Dei Lutheran Church
55116
St. Paul
,
MN
United States
Minnesota US
Thursday, January 9, 2020 join State Representative Dave Pinto (64B) and FMR Executive Director Whitney Clark for "Mississippi River Round-Up: understanding our impact on the river and the river's impact on our communities." >>
Location
Gloria Dei Lutheran Church
700 Snelling Avenue South
55116
St. Paul
,
MN
United States
44° 55' 12.4464" N, 93° 9' 58.0104" W
Minnesota US
The redevelopment plan for the Ford site on St. Paul's river bluff calls for renewable energy. That sounds great, but a small part of the plan includes building a solar array on top of the Area C hazardous waste dump on the river floodplain. With the dump undergoing further study about risks and remediation, could adding infrastructure further complicate potential cleanup? >>
December 6
From local news articles to word of mouth, Ford Motor Company's toxic waste dump on the St. Paul river floodplain, known as Area C, is gaining more attention. As community awareness grows, so does pressure on Ford and state agencies to study the dumpsite more closely to consider cleanup options. >>
November 7
Although FMR supports the overall plans to redevelop the Ford manufacturing site, we're disappointed the city declined to add more river-bluff parkland. (Photo used with the permission of the Metropolitan Design Center. ©Regents of the University of Minnesota)
This September, the St. Paul City Council approved the zoning plan for the Ford site, giving the go-ahead to redevelop the 135-acre river-bluff site without requiring additional parkland. But our efforts to expand nearby blufftop parks and address the toxic dump in the floodplain below aren't over yet. >> 
October 15
A new stormwater "stream" is a popular feature of redevelopment plans for the Ford site (see rendering above), but we should also seize this rare opportunity to create more river bluff parkland.
Opportunities to create bluff-top parkland in the heart of a growing city only come along every two or three generations. As draft plans for the Ford site redevelopment along the Mississippi River head to the St. Paul city council, we urge city leaders to seize this opportunity for the benefit of this generation and all those to come. >>
September 13
In 2011, the last Ford Ranger rolled off the line at Ford's manufacturing campus in St. Paul. With buildings demolished and environmental remediation in the works, the 135-acre site along the Mississippi River will be transformed into a modern riverfront community. (All images courtesy of St. Paul and Goff Public)
Recently, the city of St. Paul unveiled draft plans to redevelop the Ford Plant site along the Mississippi River. Pictured above in its truck-making days, the 135-acre campus is now clear of structures with plans for a new 21st-century riverfront community in the works. >>
January 11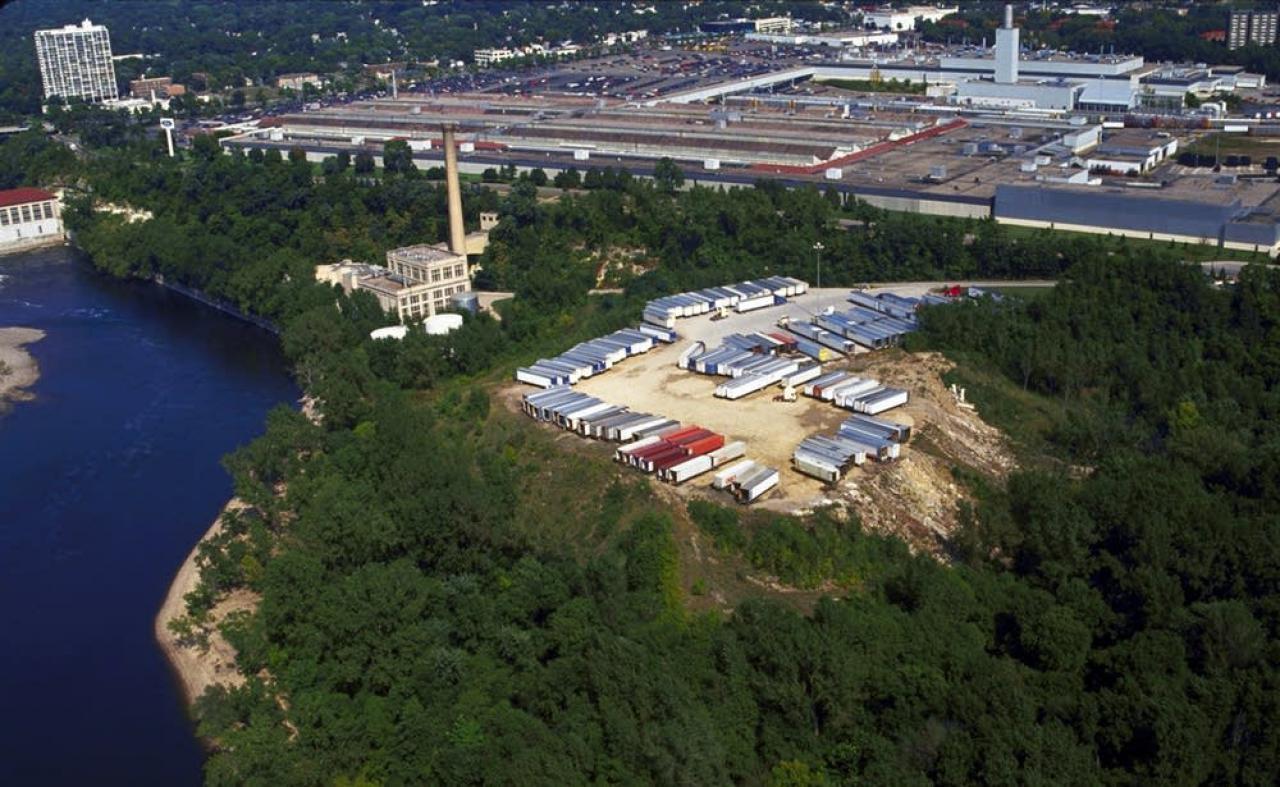 The Ford Motor Company "Area C" Dump (foreground) contains unknown quantities of industrial waste and construction debris. The dump has a concrete cap that Ford formerly used to park semi-trailers. (Photo: Regents of the University of Minnesota)
From 1945 until 1966, the Ford Motor Company dumped unknown quantities of industrial waste, including solvents and paint sludge, on the floodplain of the Mississippi River below the bluff adjacent to its St. Paul assembly plant. The dump, known as "Area C", adjoins the popular Hidden Falls Park and the Mississippi River, a location where floodwaters regularly inundate the dump. >>
Pages