Beat the heat with a paddle to Settler's Island
Pair your next paddle with a visit to the new canoe/kayak landing and picnic table at Settler's Island, an FMR restoration site on the Mississippi River's back channels in Cottage Grove.
Settler's Island has finally been getting the love it deserves, both from an ecological restoration and recreation standpoint.
The island is located in the Grey Cloud slough, a back channel of the Mississippi River in Cottage Grove, and is home to a mix of forest and wetland habitat that had been severely degraded by invasive species. FMR has been restoring habitat on the island since 2018 with great results. But we've also created more access to the island itself: In August of 2020, we installed a canoe launch and picnic pad, amenities that make the site attractive for paddlers and anglers alike.
Owned by the city of Cottage Grove, the island is now the site of a relaxing stop on the city's water trail, a canoe and kayak trail that meanders around Grey Cloud Island and through the recently daylit Grey Cloud slough. (We should note that we're not fans of the island's name, these are Dakota homelands after all.)
FMR River Corridor Director Colleen O'Connor Toberman kayaked out to the island for fun a few weeks ago. She gave us her (unbiased) review: "Settler's Island is one of the best picnic spots on the river. It's a lush, quiet, green space with plenty of shade trees, a comfortable picnic table and a canoe/kayak landing. Every time I've visited, we linger and don't want to leave."
This unique island is also just upriver from other FMR protection and restoration projects — the Mississippi Dunes Golf Course and Grey Cloud Dunes Scientific and Natural Area – and will help add important habitat to a natural corridor along the river in Cottage Grove.
Tips for paddling to Settler's Island
Last year, more than 800 people rented kayaks from Hazen P. Mooers Park in Cottage Grove, which is just north of Grey Cloud Dunes SNA and the perfect launch for Settler's Island.
New to paddling on the Mighty Mississippi? To get to the island from Mooers Park, you'll paddle through back channels, making this route a solid choice for all skill levels.
As you paddle north through the Grey Cloud slough, watch for basking turtles, nesting bald eagles, and even a few patches of American Lotus — Minnesota's largest native wildflower.
And of course, if you visit, please be safe and be respectful. Tell someone what route you're taking before you go, check conditions and water levels, bring water, snacks, sunscreen, a life jacket and layers. Don't set any fires, and don't camp overnight. Do enjoy this peaceful island and the unfolding restoration.
Settler's Island is becoming a more welcoming spot for paddlers and wildlife alike.
Look for these signs of restoration when you visit
This restoration project has been a model for partnership. FMR has engaged not only the city of Cottage Grove and our own contracted crews but has worked with Mississippi Park Connection and the National Park Service on this island as well. Together, we've hosted public and group volunteer events, paddling with intrepid crews and volunteers to the island to help haul brush to burn piles and plant native and climate-adapted trees and shrubs to restore the island's canopy.
Now, an island that was once unusable due to its impenetrable wall-to-wall buckthorn is accessible for recreation and better for wildlife habitat and water quality.
Where a past lack of native vegetation had caused sections of the island to slough off into the river during flooding, and bare soil meant that floods would scour the island and release sediment into the river, deep-rooted native plants now provide year-round ground cover.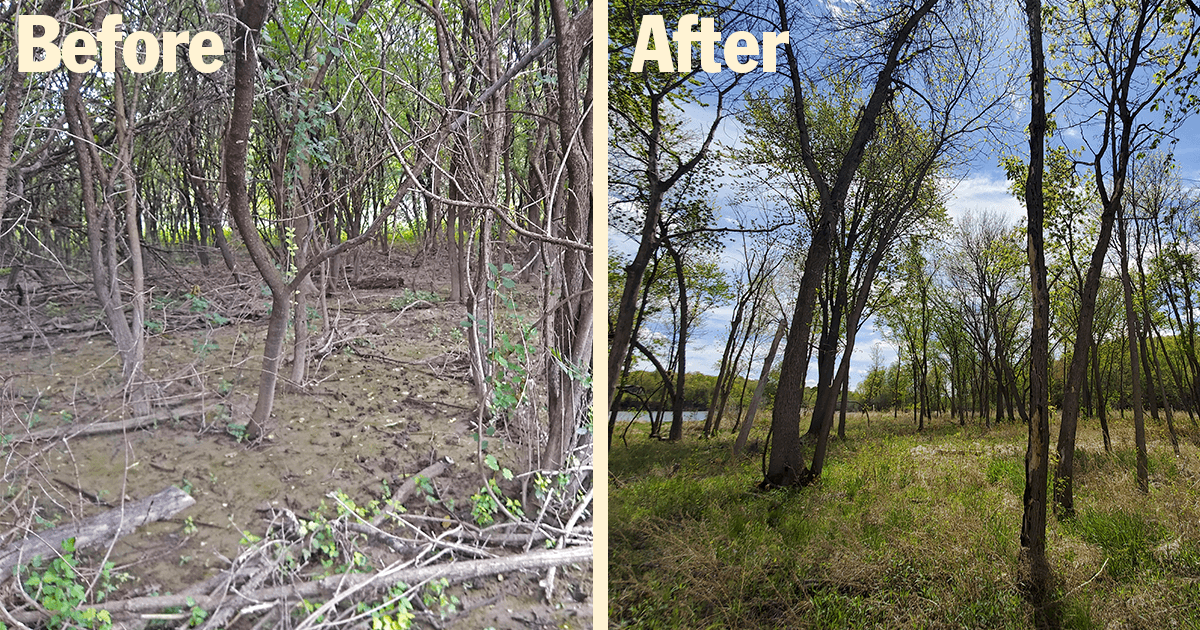 Where there was a dearth of native understory plants due to the deep shade cast by a buckthorn sub-canopy, seeded wildflowers now bloom during the growing season, providing resources for pollinators. (Pictured below: swamp milkweed, cardinal flower, and ironweed)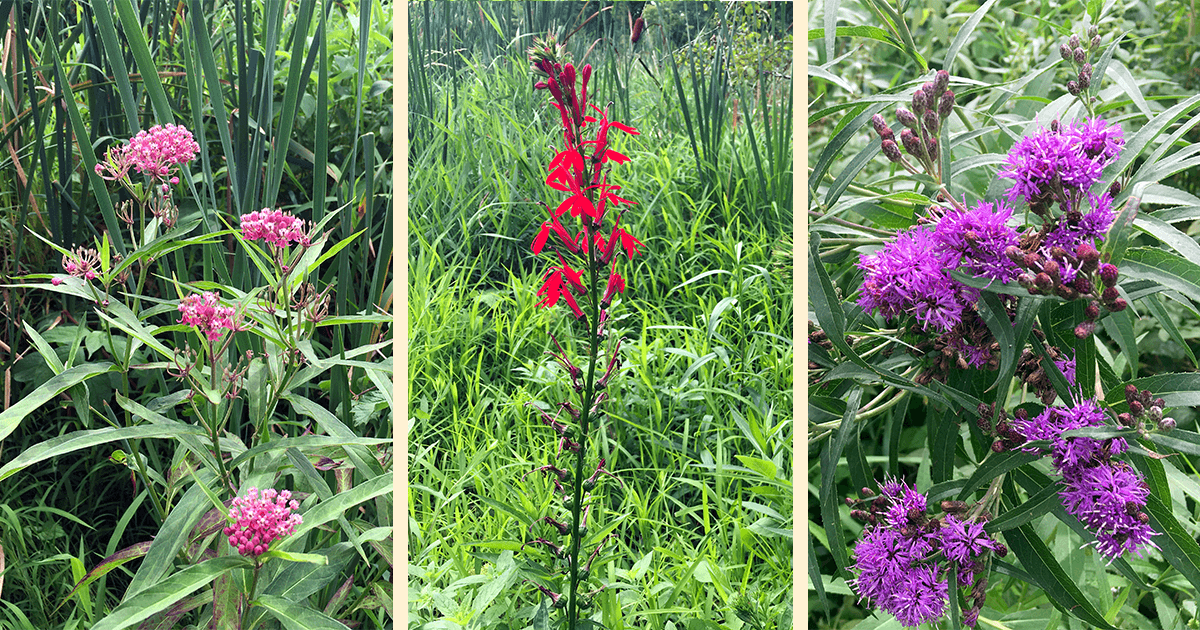 And where native trees and shrubs had been crowded out, newly planted trees and shrubs provide food for wildlife, and the next generation of climate-adapted trees make the site resilient to future changes. (Pictured below: Volunteers have planted swamp white oak, Kentucky coffeetree, American sycamore, and Ohio buckeye)
So if you're looking for a new place to paddle, a relaxing place to enjoy the quietude of the Mississippi River, or a shining example of partnership and restoration, check out Settler's Island.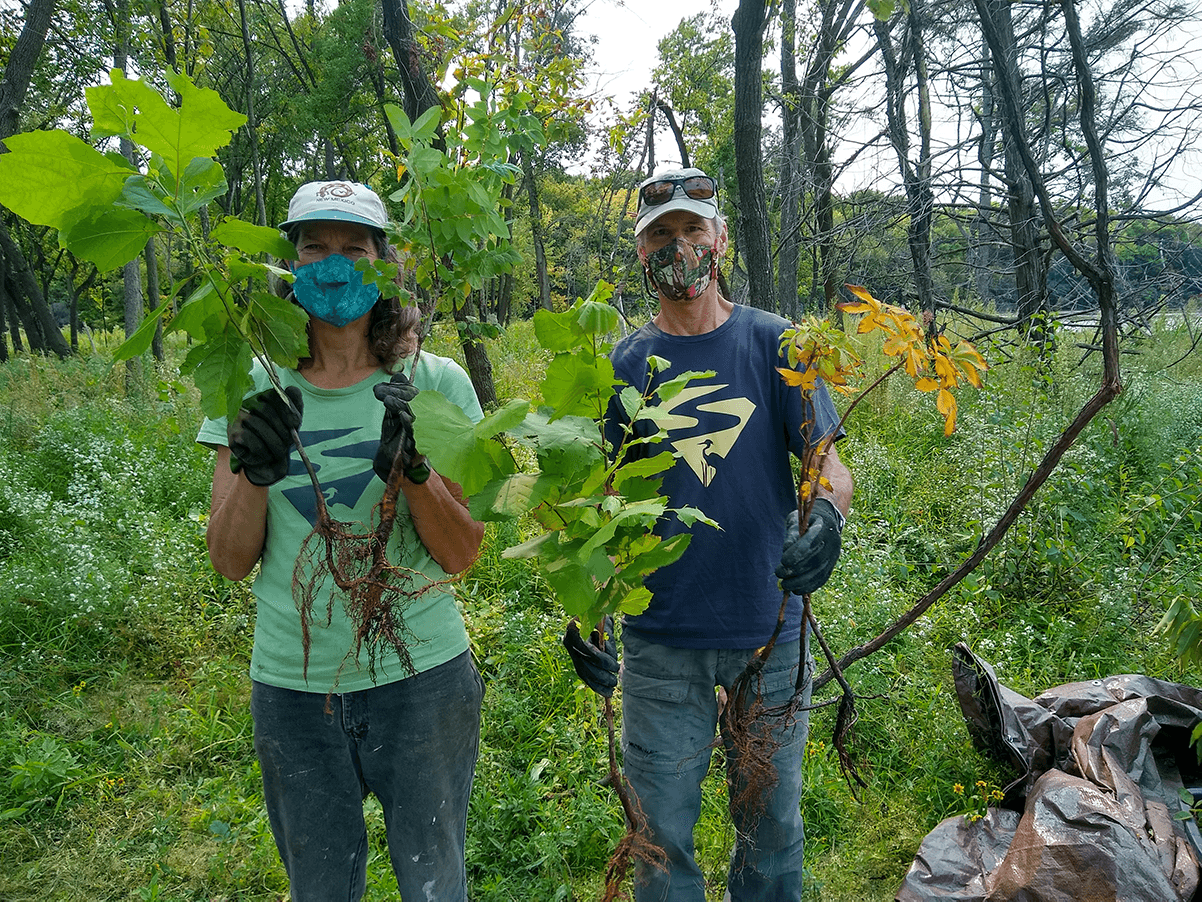 Volunteer with us!
Want to pitch in on restoration projects like this? Check out upcoming opportunities to get your hands dirty.
This project is made possible by our volunteers; partners the City of Cottage Grove, Mississippi Park Connection and the National Park Service; and funding from the Outdoor Heritage Fund.