Farewell to Allie, our summer field ecology intern
Allie, our summer field ecology intern, wades into the understory to snap an insect photo as part of her work monitoring and surveying restoration sites.
With 33 active restoration sites throughout the Twin Cities metro, FMR's Land Conservation team has their work cut out for them. Many of these sites have multiple ongoing phases of restoration, so staying on top of planning, contracted tasks, and volunteer events — let alone monitoring restoration success — can be a challenge. Our ecologists can't be everywhere at once, and they often need extra eyes on sites to make sure things are running smoothly.
Allie Carroll to the rescue! Allie, this year's Land Conservation Field Ecology Intern, hit the ground running, helping us with insect and vegetation surveys, leading volunteers in weekly monitoring tasks, and assisting with a variety of public volunteer events.
Allie brought a solid background in entomology and was a quick study, learning field sampling methods and becoming quite the plant expert in her three months with the program. Her attention to detail, independence and passion for the environment was evident in everything she did. We couldn't have accomplished everything we did in an extra-busy 2021 without her!
At the end of the summer, we chatted with Allie about her internship experience.
Tell us a little about your background and how you got interested in ecology.
I first got involved with FMR when I started volunteering at FMR events with dad back in high school. Since then, I've graduated from the University of Minnesota-Morris with a B.A. in Biology and Environmental Science. When I took my first ecology class in college, I thought, "Aha! There's a name for the thing I've always wanted to study!" I'm especially interested in plant-insect interactions, and I got some fabulous opportunities at FMR to lead community science research in this area.
One of the coolest ecology moments that I witnessed this summer was during one of my monarch monitoring visits at the Flint Hills restoration in Pine Bend Bluff Natural Area.
On a milkweed plant, I spotted a group of aphids that were being tended by ants. The ants protect the aphids in exchange for a sweet substance called honeydew, which the aphids secrete. However, there was an imposter in this happy family: a Scymnus beetle larva. The beetle larvae disguise themselves in white fuzz so they can sneak in and eat the aphids without being detected by the vigilant ants. All this drama was taking place on the bottom of a milkweed leaf!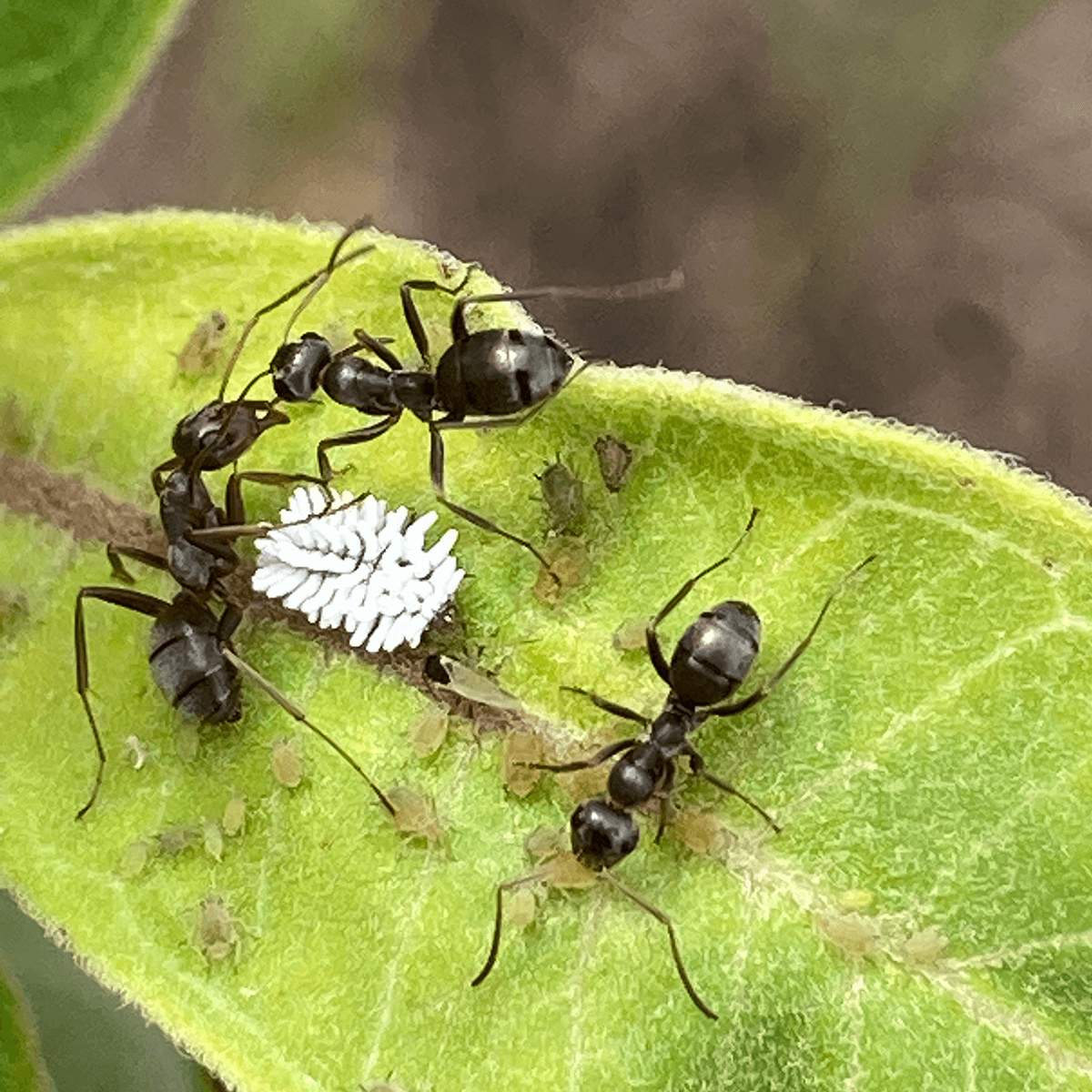 One of Allie's many talents was spotting fascinating insects. You can see more of her photos in her July blog post or learn more about this particular beetle here.
What projects did you work on with FMR this summer?
In addition to the monarch surveys, I helped coordinate several other community science projects including surveys of pollinators at Vermillion River Linear Park in Hastings, soil insects at River Heights Park in Inver Grove Heights, and small mammals at Bruce Vento Nature Sanctuary/Wakáŋ Tipi in St. Paul. I also helped ecologists Alex Roth and Karen Schik with bird and vegetation surveys at FMR sites across the Twin Cities.
Did you have a favorite project site? Which one and why?
It's hard to pick, but the William H. Houlton Conservation Area in Elk River was one of my favorites. We didn't visit it often, but it was always worth the hour-long drive. The site has both a forest area, where I helped with a garlic mustard volunteer event, and a gorgeous prairie, where I saw dickcissels for the first time during a bird survey.
It was especially rewarding to participate in the ongoing prairie research at Houlton. The research is investigating the importance of plant diversity in seed mixes and the relative effectiveness of two seeding methods: broadcast and drill.
What was your favorite part of the internship?
My favorite aspect of the internship was visiting the wide range of sites where FMR works, ranging from tiny prairies like Ole Olson Park in Minneapolis to extensive forest preserves like Hampton Woods Wildlife Management Area. I would never have explored many of these sites otherwise, and it's incredible how many natural areas are tucked within the city. I greatly enjoyed the opportunity to discover unique insects and plants at each new location.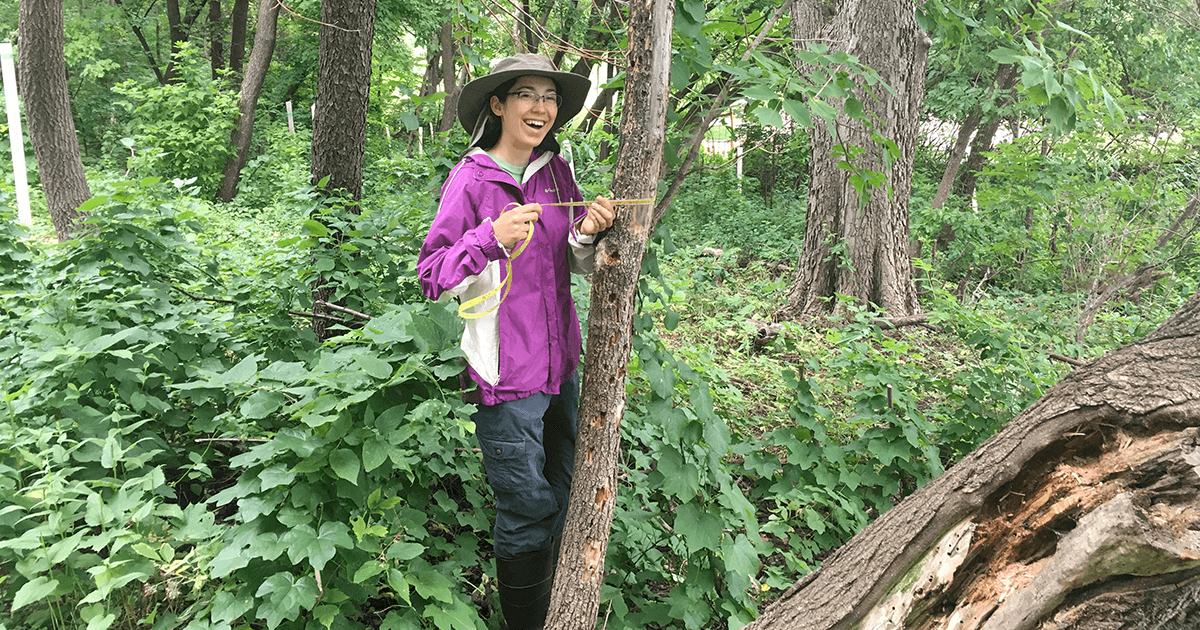 What was the hardest part?
Collecting data was generally straightforward, but the hardest part was often finding the survey plot in the first place. In spite of mapping software, locating a metal stake in a patch of brambles or waist-high switchgrass was a challenging job.
What did you take away from the internship?
This summer, I learned how to identify a plethora of new insects and plants, both in the forest and prairie, which will be a valuable skill for future ecology fieldwork. I'm very grateful to Alex and Karen for answering my many questions and for this opportunity to learn with FMR!
Through interactions with the rest of the FMR staff, I also better understand the process of habitat management and restoration. It's easy to say that we should conserve and restore natural areas, but it's a lot harder to do in practice. There are people working to connect with landowners, secure funding, and advocate for broader changes at the government level. The ecologists then survey the land to understand the current plant community, and they study historic maps to understand how the landscape once looked, which helps them draft a management plan.
However, restoration isn't a once-and-done project. Prairies need disturbances such as fire, grazing or mowing. And invasive species are always looking to establish a foothold, so ongoing management is necessary. This job with FMR has given me a much greater appreciation for all those who work in habitat conservation!
Where are you going from here, what are your next steps?
After FMR, I have a 12-month internship lined up with the Echinacea Project, a group based in western Minnesota that focuses on prairie research and the consequences of habitat fragmentation. I'm excited to apply all the plant and insect identification skills that I learned over the summer with FMR!
* * * * *
Join us
If you'd like to intern with us or get involved at the FMR habitat restoration sites Allie mentions, sign up for FMR's e-newsletter Mississippi Messages so you can find out about our upcoming openings and volunteer stewardship events. You can also check out our calendar for current volunteer opportunities.