Volunteers create piles for habitat in the Minneapolis river gorge
On the rainy morning of what would become the first crisp Saturday of the fall, volunteers joined FMR ecologist Alex Roth, FMR Stewardship & Education Director Adam Flett and yours truly (Sophie Downey) along the sandy shores of the Mississippi in south Minneapolis. 
We started off this River Gorge Stewards event like many others: lopping invasive buckthorn branches to stop another year's worth of seed from dropping and spreading. But then we did something a little different.
Our buckthorn lopping events usually end in towering stacks of brush, ready for a wood chipper. But the sand flats, located near West River Parkway and 34th Street, are only accessible by a steep staircase, and dragging massive piles of brush up to the parkway was not an option. Plus, our ecologists saw an opportunity to improve habitat in this important area for urban wildlife.
Stacking for habitat
We carefully sorted our buckthorn branches by size, then began stacking them, largest to smallest: about ten branches in one direction, then ten in the other direction, building approximately 10-foot by 10-foot stacks. Once the piles stood about 4 feet tall, we covered them with the smallest leafy branches.
To make sure that the buckthorn wouldn't spread, we paid special attention to fruiting branches. At this time of year, the small trees' clusters of dark berries were easy to spot. By lopping these, we cut off access to birds, who often play a big role in spreading buckthorn. Preventing the berries from dropping and sprouting will also reduce the number of buckthorn saplings in the sand flats next spring.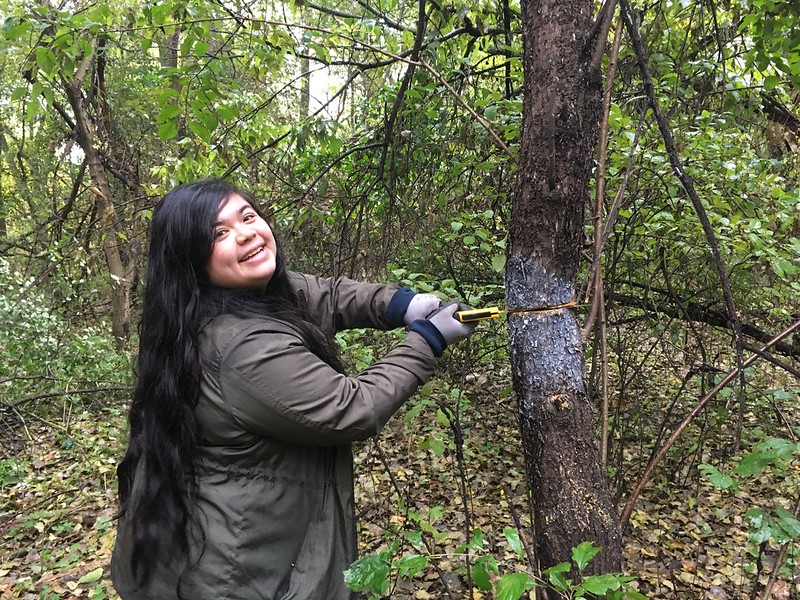 Volunteer Mary Metchnek uses a handsaw to fell a big buckthorn tree. With every tree that we sawed down, we noticed the canopy opening up and saw more sunlight reaching the forest floor.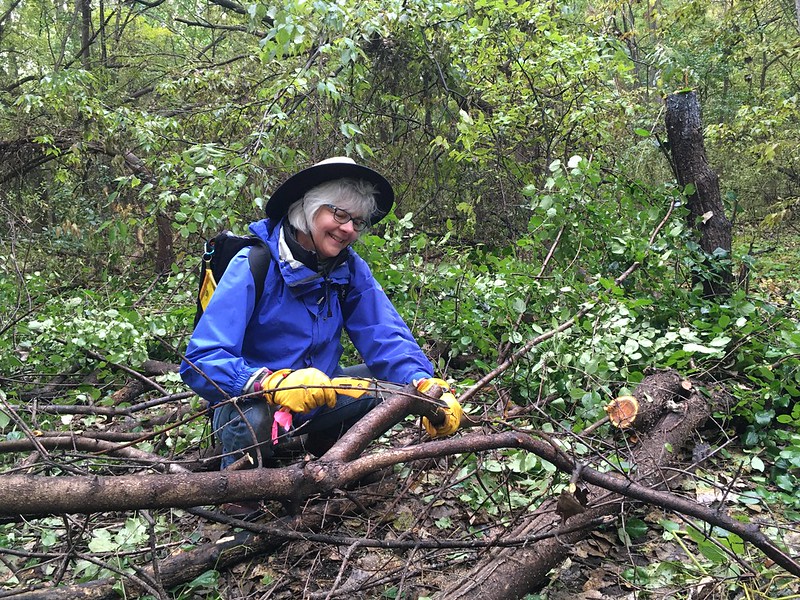 Volunteer Barb Thoman cuts a buckthorn tree into smaller pieces. We aimed for more precision than usual, creating easier-to-place straight pieces with minimal leafy branches.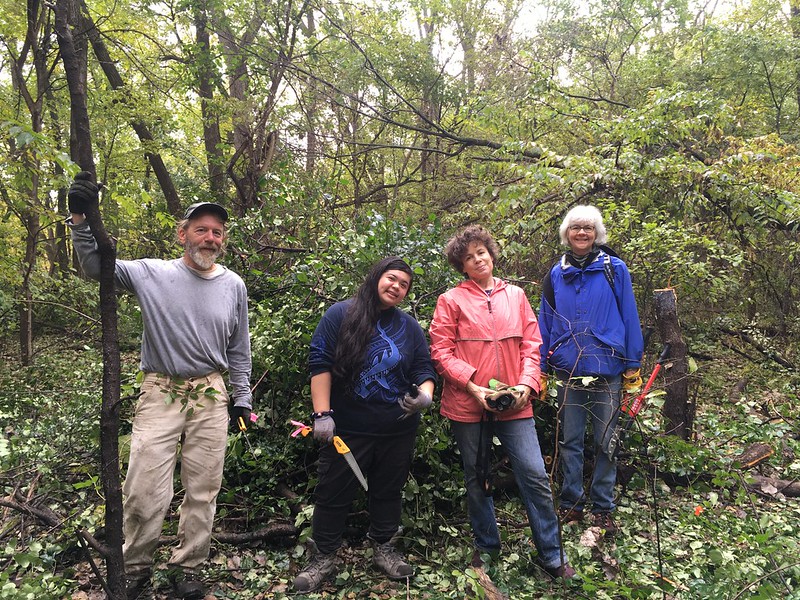 Russ Yttri, Mary Metchnek, Julia Ockuly and Barb Thoman pose in front of their completed pile. We split into smaller teams to work, with different team members sawing, lopping, sorting branches and stacking. Together, we created six new habitat piles!
This winter and beyond, the piles will provide shelter, nesting and foraging areas, and protection from predators for wildlife ranging from amphibians and reptiles to small mammals and birds. Together, these tasks will open up habitat for additional native plants and improve the quality of wildlife habitat in the river gorge.
If you're walking in the gorge this fall or winter, see if you can spot our habitat piles! (Not sure where to start? Check out our guide to a few of our staff's favorite River Gorge spots.)
Thank you, River Gorge Stewards!
Thanks again to the local neighborhood group, the Longfellow Community Council, for their partnership and support of this event.
The event is also part of the Gorge Stewards program, which actively engages people throughout the Twin Cities in the stewardship of the national treasure that is the Mississippi River Gorge.
Join us!