It's a wrap. How FMR's priorities fared in the 2019 session
Along with our allies, FMR is deeply grateful to our River Guardians. Via email action alerts, phone calls, legislator meetings, you came to the rescue for our river many times this session! 
The 2019 Legislative Session kicked in this January with Gov. Tim Walz presiding over the only divided state legislature in the nation. 
After major 2018 gains, Democrats held a large lead in the House, while Republicans expanded their narrow Senator majority following a special election. 
This led to some core disagreements, missed deadlines, and, ultimately, a mixed bag of victories and compromises for Minnesota's environment and the Mississippi River.
Budget impasse = special session
Despite improved relationships this year, the House, Senate and governor's office remained far apart on overall budget negotiations. Huge differences on education, health care and transportation (including the gas tax) dominated the conversation.
As a result, legislators blew past their May 6 deadline to reach a broad budget consensus, coming to a rough agreement Sunday, May 18. This left too little time to negotiate many policy and funding items in each specific bill prior to the constitutionally required May 20 deadline for adjournment. Walz called a special session to complete the work, which wrapped up Saturday, May 25.
All bills were signed by Governor Walz on May 31st. 
Here's a brief summary of the major items we were tracking this session, and how each turned out.
The environment budget compromise
Earlier in the session, the House and Senate proposed very different environment budgets.
While the House included a modest increase ($30 million) the Senate sought massive cuts to our core environmental agencies despite an existing state budget surplus. The Senate's proposed reductions in general fund environmental spending included:
• A 17% cut ($38.67 million) to the Department of Natural Resources
• A 39% cut ($12.54 million) to the Board of Water & Soil Resources 
• An 86% cut ($12.49 million) to the Minnesota Pollution Control Agency
After negotiations, the environment budget received a modest increase of about $14.8 million. While not enough to keep up with our state's growing environment and conservation needs, this modest increase does provide funding for a handful of new initiatives and is certainly preferred over the Senate's proposed cuts.
Safe Drinking Water Fee increased
The final Omnibus Health and Human Services bills included an increase to the state's Safe Drinking Water Fee from $6.36 to $9.72 annually per connection. The current fee was set in 2005 and inflation has increased 28% since.
This important funding source allows the Minnesota Department of Health to test water, review water treatment plants, train and certify water system operators, inspect water systems and solve critical drinking water problems. We are grateful for the strong bipartisan support this important legislation received this session! 
Funding for Forever Green, our top priority, increased
Our top priority this session was securing full funding for the University of Minnesota's Forever Green Initiative. Forever Green aims to accelerate the development of economically viable perennial and winter annual (cover crop) options. These crops can reduce runoff pollution and habitat loss currently associated with our dominant annual cropping systems (corn and soybeans) while maintaining or enhancing farm prosperity — a key goal of FMR's water program.

In recent years, we've been able to secure $1.5 to $2 million a biennium for this initiative. FMR and our allies advocated strongly that full funding ($10 million) for Forever Green come from the state's general fund budget (through the Omnibus Agriculture Finance Bill).

However, once that bill advanced without any Forever Green money, we supported full funding for Forever Green in the Clean Water Fund. The Minnesota House included the full $10 million in their Clean Water Fund proposal, while the Senate included just $2.5 million.

The final compromise bill includes a $4.3 million investment in Forever Green. While this is less than our request, it remains a meaningful increase over recent years and is a good step forward for clean water and farm prosperity in Minnesota.
First Environmental Trust Fund raid fixed
You may recall that in the final days of the 2018 legislative session, lawmakers raided $98 million from the state's voter-approved Environment & Natural Resources Trust Fund (lottery money allocated for the environment). 
In response, seeing no other options, FMR joined eight other conservation organizations in a lawsuit to block the move, resulting in a fix to the raid earlier this session. This was a major victory for the sanctity of dedicated environmental funding in Minnesota!
Second Trust Fund raid halted
Unfortunately, the successful repeal of the 2018 Environmental Trust Fund raid didn't have long-lasting effects in the Minnesota Senate.
The Senate's proposed Omnibus Environment Finance Bill included language to raid the fund yet again, despite having fixed the previous raid just weeks earlier!
We strongly opposed such a move in the final environmental budget bill. Thanks to strong leadership from Gov. Tim Walz, the provision was dropped in the final bill, and this vital dedicated environmental funding will be preserved.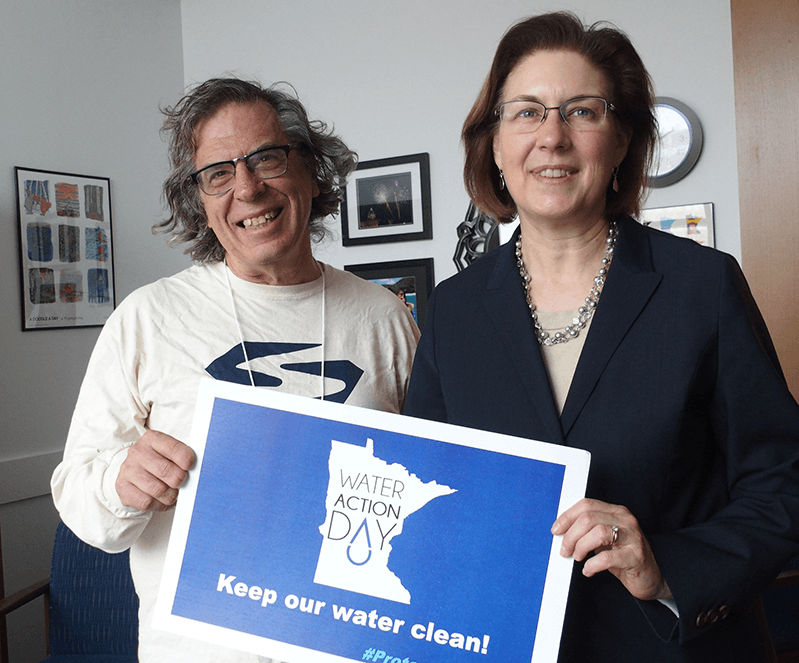 FMR River Guardian and SuperVolunteer Sarah Musgrave (left) and Senator Wiklund (right) met about the importance of protecting the Mississippi River and all waters on Water Action Day 2019. 
Working Lands Drinking Water Protection Program funded ... sort of
Another top priority for FMR this session was securing full funding ($8.5 million) for the Working Lands Drinking Water Protection Program.
Statewide, there are roughly 118,000 acres of highly vulnerable wellhead protection areas currently in row crops — rows of corn and beans with aisles of uncovered soil in-between allowing nitrates in fertilizer to filter down into the soil and groundwater, putting local public water supplies at risk of contamination. 
The Working Lands bill aimed to launch a new pilot program designed specifically to help farmers plant and sell innovative crops that protect drinking water while maintaining farm profitability on these highly vulnerable acres. This approach is a win-win for farmers taxpayers, and public health. Unfortunately, funding for the Working Lands program was not included in either the House or Senate Omnibus Environment bill proposals and did not become law.
However, legislators did alter the language within the Forever Green legislation (see above) to allow some of those funds to be used to implement Forever Green crops in wellhead protection areas in Minnesota. Combined with some other grants and Environmental Trust Fund money allocated to similar practices, we may be able to begin transforming these vulnerable acres to benefit public health, the environment, and farm prosperity in the next two years.
MPCA Citizens' Board not reinstated
The Minnesota Pollution Control Agency (MPCA) Citizens' Board was established in 1967 to ensure the agency serves the public interest and to establish an open and transparent decision-making process. 
The board ​gave a voice to Minnesotans to express their concerns about proposed large-scale industrial projects that threatened their communities and ensured that agency decisions were made in full daylight and public view.
Abolition of the Citizens' Board was among the most controversial moves of the 2015 legislative session. The language was inserted into the Agriculture and Environment Budget Bill by conference committee chairs in the last hours of the regular 2015 session, thus avoiding meaningful public hearings.
This year, the House advanced legislation to reinstate the citizens' board, which FMR strongly supported. Unfortunately, the Senate did not support the language, which was dropped during final negotiations.
Salt pollution continues
In response to increasing chloride or salt pollution to our freshwater resources, FMR joined a large coalition of groups supporting a new, voluntary smart-salt training and certification program to train salt applicators on best practices and secure limits on slip-and-fall liability for applicators who use proper deicing practices.
This legislation, which FMR has supported for several years, provided $466,000 for this work. Unfortunately, it was dropped from the final omnibus Environment bill.  
Legislative Water Commission in limbo
Minnesota's Legislative Water Commission was funded for the next two years, but a "sunset" provision that dissolves the commission on July 1st of this year was not extended, leaving the commission in an unusual and unfortunate limbo. 
No bonding for metro river projects
Throughout the session, FMR advocated for a bonding bill that included a new river project in St. Paul, but not one in Minneapolis:
FMR advocated for $3 million to plan a new River Learning Center at Watergate Marina in St. Paul. Part of the city's 2013 Great River Passage Master Plan, the center could combine a National Park Service headquarters and visitor center with year-round environmental learning and outdoor recreation experiences. 
Along with a number of allied community organizations, however, we opposed a $2 million proposal for a private concert stadium at Minneapolis's Upper Harbor Terminal. Public funds should not be used to support a private music venue that has generated so much community opposition. 
Unlike other legislation, state bonding bills require a 60% majority in both chambers to become law. After the House minority made it clear they would not put up the votes necessary to pass such a bill in that chamber, it was dropped in final negotiations. A bonding bill will be a top priority when the legislature reconvenes in 2020.
Policy defense
The Minnesota Senate originally proposed a raft of rollbacks to longstanding environmental protections. Fortunately, nearly all of the most troubling rollbacks were dropped from the final Omnibus Environment & Natural Resources Finance & Policy bill during the special session. You can read more about the fate of these rollbacks here.
The Clean Water Fund, imperfect but important allocations
In 2008, Minnesota voters approved the Clean Water, Land and Legacy Amendment to our state constitution, providing a 3/8th of 1 percent sales tax increase dedicated to water quality, land conservation, parks and trails, and the arts. The Clean Water Fund is one of four Legacy-backed funds and receives 33% of all receipts. 
Earlier this session, we detailed three competing interests for large portions of the Clean Water Fund: Forever Green, Soil & Water Conservation Districts (SWCDs), and The Conservation Reserve Enhancement Program (CREP).
As we noted in our legislative blog, the final bill allocated $24 million, $17.25 million to CREP, and just $4.3 million to Forever Green. We're disappointed this voter-approved dedicated fund was tapped to pay for SWCDs and CREP — two large funding initiatives typically funded through other means.
However, the final budget recommendations do include a variety of important efforts. For more information, see our take on the Clean Water Fund bill or the full list of budget recommendations.
Looking ahead
Several important issues remain unresolved and will need to advance next session.
We need to invest in water infrastructure, fully fund Forever Green, initiate the Working Lands Drinking Water Protection Program, reinstate the MPCA Citizens' Board and fund the state's proposed Smart Salt training and certification program.
We look forward to working with FMR members and advocates, as well as our conservation partners and state agencies, to advance these important initiatives during the 2020 legislative session.
Join the River Guardians
We count on over 2,000 River Guardians to help us shape legislation to protect the Mississippi River. 
Sign up to become a River Guardian and we'll let you know when important river issues arise. We make it quick and easy to contact decision-makers when it matters the most for our Big River.
River Guardians are also invited to special events (including happy hours) to learn more about important legislative and metro river corridor issues and toast our accomplishments.
Other session summaries
For more perspectives on the outcomes of the 2019 legislative session, check out some articles and blog posts from these sources: