Dakota County ponders pathways for conservation
July 14, 2020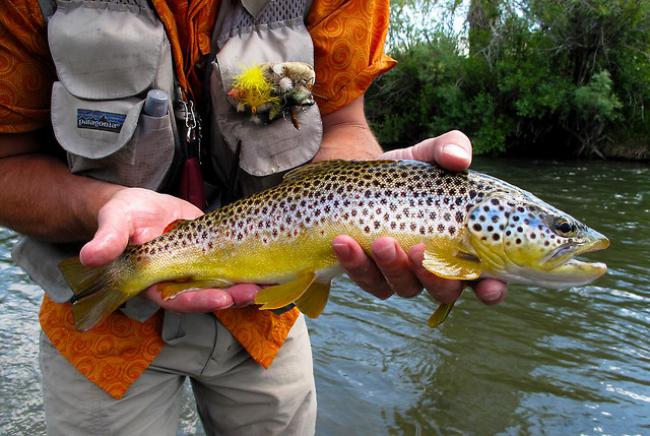 Thanks to previous conservation efforts, Dakota County's Vermillion River is known for highly sought "brown" trout. Restoring land along the cold prairie stream improved the health of its waters, benefiting both wildlife and the Mississippi River downstream. (Photo by Latham Jenkins,
Circumerro Stock
)
As many Mississippi Messages readers know, Dakota County put together an exciting plan to conserve up to 40,000 acres important to our communities, wildlife and waters.
County staff announced the draft plan in spring 2020, while our partners at the Trust for Public Land drafted a feasibility analysis of various funding options.
Dakota County Commissioners learned about the plan and ways to pay for it at a hearing in July. Many commissioners also heard from their constituents, including several dozen FMR members and River Guardians, about the need to support it. (Thank you!)
FMR and our partners will be following up discussions with commissioners to explore pathways to protect and restore ecologically important land across the county.
Such large-scale efforts don't happen overnight. But we're excited to support this proposal and we're in it for the long-haul. (If you live in Dakota County and would like to be notified of any updates, just let us know via the form below!)
Say 'Yes' to parks and natural areas
In the past, land conservation efforts like this in Dakota County have given us some well-loved places — including many that FMR has partnered to protect and restore along the Mississippi River and important tributaries, such as Pine Bend Bluffs Scientific and Natural Area, the Vermillion River Aquatic Management Area (home to the elusive big brown trout pictured above) and Spring Lake Park Reserve (home to the fisher).
In addition to providing recreational opportunities and wildlife and pollinator habitat, such natural areas help protect the health of our waters and provide social, ecological and economic returns for years to come.
Do you live in Dakota County?
If you live in Dakota County you can help support this much-needed and exciting investment in natural areas, greenways and parks. Sign up below and we'll be in touch when we have updates to share or the commissioners are seeking public input.
If you don't live in Dakota County, sign up to be a River Guardian and we'll be in touch about statewide or local river issues in your area!