Stormwater mural celebrates water at Lake Phalen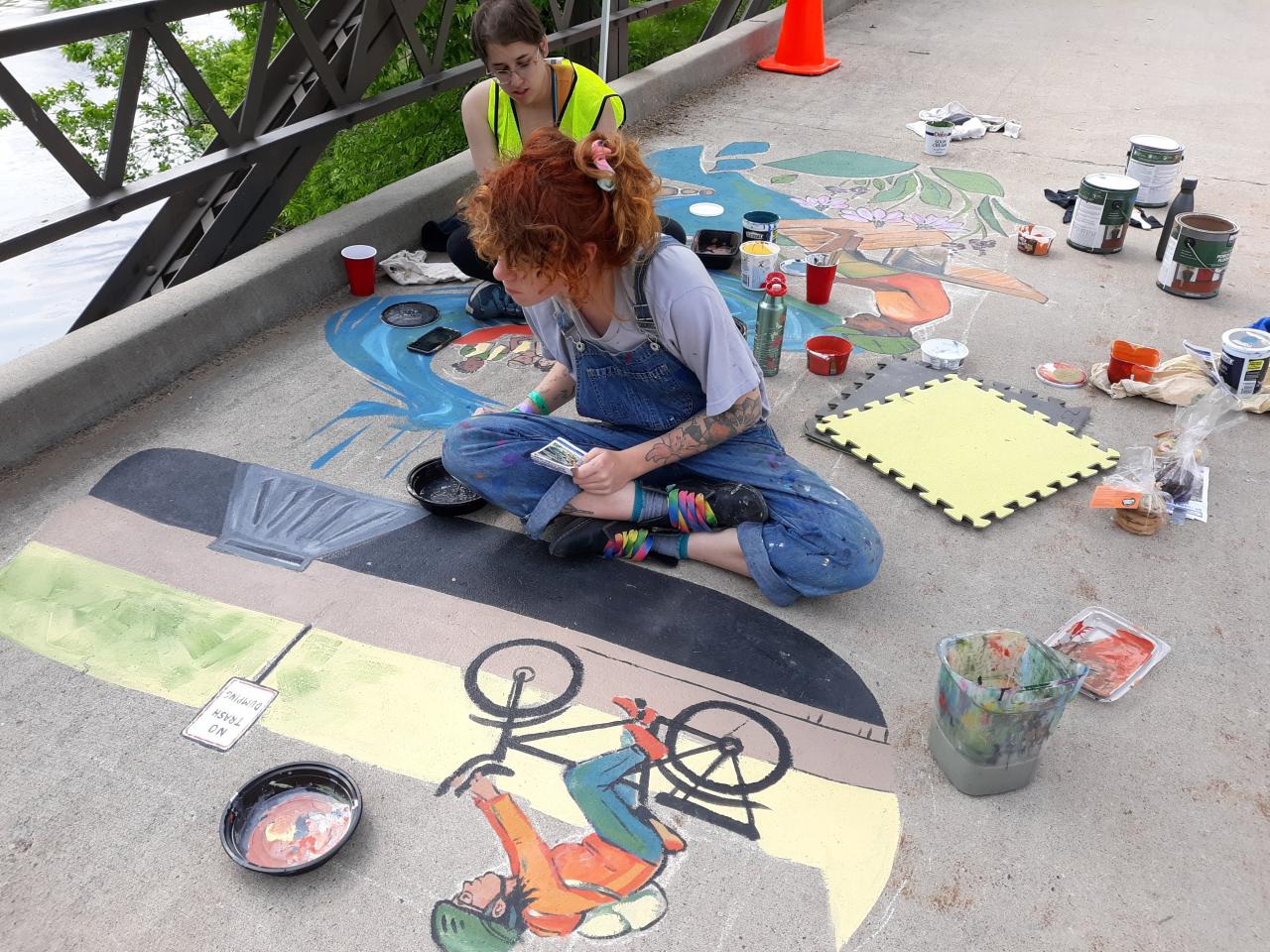 On the bridge near the pavilion at Lake Phalen, if you look down, you'll see a new mural. A long, colorful image shows someone biking on a sidewalk past a storm drain that spills into a river, great blue herons soaring over a voyageur canoe, and an angler beside prairie plants on the river banks. On June 1 at WaterFest, lead artist Liv Novotny and assistant artist Violeta Rotstein led volunteers to paint this beautiful reminder that all roads lead to our waters.
A picture is worth a thousand words
This is our third stormwater mural in St. Paul. The other two are near Como Lake, created by artist Gustavo Lira in 2017 and 2018. Lira's murals feature elements from their surroundings: koi for the Como Conservatory, music notes for Como Dockside's well-loved outdoor music series and swirling water and wildlife for the waters Como Park centers around.
The latest mural at Lake Phalen, designed with community input by lead artist Liv Novotny, highlights the connection between streets and sidewalks and the water we love and need. After it rains, fertilizer, leaves and grass clippings wash into our local lakes, creeks and rivers via storm drains, feeding algae and excessive plant growth. Both are bad news for wildlife and bad for our drinking water.
The intent of all three murals is to show passersby the connection between our waters and roads. What we do on land impacts the rivers and lakes around us.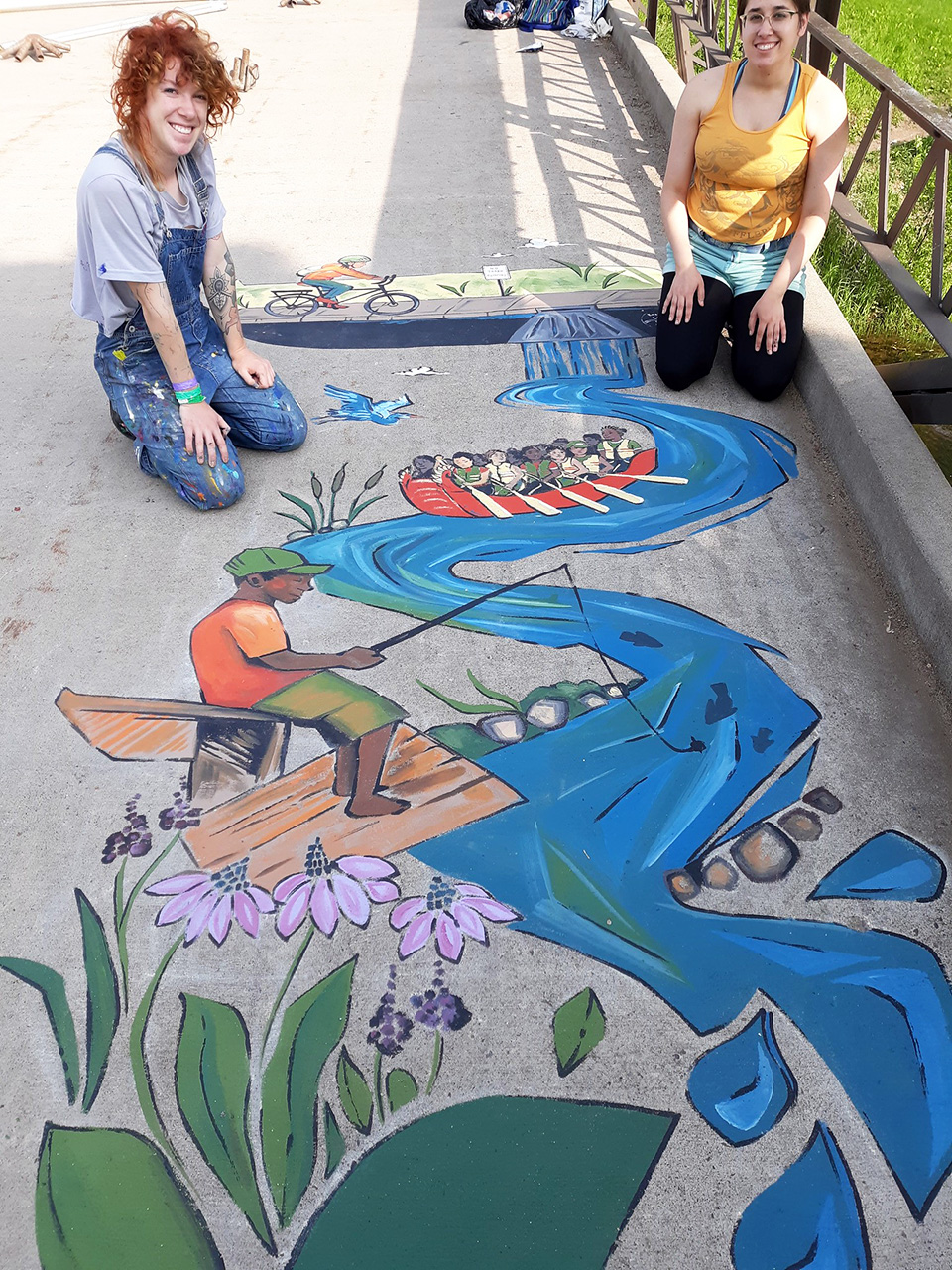 Artists Liv Novotny and Violeta Rotstein show their finished stormwater mural at Lake Phalen. You can view all our photos of the mural creation here.
This mural took a village
This is the first stormwater mural that Novotny has worked on with us. Though Novotny created the design, many people from the community helped bring it to completion. Ramsey Washington Metro Watershed District coordinated a public workshop to gather ideas by asking the question "What makes Lake Phalen special to you?" Area schools and the youth program Urban Roots also contributed ideas.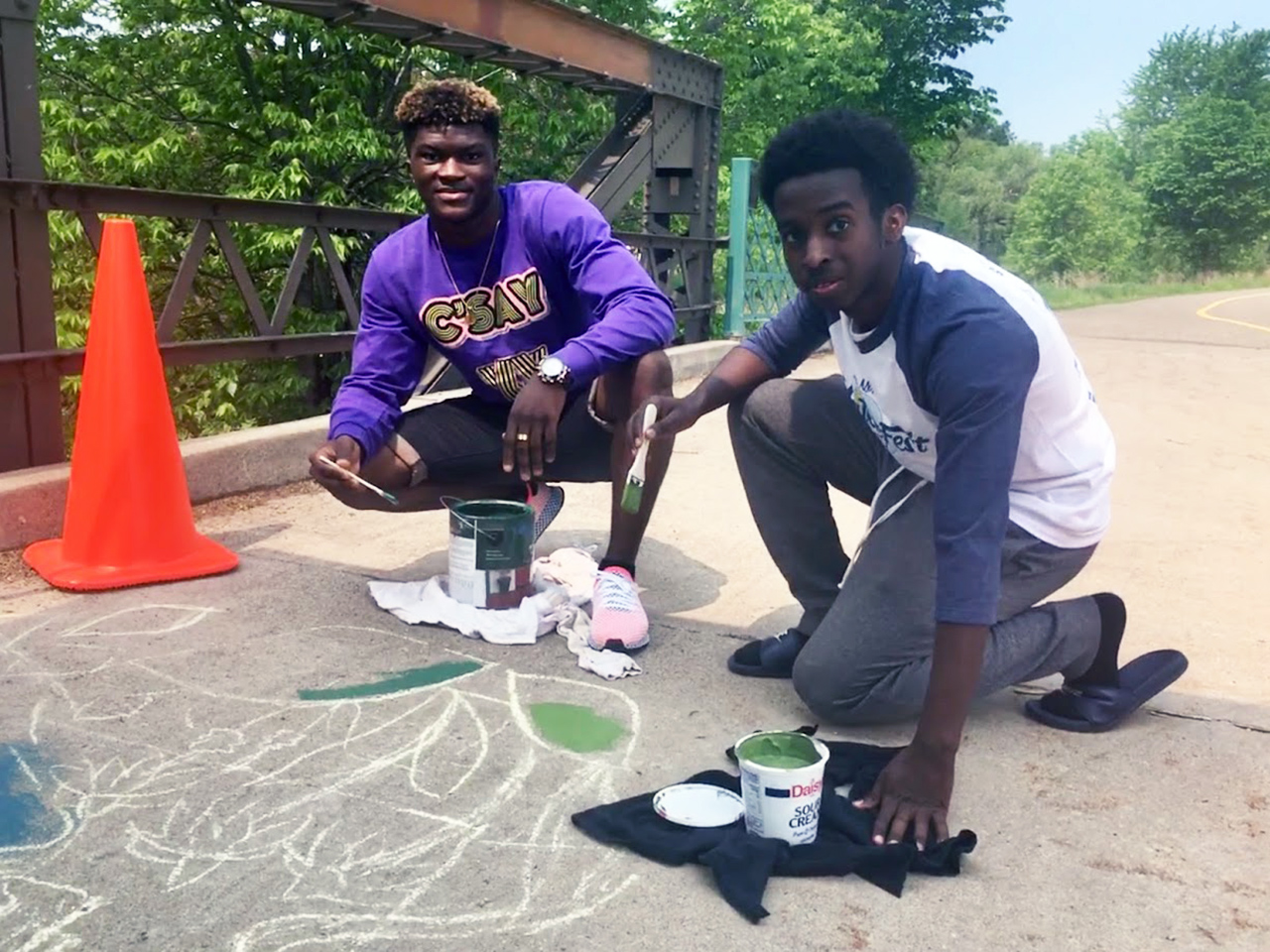 Youth from Urban Roots contributed to the design of the mural and the implementation.
The mural was funded by the City of St. Paul Public Works Department, and support from Payne-Phalen District 5 Council and St. Paul Parks and Recreation made it all possible.
Want to make a difference in your neighborhood?
If you live in St. Paul, FMR can work with you to stencil storm drains in your community. From May through October, we set up outings with volunteers throughout the city to paint the message "Keep 'em Clean, Drains to River!" next to storm drains and distribute related educational flyers to area residents. Request an outing online or contact our stenciling team at stenciling@fmr.org.
Want to stencil on your own time? Our DIY storm drain stenciling kit allows you to label a St. Paul storm drain with the same clear reminder, whenever works for you and your family or friends. You can check out our kit for a week at a time.
Wherever you live in the metro, you can help keep your local lakes and river clean by adopting a drain with our partners at the Center for Global Environmental Education or by installing a rain garden with your local watershed district.
And stay tuned for our call for artists next fall! We're already hoping for a fourth stormwater mural.