How does FMR evaluate development plans?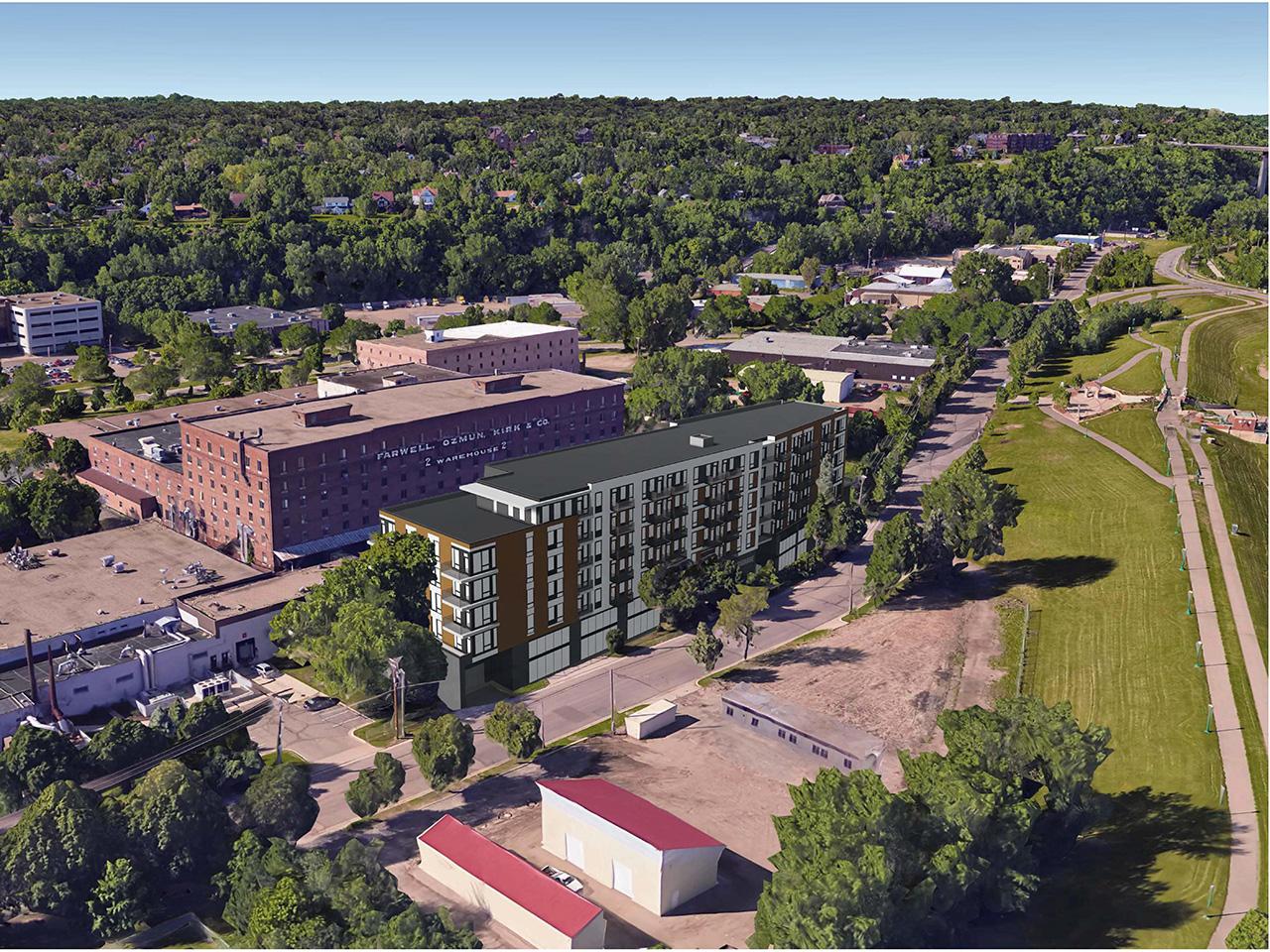 Our River Corridor program has been in the news a lot lately as we weigh in on development proposals like those for the Upper Harbor Terminal in North Minneapolis or the potential senior housing on the river bluff in Lilydale. Often, we're in the spotlight because we see aspects of a plan that should be improved, be it the size of its parks or its distance from the bluff's edge. If this is someone's only exposure to our work, we can understand why they might say FMR "just doesn't like any riverfront development."
Though you might see our name come up advocating against parts of proposals, there's more going on behind the scenes. While we can't cover all of the ins and outs of land use and development analyis in a webpage, here's a primer on our process and the criteria we use to evaluate potential big changes to our river and its banks.
Our criteria
While we advocate for open space for wildlife and recreation, we also recognize and celebrate that we're in an urban area. Opportunities for housing, employment and entertainment along the river are necessary to create the vibrant riverfront communities we treasure, as well as helping community members connect to the river.
With these goals in mind, we look to several guiding principles. Questions we ask about developments include:
Does it comply with Mississippi River Corridor Critical Area rules, including height, setback, stormwater management and vegetation management? What is the development's impact on the land and on the river?
Is the plan aligned with comprehensive and small area plans, zoning ordinances and the community's development goals?
How will it impact the public's enjoyment of the river? Will it impair important or highly-valued views of the river or bluffs, especially those within our local national park? 
Will it support FMR's belief that the Mississippi River is for all of us? Does the plan include public parks and trails, affordable housing, community ownership, or other ways to promote equitable riverfront access? Who profits from the river's presence, and can that circle of benefits be expanded?
But those questions are just the starting point. Since each project is unique, we evaluate it as a whole, considering benefits and potential tradeoffs.
Our advocacy process
FMR has spent over 25 years working on policies and plans to guide riverfront development. These policies and plans, such as the Critical Area rules and city comprehensive plans, are created through extensive public involvement processes that often take years to carry out. That's why we advocate for adherence to these policies: They were created for important reasons and represent community voices.
Part of our process that doesn't often end up in the news includes our collaborations with the developer and/or city staff in the early plan review phases. Often, this less-visible advocacy leads to productive dialogue and better developments. Our advocacy also regularly involves collaborating with local residents, submitting comment letters (many listed on our advocacy page), testifying at public hearings and attending planning commission and city council meetings.
Occasionally, if a development proposal is particularly concerning to us, we sound a louder alarm. That's when you might see an article on our website, be asked to take action as a River Guardian, or see FMR in the news.
Cases in point
As the real-estate market continues to rise and demand for housing, in particular, remains high, many sites that were previously not financially feasible to develop are becoming more attractive to developers.
Our team is currently reviewing several development proposals for long-vacant sites. Some of these new projects serve as great examples of how we do our work and what we advocate for. We'll examine a few here.
Lilydale's River Bluffs Center: Protecting the river bluff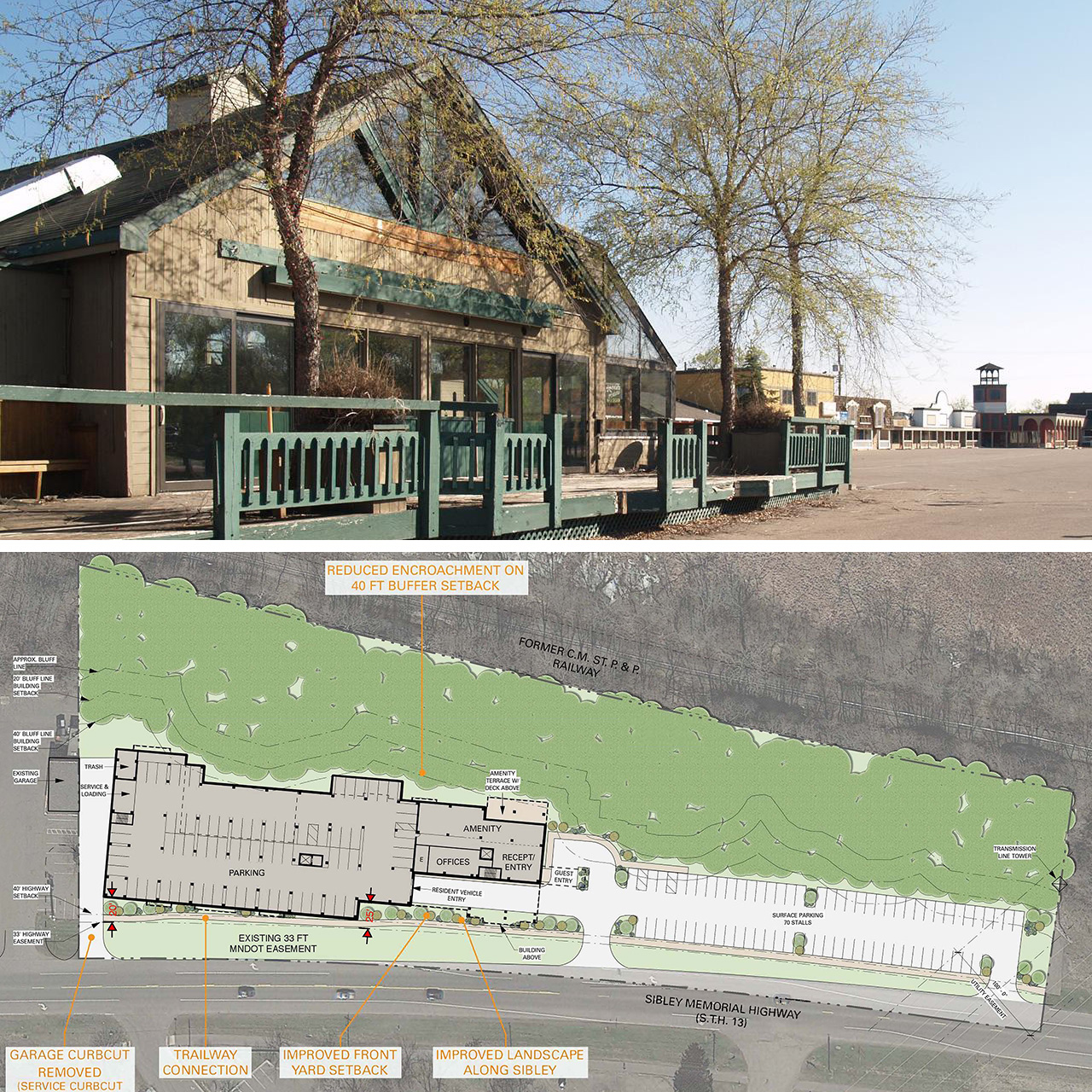 Lilydale's River Bluffs Center and Moose Country bar (top) will be demolished under a new development proposal. The proposed senior housing project (bottom) will include a continuum of care options and resident amenities. Developers made several adjustments to the plan after discussing it with FMR and community members. (Bottom image by Opus Development)
We strongly opposed a proposed senior housing development in Lilydale due to the design's non-compliance with Critical Area rules. While the planned use as senior housing received positive community feedback, the proposed structure exceeded height limits intended to protect the river's scenic nature. The plan also had a bluff setback of less than half of what is required to protect the fragile geology of this river bluff area.
The developer did not include the required mitigation measures for exceeding height and setback. The stormwater management plan was also not refined enough to convince us of its sufficiency. (Read more about our take on this development here.)
Together, these aspects of the development plan raised serious ecological, scenic and even safety concerns. FMR has played an active role pressing for a better development plan, from informing and connecting with Lilydale residents to meeting with the developer and city officials.
The developer recently released a revised concept plan that substantially reduces bluff encroachment while also tiering the building away from the river to mitigate the scenic impacts of excessive height. FMR is supportive of these changes. Stormwater management remains a concern and we will be monitoring that as planning proceeds (especially as climate change calls for more significant rain events). We'll continue to add new updates to our original article about the proposed development.
St. Paul's Island Station: Promoting public access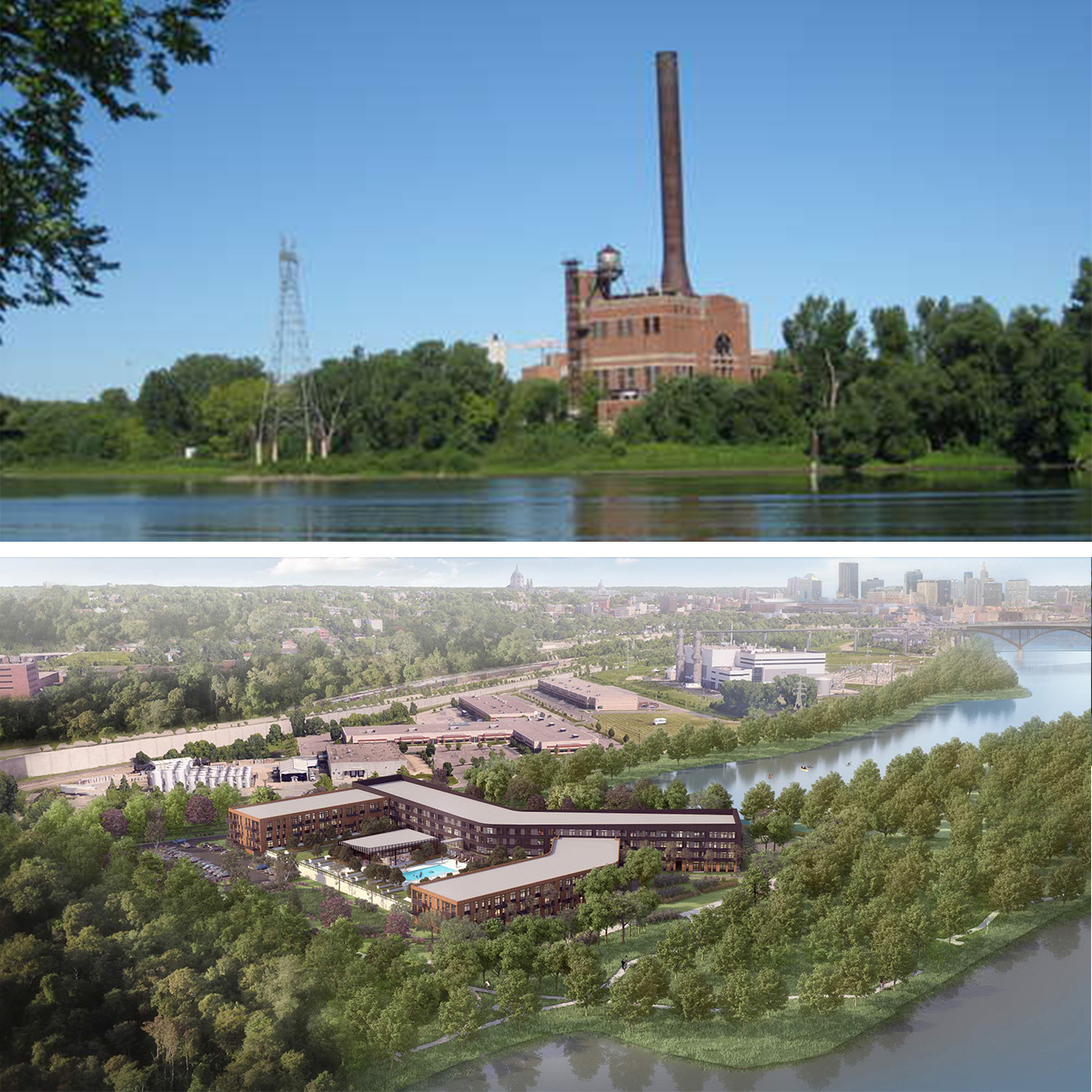 The Island Station power plant was demolished in 2014 and the site is now vacant (top). The Waterford Bay project (bottom) includes approximately 200 market-rate rental units. (Bottom image by BKV Group and Stoneleigh Companies, LLC)
Island Station is a unique site on a small peninsula near the intersection of Shepard Rd. and Randolph Ave. in St. Paul. Once home to a coal-fired power plant, it's now vacant land with shoreline along both the main river channel as well as an inlet that could provide great boat access.
Island Station is included in St. Paul's Great River Passage Master Plan (which was developed through years of community input and FMR's active support) as a destination for river recreation and community gatherings. The plan calls for trails, a boat launch, recreation and adventure facilities, and public amenities on the site. It emphasizes public ownership and involvement.
Disappointingly, instead of a public park, Waterford Bay — a luxury housing development — is now proposed for the site. The developer met with FMR and other stakeholders early in the planning process, and we provided feedback about how moderate height, thoughtful building materials, public trails and other design elements could make the development more respectful of its riverfront location.
The developer improved their plan in response to our recommendations. The plan now includes community access to walking trails and a nonmotorized boat launch, as well as a goal to connect to current and future parks and trails.
However, the developer is seeking several variances for this project, including height and shoreline slope in part of the site. If granted, these variances will increase the building's impacts on the scenic and ecological functions of the Mississippi River.
If the city chooses to grant these variances and allow this housing development to move forward, we would like to see stronger public benefits in return. We're suggesting that more public parkland is dedicated on the site. This could include, at a minimum, all shoreline, the trails connecting to adjacent properties, and the boat launch.
Setting these areas aside as public parks will ensure permanent access to these amenities for the larger community, and will strengthen equitable riverfront access for all residents regardless of their income or address.
We are continuing discussions with the city and with the developer to advocate securing this public parkland.
St. Paul's 84 W. Water St: Aligning with community goals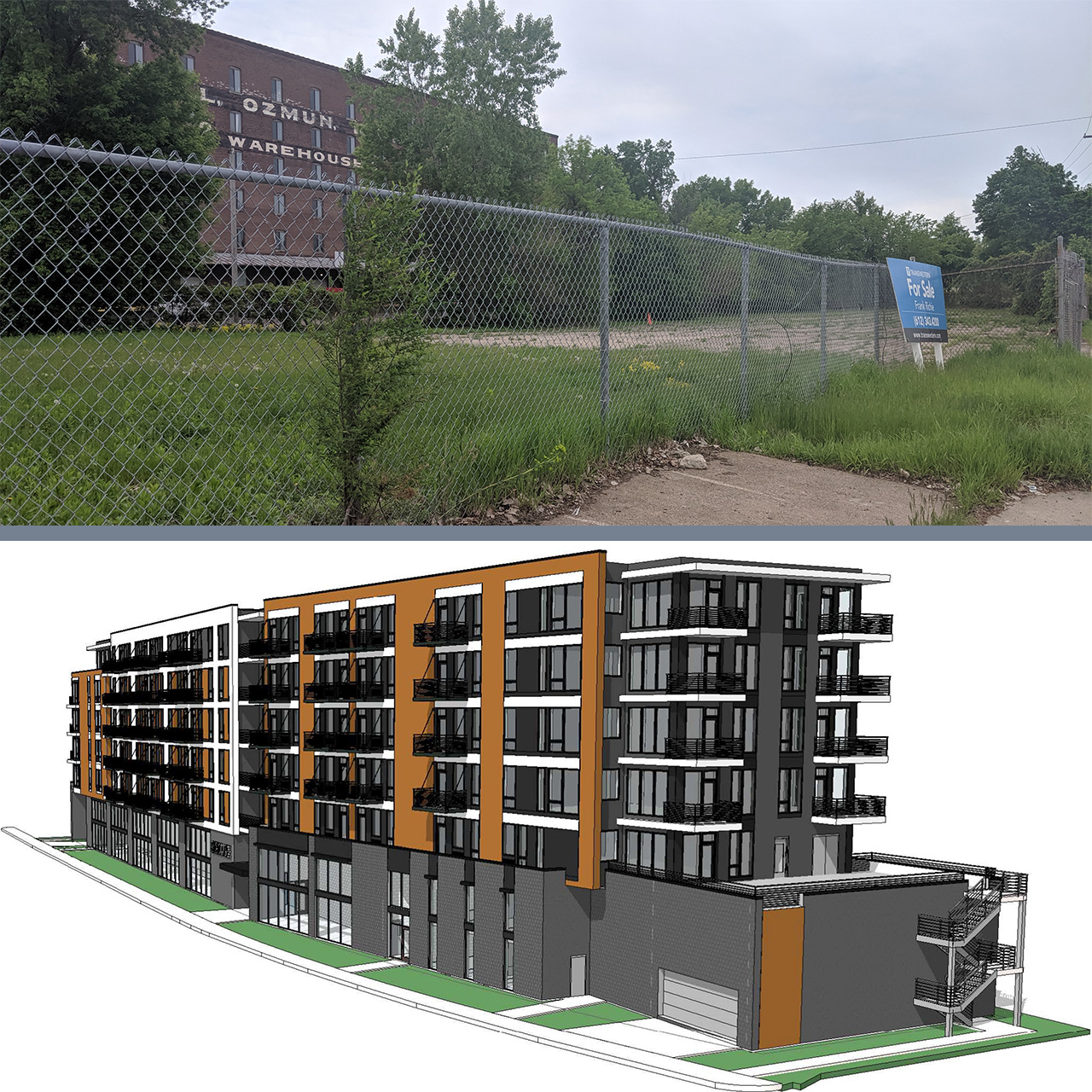 The vacant site at 84 W. Water St. in St. Paul (top) is being considered for a 136-unit housing development (bottom) with moderate rental rates. (Bottom image by DJR Architecture and Reuter Walton Development)
A new housing project targeted at moderate-income renters is being considered for a vacant site at 84 W. Water St. on St. Paul's West Side, right across the street from Harriet Island. This development would require rezoning the site from industrial to residential and granting a variance for height. The existing height limit in the area is four stories; this proposed building would be seven stories high.
Our primary concern with excessive height is its impact on views of and from the river, which in this site includes a scenic view of the bluff rising away from the river behind the site.
However, after we requested and reviewed view analyses from the developer, and conducted our own analyses, we found that the proposed height appears reasonable for this location. The new building would be immediately in front of a historic warehouse that's actually taller and is unlikely to be removed in the future. Any additional impact on views would be minimal given this existing building.
The proposed housing development will also be tiered along the sides to improve view corridors between the river and the bluff. In this urban neighborhood, it's expected that buildings are part of the landscape as long as development is balanced with respecting the river's scenic beauty.
This neighborhood has a strong and organized district council, the West Side Community Organization (WSCO), that plays an active role in influencing development through their Equitable Development Scorecard. FMR supports the community's goals for equitable development, including affordable housing; improved infrastructure for bikes, pedestrians and transit; and expanded residential opportunities. We are collaborating with WSCO to understand how well the 84 W. Water St. proposal aligns with these goals and how FMR can support their vision for development.
This specific site is one place where flexibility on height could support affordable housing and other neighborhood priorities without significantly impacting the community's experience of the river.
Learn more
We welcome dialogue with community members, public staff and officials, and developers. The earlier we hear about proposed developments, the better. If you have questions about the River Corridor program or would like to discuss specific developments with us, contact Colleen O'Connor Toberman, Land Use & Planning Program Director: ctoberman@fmr.org, 651-222-2193 x29.