A booklist on place from FMR staff and board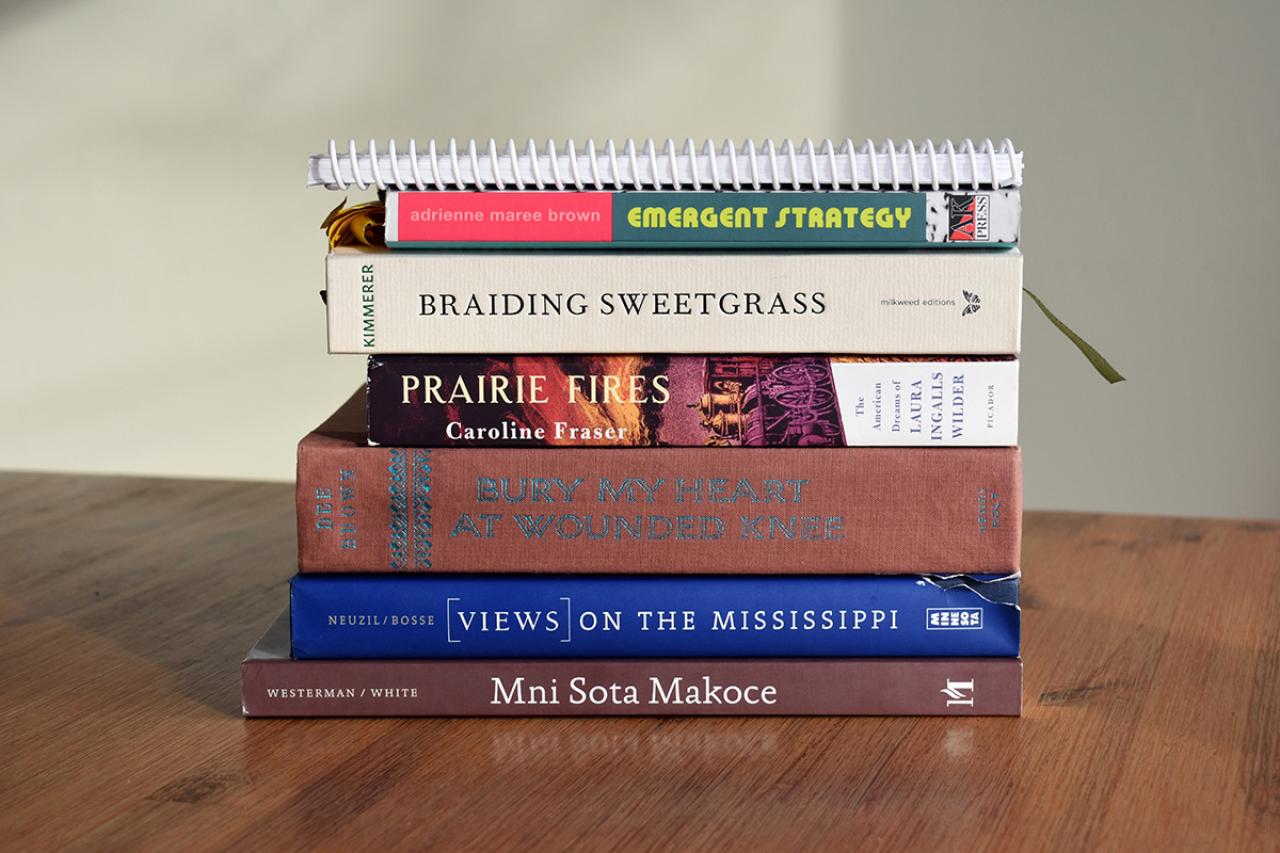 Here are just a few of the books that FMR staff and board members say helped them learn about the river and our relationship to place.
December 12, 2021
When we asked our staff and board for recommended reading on the river and the place it defines, FMR board member Hokan Miller responded, "I think time on the water is the best teacher." He's right. We deepen our understanding of where we live through outdoor experiences and relationships with communities that share this place. So much of our work at FMR grows out of and fosters those connections.
But reading provides another good starting point. If you find yourself looking for book recommendations this winter as the pandemic continues, here are just a few of our staff and board members' favorites on the river, our relationship to place and where we live.
A few good books on place
"Mni Sota Makoce: The Land of the Dakota" by Gwen Westerman and Bruce White
I first encountered this book as a textbook in college, and what I learned from it has stayed with me ever since. This book centers the Indigenous histories and stories of this place, drawing from oral histories and interviews. I work with our river stewards and volunteers, so it's important to me to understand the true and complex history of the land we are stewarding, and communicate about it as best I can. I return to this book often to ground my relationship to the land I live on in its true history.
"Braiding Sweetgrass" and "Gathering Moss" by Robin Wall Kimmerer
These two books by Robin Wall Kimmerer come closest to expressing my own sense of affinity and interdependence with the natural world. I've also been very influenced by the writing of Aldo Leopold and the poetry of Gary Snyder and Wendell Berry.
These writers have influenced my work on behalf of the great river. They have taught me to think of the river and its web of associated beings as having standing and inherent rights and value beyond their utility to humans. As Kimmerer would say, they are "relatives." Because they cannot speak for themselves in our capitols and town halls, they require an advocate. That's what we do at FMR.
"The River We Have Wrought: A History of the Upper Mississippi" by (fellow board member) John O. Anfinson, "Views on the Mississippi: The Photographs of Henry Peter Bosse" by Mark Neuzil and the film "Rebirth: The Mississippi's National Park" produced by TPT with Afton Films and FMR
Dr. Anfinson's book is the definitive history of the "taming" of the Upper Mississippi River by the Army Corps of Engineers. Bosse's iconic photos depict the river pre-dredging and before the construction of the lock and dam system. "Rebirth" tells the story of cleaning up the Mississippi in the Twin Cities and the passage of the Mississippi National River and Recreation Area.
"Plants Have So Much to Give Us, All We Have to Do Is Ask: Anishinaabe Botanical Teachings" by Mary Siisip Geniusz
I recommend this book because it is rich with Indigenous knowledge of local plants written by Mary Siisip Geniusz, a Native author, who spent many years as an oshkaabewis, a traditionally trained apprentice. Consider purchasing it from Birchbark Books and support a local Native-owned bookstore, too!
As an environmental educator, I aim to include different perspectives and ways of knowing in lessons and curriculum. It can be fun and important to learn about how the land we live on has been stewarded for many generations before us as we contemplate our own connections to the plants, animals and places in our lives.
"The Hidden Life of Trees: What They Feel, How They Communicate—Discoveries from a Secret World" by Peter Wohlleben
This book is just the right mix of storytelling and presentation of more detailed, yet approachable, ecological concepts. You not only learn about the inner workings of trees, but about how they communicate, learn and adapt. As someone who works in restoration, the book reminds me that everything in a forest is connected and that there are consequences — both intended and sometimes unintended — to every management decision.
"Prairie Fires: The American Dreams of Laura Ingalls Wilder" by Caroline Fraser and "Bury My Heart at Wounded Knee" by Dee Brown
I grew up reading and loving the Little House series, which made Caroline Fraser's riveting biography all the more wrenching: It compassionately but thoroughly exposes the mythology of the American settlers and gives us profound insights into how history is written — literally and figuratively. Just a few short generations separate us from Wilder and from many of the events that take place in Dee Brown's Bury My Heart. As a recent transplant to the Upper Midwest, I'm grateful for the chance to learn how we got from there to here so quickly.
"My Green Manifesto: Down the Charles River in Pursuit of a New Environmentalism" by David Gessner
This may be a bit of an odd pick since it's about the Charles River (plus, full confession, I'm just not that into the paddling journey narratives), but "My Green Manifesto" definitely impacted me. It affirmed many things that I love about our metro river, FMR and our approach to our work. 
I particularly enjoyed how it called environmentalism out for its unintentional elitism, including our tendency to describe natural spaces as if they're in some sort of caste system, with pristine areas at the top and urban or suburban pocket parks at the bottom. 
We need to celebrate our sense of connection to our local environment in whatever form it takes. On a practical and political level, it is far more powerful than doom-and-gloom narratives. 
Sidenote: It was a gift from our executive director, Whitney Clark, who thought it might resonate with me. He called it.
"Claiming the City: Politics, Faith, and the Power of Place in St. Paul" by Mary Lethert Wingerd
Wingerd draws social and political contrasts between the two cities, but also the key physical differences from the geography of the river and how they played out in culture and business. Minneapolis, upstream from St. Paul was located where the falls could generate power and support the flour milling industry and its attendant companies. St. Paul, downstream from the falls, was located where steamboats ran out of navigable water, and, blessed with abundant floodplain and suitable railroad grade, became a city of commerce and transportation. As close as the Twin Cities are to one another, they are on very different reaches of the river, with consequent economic and social differences.
As I sense the place around us, I see the river and the prairie, and the two cities dependent on both river and prairie for so much of their economic life. I think Wingerd's book enlightens that sense of place. The aerial photo floor map at the Science Museum or any other satellite view is useful for explaining human uses of the river as well.
"Emergent Strategy: Shaping Change, Changing Worlds" by adrienne maree brown and Learning from Place: Bdote
I really enjoyed "Emergent Strategy" which is not specific just to the place I live, but it impacted how I see and reflect on human relationships to land, water and place. We're using this book to guide our work with our Youth Council and Environmental Stewardship Institute.
The most impactful experience was not a written text but an oral experience: Learning from Place: Bdote with Ethan Neerdaels and Ramona Kitto Stately. This was an immersive experience that took us to sites of great significance to Dakota people in the Twin Cities such as Wakáŋ Tipi and Bdote.
Join us
What would you add to our list? Tag us @friendsmissriv.
And if you want to get outside with us when the snow melts, sign up for our e-newsletter, Mississippi Messages or check out 30 of our favorite places on our explore the river page, including a map and guides curated by experience and region.