Meet our new staff!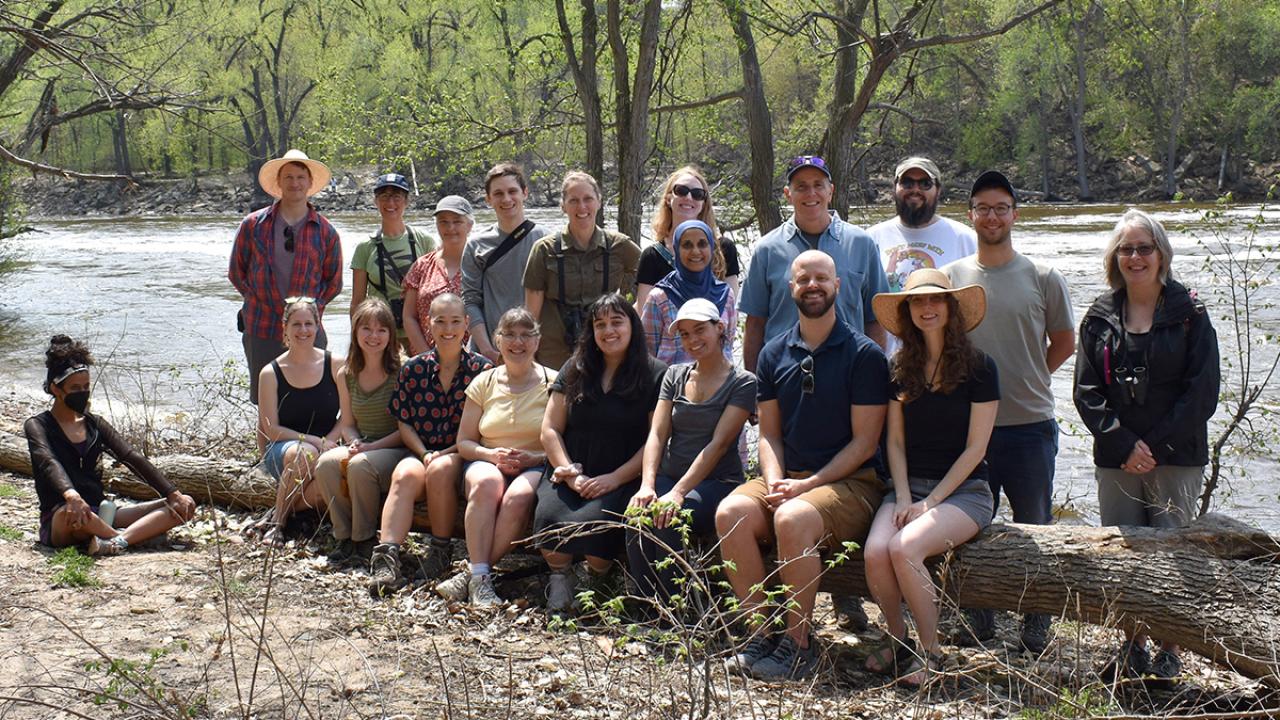 Thanks to our supporters and funders, FMR was able to hire staff this spring for four new positions designed to strengthen relationships and extend our impact. We also rehired a youth coordinator after Ashley O'Neill Prado stepped away this winter. Here's a brief introduction to our five newest teammates.
Joining our Stewardship & Education team
Samantha Mie Armacost, Stewardship & Education Program Associate
Raised in California, Sam (she/her) moved to Minnesota to be closer to the Mississippi River. In 2021, she and her father took 100 days to paddle the length of the Mighty Mississippi in a canoe. Sam brings with her over ten years of experience working at the intersection of outdoor education and youth programming.
As the Stewardship & Education Program Associate, Sam is the lead coordinator for the Storm Drain Stenciling Program and provides support for the Environmental Stewardship Institute, the Stream Health Evaluation Program and countless other volunteer events!
Sam says: "I am so excited to be working in the Stewardship & Education department because I love opportunities that blend work, the outdoors and meeting new people!"
Naomi Nickel, Environmental Stewardship Institute Program Associate (seasonal, 2022)
Naomi Nickel (she/her) is a freshman at the University of Minnesota Twin Cities majoring in neuroscience and linguistics. She was one of the first participants to join FMR's Environmental Stewardship Institute career development program in 2019. She spent the next two summers supporting the program as an ESI Assistant.
In 2022, Naomi joined the staff of FMR as the first-ever seasonal ESI Program Associate, which includes supporting the ESI school-year council and summer fellows and collaboratively planning youth stewardship events.
Naomi says: "I can't wait to meet the summer fellows! I really look forward to working with them and seeing their final projects at the end of the summer. I'm also excited to set up my desk at the office and have my first in-person meetings at FMR."
katya wesely, Youth Coordinator
katya (they/them) has over ten years of experience teaching young people to explore their gifts and interests, acknowledge individual and collective responsibility, navigate challenges, spark curiosity, foster joy and grow to become resilient change-makers who lead with integrity.
As Youth Coordinator, katya will be focused on our youth stewardship through our education programs, from K-12 classrooms to supporting interns and facilitating our growing Environmental Stewardship Institute!
From katya: "Hello! I am excited to spend more time cultivating deeper relationship to our water, waterways and the ecosystems around the Mississippi River with youth, families, the FMR team and community. Mni Wiconi. Water is life. I'm excited to learn about the history of Dakota land and make strong cultural connections to honor and withhold. Grateful for their leadership and lessons for a better world and healthier earth. I desire to bring a better awareness to the agrarian legacies of the black farmer and land steward as well. I'm excited to explore and foster different kinds of connections with youth, plants, water and the outdoors."
Thank you, Ashley!
Ashley O'Neill Prado stepped away from FMR this winter. As Administrative Assistant and then Youth Coordinator, Ashley brought a collaborative and creative approach to everything they did at FMR. While Youth Coordinator, they launched our Environmental Stewardship Institute Youth Advisory Council and developed our new Cultural Landscapes curriculum. We'll miss Ashley, but we've already held our first event with the Bell Museum where they now work in community engagement. We look forward to more partnerships!
Joining our Communications team
Shaymus McLaughlin, Communications Associate
A longtime reporter in the Twin Cities, Shaymus (he/him) has spent much of the previous eight years producing content for Bring Me The News, including numerous stories about the environment and an award-winning video series. He's also been published in the Star Tribune, National Audubon Society and MinnPost.
Shaymus manages FMR's social media presence and supports communications organization-wide while also maintaining a special focus on clean-water crops and the Forever Green Partnership.
From Shaymus: "I've admired FMR's work from afar for years, and I'm thrilled to be part of a group that is so knowledgable and so passionate about protecting the Mississippi River — and everything it supports. I feel very fortunate to be able to bring my outdoors interests together with my professional experience to support FMR's mission."
Joining our Water Quality and Land Use & Planning teams
Maddie Miller, Grassroots Organizing Coordinator
Maddie (she/her) is a recent graduate from the University of Minnesota Twin-Cities. During her time at the U, she served as the undergraduate student government's Environmental Accountability Committee Director for two years and has worked with environmental justice organizations throughout the Twin Cities in a range of policy and grassroots organizing areas.
Maddie works with FMR's River Guardians and other community members to help them take action on Mississippi River policy issues that matter to them. Through equipping residents with knowledge and resources and building grassroots power, Maddie helps community advocates influence federal, state and local governments on a range of environmental policy issues including water quality, agriculture, protection of parks and open space, riverfront development, Twin Cities locks and dams and more.
From Maddie: "I am so excited to be joining FMR's team and engaging with the community to fight for a better planet! I look forward to getting to know the FMR community more and learning about the meaningful work being done here."