Minnesota to update invasive carp action plan
August 7, 2020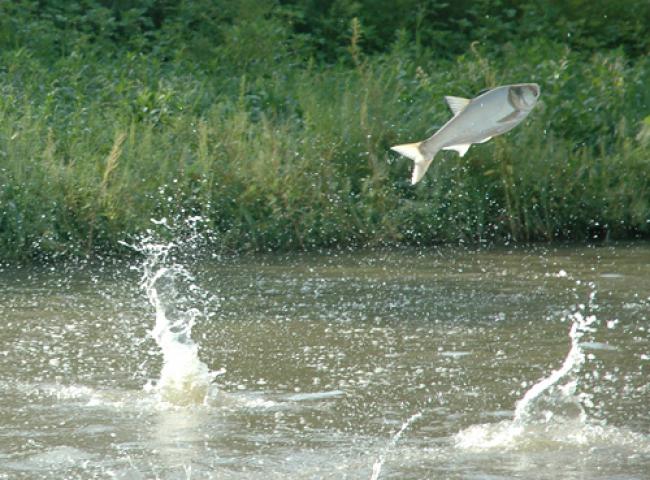 Silver carp (above), known for "flying" out of the water when boats approach, is one of the three species of invasive carp making their way up the Mississippi. (Photo by
GLFC
)  
This spring, a record 51 invasive carp were caught in the Mississippi River in southern Minnesota near LaCrosse, Wisconsin, reigniting concerns that a reproducing population of the damaging fish might be present in our waters.
Invasive carp (bighead, grass and silver carp) destroy ecosystems, impair recreation, and have been steadily moving up the Mississippi since the 1970s. 
The invasive fish are blocked from upriver stretches by the Upper St. Anthony Falls lock and dam in downtown Minneapolis. (The dam is believed to be high enough to stop carp from spawning in the upper reaches of the Mississippi, and the closed lock [which FMR successfully advocated for] prevents carp from bypassing the dam.) But much of the Mississippi and critical tributaries like the Minnesota and St. Croix rivers remain at risk. 
FMR and our Stop Carp Coalition allies are concerned that the state's current monitoring programs and partnerships with downstream states aren't aggressive enough to thwart the threat.
We've been meeting with leaders from the Minnesota Department of Natural Resources, urging them not to let their guard down on this important issue.
While halting their spread is challenging, it will cost far less to prevent invasive carp from establishing a foothold in Minnesota's rivers than it will to address the harm they're sure to cause once they're established here. (Google "why invasive carp are harmful" and you'll get over 1 million results.)  
If we take decisive action now, we can protect Minnesota's waterways. One potential intervention would be to install a barrier, perhaps using sound and light as deterrents, at Lock and Dam No. 5 near Winona. We hope to see the Legislative-Citizen Commission on Minnesota Resources help fund a research project to establish the feasibility and potential efficacy of such a system. 
Get involved
The Minnesota Department of Natural Resources is about to begin updating its Invasive Carp Action Plan. We hope this will lead to a renewed sense of urgency and expanded resources to stop invasive carp from expanding in the Mississippi and its many tributaries.
Become a River Guardian today to hear about future opportunities to advocate to stop the spread of invasive carp and other ways to protect our river and enhance riverfront communities.