Star Tribune highlights opposition to Corps' lock disposition plan
March 8, 2021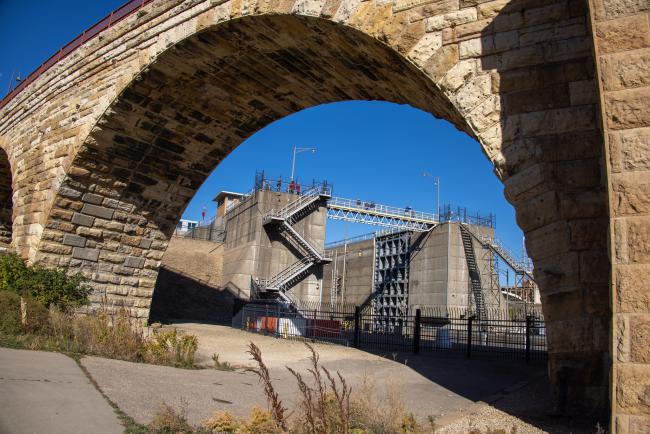 The Upper St. Anthony Falls lock in downtown Minneapolis provides important water management functions but also limits access to the river. Sign our petition by March 18 to safeguard those vital functions and increase public access.
Despite significant public opposition, the U.S. Army Corps of Engineers is continuing with its plan to transfer ownership of the Upper St. Anthony Falls lock. As reported by Susan Du in the Star Tribune, it's uncertain whether any potential new owner exists. No parties have indicated an interest in taking over the lock's ownership, maintenance and operations.
At a recent public meeting, community members expressed opposition to the Corps' plan and also raised questions and concerns.
Several members of Minnesota's congressional delegation have also said that they are "frustrated" with the plan, which they believe is inconsistent with previously stated congressional intent that the "Corps would continue to own, operate and maintain the Upper Lock for flood control and water supply management."
Congress has also directed the Corps to transfer unused portions of land surrounding the lock to the city of Minneapolis as expeditiously as possible; this land would be used for new public river access. 
Water supply under threat
The Corps' plan is concerning because the lock is critical to maintaining the water supply for one million Twin Cities residents in 18 cities, along with essential services such as hospitals, airports, schools and even fire hydrants. The lock also blocks invasive carp from migrating upstream and helps manage river levels during floods.
A new lock owner would not be required to fulfill these functions or manage the lock in the public interest. Our water supply and river levels could, essentially, end up under the control of a private party. 
Should a new owner neglect to maintain the lock, the structure could fail. Water levels upstream of the lock would drop, limiting or even eliminating the ability of two key drinking water supply intakes to draw in enough water. The loss to the region's water supply could be felt within just days. 
FMR board member and river historian John Anfinson has written a fascinating report about the history of St. Anthony Falls and the threat that the Corps' plan poses to our water supply. 
Sign our petition
The Army Corps is accepting public comments on its disposition study through March 18.
It's easy to add your name to this sign-on letter urging the Army Corps to opt for a timely partial disposition of the lock that improves public access while safeguarding our water supply. The full list of signees will be submitted to the Army Corps. 
If you'd like to read the disposition study or compose your own comment letter, full details are on the Army Corps' website.