On a recent rainy October morning, volunteers from 3M helped FMR ecologists install over 300 cottonwood live stakes near the river in Hastings. Vital for wildlife and floodplain forests, cottonwoods have not been regenerating along the river. In 2013, FMR began a series of experimental plantings to help restore these imperiled icons. So far, live staking appears to be a promising method.
A key species of floodplain forests, Eastern Cottonwood trees aren't regenerating naturally in the floodplains. FMR ecologists and volunteers are using cottonwood cuttings or live stakes to re-establish a floodplain forest in Hastings.
November 7
St. Paul Park refinery employees and community volunteers installed over 300 native plants at Prairie Park with FMR this summer. The planting was designed to especially benefit pollinators and serve as a demonstration prairie for homeowners interested in providing backyard habitat. Left to right: Eric Folsom, Todd Bjorgo, Dean Stockwell, Ben Joppa (FMR intern), Corb Hopkins, Kathy Schik. (Not pictured: Tom Bell.)
Two phrases not often used together are "prairie planting" and "oil refinery," but many years ago employees at the St. Paul Park Refinery noticed a small patch of native prairie on company property and they've been taking care of it ever since. Recently, they worked with FMR to expand the natural area and also install a demonstration garden, hoping to inspire even more native plantings for pollinators.
September 12
When people think about natural seasonal changes, we usually look up — bud break, bird migration, leaf change, etc. But what about the natural world under our feet? There's a buzz of activity, including the effects of one particularly damaging invasive species: earthworms. >>
September 1
What can a small planting of milkweed and other natives really do for pollinators? More than you might think.
Hastings Environmental Protectors and FMR teamed up to create three new pollinator patches, helping to provide much-needed habitat for a variety of insect and pollinating species in the Vermillion and Mississippi river watersheds.
August 8
A trio of endangered species recently found at FMR conservation and restoration sites. Left to right: Loggerhead shrike, Blanchard's cricket frog and Henslow's sparrow. Photos by Terry Ross, Greg Schecter and Scott Krych.
Plant and animal populations decline for many reasons — habitat loss, climate change, pollution and other factors. The Endangered Species Act was enacted in 1973 to prevent the decline and extinction of at-risk species and aid their recovery. At FMR, one of the ways we can best benefit endangered species is through the enhancement or restoration of native habitat. FMR's many restoration sites do just that, providing much-needed habitat for both common and endangered plants and animals.
While the Endangered Species Act has benefitted countless species, we'd like to think our restorations have as well. We've spotted three endangered species — loggerhead shrike, Blanchard's cricket frog and Henslow's sparrow — at our sites so far this year! 
August 8
Students from Elk River High School sample invertebrates from a stretch of the Mississippi River. These aquatic insects are excellent indicators of water quality. 
With restoration work at the William H. Houlton Conservation Area slated to start this fall, students from the local Elk River Senior High School have begun to collect baseline data to help FMR track the restoration's impact on local amphibians, plants, trees and aquatic invertebrates.
June 13
Thank you for your interest in joining the pollinator patch planting event, however this event has reached capacity and registrations are no longer being accepted. Please consider volunteering at one of our other upcoming events. To view the most up-to-date listing, check out the Events Calendar. 
--
Location
Hastings area parks
55033
Hastings
,
MN
United States
44° 43' 31.0764" N, 92° 50' 52.9764" W
Minnesota US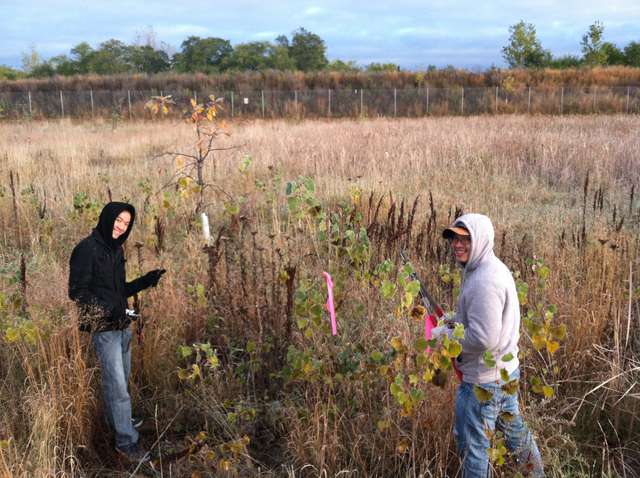 Photo: Tanya Smutka
May 13
This unique location blends historic renovation with ecological restoration along today's working river. Learn more about its history, ecology and our first public volunteer event at this riverfront site, Saturday, June 4.
May 5
Crews work to carefully manage a burn at the Sand Coulee Scientific & Natural Area. Fire helps reduce invasive species while benefiting fire-adapted native prairie plants. Photo by Karen Schik
Fire was once commonplace on the American landscape. After nearly a century of suppression, it's making a comeback. Find out why fires are on the rise, and how FMR uses fire as a tool to restore habitat on many of our restoration sites.
April 11
Pages