FMR is embarking on restoration of the natural areas on Nicollet Island. Restoration will encompass roughly 5.8 acres of land on the northeast side of the island and a band of an additional 1.3 acres of land on the island's west side. The island itself is a 48-acre landmass located in the Mississippi River in Minneapolis. The acres in question are all owned by the Minneapolis Park and Recreation Board.
Prairie skinks, like this one from northern Iowa, are the newest species to be recorded at Houlton Conservation Area. (Photo from Iowaherps.com.)
This summer, a new prairie is taking hold at Houlton Conservation Area, and we're excited to report back on its newest residents. >>
July 6
After hearing from dozens of community members (including many FMR River Guardians), the Inver Grove Heights city council unanimously voted to save River Heights Park on Monday, May 14. 
The council had been considering carving up and selling the 7.5-acre undeveloped natural area as three 2.5-acre lots for housing developers. Instead, the city, FMR and neighbors are going to work together to make the park more accessible — adding a park sign and bench, with details to be determined — while keeping it a natural area and restoring important bird habitat. >>
May 15
A prescribed burn rolls through a blufftop prairie at the Flint Hills Pind Bend Bluffs restoration site. (Photo by Karen Schik.)
Spring has officially sprung, and with it comes those familiar signs of life: plants begin to green, flowers bloom, migrating birds return, and fires burn through the prairies at FMR restoration sites!
Learn more about how we use fire to restore wildlife habitat, and the impact of a recent unplanned fire on an FMR restoration site. >>
May 7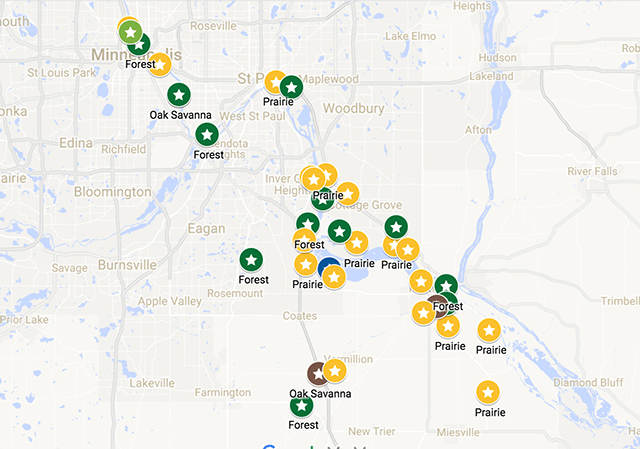 Although our policy and advocacy work tends to make the most headlines, many FMR supporters, members and volunteers highly value the natural areas we protect, restore and enhance throughout the metro area. But even the longest-standing FMR members and volunteers wonder where, exactly, we work.
Wouldn't it be great if there was a way for folks to see all of FMR's 37 active restoration sites in one place? Perhaps some kind of…map? >>
April 9
We set up a new research project in Hampton Woods (top left) to control buckthorn (top right) and see how different methods (such as the forestry mower, bottom right) best protect and encourage native plants (like the yellow ladyslipper, bottom left).
What pops to mind when you think of restoring a forest? Perhaps people planting trees? ...How about bobcat-like machines busily eating up small trees and spitting out the splinters?
If you'd visited Hampton Woods this spring, this is exactly the scene you would have come across. The machines were forestry mowers, consuming invasive European buckthorn.
Not only were the mowers benefiting the long-term health of the forest, but they're part of a new FMR research project to compare and contrast the effectiveness of different methods to both control buckthorn and support the growth of native plants and habitat. >>
April 5
Three cheers to Flannery Enneking-Norton and her first-place finish at the Twin Cities Regional Science Fair. Her project "Confirming the facilitative relationship between Lumbricidae and Rhamnus cathartica" also earned honors from the USDA and Minnesota Horticultural Society.
In 11th grade, Flannery Enneking-Norton went on a field trip with her class and FMR staff to Crosby Farm Regional Park in St. Paul. Their task? To identify and count certain plant and insect species, including invasive earthworms. As they wriggled from the ground, Enneking-Norton was smitten. 
Since then, the St. Paul Academy high-schooler has been working hard to help FMR better understand the relationship between earthworms and their fellow invasive species, European buckthorn, at our habitat restoration sites.
The result? An interesting finding regarding the worst worm invader of all — nightcrawlers — and a first-place win for Enneking-Norton in the Twin Cities Regional Science Fair! Not to mention awards from the US Department of Agriculture and the Minnesota Horticultural Society. >>
March 12
To celebrate our 25th year, each month in 2018 FMR staff will profile places along the metro Mississippi River that are near and dear to us, places that connect to FMR but that we also enjoy in our own downtime. By the end of our silver year, we'll have built a map of 25 special river places for you and yours to learn about, visit and enjoy.
This month: Minneapolis's riverfront Above the Falls.
The Minneapolis riverfront north of St. Anthony Falls is an interesting juxtaposition of the natural, urban and industrial. Here you can enjoy bike and pedestrian trails, or rent a kayak to see a heron rookery, restored prairie, riverfront raingarden parks and sculptures, as well as industrial relics. You'll also want to visit often over the next decade to experience the changing riverfront, as more industrial sites are converted into public parklands.
February 12
Bird surveys and wildlife cameras (one of which captured this red fox on film) have long provided a glimpse of how wildlife use our restoration sites. But recently we've been greatly expanding our monitoring to include amphibians, reptiles, pollinators and other insects.
Since the creation of our land conservation program over 20 years ago, FMR has protected, restored or enhanced over a thousand acres of prairie, forest, wetland and other types of wildlife and pollinator habitat in the metro area. But does increasing native habitat result in the return of native animals?
Learn about bird surveys, wildlife cams and our work with local high schools to find out. >>
February 9
Once on the brink of extinction in Minnesota and beyond, wild turkeys are now a common sight for Twin Cities and greater Minnesota residents alike. This November, take a minute to learn about this wild animal with an interesting history. >>
November 13
Pages