Black-capped chickadees eat insects, some of which have evolved to survive on certain native plants and not others. Without those native plants, chickadee populations decline. (Photo by Patrick Ashley, Creative Commons, Flickr)
Native plants are for the birds! A recent study shows chickadee populations decline in residential yards filled with non-native plants, meaning even your backyard can provide crucial habitat.  >>
November 6
Friends of the Mississippi River's Land Conservation activities protect and restore biologically diverse natural areas throughout the Mississippi River watershed in the Twin Cities region. These natural areas provide essential habitat for native fauna, like migratory songbirds and insects, upon which our food web relies.
Volunteers collected this yellow coneflower seed by hand. Hand-harvested seeds help us restore prairie remnants at places like Sand Coulee Scientific and Natural Area in Hastings.
What would you be willing to pay for a few teaspoons of prairie seed? Seeds from native prairie remnants that our volunteers collect by hand are priceless.  >>
October 8
After hearing from dozens of community members (including many FMR River Guardians), the Inver Grove Heights city council unanimously voted to save River Heights Park on Monday, May 14.
The council had been considering carving up and selling the 7.5-acre undeveloped natural area as three 2.5-acre lots for housing developers. Instead, the city, FMR and neighbors are going to work together to make the park more accessible — adding a park sign and bench, with details to be determined — while keeping it a natural area and restoring important bird habitat. >>
September 19
A field of showy golden flowers is a common site in late summer, but is goldenrod to blame for our allergies?
Each year, we get questions about whether goldenrod is contributing to our late-summer allergies. The short answer: Most likely not, it's actually ragweed that's to blame.
In fact, goldenrod plays a role in habitat restoration and is sometimes planted by FMR ecologists. >>
August 13
The contrasting colors or purple blazing star and yellow goldenrod are eye-candy for both humans and bees.
A prairie for every season and (metro) location! We list a few of our favorite prairie sites from Elk River to Hastings, including both restored prairies and native remnants. Some of our favorite finds at each site are listed, and a good time to visit. >>
August 10
FMR is embarking on restoration of the natural areas on Nicollet Island. Restoration will encompass roughly 5.8 acres of land on the northeast side of the island and a band of an additional 1.3 acres of land on the island's west side. The island itself is a 48-acre landmass located in the Mississippi River in Minneapolis. The acres in question are all owned by the Minneapolis Park and Recreation Board.
Prairie skinks, like this one from northern Iowa, are the newest species to be recorded at Houlton Conservation Area. (Photo from Iowaherps.com.)
This summer, a new prairie is taking hold at Houlton Conservation Area, and we're excited to report back on its newest residents. >>
July 6
A prescribed burn rolls through a blufftop prairie at the Flint Hills Pind Bend Bluffs restoration site. (Photo by Karen Schik.)
Spring has officially sprung, and with it comes those familiar signs of life: plants begin to green, flowers bloom, migrating birds return, and fires burn through the prairies at FMR restoration sites!
Learn more about how we use fire to restore wildlife habitat, and the impact of a recent unplanned fire on an FMR restoration site. >>
May 7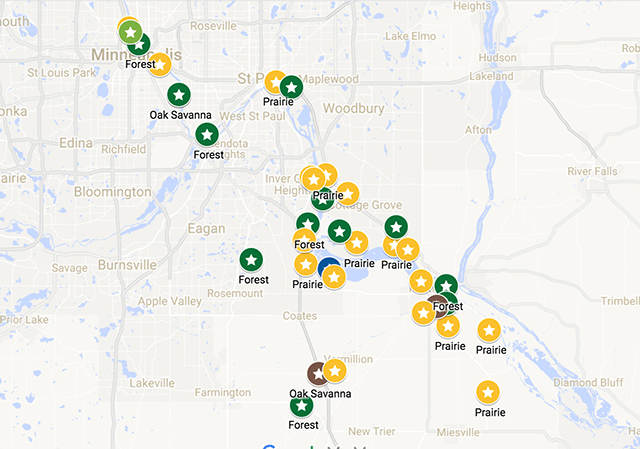 Although our policy and advocacy work tends to make the most headlines, many FMR supporters, members and volunteers highly value the natural areas we protect, restore and enhance throughout the metro area. But even the longest-standing FMR members and volunteers wonder where, exactly, we work.
Wouldn't it be great if there was a way for folks to see all of FMR's 37 active restoration sites in one place? Perhaps some kind of…map? >>
April 9
Pages