Our wildlife cameras caught baby snapping turtles hatching in peace thanks to our new wildlife nest enclosure at Spring Lake Islands Wildlife Management Area. >>
September 10
For reasons yet to be understood, painted turtles remain active but out of sight under winter ice. (Photo from gorthx on Flickr/Creative Commons)
For reasons not yet understood, many turtles stay active under the winter ice. Learn more about their mysterious habits and about a local FMR turtle protection project in this month's Nature Notes. >>
February 9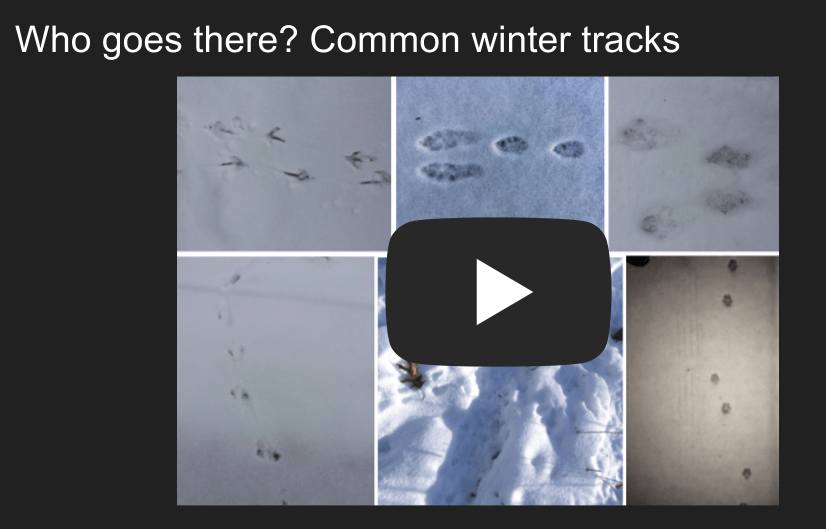 What animals traveled though our yards and landscapes under the cover of night or even right under our noses. >>
January 5
Grown each fall and shed in the spring, the grouse's comb-like foot fringe acts like a snowshoe to help them walk on top of snow. (Photo courtesy of Mary Holland.)
In this month's Nature Notes:  Oh, the surprising things that ruffed grouse have in common with snowshoe hares and aspen trees. >>
December 11
Once on the brink of extinction in Minnesota and beyond, wild turkeys are now a common sight for Twin Cities and greater Minnesota residents alike. This November, take a minute to learn about this wild animal with an interesting history. >>
November 13
Each year, the cool fall weather is accompanied by a flurry of wildlife activity. Most species are busy preparing for the winter — gathering and storing food, prepping their nests and burrows, and putting on a few extra pounds. In the Twin Cities, no animal is a better example of this than the gray squirrel.
While many residents consider them a bit of a nuisance — chattering from the trees, darting across streets, and leaving piles of chewed food on decks and sidewalks — these smart little critters have an interesting history and impressive adaptations that allow them to flourish in our human-dominated landscape. >>
October 9
The paired, bright red berries of bush honeysuckles are easy to spot in the fall. Unfortunately, their beauty belies some serious negative effects on our feathered friends.
Each fall, two common invasive plants produce starkly colored berries: European buckthorn bears shiny jet-black fruit while bush honeysuckle produces brilliant red to yellow berries. Unfortunately, birds that dine on the fruit not only spread the invasives' seed but are negatively impacted by the berries themselves — they can even disrupt some birds' mating patterns! >>
September 11
The aptly named hummingbird moth or clearwing moth is not uncommon, but with its beautiful colors and wing patterns, it's a delight to see one hovering over flowers seeking nectar.
August 4
As young bees and wasps mature, you're more likely to spot this unusual pollinator: a pelecinid.
Photo by Kristin Lee, Creative Commons license
Of the 18,000 species of ants, bees and wasps in North America, the pelecinid wasp is among the most interesting. This insect is so unusual it shares its family (Pelecinidae) with just three other species in the world, with no others in North America. But don't worry, that 'stinger' isn't what it looks like.
July 12
FMR volunteer Maggie Heisterkamp was surprised to recently find this giant stonefly on the Robert Street lift bridge.
This surprise visitor to the Robert Street lift bridge is commonly found in trout streams and is considered an indicator of good water quality.
June 9
Pages