Blazing the way for habitat through a challenging spring burn season
In this 2.5-minute tour of the prescribed burn process at William H. Houlton Conservation Area in Elk River this April, stunning aerial views show two-thirds of the prairie blackened after the burn. Fire rejuvenates many prairie plants, urging new and vigorous growth. Meanwhile, invasive plants can't take the heat, so the entire area resets, and a thriving, resilient habitat progresses. (Thanks to Tom Reiter and Will Stock for this video.)
Each year, FMR ecologists oversee a slate of prescribed burns at our habitat restoration sites. Fire is one of the most important tools we use to maintain our prairie and savanna restorations, and it's useful in managing woodland and forest sites as well.
Burns help remove invasive unwanted woody plant species, prepare areas for successful planting and stimulate the growth of native, fire-adapted plants and trees. Here's an in-depth explanation of the benefits of prescribed fire for habitat restoration.
While valuable, prescribed burns can be tricky to schedule. Every year, weather and other factors make burning our sites difficult.
Unsurprisingly, this year's biggest challenge was COVID-19, which meant that restrictions on burns were in place for the bulk of our usual prescribed burn window — usually late-March to mid-May. Even after that, out of an abundance of caution, some contractors still weren't conducting burns.
However, a number of contractors found ways to burn safely, and as luck would have it, we were still able to fit in much-needed burns at five of our restoration sites. Watch our video and scroll through the images below to see our fires in action this spring.
FMR's spring 2020 prescribed burns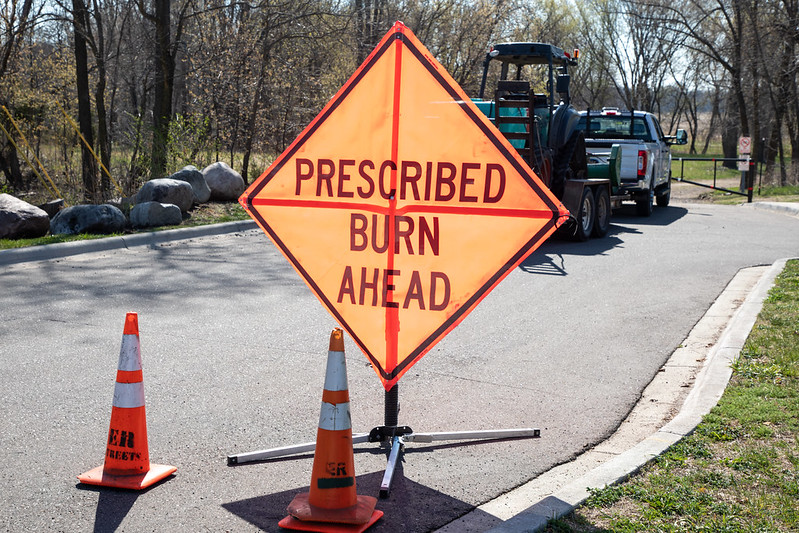 Crews set up warning signs and barriers to alert the public to a prescribed burn and ensure safety. (Tom Reiter)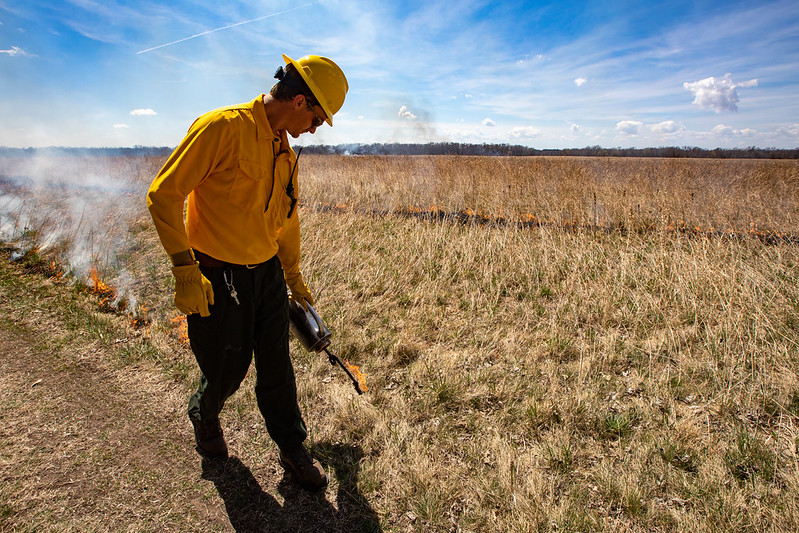 Indigenous peoples managed fires across North America for centuries. Lightning and other natural causes started burns as well. Here, a member of the burn crew lights a fire using a drip torch at our William H. Houlton Conservation Area restoration. (Tom Reiter)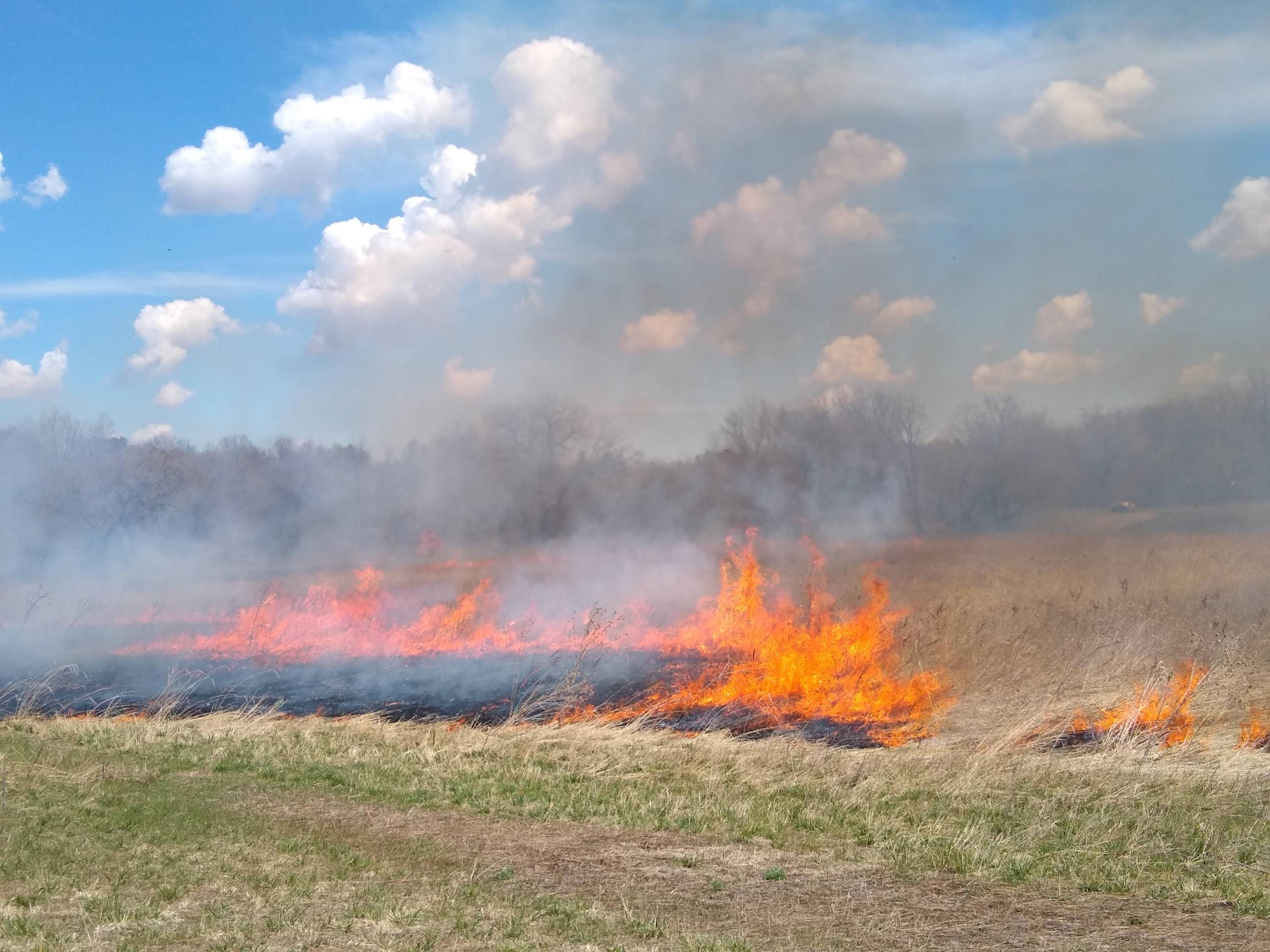 Crews keep fires from spreading beyond our intended sections through the use of firebreaks, like paved trails or mowed edges. However, too much wind can allow the fire to jump across even the most well-prepared breaks. We only go ahead with a burn if the weather won't create dangerous conditions. Here, a slight breeze helps push the fire across the prairie (but no further) at the William H. Houlton Conservation Area in Elk River. (Tom Reiter)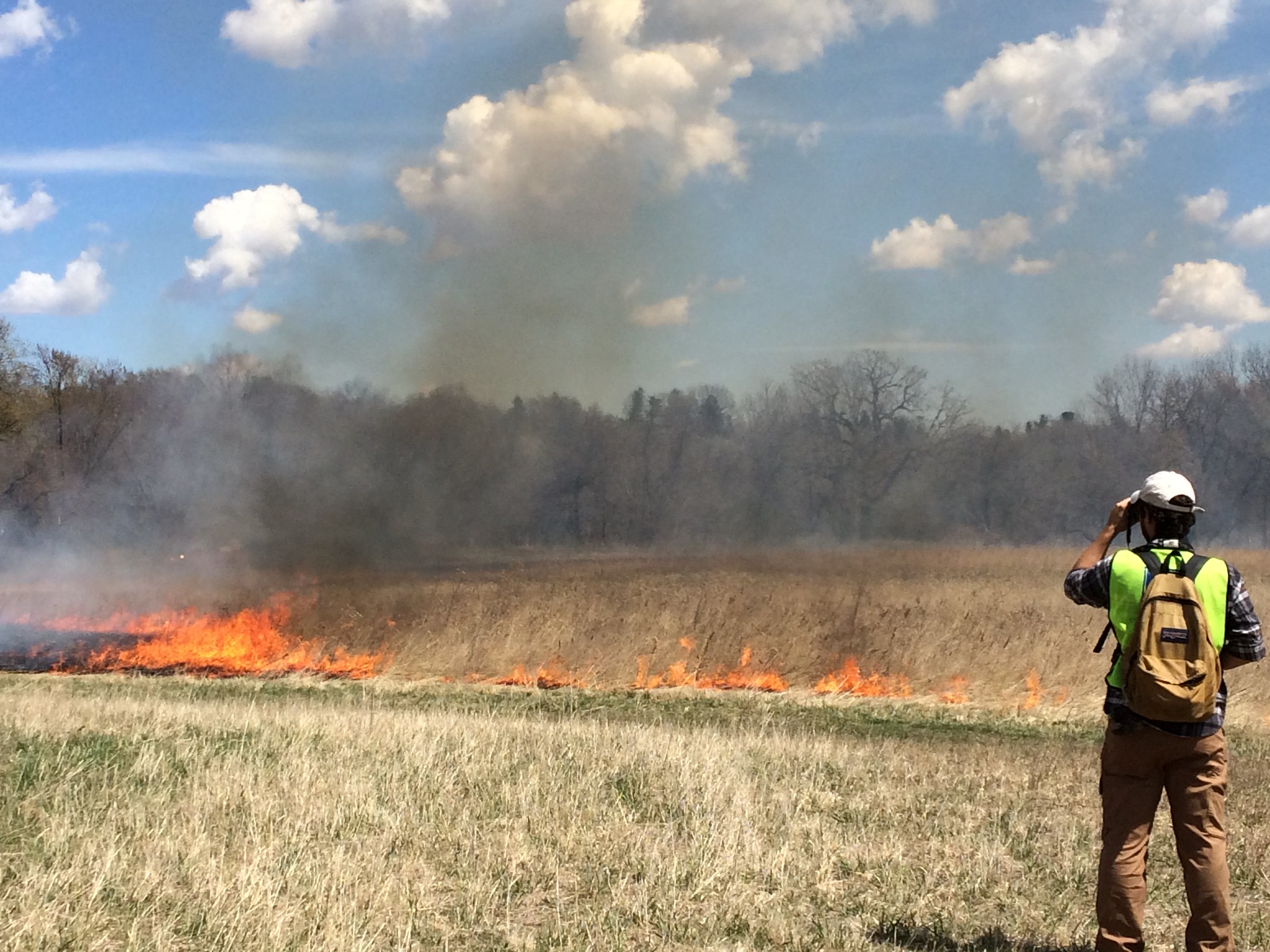 Though hired crews conduct the actual burn, FMR ecologists manage the planning process beforehand. We try to burn prairie sites every 2-4 years in order to maintain their vigor and manage unwanted encroachment by woody and invasive plants. This is me (ecologist Alex Roth) watching the burn in April at the William H. Houlton Conservation Area in Elk River. (Tom Reiter)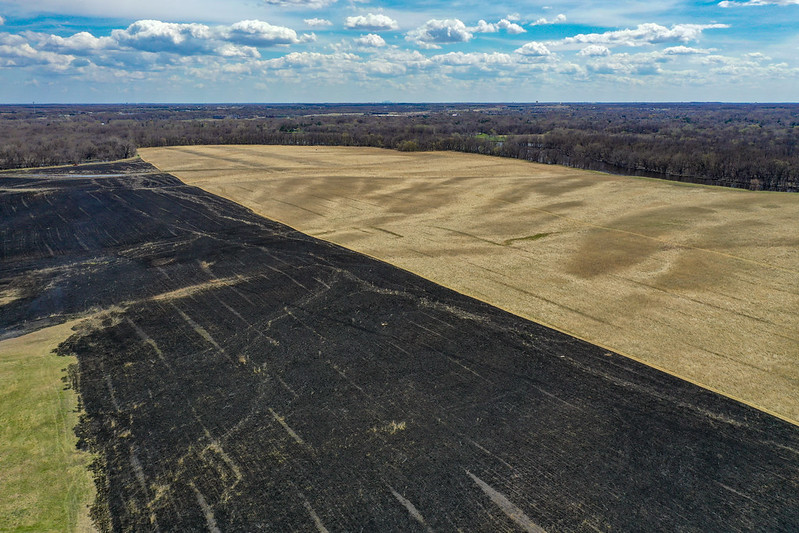 We burned approximately two-thirds of the prairie at the Houlton area this spring. Wondering what happens to animals that use this habitat? At least one-third of the site will remain unburned this year to ensure refugia for wildlife. (Tom Reiter)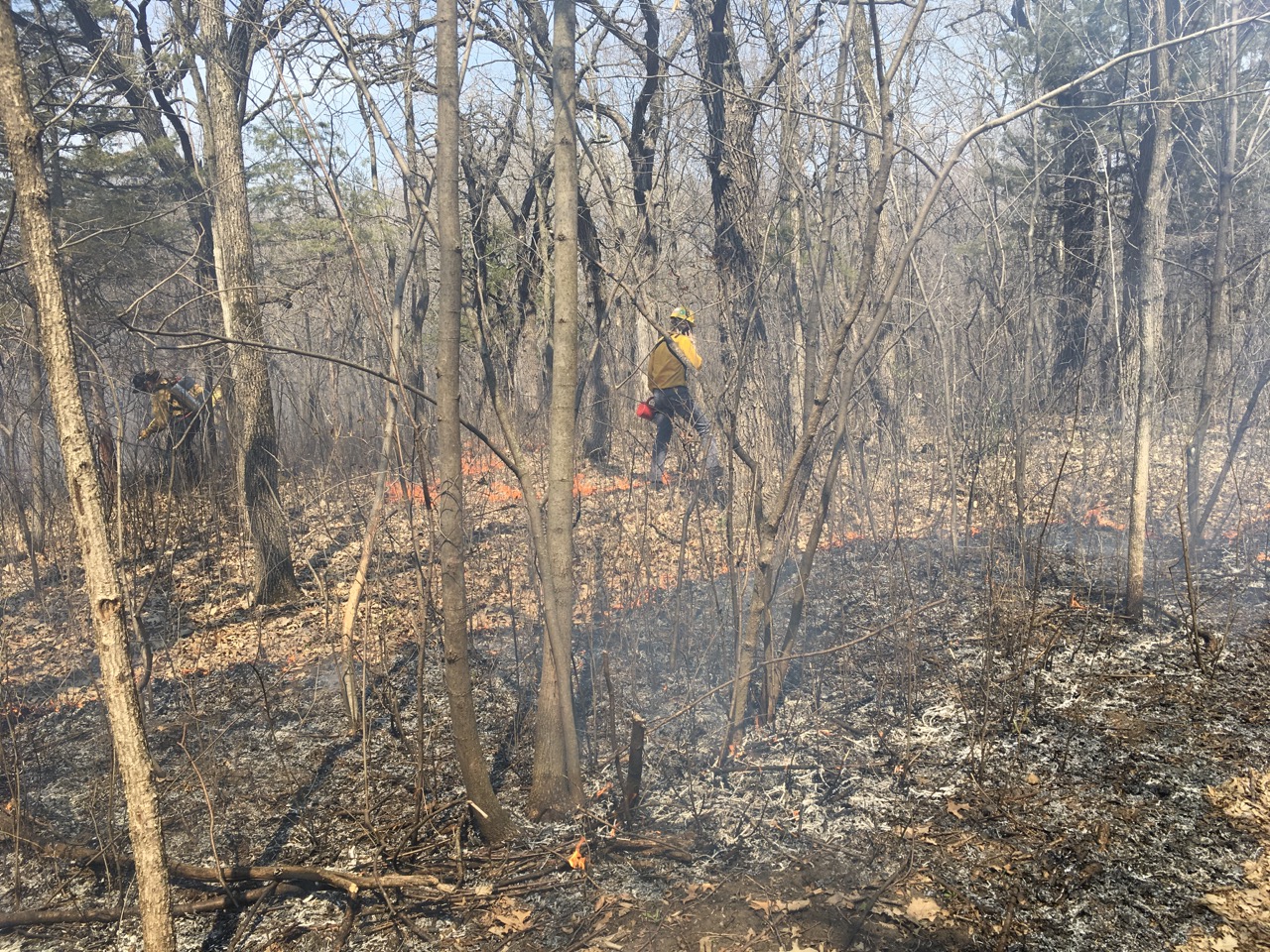 It's not all prairies: A crew burns a section of forest at Riverside Park in St. Paul Park. Fires can help with the management of invasive woody species like buckthorn while supporting the regeneration of native species. (Karen Schik for FMR)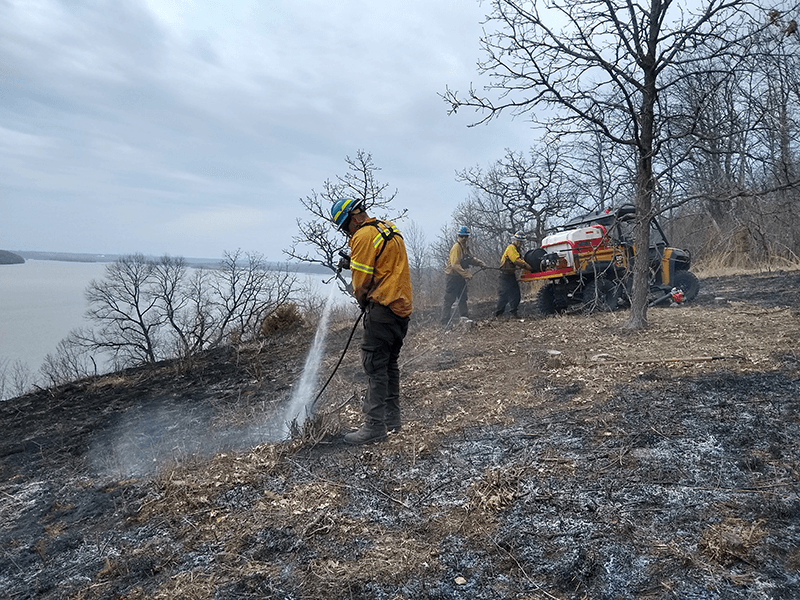 After the fire has swept through, crews put out any remaining post-burn flames with water at River Oaks Park in Cottage Grove. (Alex Roth for FMR)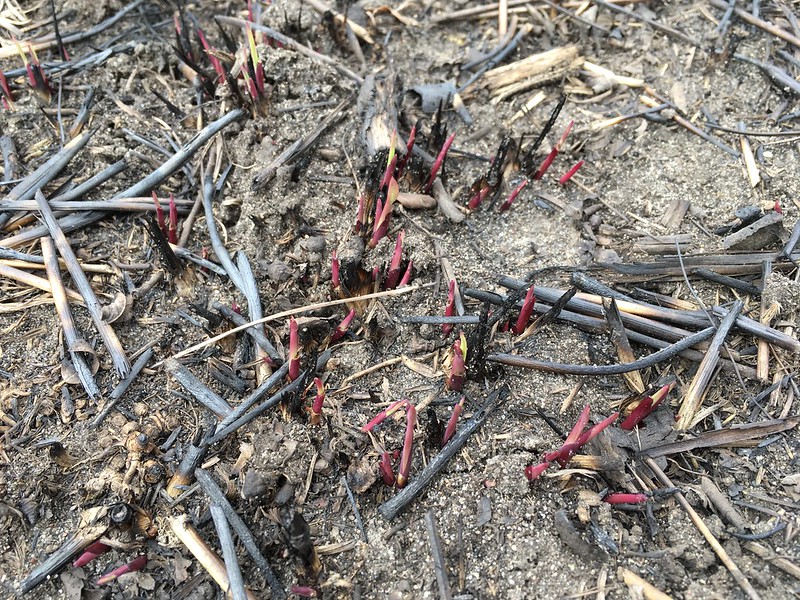 How long does it take for habitat to re-establish itself? Indian grass, a native prairie plant, sprouts just one week after a prescribed burn in our Marathon prairie in St. Paul Park. (Karen Schik for FMR)
Help us blaze the way for habitat
FMR's work to restore critical habitat is made possible by our members. Thank you!
And as always, thanks to all of our landowner partners and state and corporate funding sources that make the restoration of these sites possible: The Environment and Natural Resources Trust Fund, the Outdoor Heritage Fund, and Marathon.