Meet five new FMR restoration sites
We'll restore wetlands, prairie and woodlands at this site along the Vermillion River, one of our five new restoration projects.
Our ecologists actively restore and maintain habitat at more than 30 sites across the metro region. But we're always looking for additional projects that can support wildlife, protect our water and increase climate resilience.
In 2021, we added five new restoration projects totaling 273 acres to our restoration portfolio. Each new project lies within crucial habitat corridors along the Mississippi River south of St. Paul and the Vermillion River in Dakota County. Both of these areas are experiencing development pressure, and both stretches are vital for pollinators and migratory birds. Restorations along these corridors also directly improve river water quality by filtering rain and snowmelt and better holding on to soil.
In the coming years, with the help of supporters and volunteers, we'll turn thickets of buckthorn into flourishing oak savanna, abandoned fields into diverse prairies and a degraded grassland into a pollinator haven. Here's what we're excited about at each of these new restoration sites.
Marathon Blufflands

in St. Paul Park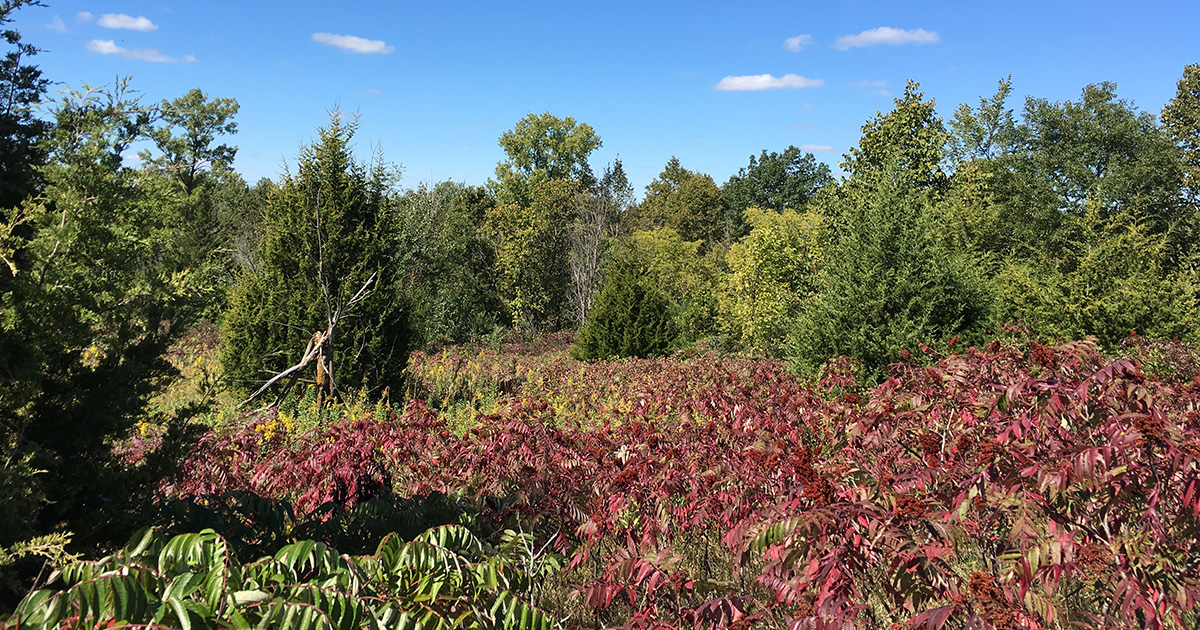 We've long worked to restore 4 acres of prairie at Marathon Petroleum Company's riverfront campus in St. Paul Park. Discussions about expanding restoration efforts came to fruition last year when Marathon agreed to support our implementation of a 2016 natural resource management plan for 175 acres of bluffland along the river corridor on which so many migratory birds rely. (Learn more about the Mississippi flyway.)
This project will be one of the largest restoration sites in a string of natural areas on the east bank of the Mississippi River as it heads south toward Hastings.
While the bluffs are already home to remnant prairie, encroachment by woody species has caused declines in plant diversity, as you can see in the image above of a grassland crowded with sumac and red cedar. We'll work to restore the bluffland prairie and forests for water quality and wildlife. We're also excited about the prospect of opening up this land for community access and creating a network of trails in the future.
Work has just begun on 10 acres of buckthorn-dominated forests, and we're proposing new restoration phases for the fall.
Southwest Park Ponding Basin in Hastings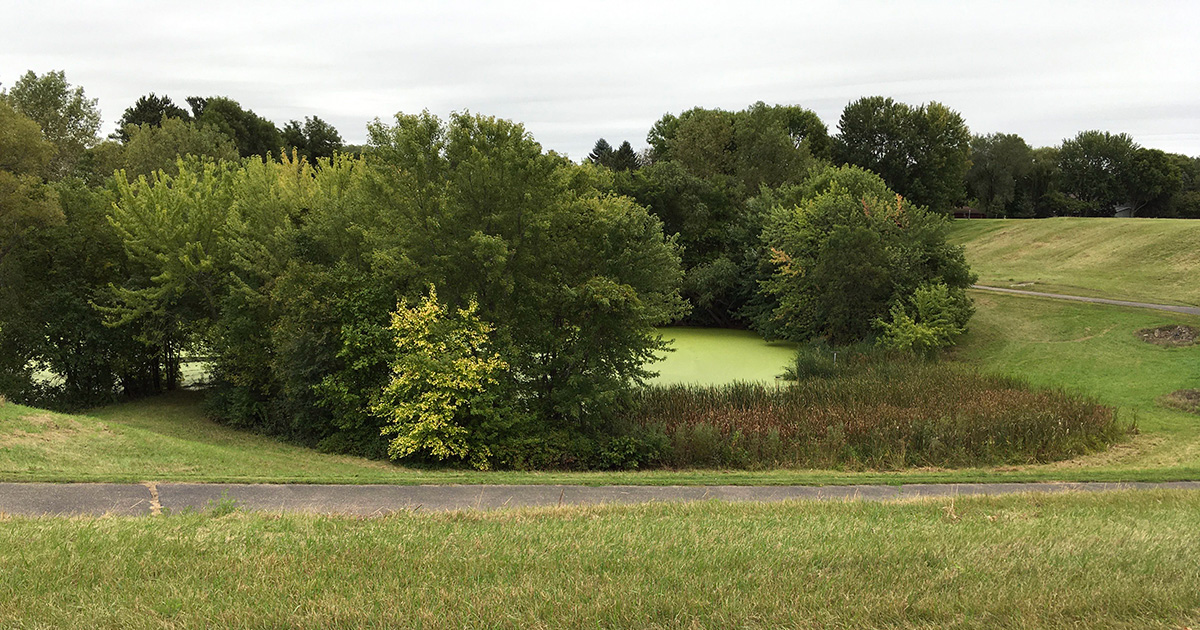 Less than a mile from the Mississippi River, this 17-acre city-owned park already has a pollinator garden thanks to the local group Hastings Environmental Protectors. We'll add to that success by restoring the grasslands around this humanmade pond — including an old trash mound — into quality prairie designed specifically for pollinators. That means we'll foster dozens of native plant species chosen so that there's always something blooming, offering nectar and pollen throughout the growing season. We'll also include habitat features like bare ground to support pollinator nesting.
This is one of half a dozen FMR-restored sites in the heart of Hastings. Sites like this, while relatively small, link up for a big impact on wildlife and water quality. Converting the turf grass around the pond to a landscape of deep-rooted native plants will provide a filter for runoff. And these changes are visible to community members in a way that often encourages interest and stewardship.
Carver Preserve and Applewood Preserve in Maplewood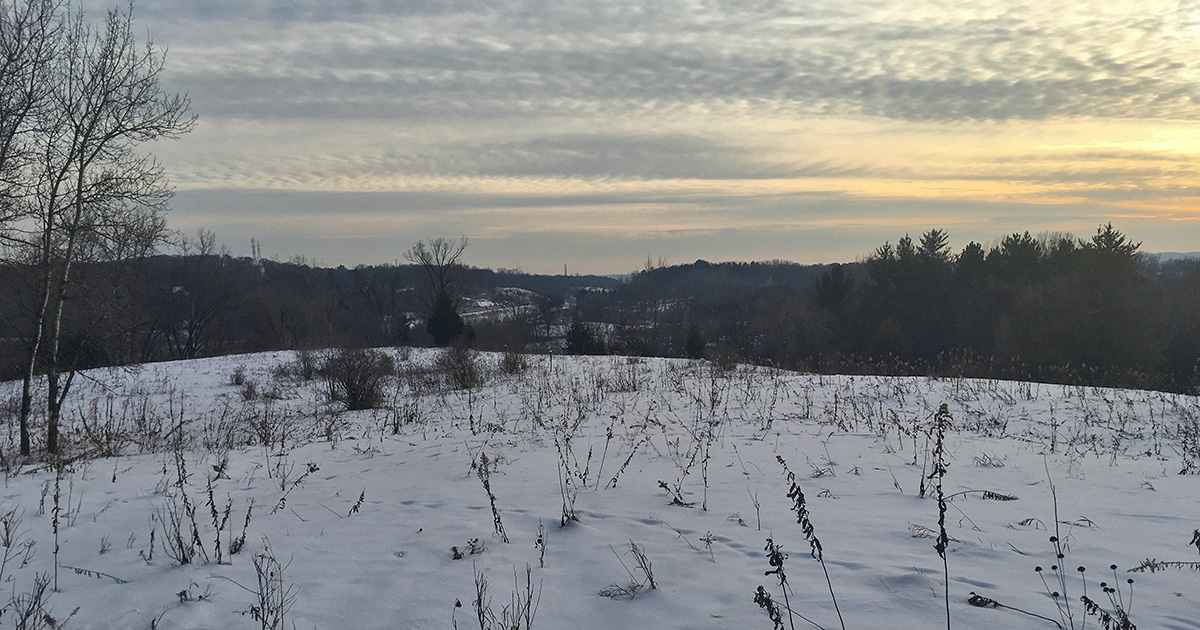 At a combined 53 acres, these city-owned preserves will be our first restoration projects in Maplewood. We're thrilled to begin this partnership with the city and expand the network of quality habitat near Pig's Eye Lake and Battle Creek Regional Park in the east metro.
We're now developing natural resource management plans for both sites and restoration projects will begin this summer.
Carver Preserve's rolling hills offer impressive views of the Mississippi River valley (like in the image above). Mostly former pasture, this land is part degraded grassland and part forest. We'll focus initially on enhancing the forest ecosystem. Eventually we hope to restore the grassland to native prairie.
Applewood Preserve is true to its name: Old apple trees dot the former pasture there. If you walk the mile-long trail through the woodland portion of the preserve, you'll see invasive buckthorn flanking both sides. While wildlife already abounds in this area, our work at Applewood will replace invasive species with more diverse woodland plants that can offer even more animals the shelter and food they need. We'll focus on adding specific shrubs and understory plant species to benefit pollinators.
Kamen parcel of the Vermillion AMA in Farmington
Right on the Vermillion River, and south of Whitetail Woods Regional Park in Farmington, this 28-acre parcel of grassland, woodland and wetland is a unit of the Minnesota Department of Natural Resources's larger Aquatic Management Area (AMA) network on the Vermillion — including our restoration at South Branch Vermillion River Aquatic Management Area. This river is a major tributary to the Mississippi, and it's also the only trophy trout stream located in a metro area in the United States. Anglers might find brown trout and rainbow trout here — both fish that require the cold and clear waters that result from healthy surrounding ecosystems.
Our project at the Kamen parcel (pictured at the top of this page) will restore native prairie and streamside woodland in part to better filter pollutants and hold soil back from eroding into the river.
We're also eager to create prime wetland habitat islands in what is now a sea of reed canary grass. Dense stands of reed canary grass trap sediment in their underwater root systems, stagnating water and lessening shallow water habitat that aquatic wildlife species need. Reducing reed canary grass can take several years, but increasing plant diversity in these wetlands will support a greater array of wildlife including frogs, turtles and birds that feed and nest in wetlands.
Protecting wetland habitats near riverine systems provides vital water storage during high water events preventing downstream flooding. This will become increasingly important as climate change brings higher-intensity, longer-duration precipitation events.
Contractors have already begun removing woody invasive species like buckthorn from the woodlands. They'll begin restoring the old field and degraded grassland areas of the site to prairie this spring.
Join us!
Help us restore these and other special places around the metro river. Check out our events calendar, sign up for our e-newsletter to stay current on volunteer opportunities, or email volunteer@fmr.org and we'll add you to the email list for the FMR stewardship program and events nearest to you.
Thank you to the supporters and partners who have made these new projects possible: City of Hastings, City of Maplewood, Marathon Petroleum Foundation, Minnesota Environment and Natural Resources Trust Fund as recommended by the Legislative-Citizen Commission on Minnesota Resources, Minnesota Department of Natural Resources, Outdoor Heritage Fund.