Minneapolis Parks for All plan open for comment
FMR works with the Minneapolis Park and Recreation Board to restore wildlife habitat throughout the city. We hope their Parks for All plan can commit to forward-thinking ecological protections and equitable access. Read the plan and let them know what you think of their draft plan by January 18. (Photo by Will Stock)
The Minneapolis Park and Recreation Board (MPRB) has released a draft of its Parks for All comprehensive plan, which will set priorities and policy direction for the park system's next ten years. Public comments on the plan are being solicited through July 18, 2021. 
To learn more about the plan and share your feedback, visit the project's website. 
FMR staff have reviewed the plan and support its goals. However, we will be offering comments to MPRB about ways in which the plan could be strengthened to make our park system more equitable and to improve parks' ecological functions and climate resilience. See our full comment letter.
We've summarized some of our key recommendations below.
Forward-thinking ecological protections
We were disappointed to see how brief the Parks for All goals and strategies about protecting and enhancing wildlife habitat were. In a park system as urbanized as Minneapolis', it can be tough to balance recreational and ecological functions. FMR has consistently advocated that MPRB dedicate more resources to the ecological side of its mission.
One glaring omission in the plan is that there is no mention of ecological or climate resiliency, concepts that will be extremely important for the preservation of MPRB's forests and natural areas. If we are not striving to increase resiliency through native species diversity and managing for invasive species, then we risk losing these natural areas and their vital habitat altogether.
FMR recommends adding strategies to the plan explicitly focused on increasing climate resiliency and managing invasive species.
We also recommend increased focus on restoring and adding natural habitat on parkland, creating corridors for plant and wildlife movement, and locating high-intensity recreation activities away from ecologically sensitive or rare natural areas.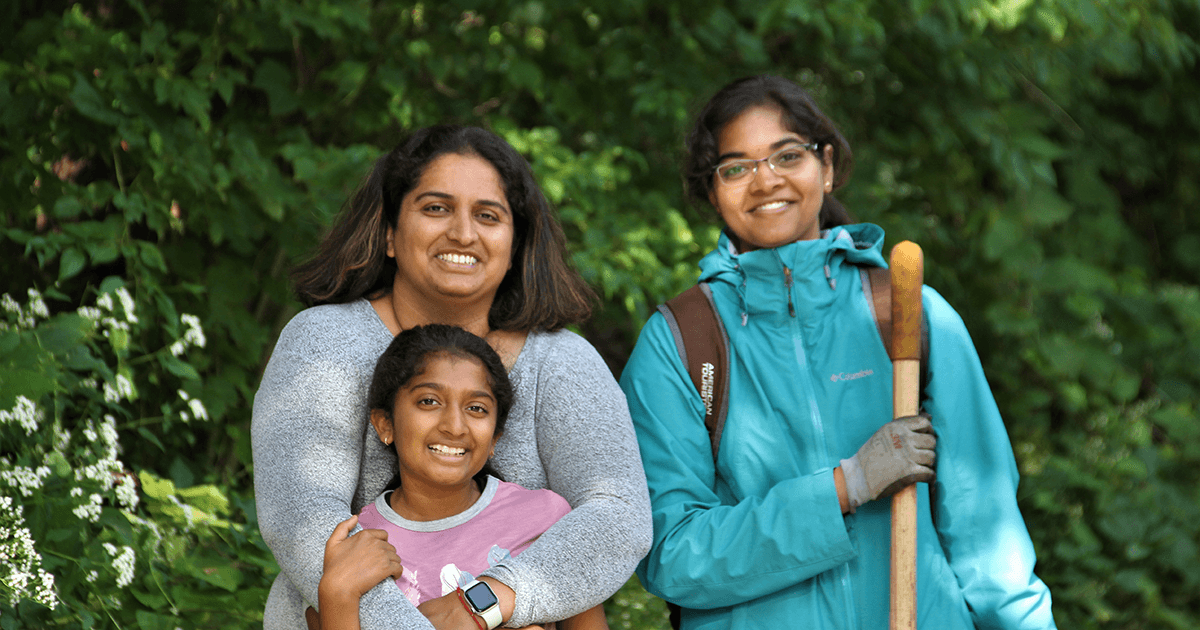 FMR volunteers planted climate-adapted shrubs and trees in the woodlands on Nicollet Island last year. (Photo by Rich Wahls for FMR)
Equitable access and experiences
We appreciate MPRB's commitment to making its parks accessible to all and have seen improvements in this area. Here are some recommendations we made about how the Parks for All plan could add or improve its equity strategies:
Improve community engagement during park planning to be more inclusive. This will require changes to the Community Advisory Committee model to increase diverse representation in planning processes and provide better connections between and clarity about the different engagement strategies MPRB uses. We also recommend providing compensation to community members who give significant time and expertise to MPRB's planning processes. 
Elevate and increase engagement with Indigenous communities. Minneapolis was inhabited by Indigenous people well before European colonization. The city's land, including its parks, was stolen from the Dakota through unjust and broken treaties. We are aware of MPRB's ongoing relationships and engagement with Indigenous community members. We recommend adding a Parks for All strategy that commits to expanding this work.
Employ several tactics to ensure that all residents feel equally welcome and safe in Minneapolis parks. We recommend adding a Parks for All strategy that explicitly commits to a robust community process to reform MPRB's safety practices, including an examination of how policing may or may not fit into the future of Minneapolis parks. (See FMR's past statement about policing in Minneapolis parks.)
Get involved
To learn more about the Parks for All plan and share your feedback, visit the project's website. 
FMR manages restoration projects in several Minneapolis riverfront parks. Join us by volunteering or joining our Above the Falls Stewards or Gorge Stewards programs.