Rare Maplewood grasslands one step closer to protection
Ask Ramsey County to permanently protect the Maplewood grasslands, a special refuge for the bobolink (pictured here), the Henslow's sparrow and other threatened birds. (Photo credit: John Zakelj)
It's tough to find prime wildlife habitat right in the heart of the Twin Cities, but a 77-acre grassland in south Maplewood seems to be just that. This Ramsey County-owned property nested between Battle Creek Regional Park and a county correctional facility might have flown under many people's radar, but rare and endangered birds know it well.
When the county began considering development of the property, environmental advocates pushed back, aware of how many birds relied on the site. Habitat like this is vital for the millions of birds that migrate on the Mississippi River flyway each year. Given that 98 percent of Minnesota's pre-colonization grassland habitat has been destroyed, birds displaced by development here would be hard-pressed to find other options.
In August 2021, Ramsey County released a "Request for Developer Interest" seeking development concepts for the site, but no proposals were submitted. Leaders for the City of Maplewood, which has zoning control over the property, have signaled their opposition to development due to the property's ecological significance.
Then this past fall, the county's natural resources inventory of the grasslands (requested by FMR and other advocates) confirmed that the site is an "ideal habitat for bird species" and home to the endangered Henslow's sparrow as well as seven additional bird Species in Greatest Conservation Need. These species are experiencing plummeting population numbers in the state due to habitat destruction.
Science says: full protection needed
For a while, some county leaders were still hoping for what might seem like a compromise scenario: partial development and partial preservation of the grasslands. However, that position isn't supported by science.
Many of the rare and vulnerable birds who rely on the grasslands are very sensitive to habitat "patch size." Smaller areas simply don't provide what these species are looking for. Research shows that three of the species at the grassland need habitat areas of 74+ contiguous acres for reproductive success.
At 77 acres without other surrounding grassland habitat, this parcel can't afford to lose any space to development. Partial development might lead to a total loss of the bird habitat.
It seems like Ramsey County commissioners are now listening to the science. As covered by the Star Tribune, Pioneer Press and Bring Me the News, the county has decided not to pursue immediate development of the grasslands, leaving the door open for habitat protection.
This win is partly due to the advocacy of FMR River Guardians and other environmental advocates. Thank you to the community members who voiced their support for this habitat.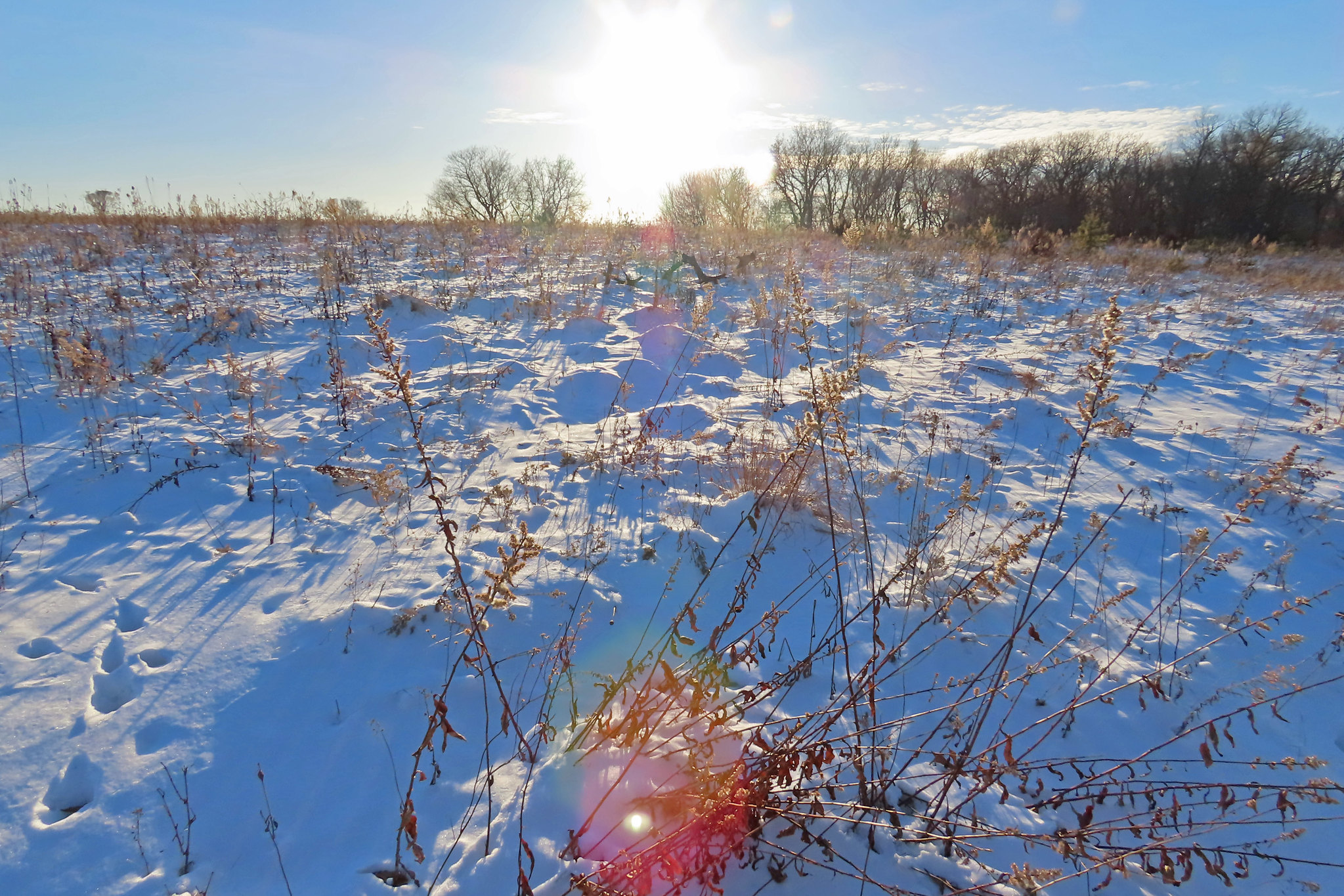 The 77-acre Maplewood grasslands property provides habitat for birds and wildlife that require larger spaces to survive. (Photo credit: John Zakelj)
Permanent protection next
Our next step for the grasslands is to confirm permanent protection. Without this in place, the grasslands continue to be vulnerable to development and ecological damage down the road, especially if any future elected officials don't share the same concern for environmental protection.
We hope county leaders take this logical next step soon: listing the grasslands as desired park addition in the forthcoming Battle Creek Regional Park Master Plan. This would set the stage for the actual park expansion by getting this required piece in place now while the updated master plan is being approved, rather than going through the plan amendment process later.
While some birds seem to be thriving in the grasslands, the site also remains vulnerable to harm from encroaching woodlands, climate change and other hazards. We're glad that county staff have consulted with FMR's ecologists about basic management practices to be used right now (such as correctly-timed mowing), but a full natural resources management plan is necessary for long-term protection. FMR can help landowners create, fund and implement such plans, often at little to no direct cost for the landowner.
Local Birdability advocates have presented another intriguing idea for the site: creating a birding haven that could serve people of all abilities. Verandas around the periphery of the property could create bird viewing opportunities for people with limited mobility, limited or no vision, or other health concerns that can limit access to nature. This would be a way to add a recreational component to the site without building trails that would fragment the habitat.
Taking a bird's eye view
Ramsey County is also considering the future of two other county-owned properties located within about a mile of the grasslands. The first is the now-closed Ponds at Battle Creek golf course. The county did receive some development proposals for this site but rejected all of them. Maplewood's elected officials want the golf course to remain in operation.
A natural resources inventory found two bird species in Greatest Conservation Need at the golf course. There have been verified sightings of the rusty patched bumblebee there, as well. But in general, golf courses provide mixed habitat outcomes. While the green space and plantings can be home to a variety of animals, the pesticides often used for management, the monocultural turfgrass present across much of the course and the high level of human activity limit benefits to wildlife.
The other nearby property in question is BTT, formerly Boys Totem Town, a closed juvenile detention facility. The BTT property contains about 60 acres of rare undeveloped oak savanna next to 10 acres of developed area. We, along with many partners, see incredible potential to protect and restore the savanna while bringing new uses to the developed portion. Uses could include an arts, cultural or environmental center; affordable housing; community services or other opportunities to equitably bring the site into the future.
The county hasn't started active plans or assessments yet for BTT, but we know that the planning process will need to be done with great care. BTT holds high potential for archeological value related to the long history of Dakota presence in the area, partially because most of the site has never been developed. Indigenous community members should have leadership roles in the planning process, along with those affected by the correctional programs at BTT. In recent years, the facility detained primarily BIPOC youth.
Despite the differences between the properties, Ramsey County should look at all three holistically to decide where the county can best fulfill its affordable housing development goals and where rare natural habitats need to be protected. Birds and other wildlife don't experience their homes as property lines on a map, but as corridors of habitat. If we bring that bird's eye view for our decision-making, we can balance our responses to our housing crisis and our environmental crisis.
Act now for the Maplewood grasslands
Ramsey County residents — You can help encourage Ramsey County commissioners to permanently protect Maplewood's rare grassland habitat. Just use the form below to send them your thoughts. You don't need to write a long, scientific or fancy letter. A note sharing why you're concerned about habitat loss and why this site matters to you is all it takes! (Please note, this action is only available for Ramsey County residents. If you are unable to send in your comments, please share with your Ramsey County network!)