Field days provide a Forever Green respite from this dry summer
Researchers at the U of M are domesticating silphium as a sustainable perennial oilseed, beneficial for farmers, pollinators, the soil and our river. (Photo by Dodd Demas)
This summer has been droughty (and smoky), leaving many of Minnesota's conventional farmers in trouble.
But there are plenty of green growing fields and exciting developments when it comes to FMR's favorite clean-water crops: Kernza, camelina and the rest of the U of M's Forever Green portfolio. Crops like these hold soil and fertilizer in place, reducing the kind of runoff that pollutes our metro Mississippi and creates the Gulf of Mexico dead zone downstream.
This recap of a few recent field visits, including a tour we co-hosted for policymakers, shows why we have reason to feel hopeful for our state and our river. 
Amber waves of (Kernza) grain
My best days in grade school usually involved loading up on the bus for a field trip to the museum or a state park. A lucky few of us still get to do something similar for work, continuing the long tradition of "field days" — opportunities for agricultural professionals to tour farmsteads, share information on growing methods, puzzle through complications together, and strengthen relationships both personal and professional. On a recent Thursday, I shut my laptop and took a road trip out to Madison, Minnesota, where lies some of the prettiest 500 acres of farmland in our state.
A-Frame Farms is the life's work of Carmen Fernholz —an organic grower and a founding father of the Minnesota Kernza experiment — and his partner Luke Peterson, several decades younger but just as committed to the promise of perennial agriculture.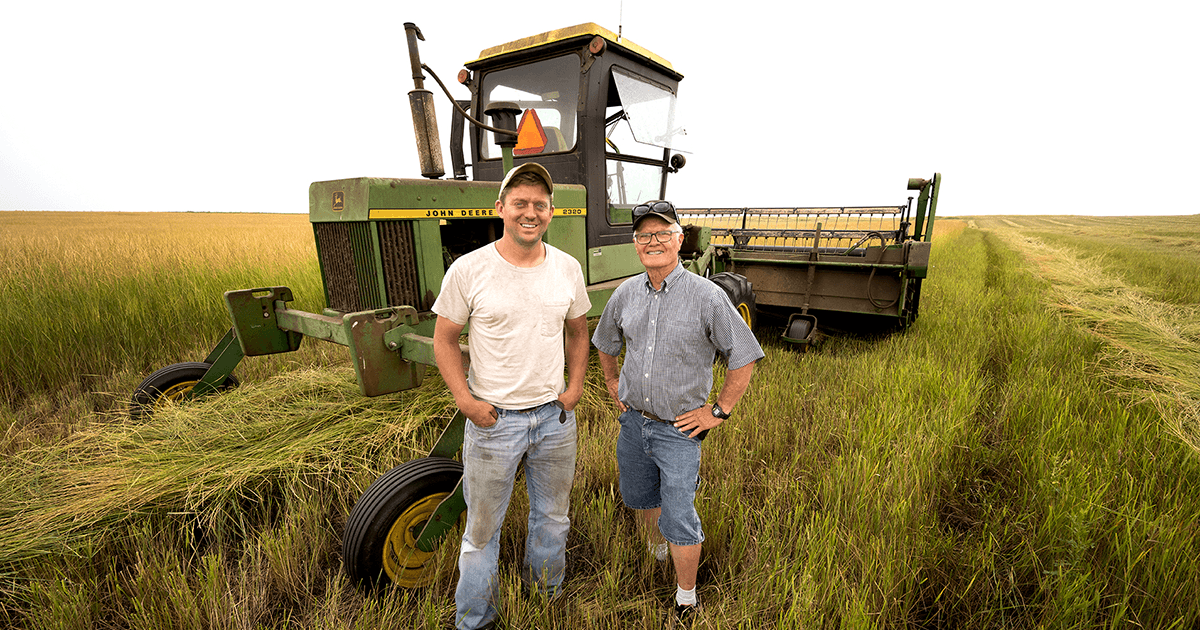 Luke and Carmen of A-Frame Farms (Photo by Dodd Demas)
A-Frame was the backdrop for a truly inspiring day for me and over 150 other attendees, featuring a tour of Carmen and Luke's nearly ready-for-harvest Kernza fields, a townhall-style talk featuring farmers, bakers, cooks, and businesses and more. (Did I mention free samples?!) Among the biggest crowd-pleasers was the announcement that a new Kernza-focused farmer cooperative, the Perennial Promise Growers Cooperative, is now up and running.
Our trip back to the Twin Cities reinforced why this progress is so imperative: A stone's throw from the lush and flourishing A-Frame Farm, spreading to the horizon, are conventional acres planted to corn and soy. Some are struggling mightily in the drought — stalks and bean plants lagging far behind where they should be, and even stretches of barren ground.
Getting that acreage green again, permanently, is the work ahead of us.
Sharing our work with policymakers
Field day season can be a whirlwind, and the A-Frame session was one of a half-dozen Kernza events in July alone. One of those was particularly important to us here at FMR: On July 19 we hosted, along with our collaborators at Minnesota Environmental Partnership and the Kernza CAP team, a field day for Minnesota policymakers. The packed house of 75 attendees included state legislators, federal delegates, members of Minnesota's Clean Water Council and numerous state agency leaders and staff.
A big challenge to any new idea — no matter how compelling — is getting people to pay attention in the first place. Many of the folks who make decisions for our state are still new to the concepts of continuous living cover and clean-water crops, so this event was a prime opportunity for us to evangelize.
What better way than to let them get their hands dirty? The day featured a guided tour of Forever Green's agricultural station in St. Paul, where attendees walked amongst the Kernza plants and handled pennycress, hazelnuts and silphium flowers, hearing from some of the world's foremost crop scientists about Minnesota's crucial role in this revolution.
Back inside (with air-conditioning), Carmen, Luke and their compatriots Ben Penner, Jade Estling and Kurt Kimber spoke about their real-world farming experiences. A terrific roster of scientists, wildlife experts and economists covered everything from climate impacts to market opportunities.
The message was — is — one of hope. We need policymakers to take up the banner for Kernza and clean-water crops, but the possibilities for our planet and our farm communities are real, and they are coming to fruition now.
FMR was instrumental in securing continued funding for Forever Green in the recently concluded Minnesota legislative session, and we have big plans in the works to keep this drumbeat strong. With a little luck, a lot of effort, and your help, we can turn our state green again, ensuring the health of the river here and downstream.
You can help!
Become a River Guardian
Sign up to become a River Guardian and we'll let you know when important river issues arise. We make it quick and easy to contact decision-makers and make your voice heard. River Guardians are also invited to special events, including happy hours, to learn more about important legislative and metro river corridor issues.
Keep up to date
We write regular updates about key environment and water quality issues on our Water and Legislative Updates blog, and share them on social media (Facebook and Twitter) and in our twice-monthly e-newsletter, Mississippi Messages.