Our 2022 legislative priorities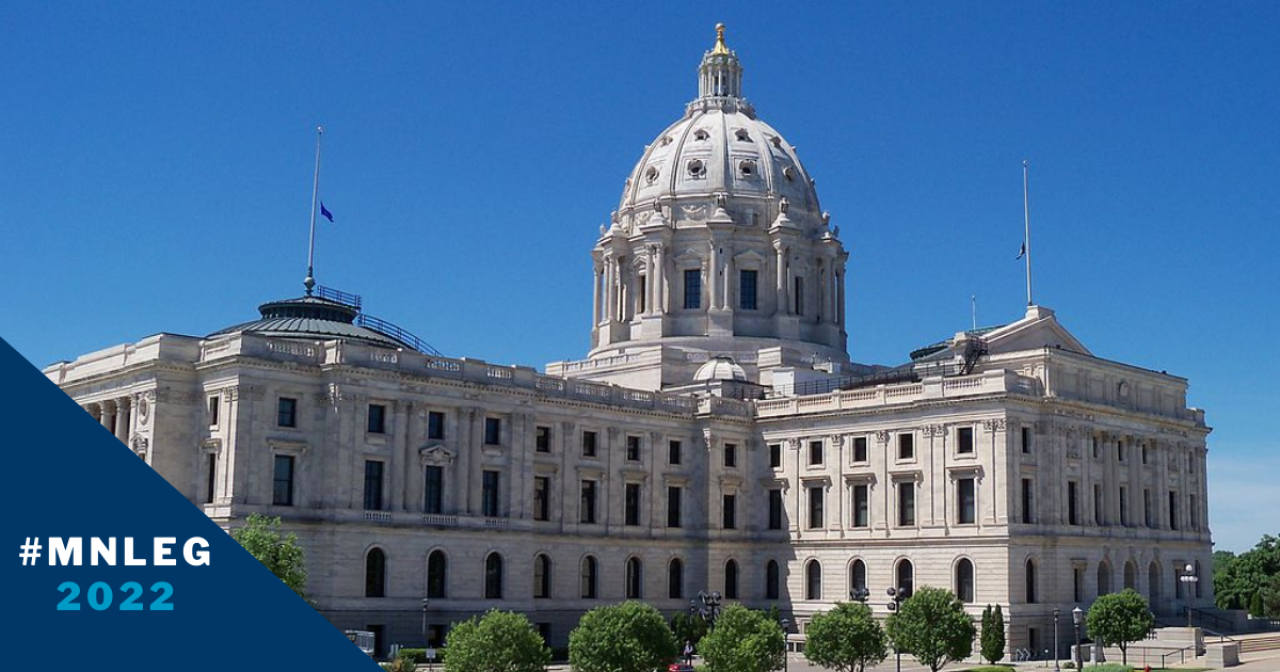 Minnesota's 2022 legislative session kicks off on January 31. Here's what to expect and a rundown of FMR's top priorities this session. 
Lay of the land
These are a few of the dynamics that will shape the 2022 session:
Split Legislature
Minnesota is one of only two states with mixed partisan control of their state Legislature. Whether and how the two parties are able to agree on legislation will greatly influence the session outcome.
A massive budget surplus
Minnesota boasts a record state budget surplus, in addition to federal funding from the America Rescue Plan Act and the recent bipartisan Infrastructure Bill.
Bonding session 
Now in the second year of the biennium, the Legislature typically focuses on a state bonding bill and some supplemental budget decisions. However, the Legislature is not required to pass a bonding bill or a revised budget. 
Commissioners on the chopping block? 
Lawmakers in the Senate made headlines in the last year by firing (or threatening to fire) key agency commissioners. This will almost certainly influence negotiations between the House, Senate and governor. 
A record state budget surplus
The Minnesota Management and Budget November 2021 budget forecast looked at future spending and anticipated revenues for the remainder of this budget cycle (through June 30, 2023). And in a word: WOW! The forecast has some important implications for the upcoming legislative session.
A record state surplus: T

he Minnesota budget and economic outlook is significantly improved in all years of this budget planning horizon. A general fund budget surplus of $7.746 billion is now projected for the fiscal year 2022-23 biennium.

Looking ahead: While the remainder of the current biennial budget looks great, the next biennium looks pretty good too! In the fiscal year 2024-25 biennium forecast, revenue is expected to exceed base level spending by $5.953 billion.
Federal funding too: This state's budget surplus is in addition to federal funds from the America Rescue Plan Act and the recent Bipartisan Infrastructure Bill. However, portions of the infrastructure bill require state matching dollars, so devoting state surplus dollars to maximize Minnesota's share of these federal funds will be important.  
What this means for the 2022 legislative session
Environmental spending (general fund): Minnesota's general fund spending on the environment is just 0.7% of the state's budget, making it one of the more underfunded areas of state government. While we expect the House to consider new environmental investments, the Senate's recent history of proposing massive cuts to environmental investments can't be ignored. 
Legacy Amendment Funds: Legacy funds are derived from a 2008 statewide referendum that dedicated sales tax revenue to the environment and arts through 2034. The Clean Water Fund surplus could be invested via a supplemental Clean Water Fund bill this session, or the surplus could be carried over to the 2023-24 session. 
The Environment and Natural Resources Trust Fund: This fund (made from lottery money for the environment) utilizes investment returns from the state's existing Environmental Trust Fund, which generates more than $60 million for the environment each year. While the Legislature attempted to raid this fund in 2018 and 2019 and has had difficulty passing these bills in recent years, we anticipate the bill to move forward smoothly in 2022.
Environmental policy outlook and FMR's 2022 legislative priorities
​Given the budget environment, this year brings a great opportunity to make long-overdue investments in Minnesota's natural resources and climate resilience. Here are our top priorities for the 2022 legislative session: 
1) Support clean-water crops, invest in Forever Green 
We are asking for full funding for the University of Minnesota's Forever Green Initiative and Forever Green Partnership, a program that is developing economically viable conservation crops (perennial crops and winter cover crops) that are good for wildlife, water and farmers.
Read our primer on clean-water crops and Forever Green.
2) Grow the industry for clean-water crops and CLC
In addition to crop genetics, market development and technical assistance funding through the Forever Green Initiative, there is a clear need for business capitalization grants to help businesses establish continuous living cover (CLC) value-chain infrastructure.
Using dollars from this year's historic state budget surplus, continuous living cover value-chain development funds would provide new business capitalization grants to continuous living cover value-chain enterprises for equipment, infrastructure, business and market development.
Read our primer on how we can grow the industry.
3) Replace lead service lines for safe drinking water
The combination of a state budget surplus and dedicated federal funding make 2022 a once-in-a-lifetime opportunity to fully fund lead service line replacement statewide — a public health imperative. An estimated 100,000 Minnesota homes still have lead service lines, a major source of harmful lead exposure via drinking water.
Read our primer on the need for lead service line replacement.
4) Invest in water infrastructure: #FixThePipesMN
FMR is excited to be a part of the Fix the Pipes alliance of business, environment, local government, engineering and trade groups from all across Minnesota. We're joining together to ask Minnesota lawmakers to #FixthePipesMN and pass a comprehensive bonding bill in 2022 that includes at least $300 million to replace and improve aging water infrastructure.
Read our primer on fixing the pipes.
5) Make the clean fuels standard clean
The State of Minnesota is currently exploring whether or not to pursue a so-called clean fuel standard. While a clean fuel standard may hold modest promise for reducing transportation sector greenhouse gas emissions, a standard also poses potential risks to our state's water quality, habitat, pollinators, and public health by incentivizing further conversion of natural areas to row-crop acreage for the production of corn ethanol (which already consumes 40% of Minnesota's corn crop).
With that in mind, FMR and our allies have developed a series of principles we will insist the state include in any clean fuel standard proposal that is brought before the Legislature this session. 
Read our primer on how we can keep a clean fuels standard clean.
6) Support the creation of the River Learning Center
FMR supports the River Learning Center, a river-focused hub for environmental and cultural learning and river recreation in Crosby Farm Regional Park. A National Park Service headquarters and visitor center would also be housed in the River Learning Center. The city of St. Paul has included the River Learning Center in its bonding priorities for this session.
We're excited about the River Learning Center's potential to strengthen public access to the river.
Read more about the River Learning Center.
Other policy items to watch
FMR will also be keeping a close eye on a handful of issues with significant implications for the health of the Mississippi River. We'll provide updates and opportunities for advocacy if/when these issues advance, including:  
You can help!
Become a River Guardian
Sign up to become a River Guardian, and we'll let you know when important river issues arise. We make it quick and easy to contact decision-makers and make your voice heard. River Guardians are also invited to special events, including happy hours, to learn more about important legislative and metro river corridor issues.
Keep up to date
We write regular Water program and Legislative updates about key environment and water quality issues. You can find them on social media (Facebook and Twitter) and in our e-newsletter, Mississippi Messages.