Must-see FMR spring birding sites along the river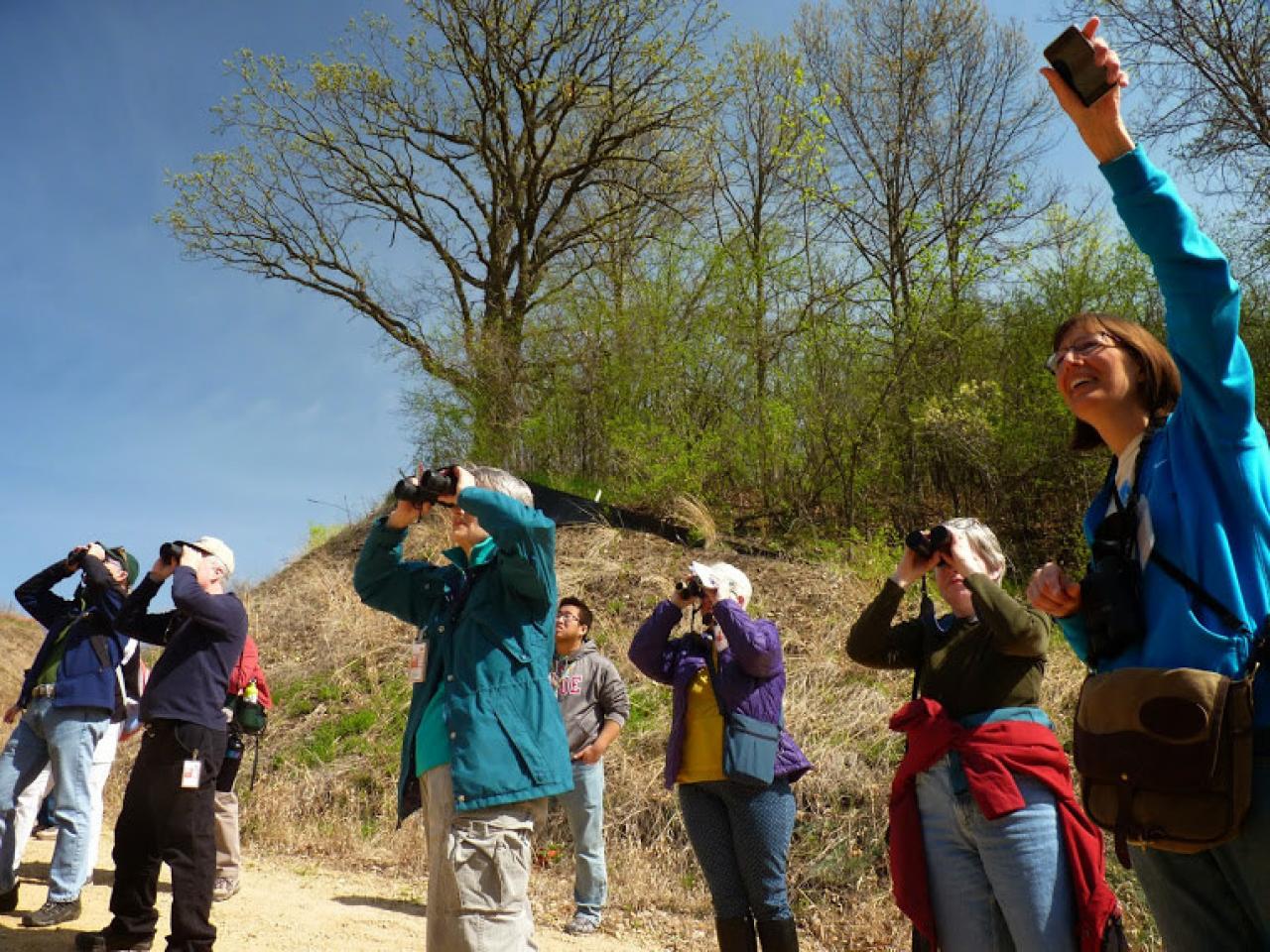 Birders scan the tree line for movement as FMR ecologist Karen Schik (right) plays a recorded bird call at an FMR habitat restoration site.
March 31, 2017
While the official first day of spring has come and gone, another harbinger of the season is taking flight. More and more migrating birds, including many neotropical migrants that winter in Central and South America, are now passing through the metro river corridor on their to their summer breeding grounds up north.
Protecting and restoring habitat along the Mississippi River, one of the most important migration corridors or flyways on the continent, has long been an FMR priority. Today, several sites we've helped to permanently protect and are actively restoring with both volunteers and professional crews are top-notch birding spots.
Mississippi River Gorge Regional Park in Minneapolis, Pine Bend Bluffs Scientific & Natural Area in Inver Grove Heights and Gores Wildlife Management Area in Hastings (see map below) are all longtime favorites with local birders, offering glimpses of warblers, phoebes, thrushes and other migrants. In fact, volunteer Dave Zumeta updates and offers FMR supporters this bird list for the River Gorge each year.
FMR has also begun to restore two sites we've recently helped protect north and south of the Twin Cities: the William H. Houlton Conservation Area in Elk River, and Hampton Woods Wildlife Management Area in Hampton Township. These expansive birding areas are now open to the public and are great places to view both migrating and resident bird species. (So good, in fact, that we had to include Hampton Woods even though it's not along the river.) We also encourage returning over the years to see the difference habitat restoration makes.
Grab your binoculars soon — peak songbird migration in the metro occurs through late May!
Suggested FMR birding spots
• Click on a blue star for more information about a site, then select the right-pointing arrow in the diamond-shaped icon for directions.
• Bus directions are available for the suggested River Gorge Regional Park site in south Minneapolis.
Help protect our flyway
If you'd like to help keep our local Mississippi River flyway healthy, let us know!
• Contact Volunteer Coordinator Amy Kilgore at akilgore@fmr.org with your name, interest and address and she'll be in touch when we have a flyway restoration event near you.
• Or support our protection and restoration work by becoming an FMR member.