Ecological research and monitoring at FMR
St. Paul Academy students sample for earthworms, an invasive species in Minnesota, at Crosby Farm Park in St. Paul. Our work there helps us understand the impacts earthworms have on native plant diversity, so we can refine and prioritize our habitat restoration efforts.
FMR has worked to restore over 2,000 acres in the Mississippi River's metro watershed. Our hope is that diverse natural communities of wildlife and plant life will return and thrive. And so far, our surveys and studies point to a positive connection between our habitat restoration work and the plants and animals our work is meant to support.
In addition to managing restorations, our ecologists — well-trained scientists — study their project areas and practices to gauge the impacts of their methods. They ask questions like: How is the presence of wildlife changing post-restoration? Which method of invasive removal leads to more native plants thriving?
Our research and monitoring projects include:
• Breeding bird surveys at restored and native prairies
• Wildlife monitoring at William H. Houlton Conservation Area
• Wildlife camera monitoring of turtle nesting enclosures and more
• Monarch butterfly monitoring at Pine Bend Bluffs restoration
• Bee and butterfly monitoring at Vermillion Linear Park restoration with Hastings High School
• Insect monitoring at Indian Mounds Park restoration with Open World Learning School
• Earthworm and invasives monitoring at Crosby Farm Regional Park restoration
• Buckthorn control testing at Hampton Woods restoration
• And other ongoing studies
Read on for our findings.
Wildlife surveys and monitoring
Breeding bird surveys at restored and native prairies in Dakota and Washington Counties: A multi-year comparison by Karen Schik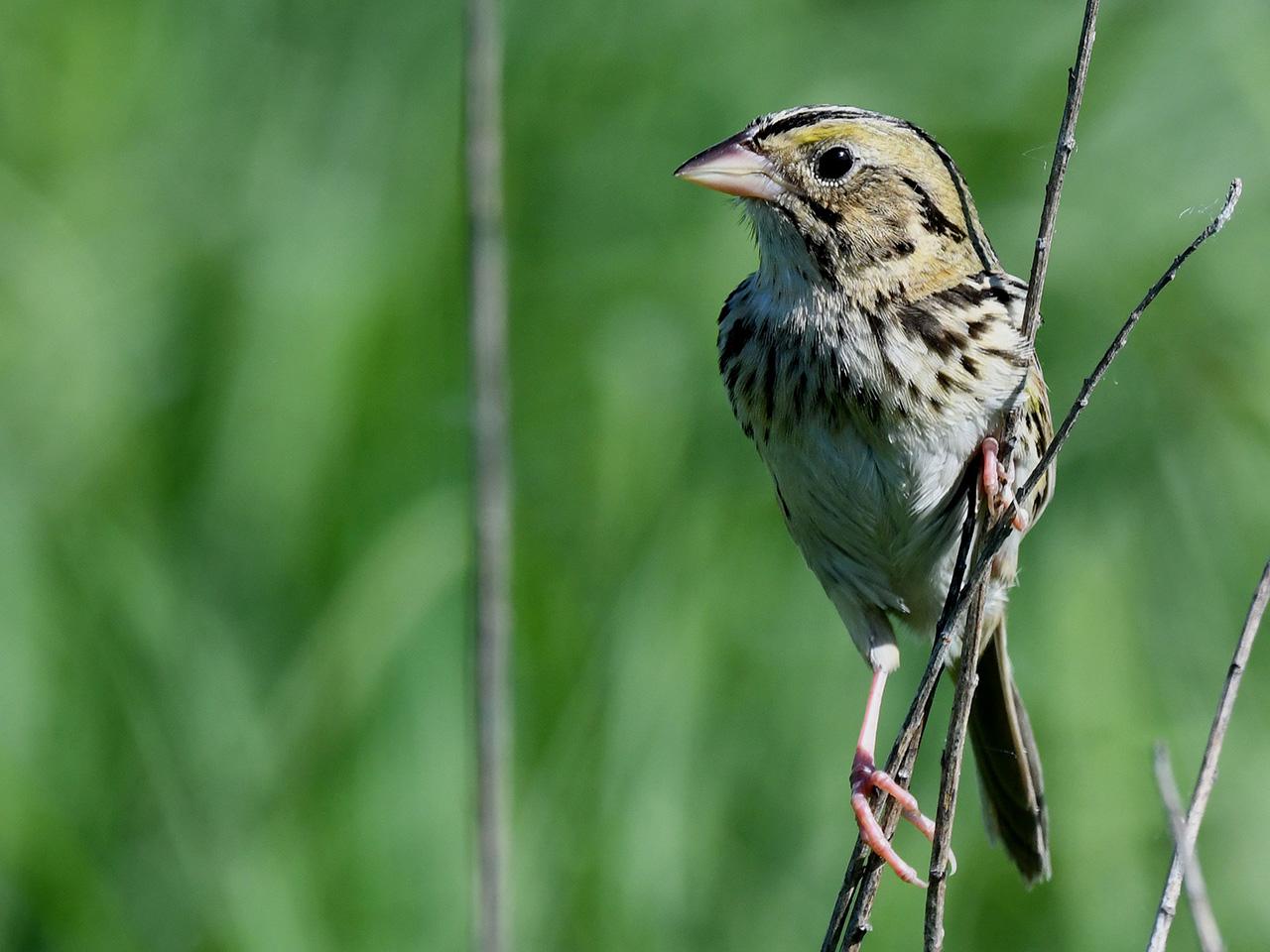 The Henslow's sparrow is one of the many rare bird species our FMR breeding bird surveys found on prairie restoration sites. ("
Henslow's sparrow
" by Jim Hudgins/USFWS.
CC BY 2.0
)  
Analyzing over ten years of data from breeding bird surveys, we found that at sites where FMR has completed prairie restorations, starting from either cropland or old field, there have been steady increases in the number of bird species and the number of Species of Greatest Conservation Need in the years following restoration.
Even relatively small sites demonstrated important value for prairie-dependent bird species, and our restorations also correlated with increased diversity at nearby remnant prairies.
• Read Karen's November 2018 article.
• Read the full report.
Prairie skinks, pollinators, toads and more returning to prairie restoration at William H. Houlton Conservation Area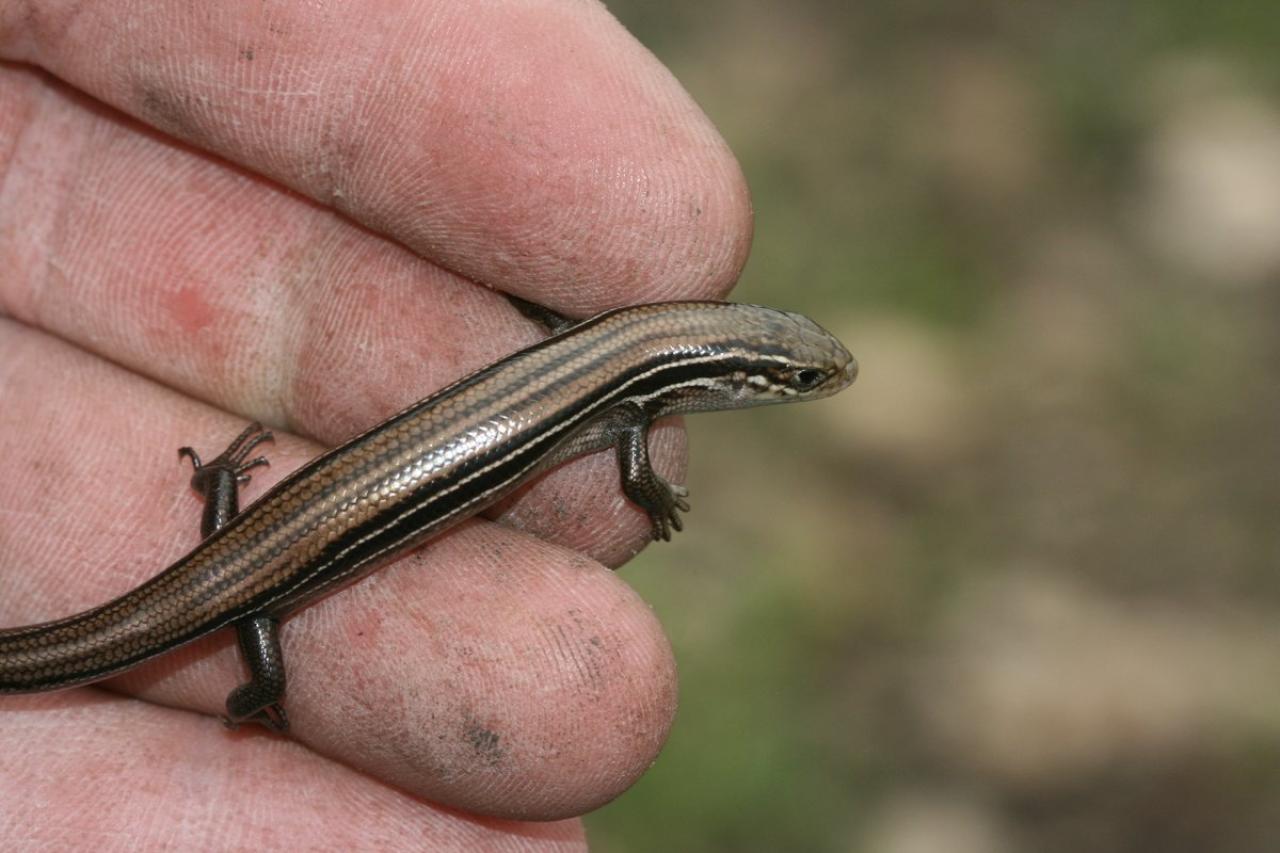 Since 2016, Elk River High School students have helped monitor the return of wildlife and the effects of our restoration at the William H. Houlton Conservation Area as we transition hundreds of acres from farm fields and degraded woodland to native wetland, prairie, and forest habitat. In 2018, we began an even more intensive survey effort, hiring a wildlife biologist to conduct focused pollinator, amphibian, and reptile surveys in the onoing prairie restoration acreage. 
• Read about the wetland wildlife returning here in our June 2018 article.
• Read about skinks and pollinators in our July 2018 article.
• Read about the second year of monitoring and our finds in our February 2020 article.
Wildlife cameras help us monitor our turtle nesting enclosures in the Spring Lake Islands backwaters and at William H. Houtlon Conservation Area, as well as other wildlife at sites such as our Flint Hills Resources restoration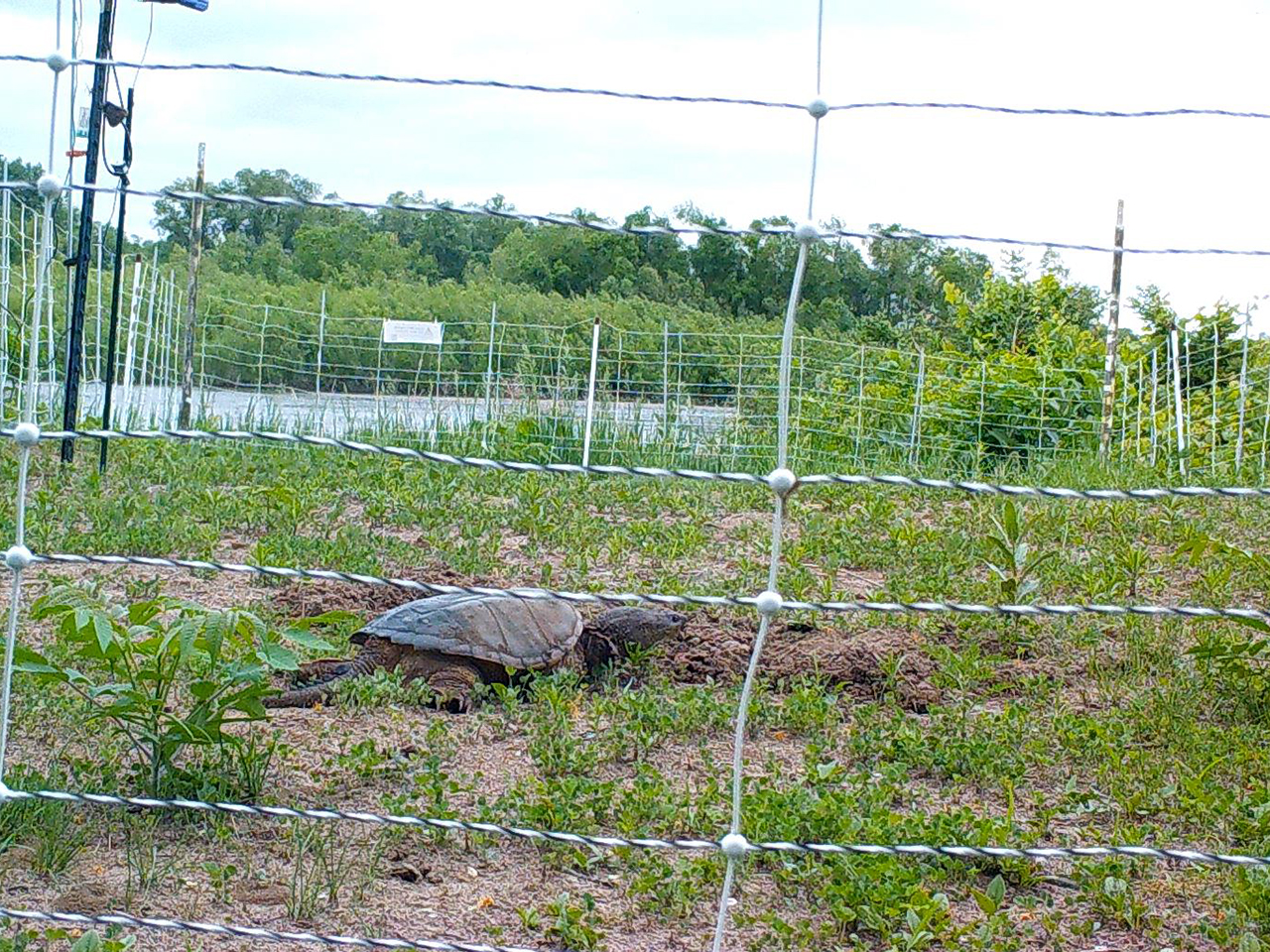 In early 2018, we created a turtle nest protection enclosure in Spring Lake Islands Wildlife Management Area in Dakota County. The enclosure protects a sandy bank where turtles have nested in abundance, but where their nests often fell victim to a variety of predators. During turtle hatching season, we review wildlife camera footage to see if the enclosure is succeeding in keeping young turtles safe. In late 2018, we began erecting another such enclosure at the William H. Houlton Conservation Area with the help of a local Eagle Scout candidate. In 2019, we'll begin monitoring the effectiveness of this second enclosure. 
• Read about the project's beginnings in our June 2018 article.
• Read about our first turtle hatchling sightings in our September 2018 article.
• See shots from our other wildlife cameras in this Flickr album.
Pollinators and insects along the river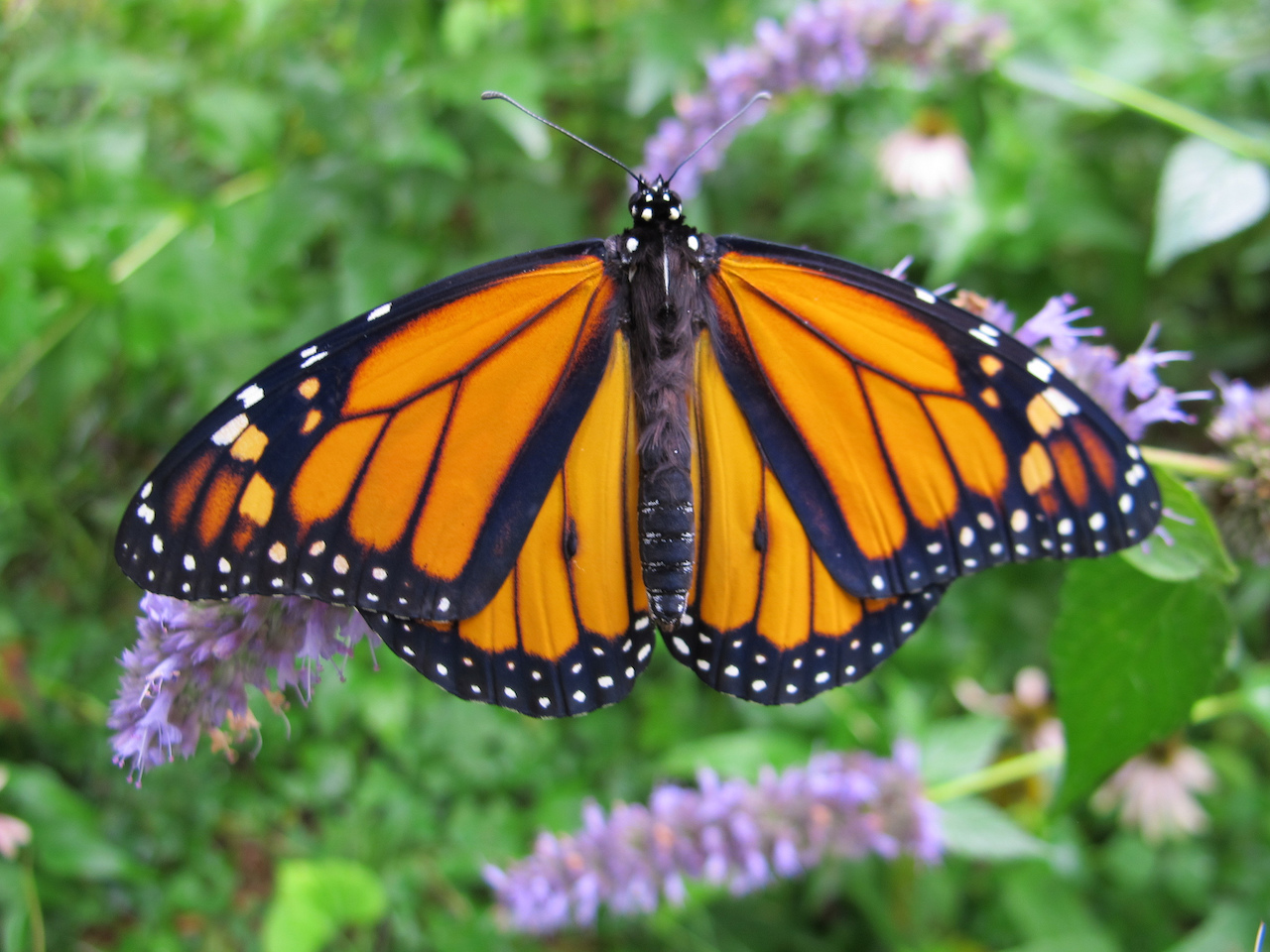 In 2017, we began monitoring for monarch butterflies at the Pine Bend Bluffs restoration at Flint Hills Resources in Inver Grove Heights. We submit our data to the University of Minnesota Monarch Lab. Hastings High School students have also begun to track bee and butterfly populations in three restored prairie areas at Vermillion Linear Park in Hastings. And Open World Learning School has collected insects from a prairie that we've been working together to restore at Indian Mounds Park in St. Paul.
• Read more about our citizen science monarch monitoring.
We've also contracted with wildlife biologists to professionally survey a few of our sites for pollinators. Read more about our findings in our February 2022 article.
High school student digs in to invasive earthworm research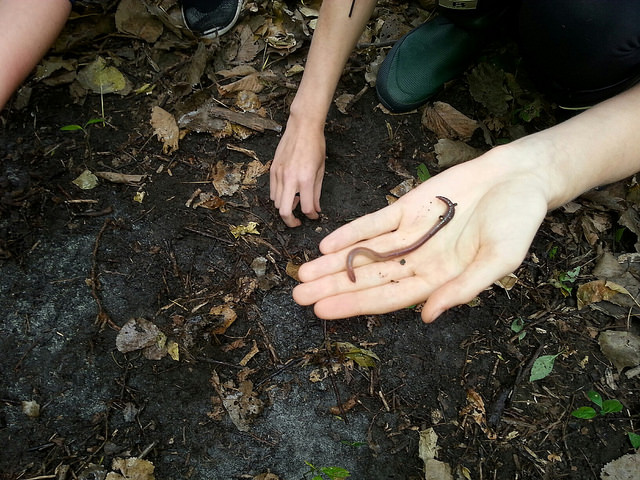 St. Paul Academy high-schooler Flannery Enneking-Norton decided to keep researching after a monitoring event with FMR at Crosby Farm Regional Park in St. Paul. FMR Conservation Director Alex Roth worked with Enneking-Norton to better understand the relationship between earthworms and their fellow invasive species, Common buckthorn, at our habitat restoration sites. The result? An interesting finding regarding the worst worm invader of all — nightcrawlers — and a first-place win for Enneking-Norton in the Twin Cities Regional Science Fair.
• Read more about Enneking-Norton's research in our March 2018 article.
Invasive earthworms also happen to be a big part of FMR Conservation Director Alex Roth's PhD studies. Alex even coauthored a study on the global distribution of earthworm diversity that made the cover of Science, and contributed to a global database on earthworms and the ecosystem changes they create. Read more about how these ecosystem engineers alter our forests.
Restoration methods research
What's the best way to control buckthorn and protect native plants? A study at Hampton Woods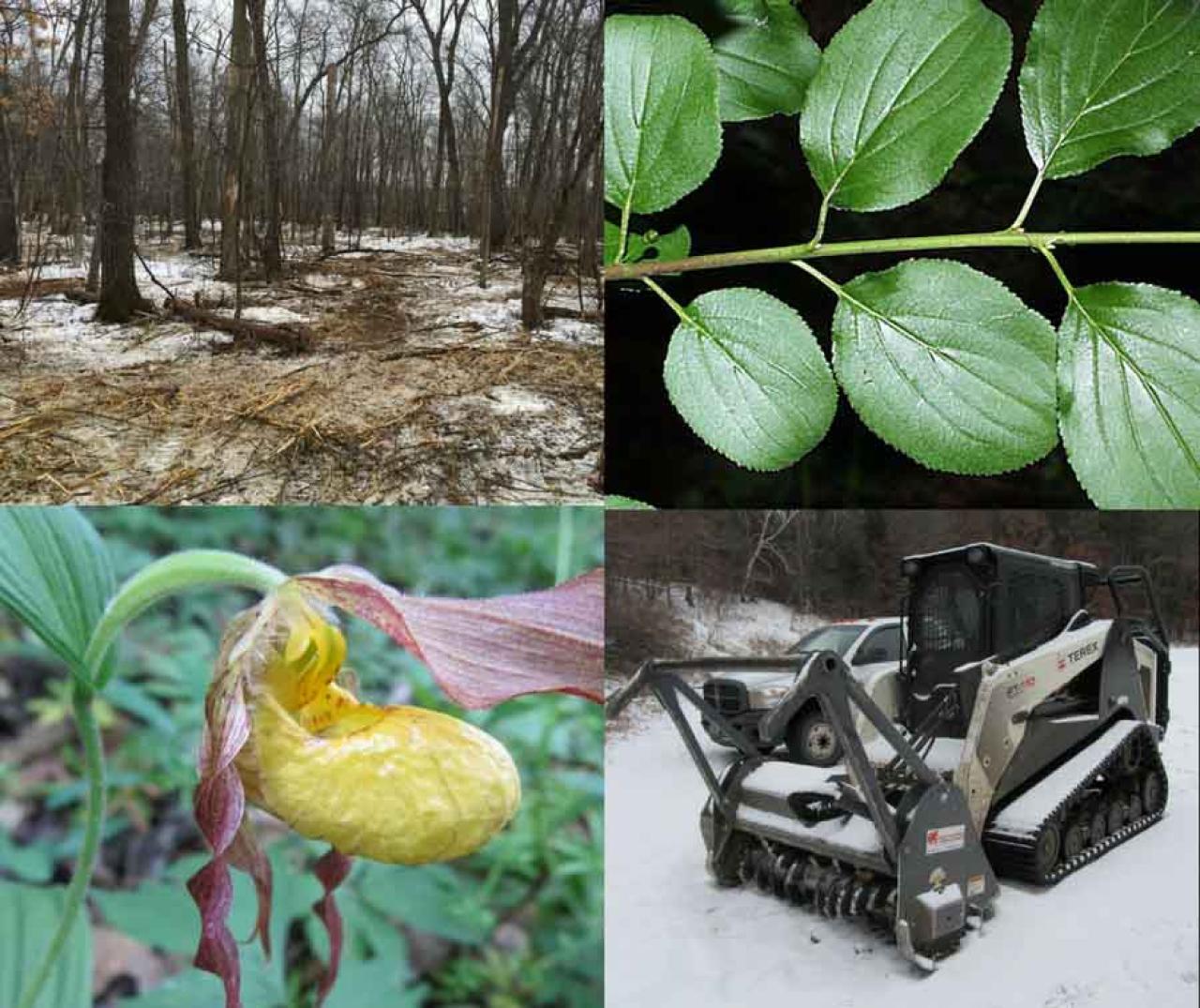 In early 2018, we set up a project to study the long-term effects of three different methods of controlling invasive buckthorn at Hampton Woods in Dakota County. We tested four combinations of forestry mowing and herbicide application and measured the impact on both buckthorn and native plants in those areas. We did this research to impact the ways that organizations like FMR approach buckthorn removal and improve not only efficacy, but also lessen the impacts of herbicide and other methods on native plant species.
• Read our April 2018 article at the beginning of this study.
• And check out our results in 2022.
How do other plants contribute to buckthorn control?
FMR Conservation Director Alex Roth has researched the importance of replanting to suppress buckthorn once it's removed. His co-authored paper was published in 2020 by the scientific journal Restoration Ecology. His studies on the role of dense forest cover in controlling buckthorn have also contributed to the U of M's Cover It Up project.
Alex has also published other papers on invasive plants in Minnesota that aim to better our understanding of how and why species like buckthorn invade and take over:
Ongoing studies
At most of our restoration sites, year after year, we monitor vegetation to evaluate changes over time and results of management practices. We'll be sure to share the results of these efforts in Mississippi Messages, our e-newsletter.
We often enlist community volunteers or school groups to help us monitor the lands and waters where we work. We're grateful for our citizen scientists. (If you're interested in assisting with monitoring projects, email volunteer@fmr.org.)