Write to the River's last chapter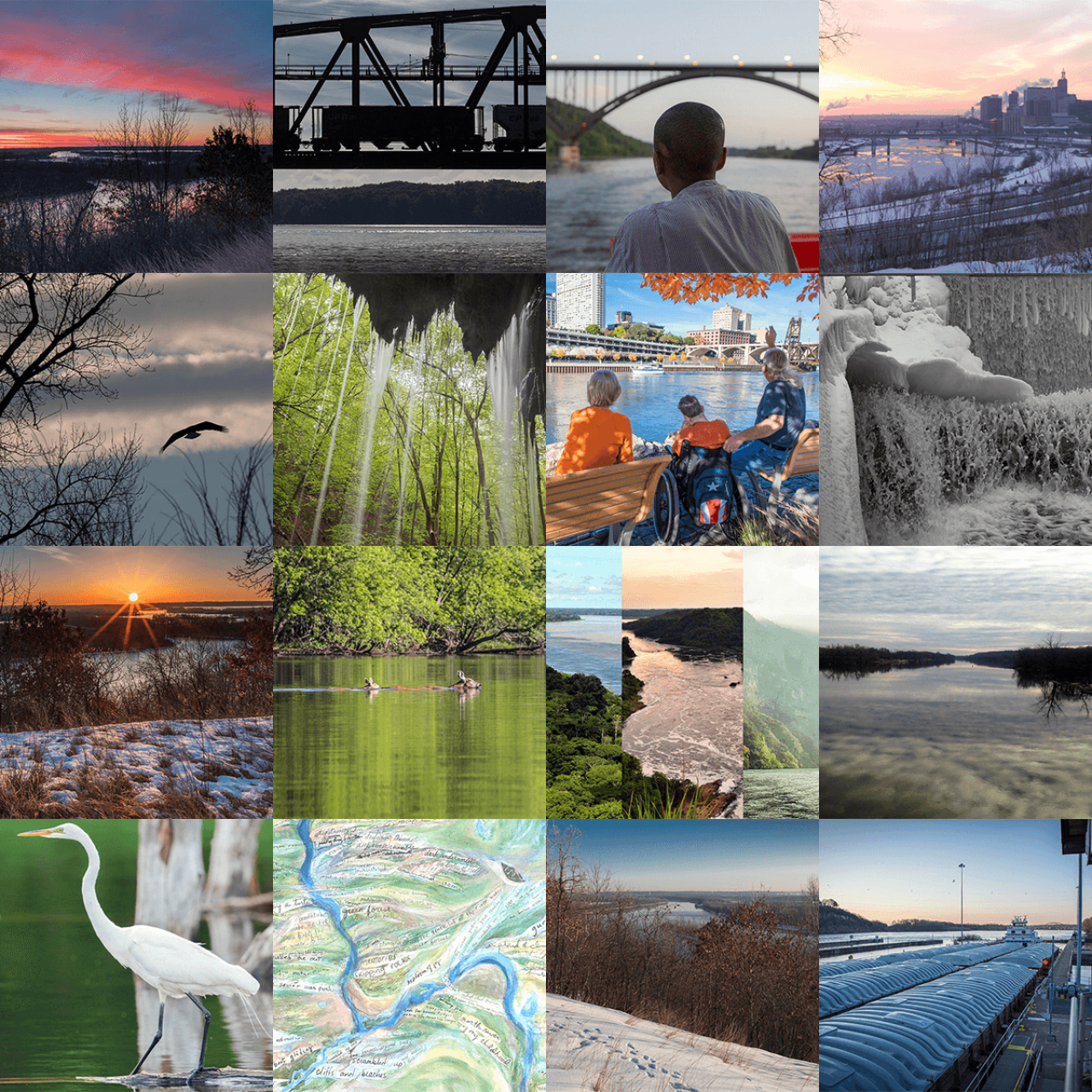 After four years, we're wrapping up Write to the River, FMR's community creative writing project run by our dedicated volunteer Leslie Thomas.
When I say dedicated, I mean truly dedicated. Since I came to FMR, I've witnessed Leslie choose a river image — often granted by our volunteer photographer Tom Reiter — and write an inviting prompt each season. She publicized the call, collected submissions, corresponded personally with all of the contributing writers, and pulled together an edition that always showcased the memories and connections people have with our river.
Leslie gifted us hours of her time to bring this project to fruition each season. She also gifted our metro area with her inclusive vision for a creative and connective project, and each writer her genuine care and attention.
Not only has Leslie's commitment been remarkable, she's also responsible for the project's beginnings.
Write to the River's origins and impact
The story goes that Leslie had volunteered with FMR, seed collecting at Sand Coulee Scientific & Natural Area in Hastings in 2014. And because she's a writer, and because she loves the river, she dreamed up this big idea for a project that would invite community writing about the river through the seasons. She brought the idea to our communications department, who thought it sounded great but confessed that it was beyond our capacity to support. Leslie persisted, offered to run it herself, and Write to the River was born.
There's no doubt Write to the River has had a wide appeal and has created a lasting legacy. Since the spring of 2017, we've published 17 regular online editions, received writing from 175 river-lovers, collaborated on three student editions and one international edition, worked with a local artist to turn love letters to the river into a painting, and created a traveling showcase gallery. (Enjoy all the editions here.)
Write to the River is also why I applied for my job here. I knew I wanted to work for an organization that recognized the value of creative expression and relationship with place. Since then, Write to the River has offered me one of the greatest joys of my workdays, opening a space for me to encounter people's deep connections to the river and to feel my own. Every submission I read with Leslie renewed my sense of why we do this work.
So as we close this chapter, we're celebrating the many writers who so generously shared their words and the writer who made it all happen. Here are Leslie's reflections.
An interview with Leslie Thomas, Write to the River's champion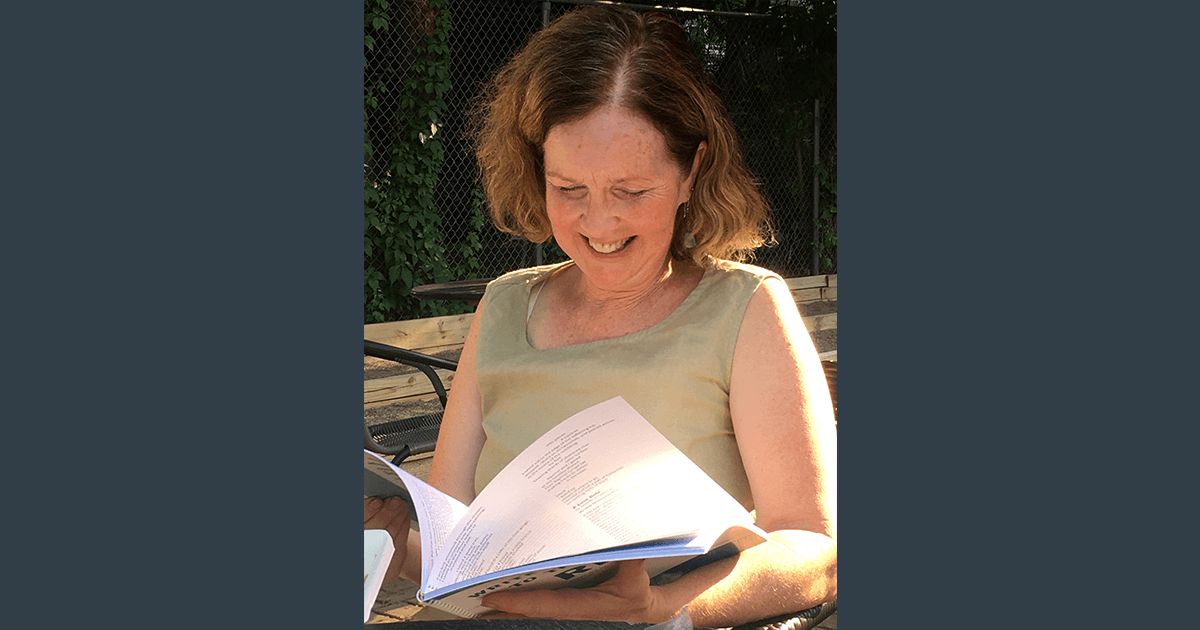 Thank you, Leslie Thomas!  
What was your vision for Write to the River?
Leslie: My dream for this project was to provide a forum for people to express their affinity and experiences with our urban stretch of the Mississippi River.
I hoped writing to the river would be meaningful for contributors and inspirational for readers. I knew the river was loved and valued in many ways, and my hope was to receive submissions from people with a variety of river experiences, of different ages, backgrounds and ethnicity. Tom Reiter's wonderful river images provided a starting point to generate ideas and memories.
Why are creative projects like this so important?
Leslie: I couldn't express it better than Michael Daugherty, a contributor from our first edition who answered a similar question when I interviewed him for the Open Rivers journal article: "The stories people share have their own vision, knowledge and love for the water and land that can open our eyes to a different way of how we look at the earth. There is a deeper understanding to be gained from each other."
Nature writing provides opportunities to deepen awareness and love for the non-human elements in our world. I wanted to create a space to facilitate more creative expression about our stretch of Mississippi River, believing that something positive would flow from it.
What stories or connections do you have from your time leading this project?
Leslie: There have been many and each edition is special in its own way. I've enjoyed all my conversations with the writers and appreciate their kind words about the project. I have also been fortunate to collaborate with the dedicated and wonderful FMR staff.
But there were some particularly amazing moments. One writer told me he had never shared his writing before submitting to Write to the River, and the experience inspired him to write and share more.
Michael Bischoff will always hold a special place in my heart. I was inspired by his courage and passion regarding the river's healing properties during his struggle with cancer.
Another writer submitted to nearly every edition. It was wonderful to meet him and I looked forward to reading his poetry each season.
I am grateful to the incredible teachers who submitted their student writing. Two teachers invited me to a Zoom Q&A with their students to discuss Write to the River and the images we were featuring, and that was a special highlight for sure. Additional highlights include our month-long display and celebration at Wabasha Brewery in the summer of 2018, and the fun international edition we did to celebrate World Rivers Day.
I was delighted to provide information to other river organizations in Minnesota and Pennsylvania who reached out to me as they started a similar project. I am also grateful for the many kind folks and organizations who helped me spread the word about Write to the River: the editors of University of Minnesota's Open Rivers Journal, the Longfellow Nokomis Messenger, Hennepin and Ramsey County Libraries, numerous local bookstores, nursing homes, cultural centers and environmental organizations. Interacting with so many people who love the river has been a great experience.
What have you learned?
Leslie: In the beginning I didn't know what to expect and I wondered if people would be willing to share their writing. Turns out I didn't need to be concerned. For each edition the submissions came, and I have been deeply moved by the authentic, open and beautiful ways people express their love for the river. Their words continue to inspire me to appreciate the river more. I even kayaked a stretch for the first time last fall!
Do you have a message for our 175 contributors?
Leslie: I want to thank each contributor for sharing their heartfelt writing. It was a privilege to read every story and poem, and I hope everyone continues writing to and for the river. I also want to thank FMR for the amazing work they do, for making this project happen and entrusting me to coordinate. And a special shout-out to Frances Browner and my poetry group (Poets Abroad) for their encouragement and help early on.
What's next for you?
Leslie: I definitely want to stay connected to FMR. My near-future plans include working on my own writing and I hope to kayak a different stretch of Mississippi River before winter. Someday I'd love to put together an anthology with all the Write to the River images and writing!
The end, but not the end
While the spring 2021 edition represents the end of the Write to the River project as we've known it, we're already imagining ways we might carry its vision forward. We're incorporating more storytelling into our events. And as our education programs grow and evolve, we're integrating opportunities for reflection and creative expression.
We'll be sure to share these and other projects in Mississippi Messages, our e-newsletter.
Thank you, writers!
From Toni Morrison's The Site of Memory: "All water has a perfect memory and is forever trying to get back to where it was. Writers are like that: remembering where we were, what valley we ran through, what the banks were like, the light that was there and the route back to our original place. It is emotional memory—what the nerves and the skin remember as well as how it appeared. And a rush of imagination is our 'flooding'."
We're grateful to Leslie, our photographers, and to those of you who offered your prose or poems to our pages. We hope you continue to connect with the river and to remember, imagine and write.
The last Write to the River poem
Jim Larson, a writer who submitted to nearly every Write to the River prompt once he found out about the project, wrote this poem in honor of Leslie:
Listen for the Splash
When a person dives into a river
she will be in a different place
the next time you see her.
The deeper she dives
the further she will be carried along.
While in the current she belongs to the river.
It's the same with that private river
in the imagination except the currents
go in many directions.
The river may break out a mile wide
or sometimes carry its secrets underground.
Those unafraid of diving want to find out where.
A rumor says Leslie has been seen
on a high overlook studying the possibilities ...
standing way too close to the edge.
—Jim Larson
(Feature image — a composite of Write to the River image prompts from 2017 to 2021 — image credits, left to right and top to bottom: Tom Reiter, Tom Reiter, Tom Reiter, Tom Reiter, Tom Reiter, Tom Reiter, Tom Reiter, Tom Reiter, Tom Reiter, Tom Reiter, Creative Commons, Bill Lindeke, Steve Cronin, Susan Armington, Tom Reiter, U.S. Army Corps of Engineers)