For many Northsiders, this is the path to the Mississippi River: the West Broadway bridge over Interstate-94. Improvements like a barrier separating the sidewalk from cars, a safe biking space, updating the chainlink fence and adding greenery or art would make this a far more welcoming route for pedestrians and bicyclists traveling to the river.
Currently, the majority of North's residents must make their way over Interstate-94 and through a wall of industry to see and enjoy their riverfront. FMR is working to understand these barriers and identify opportunities to reconnect Northside residents to their Mississippi River. As more of this riverfront transforms from industrial use to parks and trails — changes that FMR has long advocated — we must work hard to ensure that current and future riverfront parks are accessible to area residents. 
June 9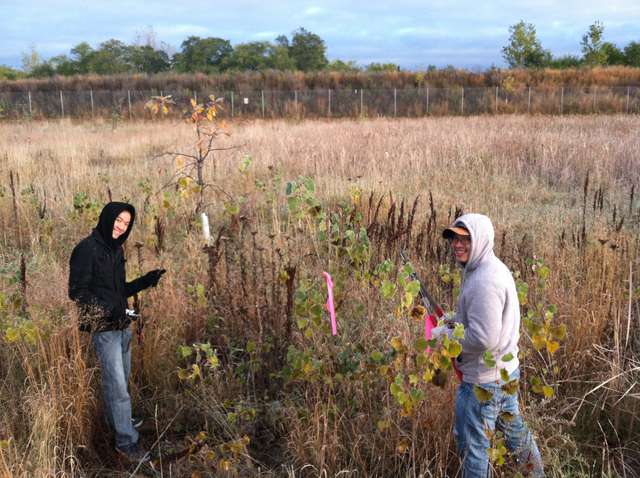 Photo: Tanya Smutka
May 13
This unique location blends historic renovation with ecological restoration along today's working river. Learn more about its history, ecology and our first public volunteer event at this riverfront site, Saturday, June 4.
May 5
Crews work to carefully manage a burn at the Sand Coulee Scientific & Natural Area. Fire helps reduce invasive species while benefiting fire-adapted native prairie plants. Photo by Karen Schik
Fire was once commonplace on the American landscape. After nearly a century of suppression, it's making a comeback. Find out why fires are on the rise, and how FMR uses fire as a tool to restore habitat on many of our restoration sites.
April 11
This time of transition between winter and spring can be a wishy-washy, ambivalent affair. It's sunny and 50 degrees, then 20 and snowing. Likewise, some bald eagles are still hanging out in their winter homes or migrating along the Mississippi River, while others are nest-bound, feeding fuzzy eaglets. Another impressive hunter, the great horned owl, is also nesting these days. Luckily, there's great local spots to see all of this avian action, both outside along the Mississippi River and online.
March 4
A healthy whitetail deer will eat around five pounds of food per day. Photo from www.northamericanwhitetail.com.
Perhaps drinking from the river or bounding through blufflands, deer are a welcome sight on any oudoor excursion. From an ecological perspective, however, an overabundance of deer are creating problems. It turns out many uncommon native plants are especially tasty. But invasive species such as buckthorn and garlic mustard? Not so much. Compounded by earthworms and climate change, our treasured whitetails may play a large role in the future of our forests. 
January 11
Join us for a crisp autumn morning in the bluffs above the river Saturday, Oct. 17 in Cottage Grove or Saturday, Oct. 24 in Pine Bend Bluffs near Rosemount. Sign up for the hayride and hike, join the buckthorn hauls — or both!
After exploring and restoring river-lands not normally open to the public, we'll celebrate our volunteer and community partners' impact on our local wildlife and waters. Thanks to Cottage Grove partner 3M and Pine Bend partner Flint Hills Resources, there'll be great food, raffles and other special activities. 
September 9
Whether you've got a group of five or fifty, FMR has a fall event for you and yours. Join us to haul buckthorn and restore habitat in the beautiful river bluffs, or let us know if you'd like to set up your own St. Paul service outing.
August 19
Pages