On a recent rainy October morning, volunteers from 3M helped FMR ecologists install over 300 cottonwood live stakes near the river in Hastings. Vital for wildlife and floodplain forests, cottonwoods have not been regenerating along the river. In 2013, FMR began a series of experimental plantings to help restore these imperiled icons. So far, live staking appears to be a promising method.
A key species of floodplain forests, Eastern Cottonwood trees aren't regenerating naturally in the floodplains. FMR ecologists and volunteers are using cottonwood cuttings or live stakes to re-establish a floodplain forest in Hastings.
November 7
A flourishing prairie. Dozens of volunteers. Fall colors. Heaps of seed collected for future restoration efforts. Many thanks to all the volunteers who helped collect native seed — and to photographer Rich Wahls for capturing such a lovely morning working for the river!
October 14
When things move that shouldn't it's a cause for investigation. The self-seeding motions of a pile of volunteer-gathered Indiangrass seed caught this FMR ecologist by surprise.
October 7
The blazing white flowers of the arrowhead plant (Sagittaria latifolia) seem to light up the shoreland areas where they grow.
July and August are the most flowerful months in our native prairies and wetlands. Enjoy a few of the beauties FMR ecologists have recently come across in their field work.
August 9
A trio of endangered species recently found at FMR conservation and restoration sites. Left to right: Loggerhead shrike, Blanchard's cricket frog and Henslow's sparrow. Photos by Terry Ross, Greg Schecter and Scott Krych.
Plant and animal populations decline for many reasons — habitat loss, climate change, pollution and other factors. The Endangered Species Act was enacted in 1973 to prevent the decline and extinction of at-risk species and aid their recovery. At FMR, one of the ways we can best benefit endangered species is through the enhancement or restoration of native habitat. FMR's many restoration sites do just that, providing much-needed habitat for both common and endangered plants and animals.
While the Endangered Species Act has benefitted countless species, we'd like to think our restorations have as well. We've spotted three endangered species — loggerhead shrike, Blanchard's cricket frog and Henslow's sparrow — at our sites so far this year! 
August 8
For many Northsiders, this is the path to the Mississippi River: the West Broadway bridge over Interstate-94. Improvements like a barrier separating the sidewalk from cars, a safe biking space, updating the chainlink fence and adding greenery or art would make this a far more welcoming route for pedestrians and bicyclists traveling to the river.
Currently, the majority of North's residents must make their way over Interstate-94 and through a wall of industry to see and enjoy their riverfront. FMR is working to understand these barriers and identify opportunities to reconnect Northside residents to their Mississippi River. As more of this riverfront transforms from industrial use to parks and trails — changes that FMR has long advocated — we must work hard to ensure that current and future riverfront parks are accessible to area residents. 
June 9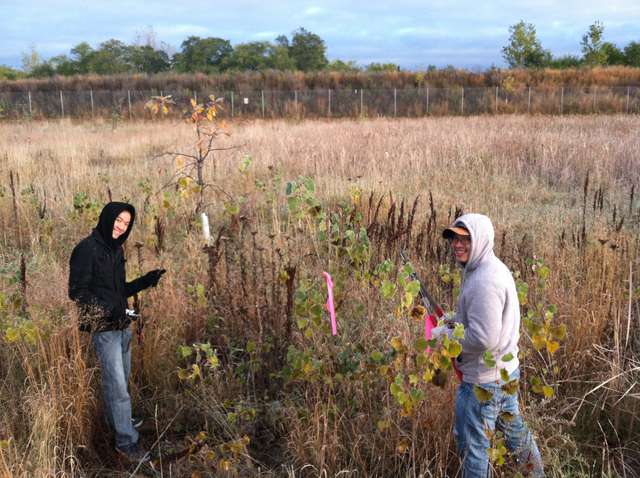 Photo: Tanya Smutka
May 13
This unique location blends historic renovation with ecological restoration along today's working river. Learn more about its history, ecology and our first public volunteer event at this riverfront site, Saturday, June 4.
May 5
Crews work to carefully manage a burn at the Sand Coulee Scientific & Natural Area. Fire helps reduce invasive species while benefiting fire-adapted native prairie plants. Photo by Karen Schik
Fire was once commonplace on the American landscape. After nearly a century of suppression, it's making a comeback. Find out why fires are on the rise, and how FMR uses fire as a tool to restore habitat on many of our restoration sites.
April 11
This time of transition between winter and spring can be a wishy-washy, ambivalent affair. It's sunny and 50 degrees, then 20 and snowing. Likewise, some bald eagles are still hanging out in their winter homes or migrating along the Mississippi River, while others are nest-bound, feeding fuzzy eaglets. Another impressive hunter, the great horned owl, is also nesting these days. Luckily, there's great local spots to see all of this avian action, both outside along the Mississippi River and online.
March 4
Pages