New land-use and development rules will better protect the Twin Cities stretch of the Mississippi River, our local national park.  
During the final phase of developing updated rules for the Mississippi River Critical Area, the Minnesota Department of Natural Resources recommended a number of positive changes in response to comments from FMR staff and advocates.
September 12
What can a small planting of milkweed and other natives really do for pollinators? More than you might think.
Hastings Environmental Protectors and FMR teamed up to create three new pollinator patches, helping to provide much-needed habitat for a variety of insect and pollinating species in the Vermillion and Mississippi river watersheds.
August 8
As more North Minneapolis riverfront is slated to become parkland, it's important to ensure that new parks and trails are truly accessible to Northside residents. To do this, connections between the community and the riverfront parkland (such as the Broadway bridge over I-94, pictured above) must be improved.

FMR has been working with a researcher from CURA to study Northsiders' barriers to river access as well as possible ways to overcome them. Join us for a brown-bag lunch featuring a presentation of our findings and discussion about the barriers and opportunities to reconnect North Minneapolis neighborhoods and the Mississippi River.
Location
McKnight Foundation
710 South 2nd Street #400
55401
Minneapolis
,
MN
United States
Minnesota US
For many Northsiders, this is the path to the Mississippi River: the West Broadway bridge over Interstate-94. Improvements like a barrier separating the sidewalk from cars, a safe biking space, updating the chainlink fence and adding greenery or art would make this a far more welcoming route for pedestrians and bicyclists traveling to the river.
Currently, the majority of North's residents must make their way over Interstate-94 and through a wall of industry to see and enjoy their riverfront. FMR is working to understand these barriers and identify opportunities to reconnect Northside residents to their Mississippi River. As more of this riverfront transforms from industrial use to parks and trails — changes that FMR has long advocated — we must work hard to ensure that current and future riverfront parks are accessible to area residents. 
June 9
Produced for FMR by award-winning local filmmakers John Kaul and Tom Reiter, and narrated by Minnesota Public Radio's Steve Seel, this 30-minute documentary tells the story of how one man's vision — combined with smart citizen advocacy and effective political leadership — created the Mississippi River's first and only national park right here in the Twin Cities. Enjoy the film online, request a copy for your local library, school or organization.
May 27
Thank you for your interest in joining the pollinator patch planting event, however this event has reached capacity and registrations are no longer being accepted. Please consider volunteering at one of our other upcoming events. To view the most up-to-date listing, check out the Events Calendar. 
--
Location
Hastings area parks
55033
Hastings
,
MN
United States
44° 43' 31.0764" N, 92° 50' 52.9764" W
Minnesota US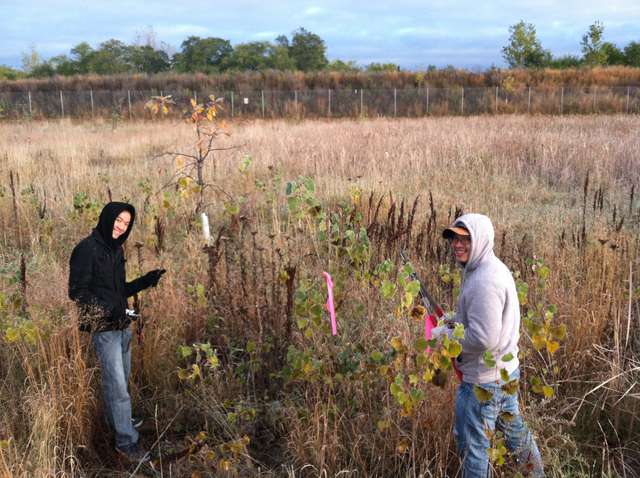 Photo: Tanya Smutka
May 13
The Minneapolis park board recently signed a purchase agreement for the riverfront parcel at 4022 1/2 Washington Avenue North. Located between North Mississippi Regional Park and the Upper Harbor Terminal, the site will someday be a critical link and addition to the Above the Falls Regional Park along the north and northeast Minneapolis stretch of the Mississippi River. 
News of another riverfront property acquisition in the works. $1 million from General Mills for new park development. And an excellent U of M researcher and Northside resident joins FMR to look into improved community connections. This is one great month for increasing public access to the Mississippi River in the Above the Falls area!  
February 9
A little more green, please — for a healthy river and riverfront communities. (Aerial view, from the north, above Saint Anthony Falls.) Courtesy City of Minneapolis
Good news: The Minneapolis park board now owns over half the land needed to bring continuous riverfront parks and trails to the banks of the Mississippi River in north and northeast Minneapolis. FMR is continuing to advocate for and support the Minneapolis Park and Recreation Board's acquisition work while also investigating ways to work with north Minneapolis residents to increase and strengthen their local riverfront access.
January 11
As the outdoor volunteer season comes to a close, we stand in awe of our river stewards' accomplishments. In 2015, some 3,637 people — individuals, families, church, school and neighborhood groups — came together from throughout the metro area to help the Mississippi River at 135 FMR volunteer events. Together they stenciled over 3,000 storm drains with educational messages helping residents connect their yards and streets to our local waters, removed over a thousand bags of invasive species from local parks and natural areas, removed litter from over 20 riverfront sites and installed native prairies and raingardens at six riverfront parks. At the end of our busiest restoration season on record, our community's ability to act on behalf of our local waters and wildlife continues to amaze us.
November 10
Pages